Snøhetta and SL Green Realty Corp. have unveiled SUMMIT One Vanderbilt, a four-story observation complex that brings together spaces for art, gathering, and wonder to envision a new way of inhabiting the New York City skyline. The state-of-the-art promontory offers panoramic views over all five boroughs from a collection of curated multi-sensory viewing and lounge spaces located more than 1,000 feet above Midtown Manhattan.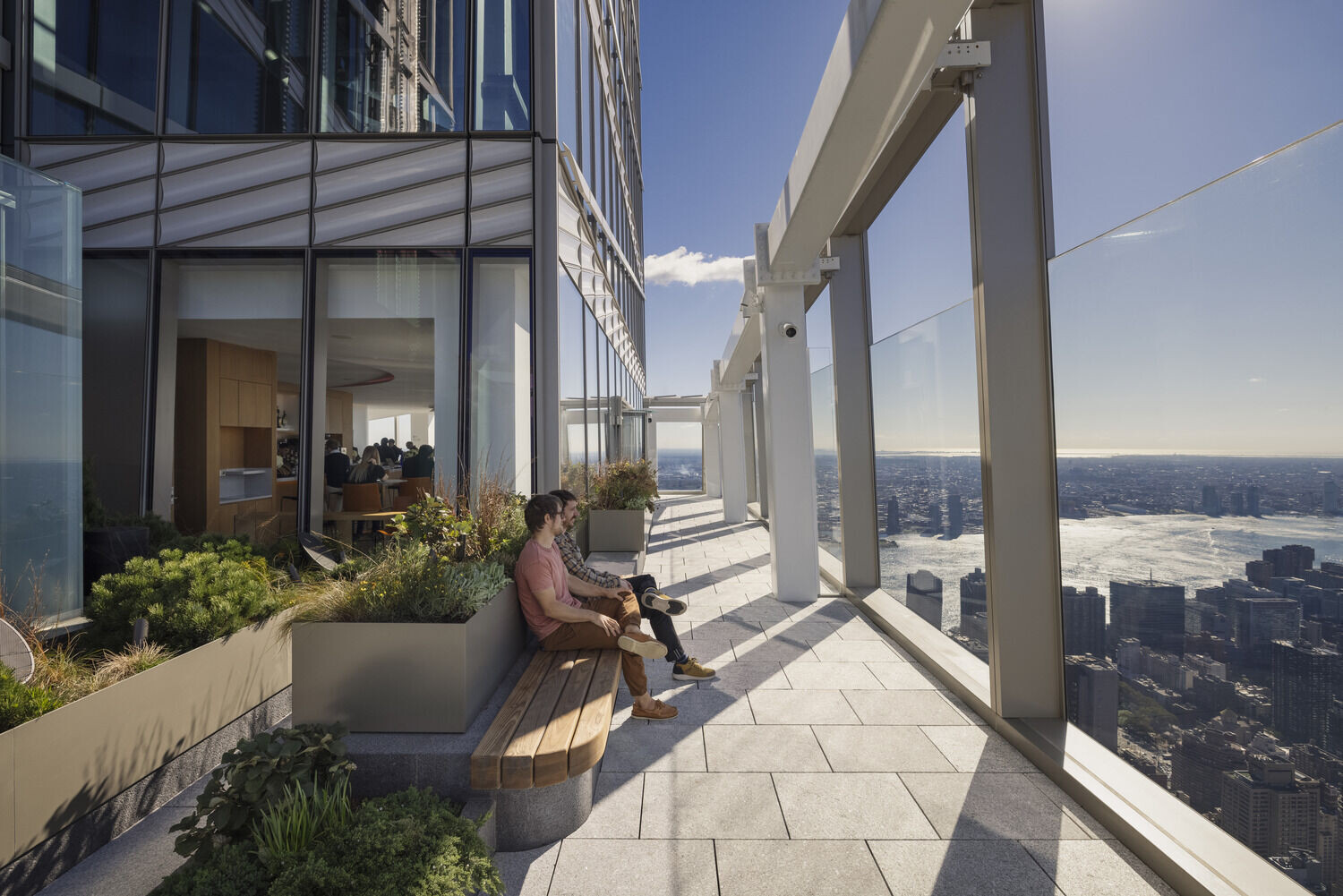 The journey up SUMMIT One Vanderbilt begins below ground at Grand Central Station, where Midtown Manhattan's tallest office tower meets one of its most beloved landmarks. Visitors first encounter a wood paneled waiting area before mirrored elevators ferry them to the 91st floor. Upon arrival, they are greeted by the Hall of Light, an illuminated walkway that recreates the sky's real-time color, hue, and brightness indoors. On cloudy days, the hallway is cool and dewy, on sunny days, it shines blueish white, always offering a hint of the immersive experiences of the observatory. Beyond, a two-story mirrored gallery installation designed by Kenzo Digital reorients visitors' perception of the skyline by reflecting the city into infinity. In adjacent areas, Snøhetta has designed transitional spaces marked by changes in material, softly rounded corners, and curving soffits that anchor the more hard-edged areas of the observatory in order to balance the observatory's immersive installations. Stitching together an interior landscape punctuated by sensual experiences, Snøhetta's in-between spaces turn looking over the city into a social experience by refocusing our attention inwardly and toward those around us.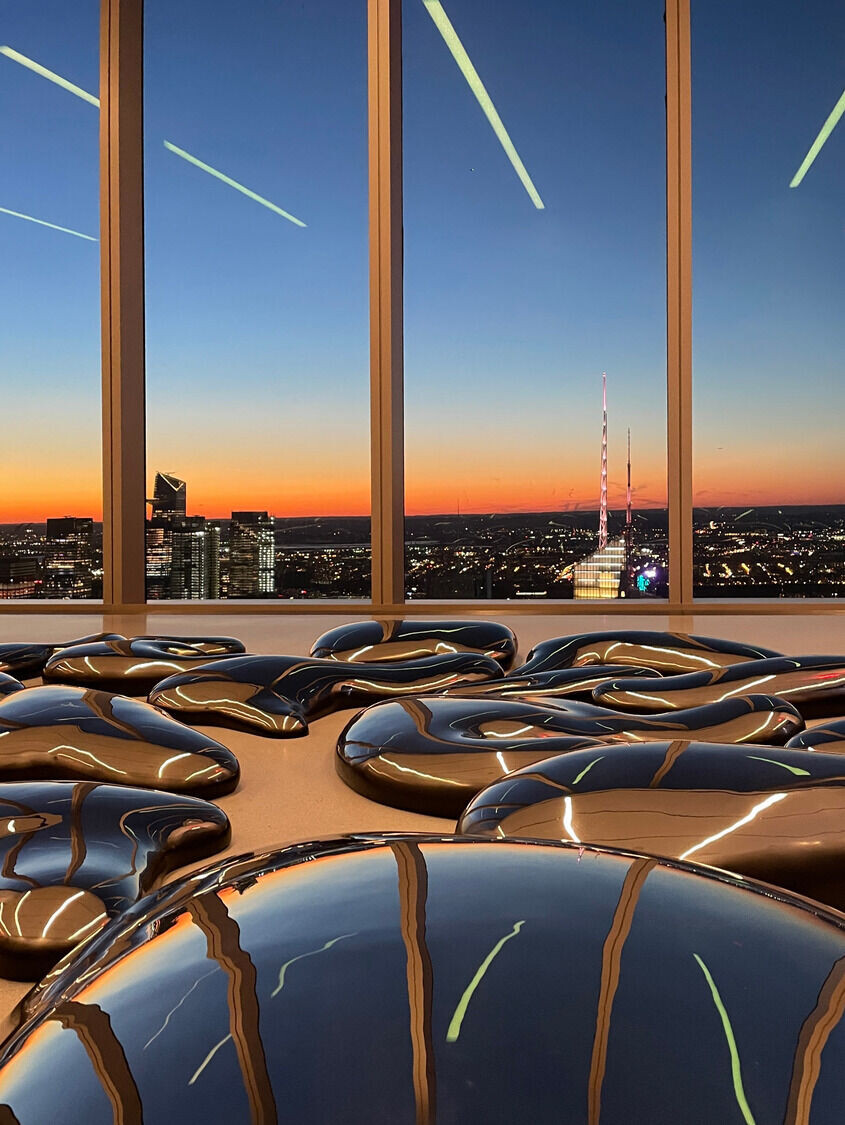 Anne-Rachel Schiffmann, Snøhetta Interior Architecture Director and Senior Architect, explains, "SUMMIT One Vanderbilt grounds the observation experience in delight and comfort through the introduction of supple geometries, warm materials, and custom-designed objects that visitors can sit on or stand by. This approach creates an episodic interior landscape unified by experiences that enliven the senses. The transitional spaces Snøhetta has designed train our attention on our bodies, and in doing so, help restore a sense of equilibrium to our experience of the skyline as we take in the best views across this amazing city."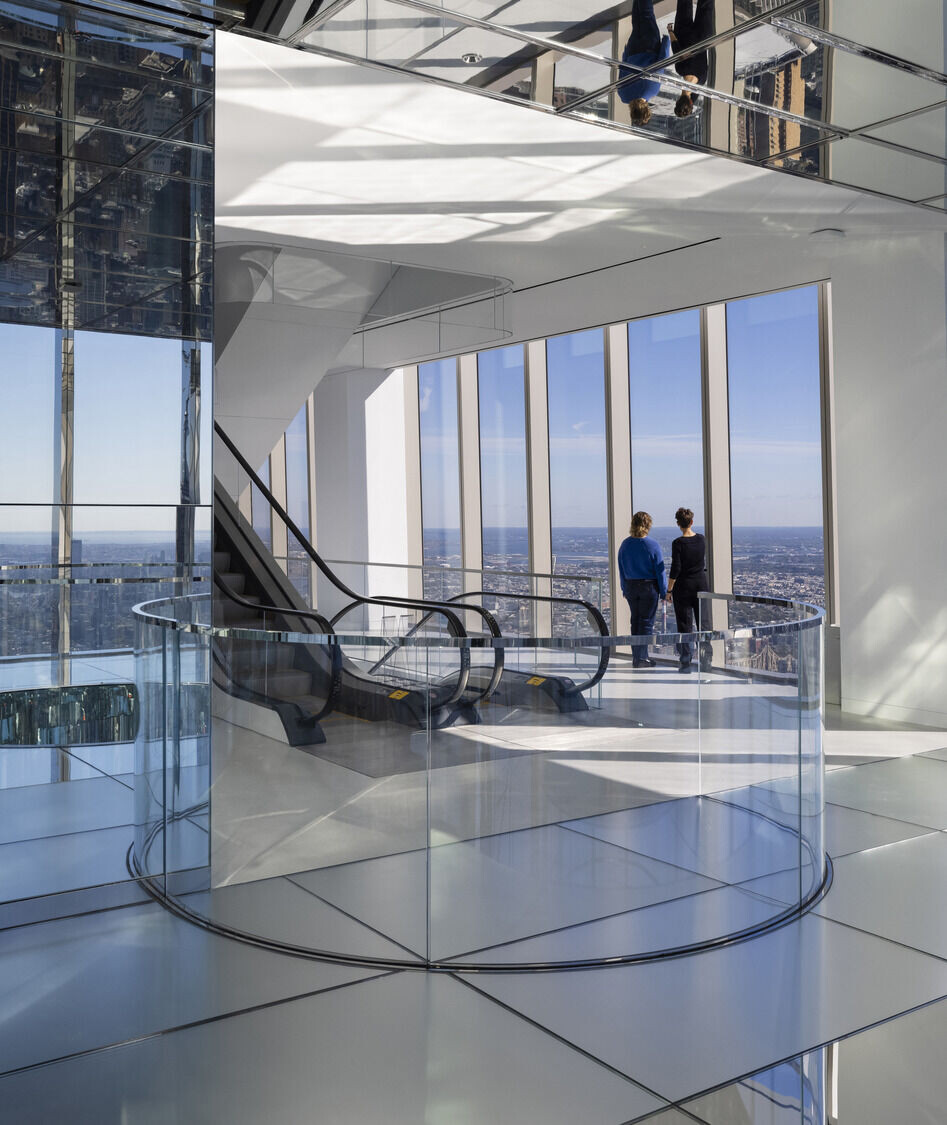 At the top of the observatory, the Summit Lounge offers a welcoming space containing a sculptural, heavy timbered panorama bench and hanging fireplace that visitors can enjoy while embracing vistas across Manhattan. With the warm, convivial atmosphere of a ski lodge and some of the highest views in North America, the Summit Lounge creates another zone in the observatory focused on the quieter aspects of experience, allowing visitors to look out and contemplate the skyline in comfort and with ease. Just outside, an L-shaped terrace offers dark granite bar tables carved from monolithic stone and solid wood benches for those looking to sit and enjoy the 93-story view. Here, mountain shrubs, high meadow perennials and grasses, and rough-hewn materials approximate a traditional alpine mountain summit experience while an outdoor bar completes the social atmosphere, creating a subtle tension between the observatory's thrilling views and the relaxed physical experience of taking them in. Visitors might feel big and small at the same time, snug and excited in equal measure; as in other areas of the observation complex, each of the more dramatic viewing areas is anchored by contemplative spaces that create tactile and emotionally rich experiences high above the city.