Calflex
An overview of projects, products and exclusive articles about calflex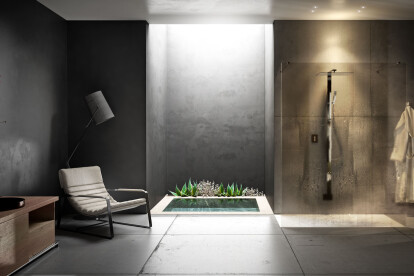 Produkt • By CARIMALI design shower_space • Vehla MySlim
Vehla lines and shapes are unique. CARIMALI design shower_space combined those beautiful characteristics with its new MySlim ultra-thin showerheads to create a special product. VEHLA MySlim column – with its progressive tap – mixes the power of design and the power of water in a complete solution perfectly integrated in every shower space.
Mehr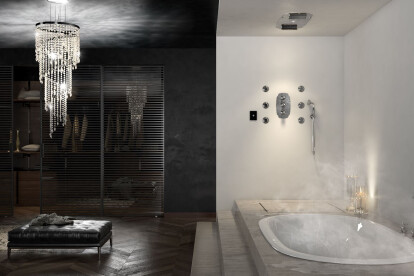 Produkt • By CARIMALI design shower_space • MyDream Colonial
CARIMALI design shower_space line combines the Italian style its aspects in the daily living, imagining a journey through places of living and feeling. Colors, vapors, waterfalls, aromas and notes that shift from the sense of welcome in a living room to the magnificence of the classic. MyDream Colonial is characterized by a unique classical shape that perfectly combines historical aesthetics with modern technology. All in a contemporary classic solutions.
Mehr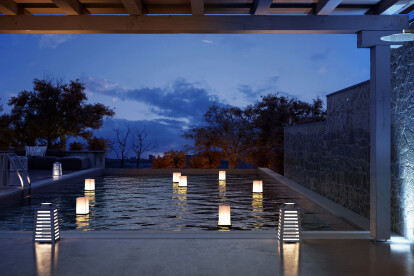 Produkt • By CARIMALI design shower_space • MySlim
A delicate stream similar to a springlike drizzle will help you to relieve the daily stress. MySlim range combines the power of design and the grace of shapes in only 3 mm ultra-thin shower heads. MySlim collection encloses a patented technology that guarantees durability, easy installation and water savings in only 3 mm of pure Italian design.
Mehr
Produkt • By CARIMALI design shower_space • MyDream
CARIMALI design shower_space line makes showering a pure pleasure. With their Italian design, CARIMALI products become decorative items suitable for all environment. MyDream is the multifunctional shower head range reproducing the different jets on your skin and giving you the sensation of being shrouded by a relaxing and reinvigorating rain, cascade or mist. MyDream built-in shower head is available in various shapes and sizes characterized by an elegant design and multifunctional options (rain, single cascade, double cascade, mist). Everyone is able to create a personal MyDream set with high flow or 25 l/min taps, wellness accessories such as body jets, atomizers, waterfalls, music & aroma devices in order to assure you a unique se...
Mehr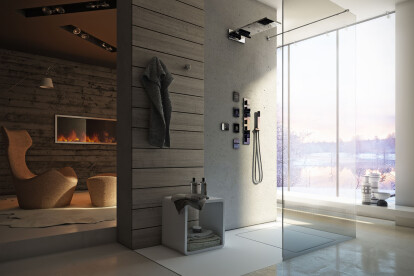 Produkt • By CARIMALI design shower_space • Yes
Branded CARIMALI design shower_space, YES is a shower head designed to offer maximum comfort and unique sensations in your shower space, with a design that expresses a rational and minimalist line combined to all the features that make you enjoy your relax time at home. Three water jets: rain, soft and waterfall can satisfy any need and create a real feeling of water therapy in your bathroom. Color emotion: the heart of YES is the chromo-therapy, with more than 200 color shades that change gradually for a unique relax feeling. This is the true emotion of color, which envelops the shower space of your bathroom, transforming your shower time in a moment of absolute well-being. YES, YOU, WILL, LOVE & IT range is available with or without...
Mehr
Produkt • By CARIMALI design shower_space • Home Suite Spa
Thanks to chromotherapy options combine with music and aromatherapy devices, CARIMALI design shower_space products are developed to assure you the water experience you have been dreaming of. Enjoy refreshing personal spa treatment with Carimali shower heads, lateral body jets and waterfalls vigorously massaging your body muscles where emotional stresses often manifest themselves. Then, immerse yourself in a chromotherapy experience. Carimali designed a chromotherapy line that creates a real lights wellness that shrouds the entire body and the surrounding wall. For instance, pink that has a pleasurable and soothing impact on emotions and spirituality or orange that stimulates creative thinking and enthusiasm. And for a complete relaxati...
Mehr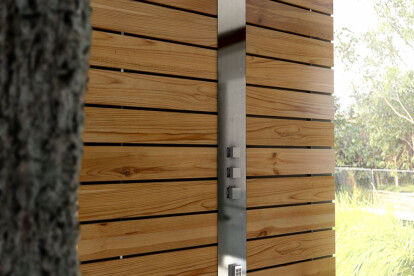 Produkt • By CARIMALI design shower_space • Dolcevita
With its evocative name, DOLCEVITA column reminds a golden, glamourous and sophisticated era of Italian fashion. Its ultra-slim shape, elegant design, quality of materials and refined finishing, all works together with extraordinary creativity in order to offer a veritable Italian style product. This attractive shower column with multiway diverter (shower head, lateral jets and shower) is going to arrive soon on the market.
Mehr
Produkt • By CARIMALI design shower_space • Colonial
CARIMALI Colonial products were inspired by classic lines and traditional theme. Here, CARIMALI combines the Italian style and the classic magnificence to create a complete solution for classical shower space. Compose your shower set by choosing among Colonial columns, shower heads, taps, hand showers, sliding rails and accessories, such as body jets, atomizers and waterfalls. Colonial items are available in different finishing, such as gold, old copper and old brass.
Mehr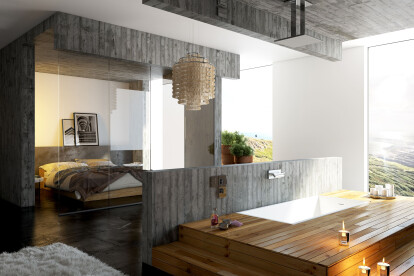 Produkt • By CARIMALI design shower_space • Vehla
CARIMALI creativity and eccentricity shine through VEHLA, products designed for beauty lovers, architects and creative people. VEHLA is a line composed of ceiling shower heads, wall shower heads and columns of authentic design.
Mehr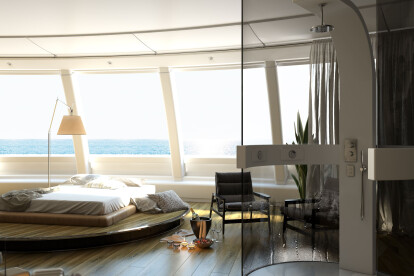 Produkt • By CARIMALI design shower_space • Minimal
Modern and essential solutions for all environments, as design and high quality are essential aspects of the product. CARIMALI minimal design reinvent daily living with style offering a unique water sensory experience in the shower space. Minimal range offers wall or ceiling shower heads of different shapes that could be coordinated with accessories and taps. See more by visiting http://www.calflex.it/eng/soffioneminimal.html
Mehr