In 2017 the iconic Bauhaus work 'Bundesschule Bernau,' built by Bauhaus director Hannes Meyer and Hans Wittwer, was added to the UNESCO World Heritage List. To meet the demand caused by a subsequent interest in visiting the building, this new visitor centre by Steimle Architekten was constructed. The new visitor centre strikes a delicate balance between being subordinate to the Bauhaus monument, while at the same time asserting itself as a high-quality urban architectural structure.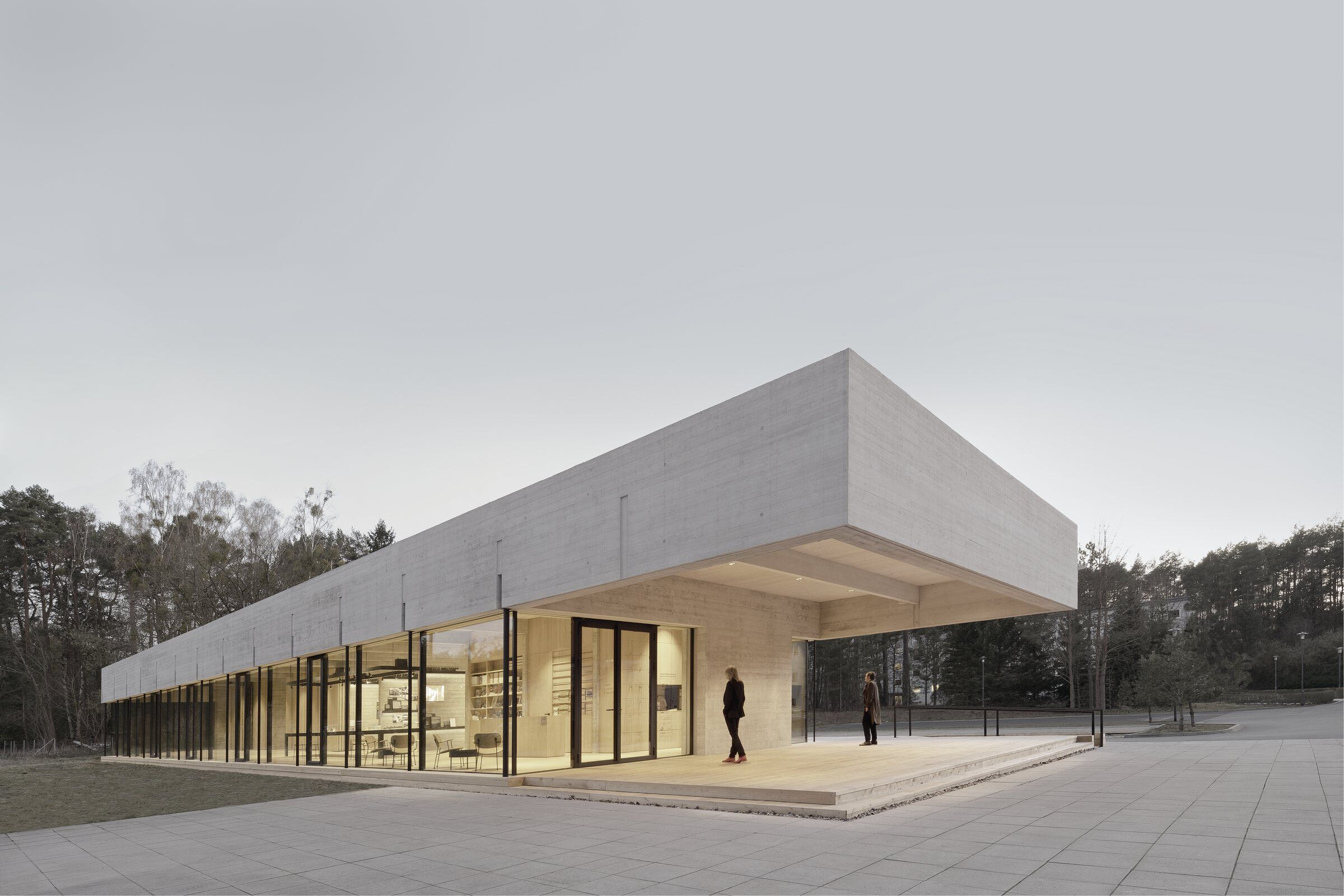 A visit to the site is comprehended as a sequence of experiences in analogy to the effects that Hannes Meyer calls 'psychological' effects. Integrated into the pine forest landscape that surrounds it, the visitor centre provides its guests with the first glimpse of the Bauhaus monument. Visitors are then guided by the long-stemmed pines of the forest in what is a gradual exploration of this culturally significant location.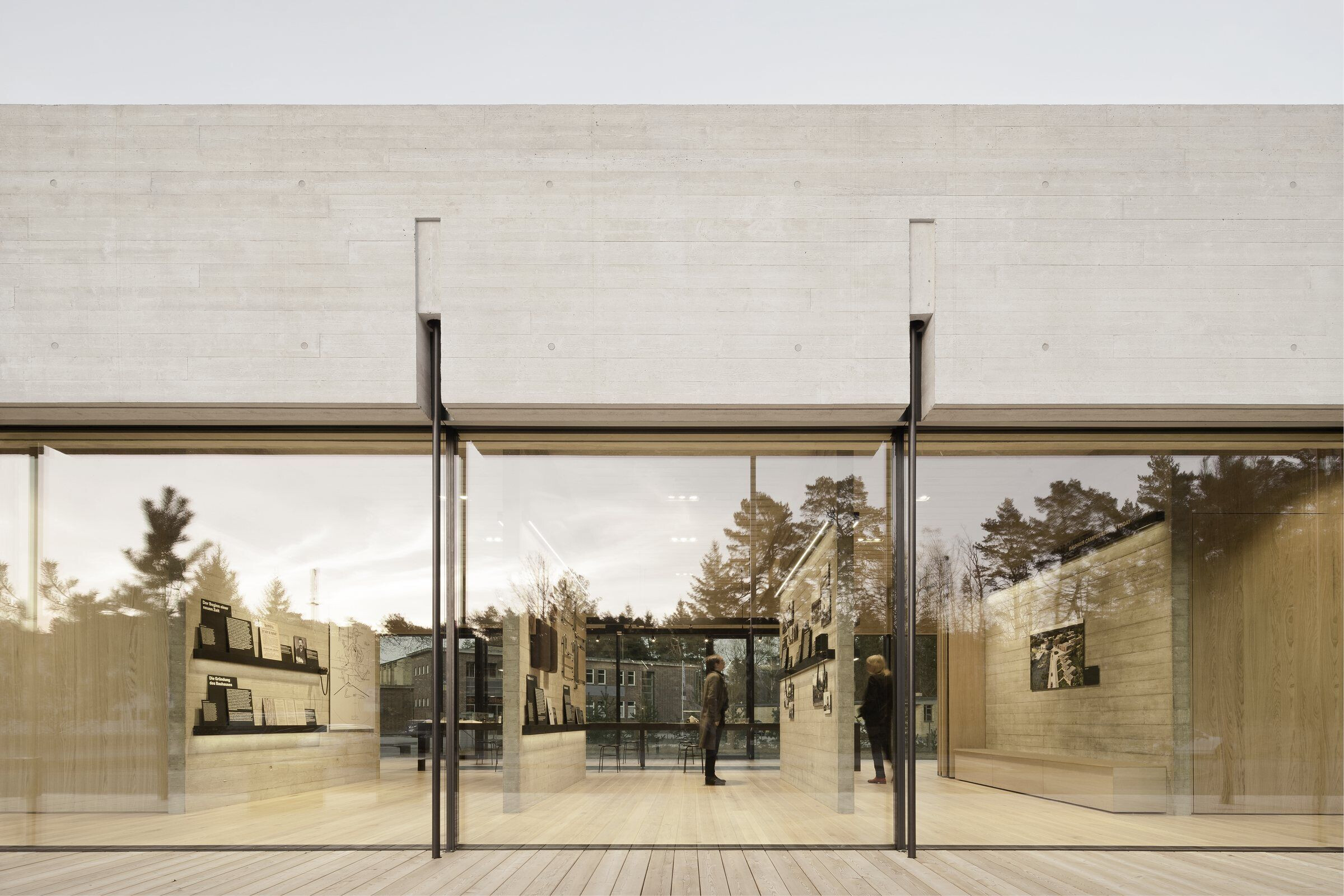 The centre itself is a simple, linear structure slightly elevated above the level of the forest. Visitors are welcomed inside via a spacious reception terrace with a massive cantilevered canopy. The architecture and its design come from a functional and structurally elaborated concept and monolithic construction. The chosen design language of the building is inspired and reflected by the graphic systems and technical equipment of the Trade Union School, achieving an independent aesthetic by following its function.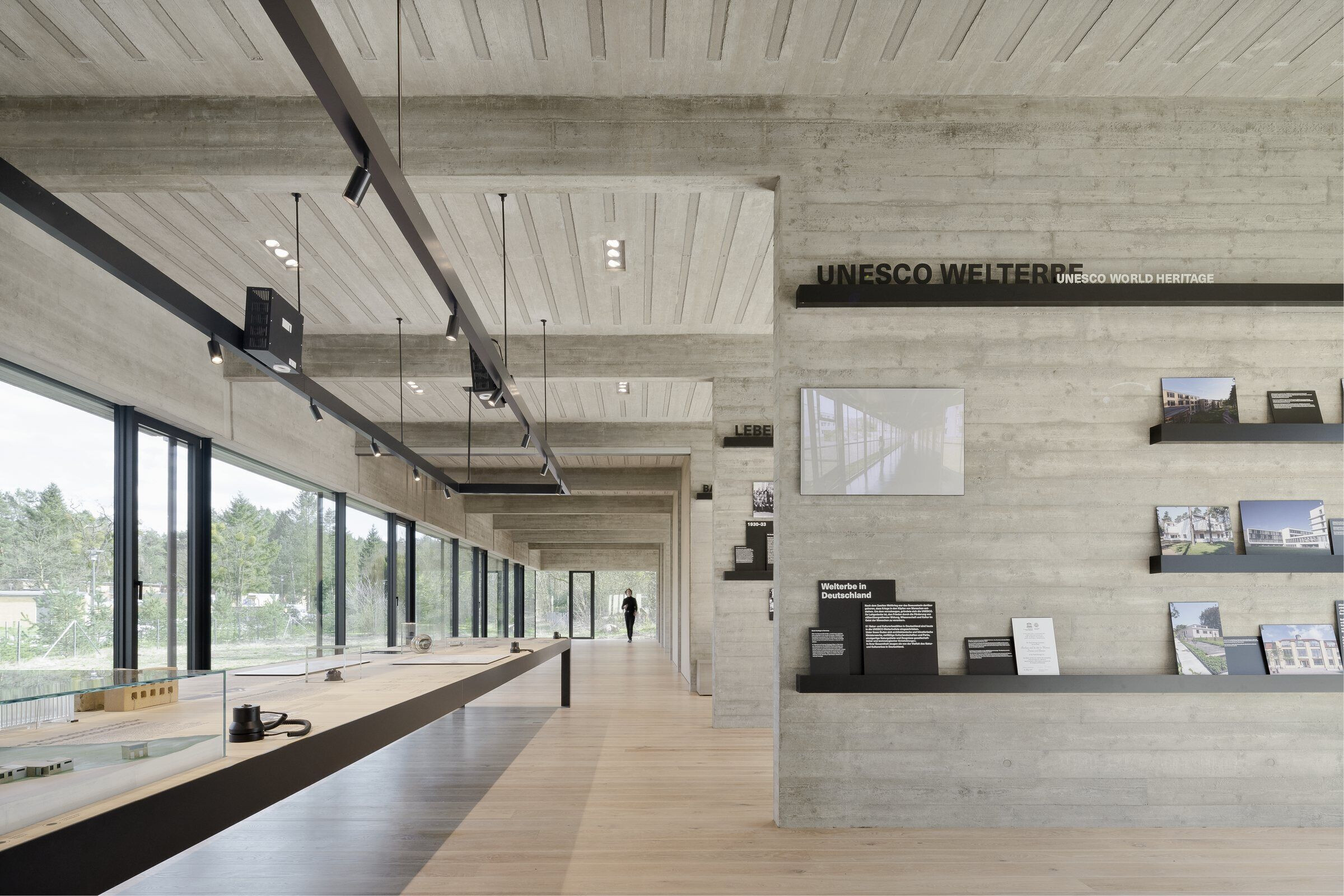 The building is glazed on almost all sides. Barely perceptible filigree round steel supports in front of the glass façade, embedded in the circumferential roof edge at the upper support. The wall panels of the ancillary rooms contribute decisively to this static balancing act.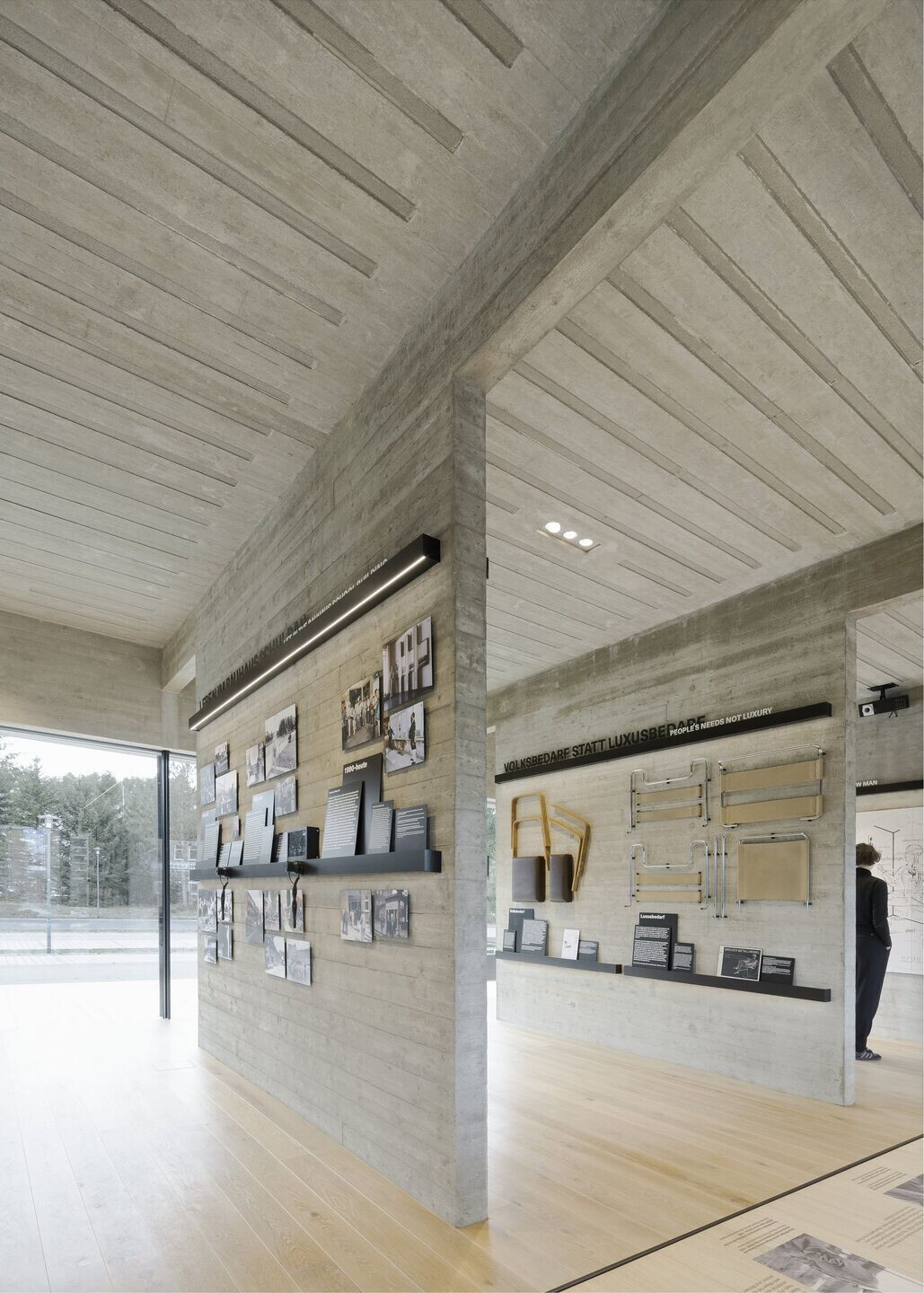 Once inside, the visitor centreis an open-flowing sequence of rooms. Situated on the eastern side of the site, and towards the Bundesschule monument, a large showroom runs the length of the building. The showroom can be divided flexibly while maintaining continuous visual contact with the listed building. Ancillary rooms are oriented compactly to the west of the site and oriented to the parking areas.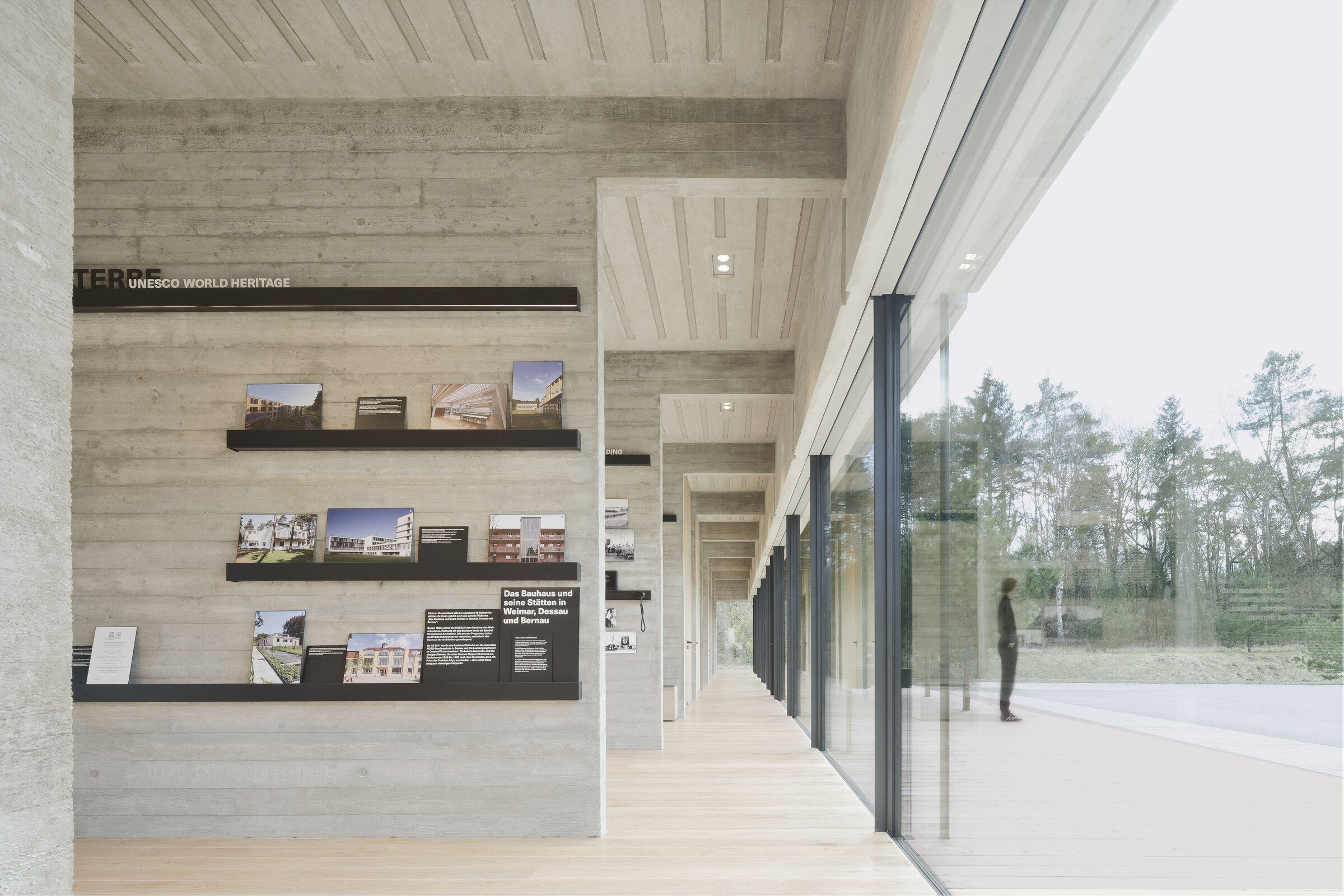 Finally, the horizontal formwork pattern used on rough-sawn boards gives the building an honest material character that focusses on the essentials.