Gijang, facing the East Sea near Busan, is famous for its beautiful seashore of rocks soaked and eroded in the clear sea and pine trees. 'Gijang Waveon', a unique beach café, overlooks the Imnang Beach from a low cliff. The client wanted to create an impressive architecture of 500 square meters which commands a fine view to sandy beach and sea from any point. The nature which is indifferent to us has the unique time scale of its own regardless of human interest. What kind of relationship is required torelatively short-lived architecture in nature? Can't we find a new alternative to the uniformseafront architecture that is constructed by the market logic against the nature?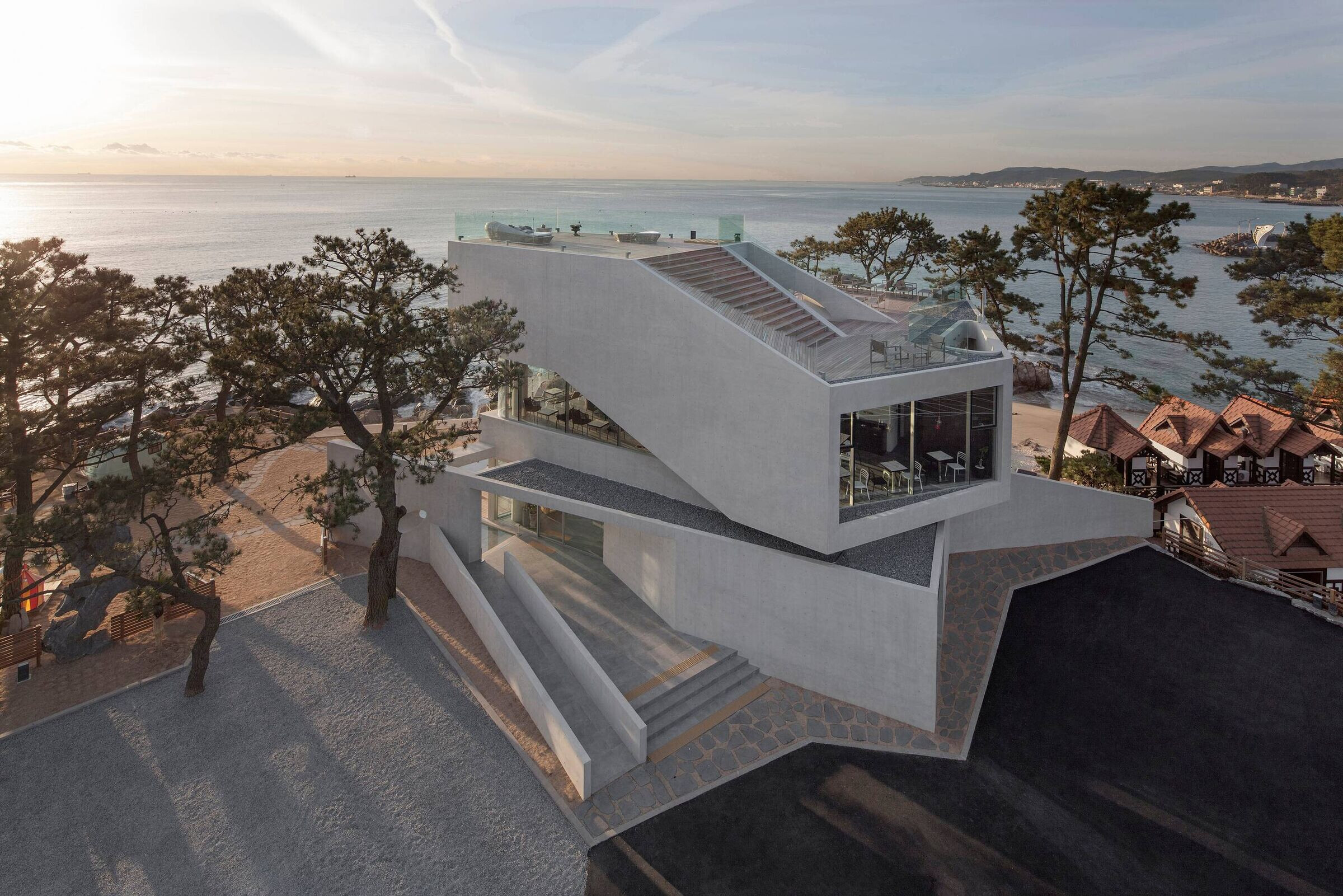 View stacking
Considering user's circulation and functional aspects, it is a reasonable decision to follow the shape and criteria of the topography on the level which tightly touches the ground. On the other hand, the stacked masses with different angleson the upper level are easy to have various seascapes from different angles. We human beings are destined to grasp the vast expanse of nature only from a narrow viewpoint. However, a device to provide frames of various angles to the visual subjects can help visitors who stay in a short time effectively grasp the information of nature. In a broad sense, this device mayhelp visitors discover new perspectives and the sense of place by themselves.
Edge space
When the site is surrounded by magnificent natural environment, the best space to appreciate it is the edge. The edge can be created in a simple manner of makingan opening at the center. The center space of Waveon is empty and filled with stairs and stands heading to different directions. These interior devices can create dynamic circulation and maximize three-dimensional effect in the space. Visitors sitting on the edge can face the ever-changing seascape.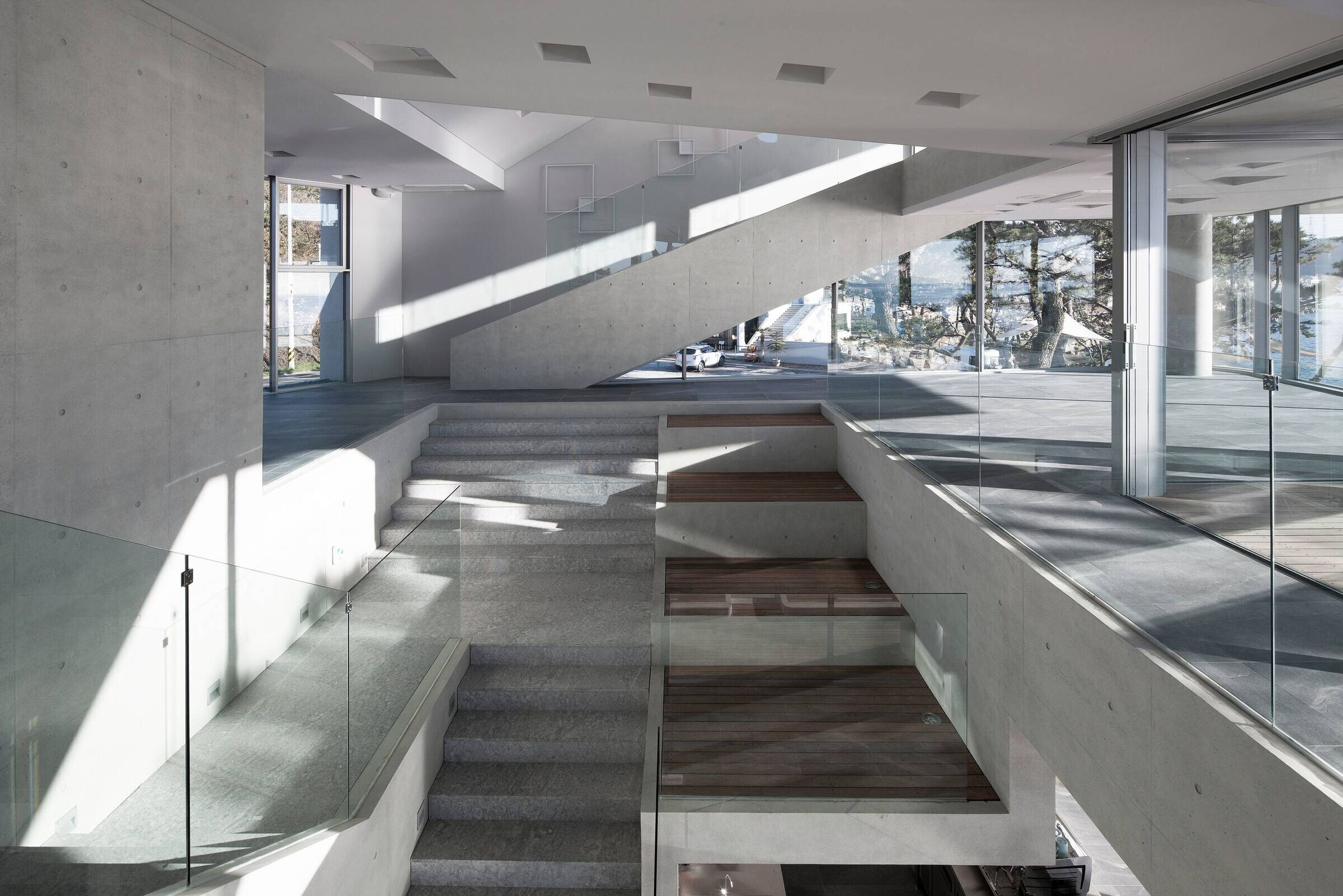 Pyeongsang
Thesedentary community space like Pyeongsang, considered as an out-of-datething is disappearing in modern cities of Korea.Pyeongsang is excellent outdoor furniture in terms of function as it is appropriate for a small group activity without limit of number of people and good for sedentary culture accustomed to Asians. The modern revision of Pyeongsang as an entertainment space where the community can be combined with the surrounding area becomes an important architectural device in Waveon. Situated on the cliff facing the seashore, Pyeongsangs mingled with pine trees play a significant role as a quasi-space familiar to Korean people.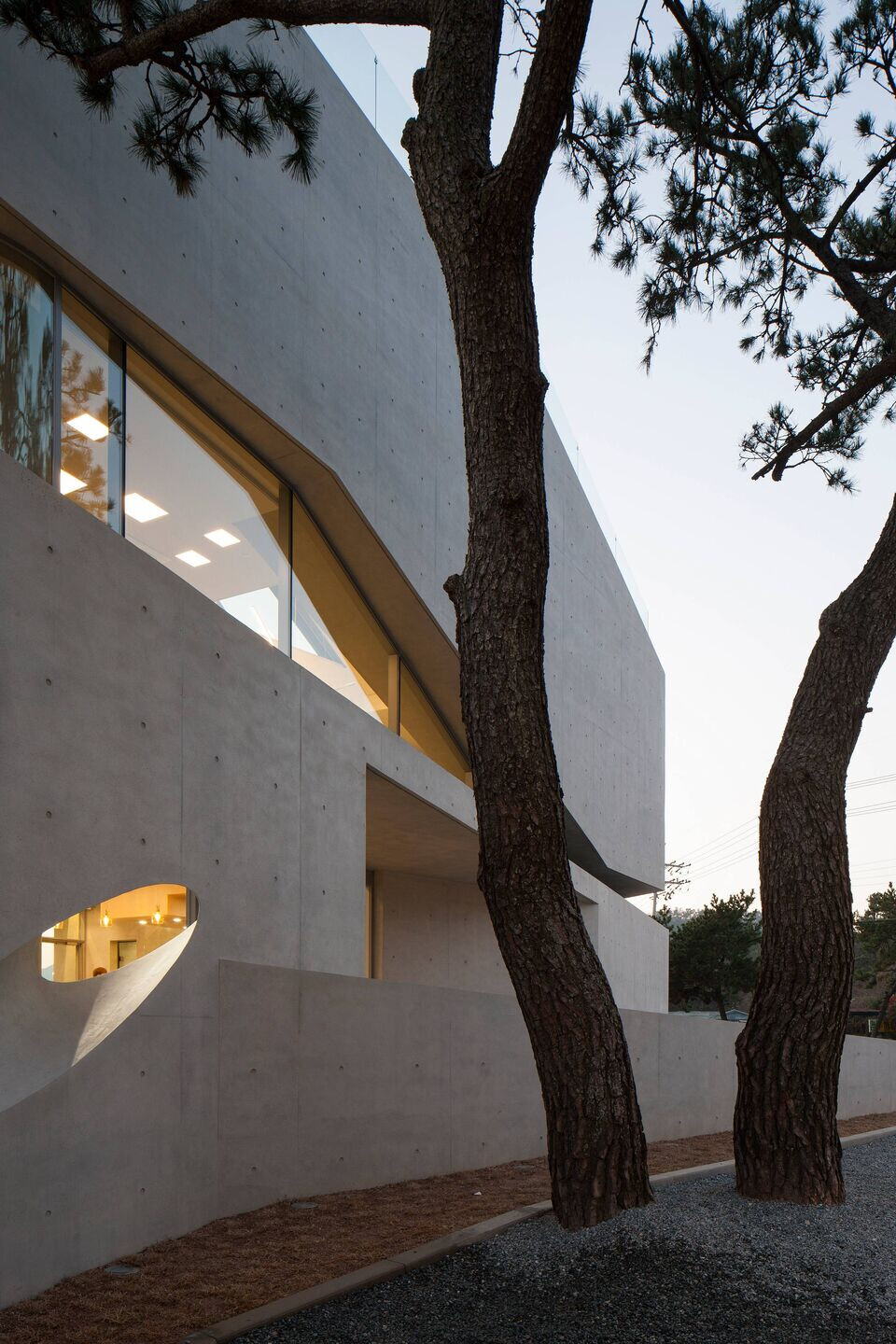 Concrete seaside
Concrete beach, water space at the Waveon's entrance presents visitors with a first encounter with the sea.The elliptical openings perforated on the concrete walls of each floor were designed with the motif of the strange rocks easily found on the eroded beach. On the roof top, visitors can also discover the magnificent sight of combined sea and sky.