Recently completed FarmED at Honeydale Farm by Timothy Tasker is a sustainable farming education centre in the Cotswolds. With environment and regeneration at its core, FarmED was established as a demonstration farm to show how regenerative farming techniques can combat climate change, as well as educate communities, farmers, and governing bodies about sustainable farming methods. The Farm's mission extends to its architecture, which includes three energy-efficient mixed-used farm buildings.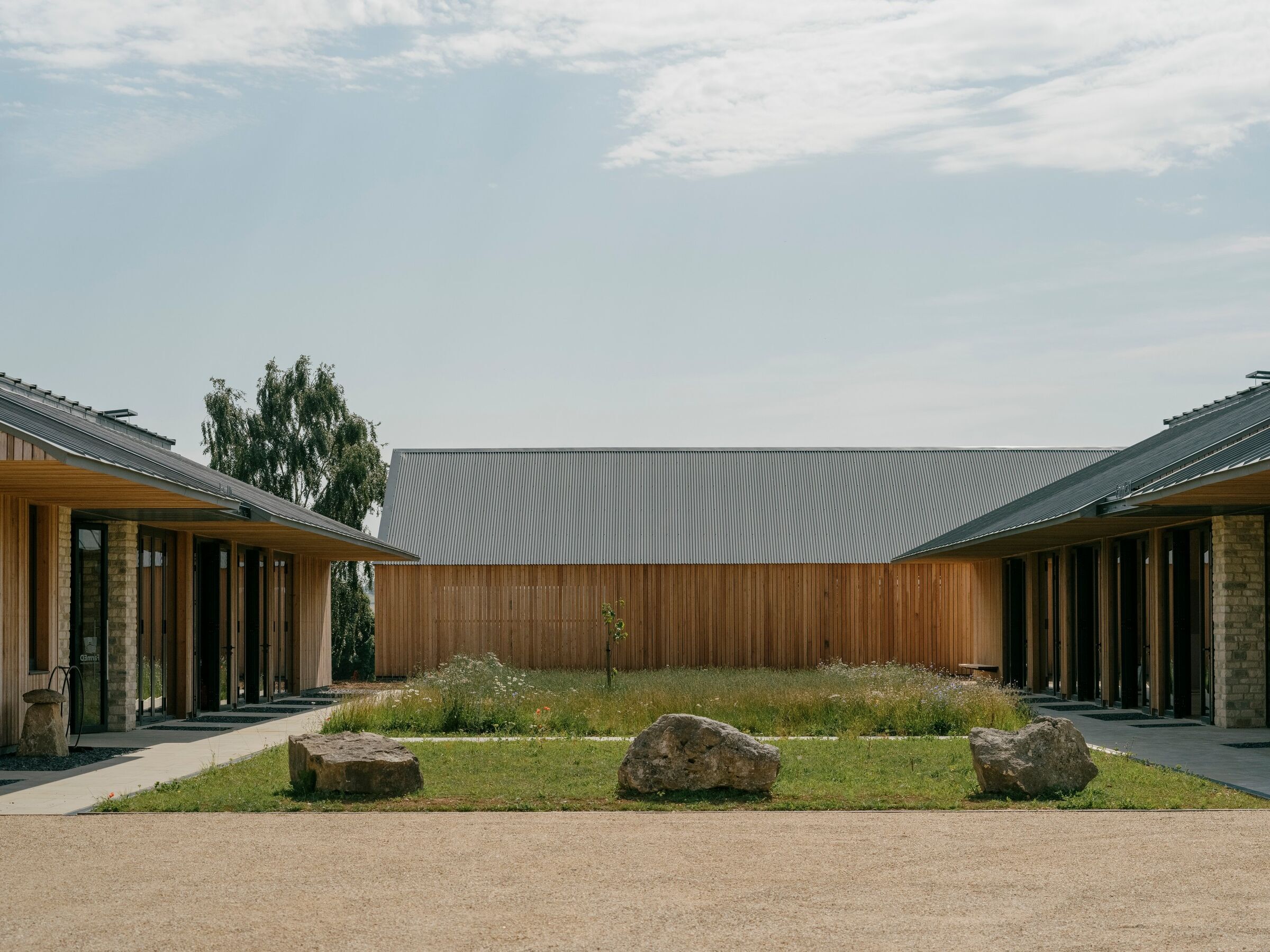 The three farm buildings take the form of long timber barns arranged around a central courtyard, a formation that draws on the traditional farmsteads of the Cotswolds region. The buildings and the courtyards were designed and situated using the golden ratio to create harmonious proportions. They are also positioned and oriented to provide shelter and protect against strong valley winds.
The smallest of the three buildings is a micro-dairy and tractor store, which sits at the bottom of the courtyard bordering both FarmEAT, a large dining hall complete with catering kitchen and central stone pizza oven, and FarmED, the conference and learning centre.
Both the internal and external cladding are sustainably sourced local larch. As compared to typical masonry and plaster construction, the use of larch is estimated to save approximately 15 tonnes of carbon. Further to this, an estimated 17 tonnes of carbon was saved by specifying natural sheep's wood insulation in place of conventional rockwool. Finally, the roofs are finished with zinc, a durable and self-healing material made up of 95% recycled content.
Drawing from principles of passive design, southern roofs of the building are cantilevered by 2 meters to keep the summer sun out, while allowing the low winter sun in. In combination with floor-to-ceiling glazing, southern elevations thus allow the concrete to naturally warm up on winter days with the high thermal mass of the floors dissipating heat after the sun goes down.
In addition, air-source heat pumps powered by an onsite solar array provide heat for all three buildings, while underfloor heating utilizes the benefits of low-grade heat recovery. A passive ventilation strategy negates the need for any intensive air-conditioning of mechanical ventilation systems.