After the 'special' outdoor version of Atelier, tailor-made by Abimis to meet the typical needs of an American kitchen, the exclusive Napa Valley villa now houses an indoor 'double' Ego kitchen.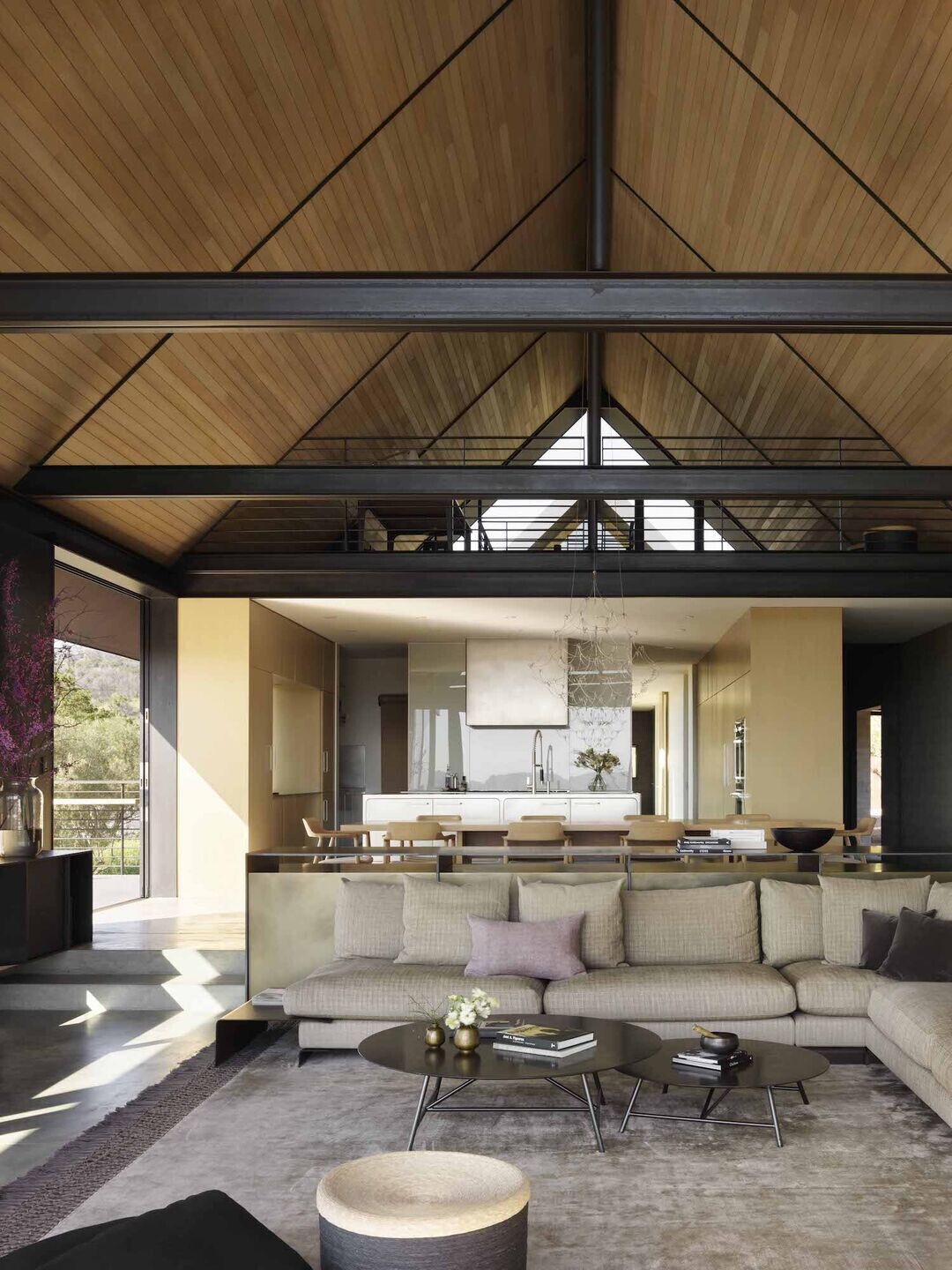 The indoor project, again curated by Studio Aidlin Darling Design together with Abimis, confirms the owners' desire to have a professional solution also available for the indoor kitchen of the residence, a space that extends to the living and dining area, it is the most significant place, also in terms of surface area, of the entire dwelling.
The kitchen features a large Ego Island, made of AISI 304 stainless steel, with a sink welded into the top, and a wall-mounted Ego block with American burners and a professional hood, both equipped with drawers and storage compartments. To the side of the kitchen a cantilever breakfast bar with 6 mm thick steel has been specially created, integrated into the composition of wooden cabinets and bases.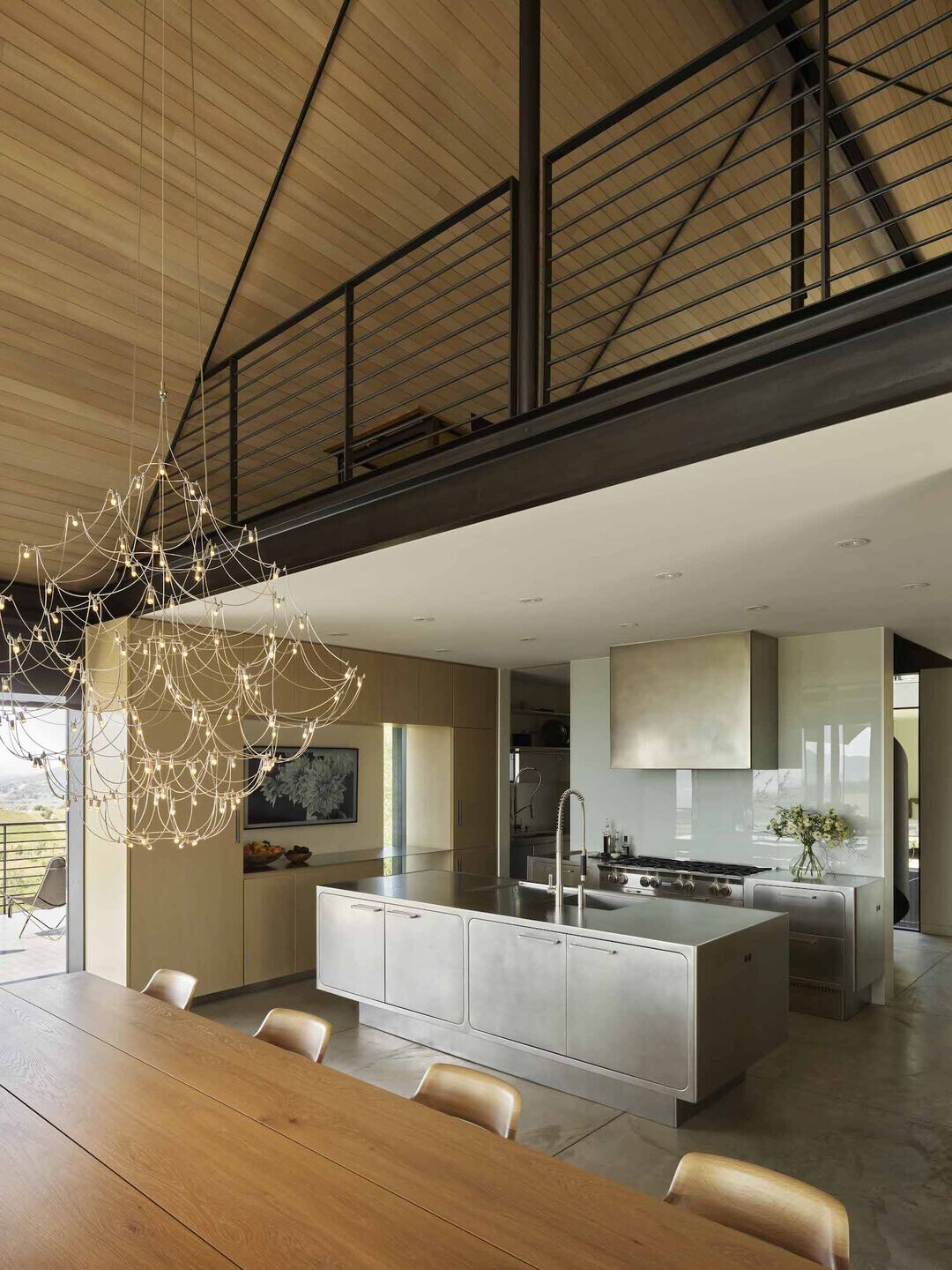 With its characteristic rounded flush doors integrated into the structure, the stainless steel worktop without any joins and rounded ergonomic handles, Ego was the perfect solution for furnishing the indoor kitchen. The distinctive, essential and contemporary design and the refined 'trait' that defines this line perfectly fit the atmosphere, the architectural style and the wider interior project that characterizes the house.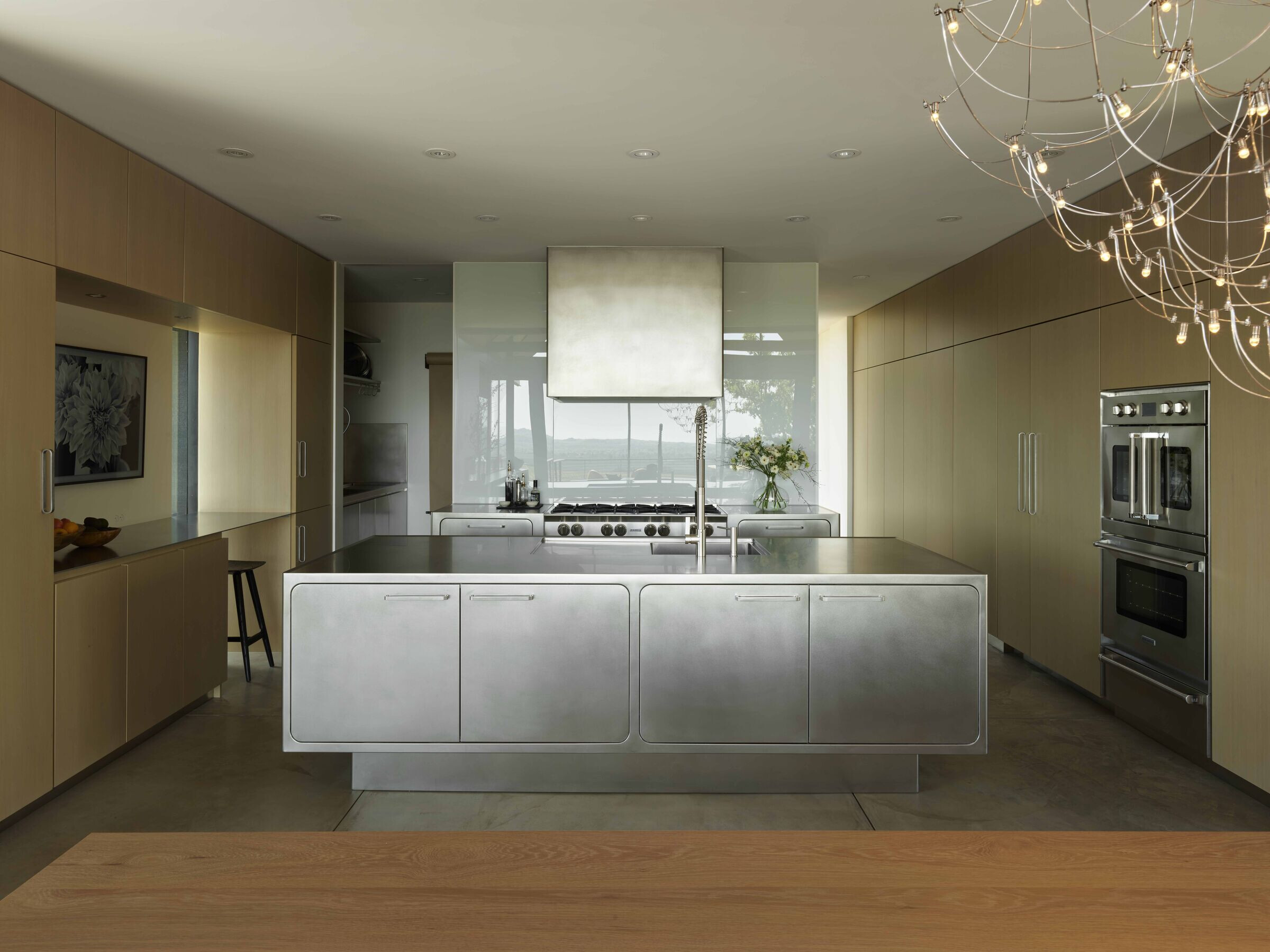 To 'flank' the two configurations of Ego and make the environment even more efficient and complete, a dual wall version of the Atelier model was installed, for the preparation of food on one side - with a marble top - and the washing/storage of utensils and kitchen accessories on the other.
This configuration of Atelier is inspired by professional catering kitchens in design and detail: doors with "groove" opening mechanisms, storage compartments and open compartments with removable shelves, and full-length shelves to make the most of the vertical space.
In the most panoramic part of the large green space that 'surrounds' the house we can find the special outdoor version of the Atelier kitchen.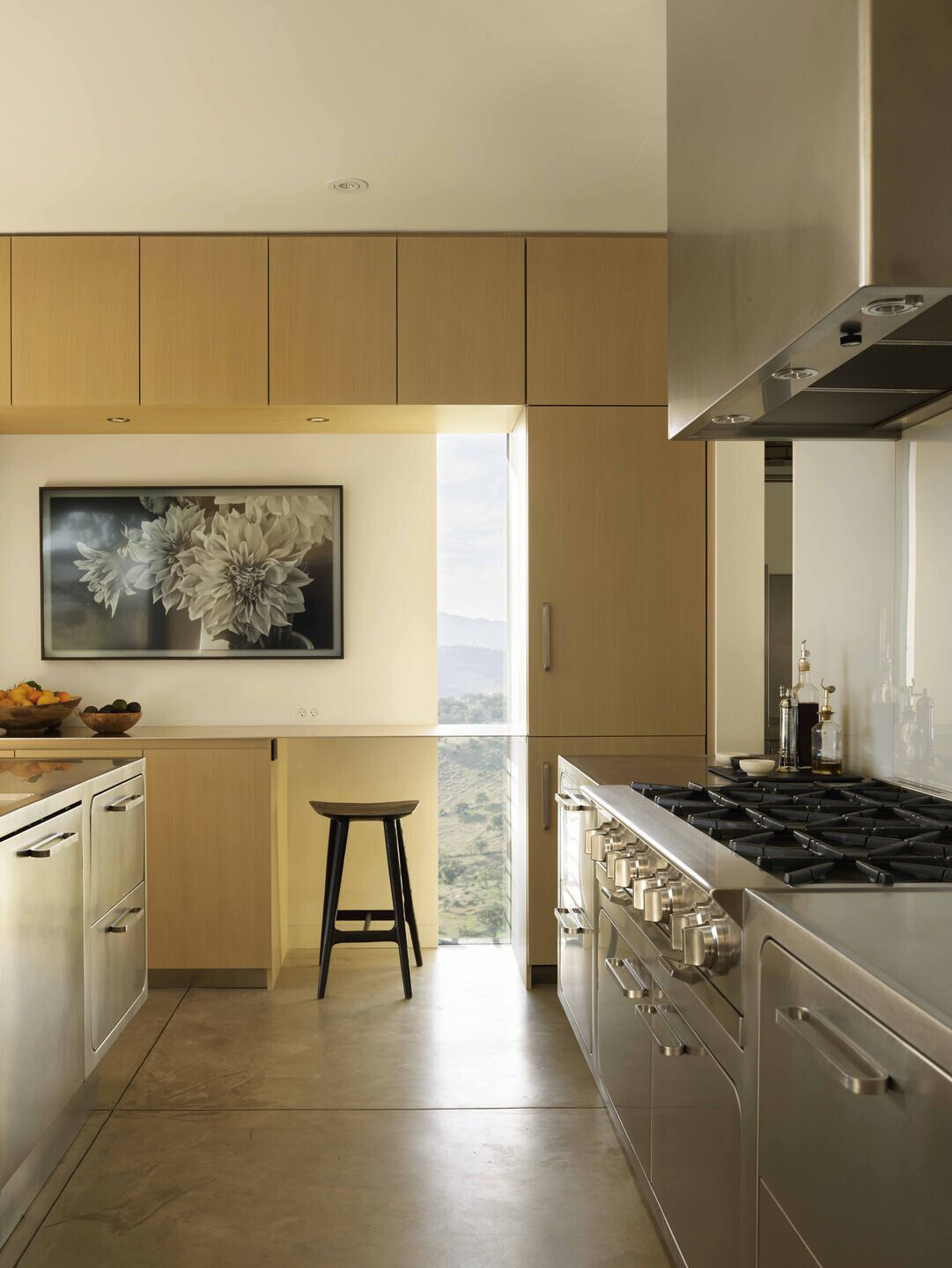 Made of concrete, the kitchen houses grills and barbecues, according to the best American culinary tradition, and is presented with a clean architecture, essential and rigorous lines, reflecting the typical squared design of the Atelier collection. The practical worktop separates the two cooking modes, while the lower part of the kitchen is completed by a generous open space for storing wood and the AISI 304 steel compartments made by Abimis, with anthracite-finish doors and large ergonomic handles.
With four tailor-made solutions by Abimis, this California residence underlines Abimis' expertise in building kitchens and custom-made solutions of the highest quality to meet specific space and customer needs, confirming the ability of its elements to adapt to the most diverse configurations and to respect the aptitude of the design.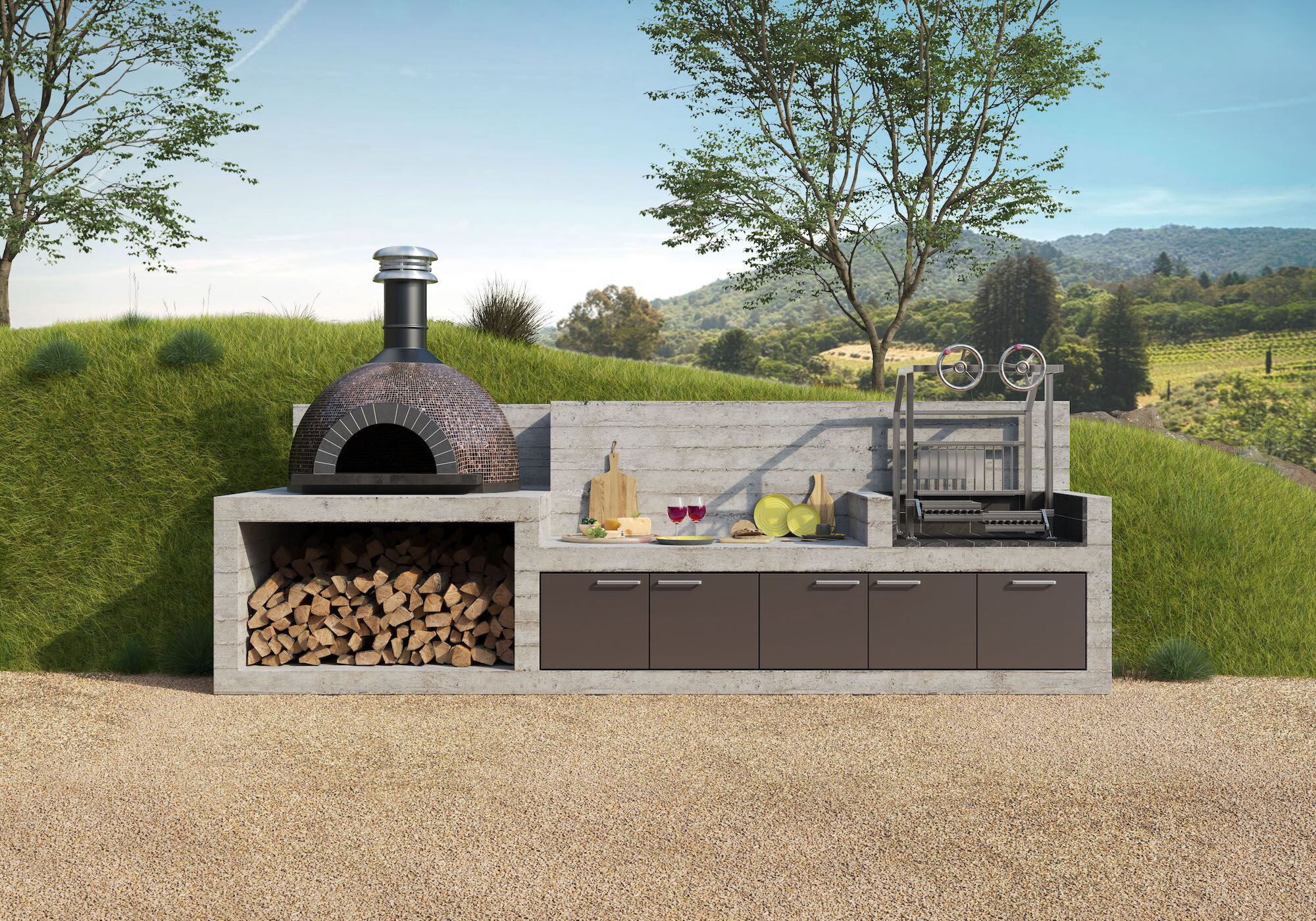 Team:
Architects: Aidlin Darling Design
Photographer: Accent Barbiero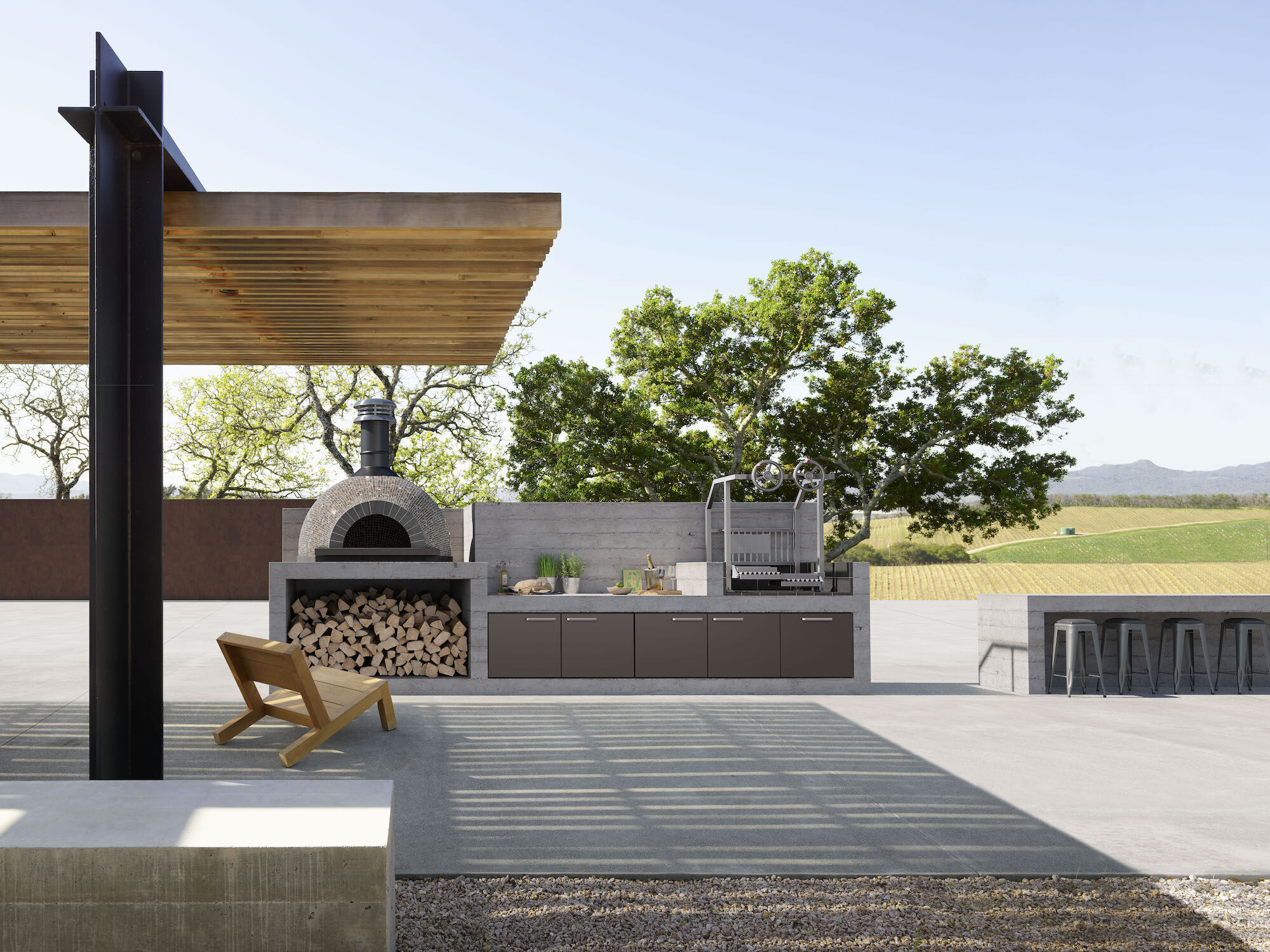 Materials Used:
Kitchens: Outdoor Atelier + Ego and Indoor Atelier