Un marco de hormigón establece la estructura y el ritmo de Frame House, una residencia en la cima de una colina en la zona rural de Sonoma. Arraigada en una meseta sobre un cañón boscoso y viñedos, esta retícula estructural maximiza la conexión entre el interior y el exterior, permitiendo la luz natural y el acceso directo al exterior desde casi todas las habitaciones de la casa. La logia, que abarca tres lados del perímetro de la casa, da sombra a los espacios habitables de abajo y permite acceder a amplias vistas desde las terrazas del segundo nivel.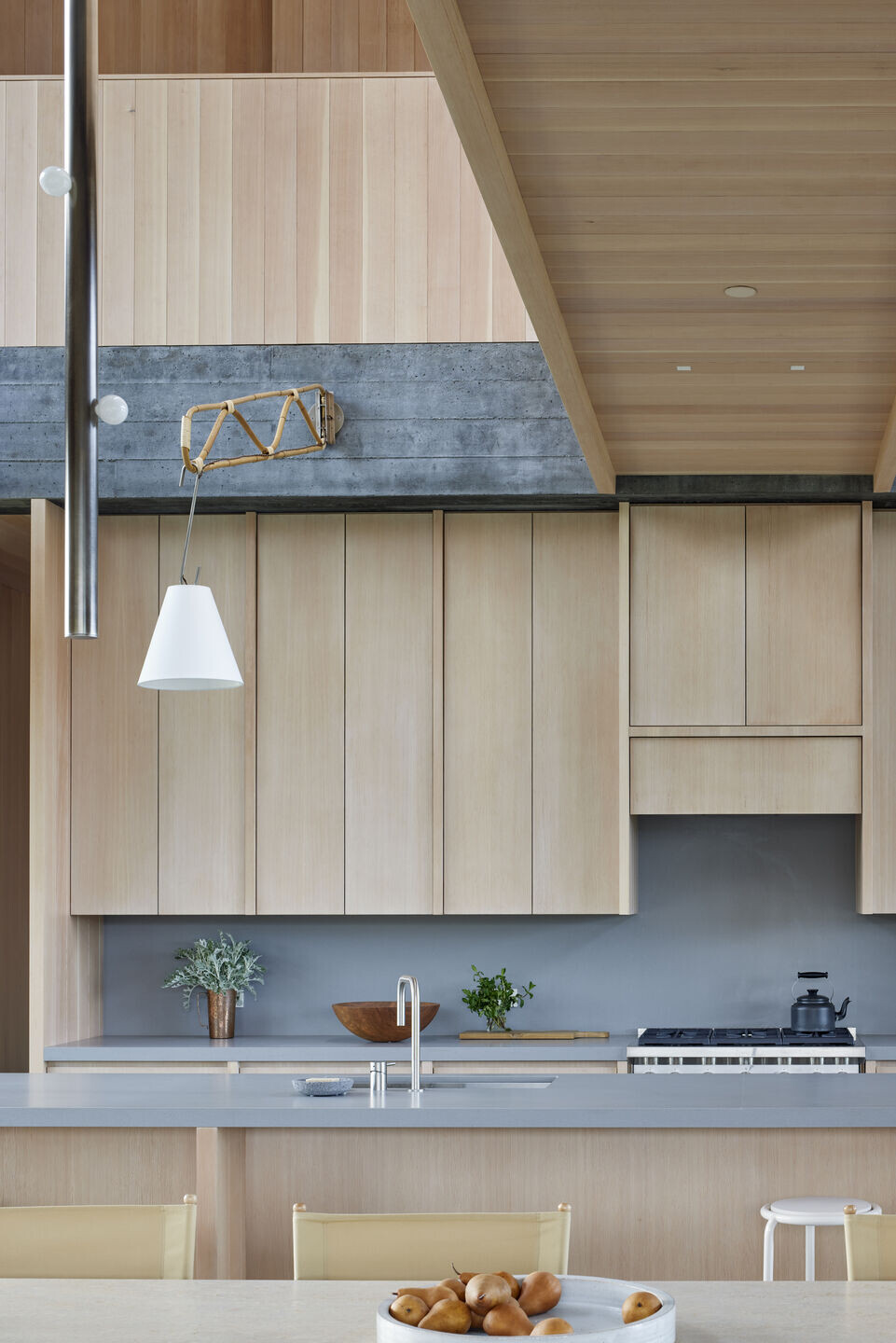 Los materiales de la casa son orgánicos y rústicos en apariencia y tacto, a la vez que ofrecen resistencia contra la amenaza de los incendios forestales que se han vuelto comunes en el Valle de Sonoma y que dañaron la anterior residencia en el sitio. Para proteger la nueva casa, los muros de cizalladura de hormigón están revestidos con una capa sacrificada de revestimiento de madera gris entre las columnas, que también organizan los espacios interiores. Esta rigurosa estructura de hormigón crea una percha desde la que admirar la vista de la propiedad y más allá.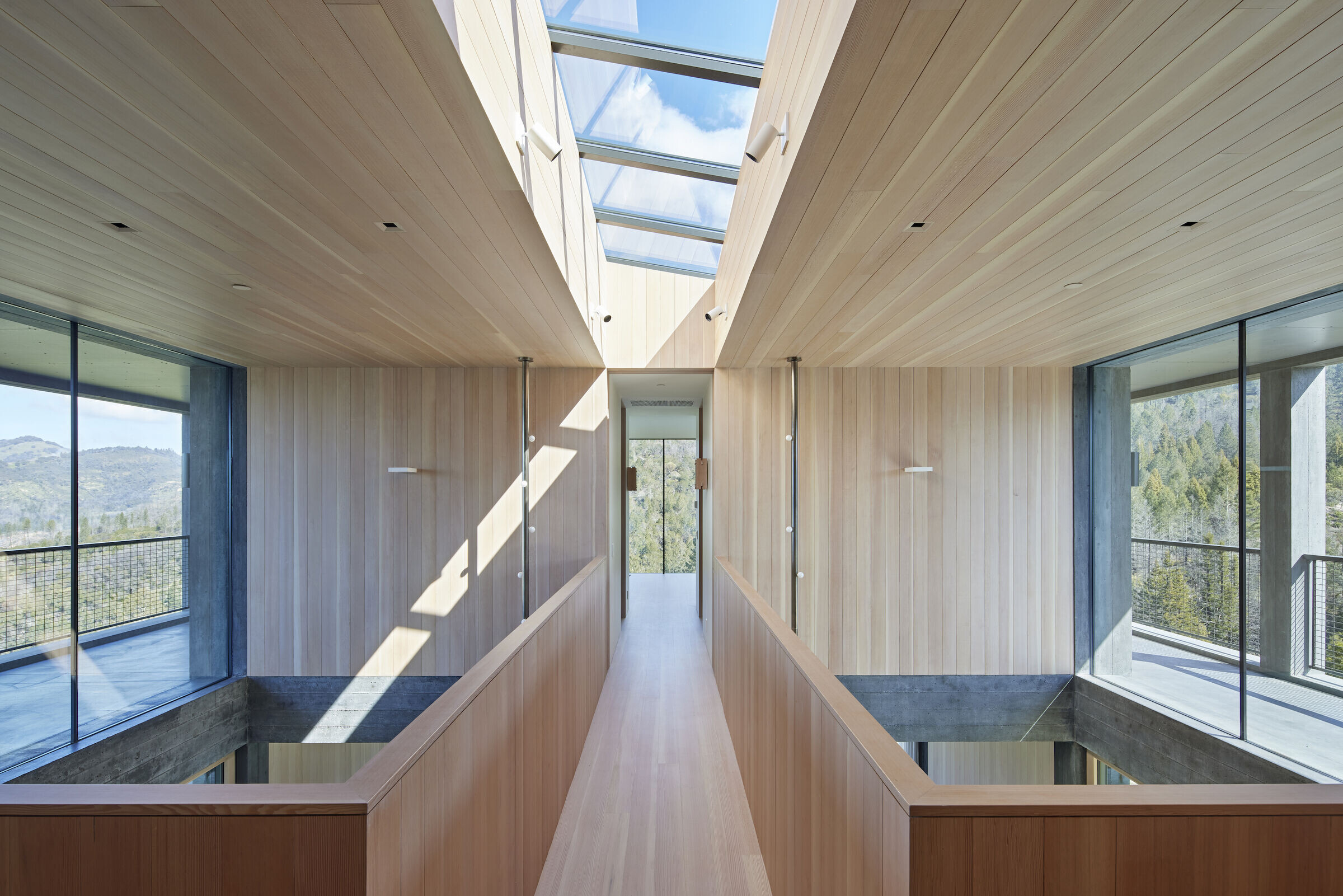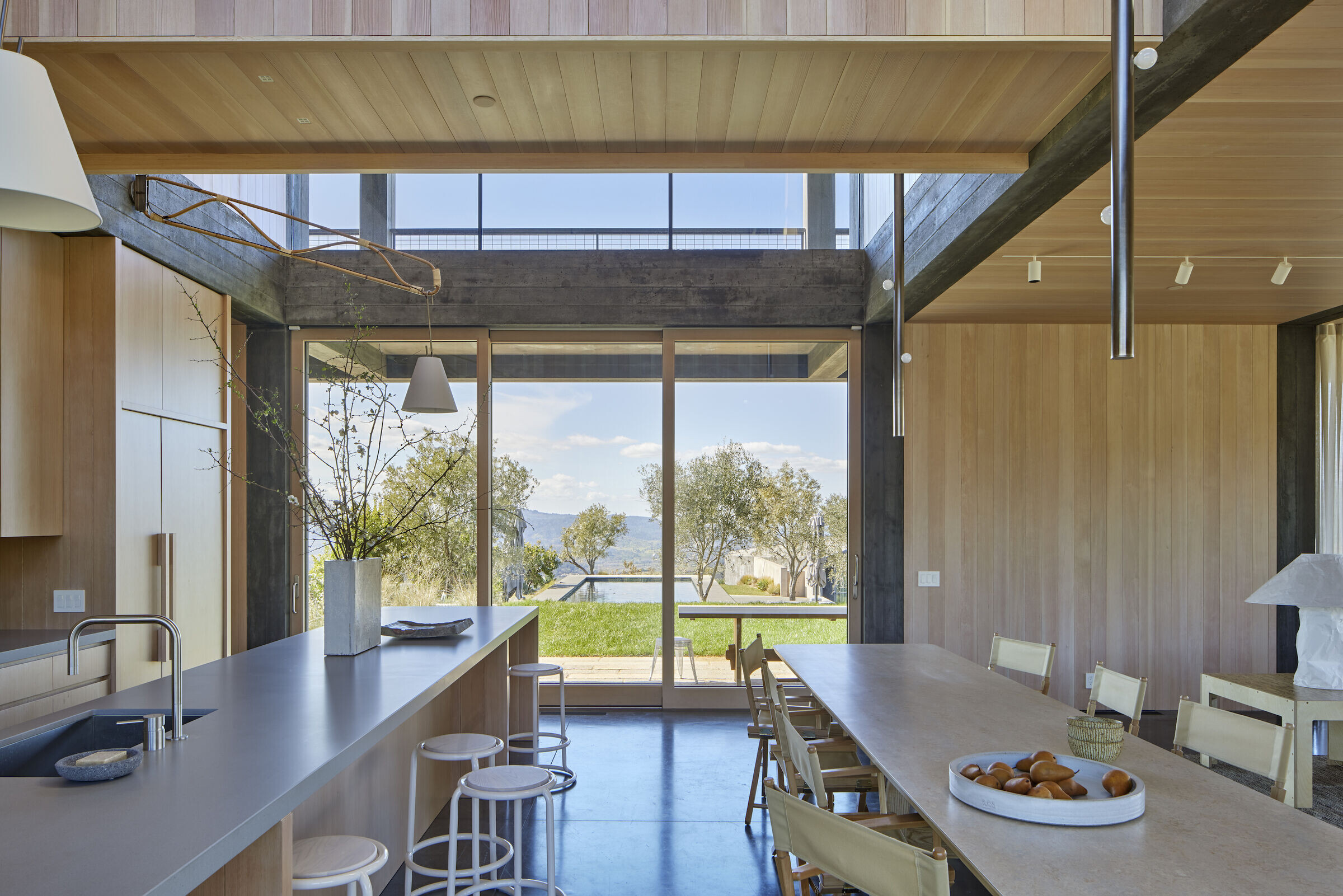 A diferencia del exterior de la casa, que está revestido de una armadura ignífuga, los cálidos interiores están revestidos de abeto Douglas. La casa tiene una relación extrovertida con el paisaje circundante, conectando el interior de casi todas las habitaciones con el clima de California. En el interior, la casa se organiza en torno a un espacio de doble altura por encima de la cocina que conecta los dos niveles y está salpicado por una pasarela flotante que conduce a las dos alas de dormitorios de la planta superior.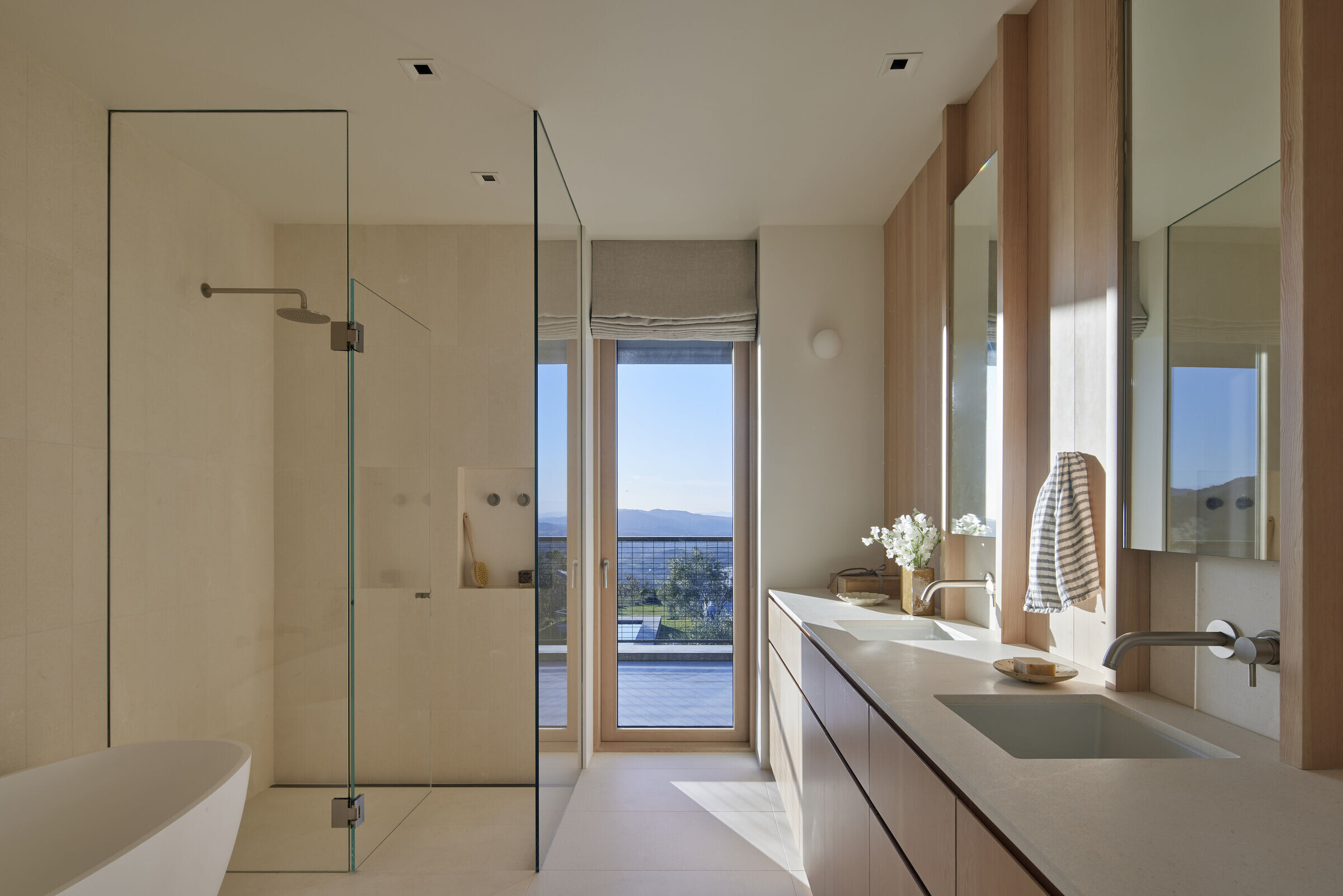 El programa de la casa incluye 4 dormitorios, 4,5 baños, una sala de medios y un gran salón en 4.000 pies cuadrados, con mobiliario interior diseñado por The Office of Charles de Lisle. La propiedad de 18 acres incluye una casa de huéspedes de hormigón de 3 dormitorios y 3 baños, también diseñada por Mork-UlnesArchitects, con diseño interior de Charles de Lisle. El jardín, los huertos y la piscina fueron diseñados por Surface Design.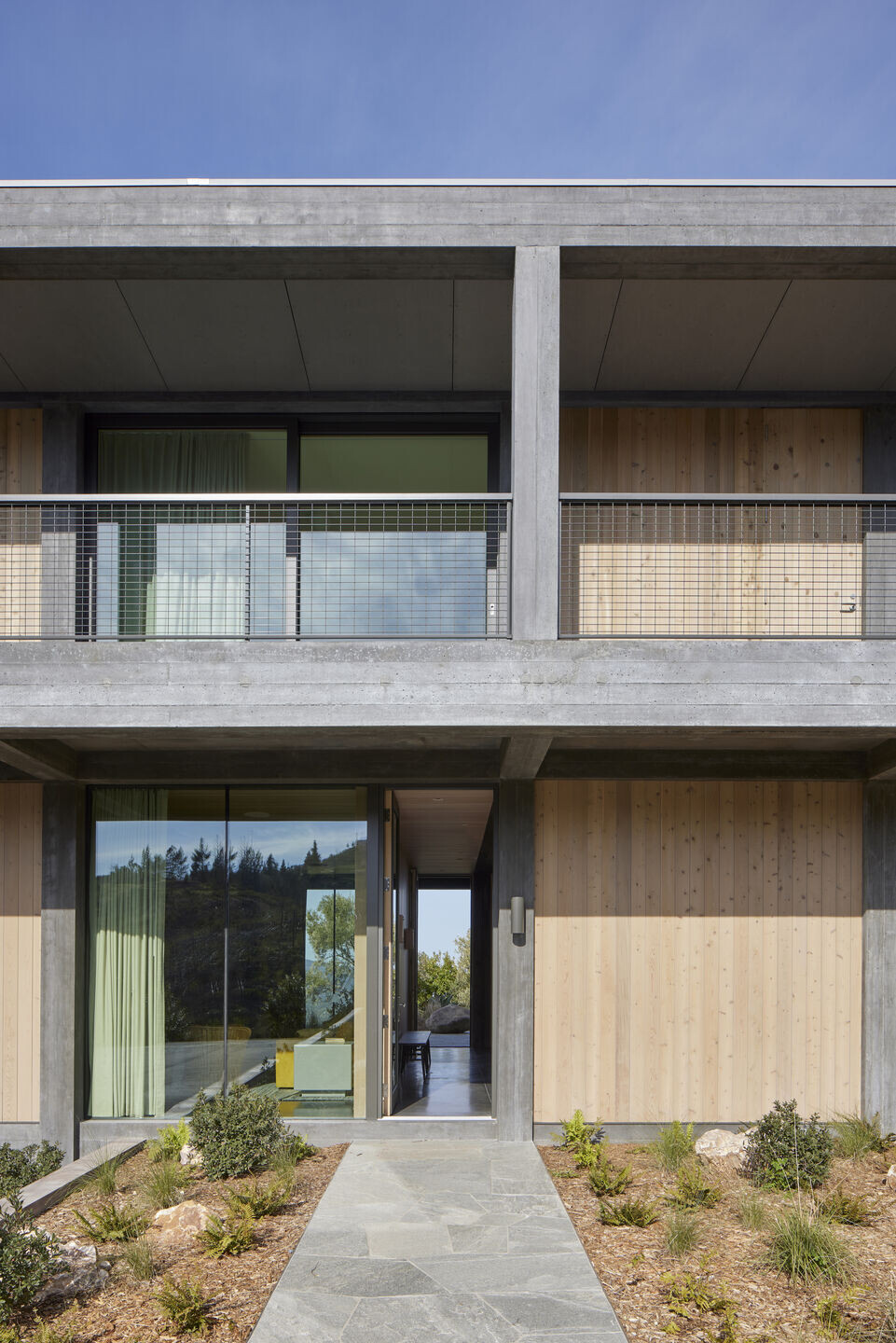 Equipo:
Arquitecto: Mork-Ulnes Architects
Arquitectopaisajista: Surfacedesign, Inc (Roderick Wyllie y Michal Kapitulnik)
Ingeniero de estructuras: ZFA StructuralEngineers (Kevin Zucco y Drew Fagent)
Diseño de interiores: La oficina de Charles De Lisle
Ingeniero geotécnico: RGH Consultants (Jared Pratt)
Ingeniero civil: Adobe Associates (Tim Schram)
Ingeniero de fosas sépticas: Adobe Associates (Greg Schram)
Contratista general: NordbySignature
Crédito de la foto Bruce Damonte
Bruce Damonte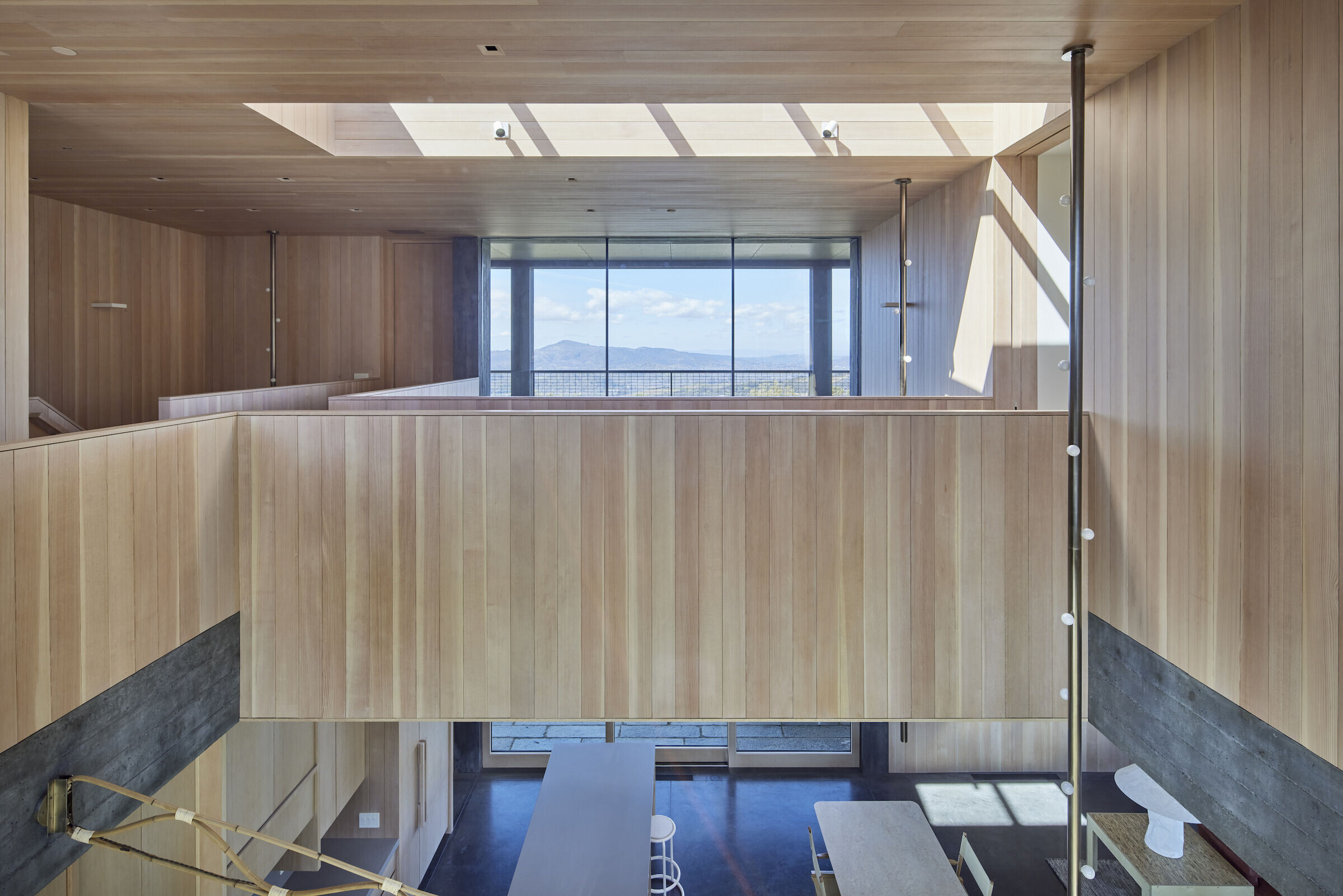 Materiales utilizados:
Homes Lighting designer: Tucci Lighting
Structural / architectural concrete: Partners Contracting , Inc.
Wood doors and hardware: Curtis & Sons Door, Inc., Quantum Windows and Doors
Fixed glazing: B&L Glass
Cabinetry: Mueller Nicholls Builders
Plumbing fixtures: Premier Bath and Kitchen
Electrical fixtures: Tucci Lighting Design
Bathroom accessories: Doug Mockett and Company, Inc.
Exterior structure and framing: boardformed reinforced concrete columns and beams, concrete masonry unit (CMU) walls covered in solid western red cedar
Exterior wall treatment: solid western red cedar
Interior walls: solid douglas fir paneling, painted gypsum board
Interior ceilings: solid douglas fir paneling, painted gypsum board
Floors: smooth troweled concrete topping slab over concrete structural slab (downstairs); douglas fir flooring (upstairs)
Bathrooms: honed limestone, ASN stone
Lighting: track lighting – lucifer; recessed downlights: intense; indirect wall sconce – creon Decorative light fixtures (dining / double height space, over kitchen island, wooden wall sconces) by the office of Charles de Lisle
Plumbing fixtures: GRAFF M-Series, Chrome. Antonio Lupi Dafne Tub, Duravit WCs, Nameeks sinks Kitchen appliances: Wolf, Miele, SubZero
Windows and glazed doors: Quantum Windows & Doors (aluminum clad, solid core douglas fir wood doors)
Door hardware, Deltana Omnia. Linnea Pocket Door Hardware
Fixed Glazing – Site-glazed
Roofing: Sika SarnaFil PVC roof membrane with gravel overlay
Guardrails: welded wire mesh
Eaves: clad in matte fibre cement panels
Cabinetwork: custom planked douglas fir cabinetry, lyed and sealed with clear matte sealer
Kitchen counters: Caesarstone Sleek Concrete
Structural system: concrete slab on grade, with concrete posts and beams and concrete masonry unit (CMU) infill walls