Gramercy Senior Housing es un complejo de viviendas asequibles situado en un terreno de una manzana que antes era propiedad de la ciudad de Los Ángeles y que se utilizaba como depósito de remolques. El proyecto, que es uno de los primeros en utilizar fondos de la ciudad para viviendas de apoyo (Prop HHH), ofrece opciones de vivienda muy necesarias para los ancianos de bajos ingresos y sin hogar en uno de los mercados de vivienda más caros de Estados Unidos.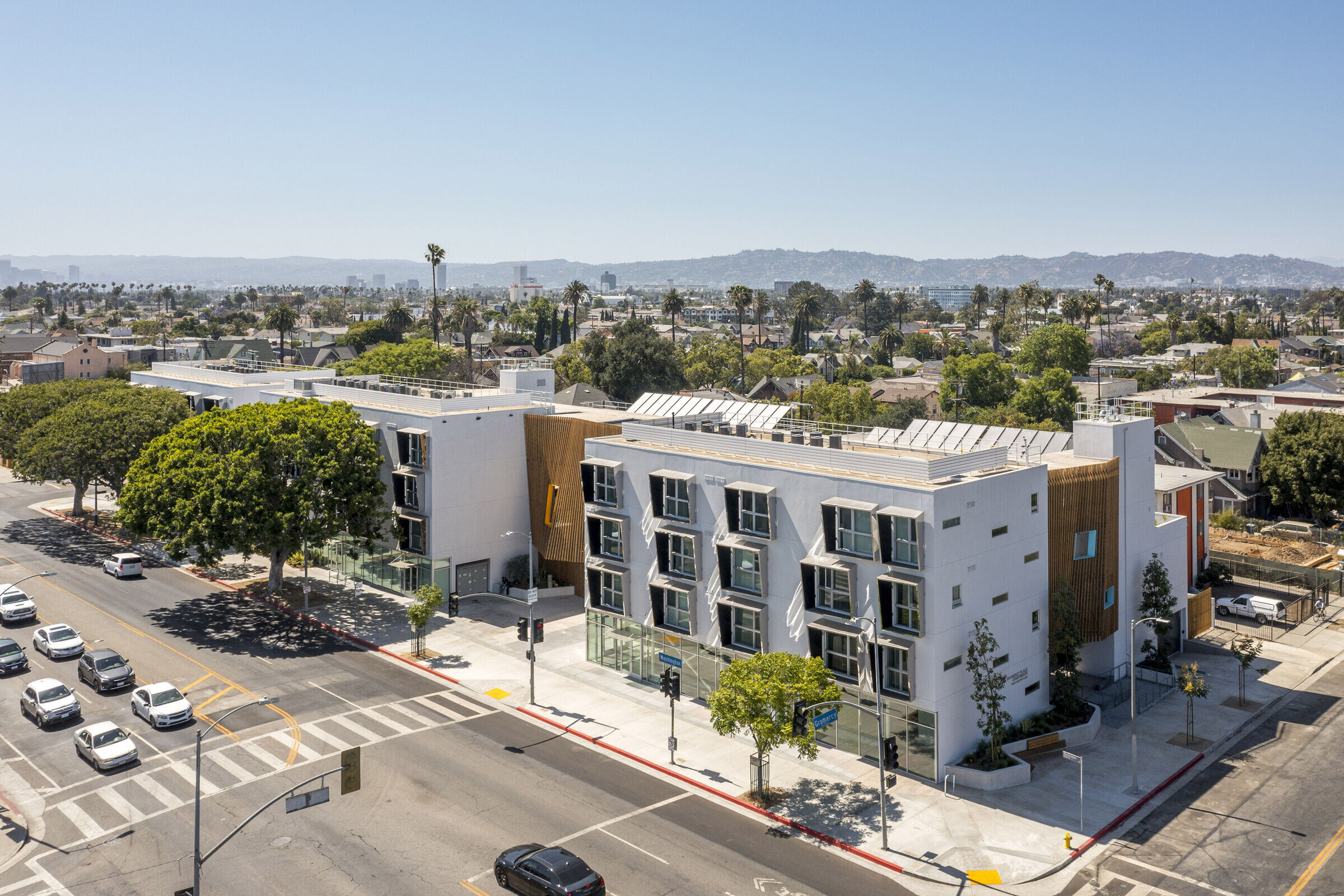 El solar, marcado desde hace tiempo para su reurbanización, permaneció intacto durante décadas, presentando una antiestética fachada blanca al barrio. Después de numerosos comienzos en falso, en 2016 se llevó a cabo un proceso competitivo para determinar el futuro del sitio, y el desarrollador de viviendas asequibles Hollywood Community Housing Corporation (HCHC) fue seleccionado para liderar los nuevos planes de construcción.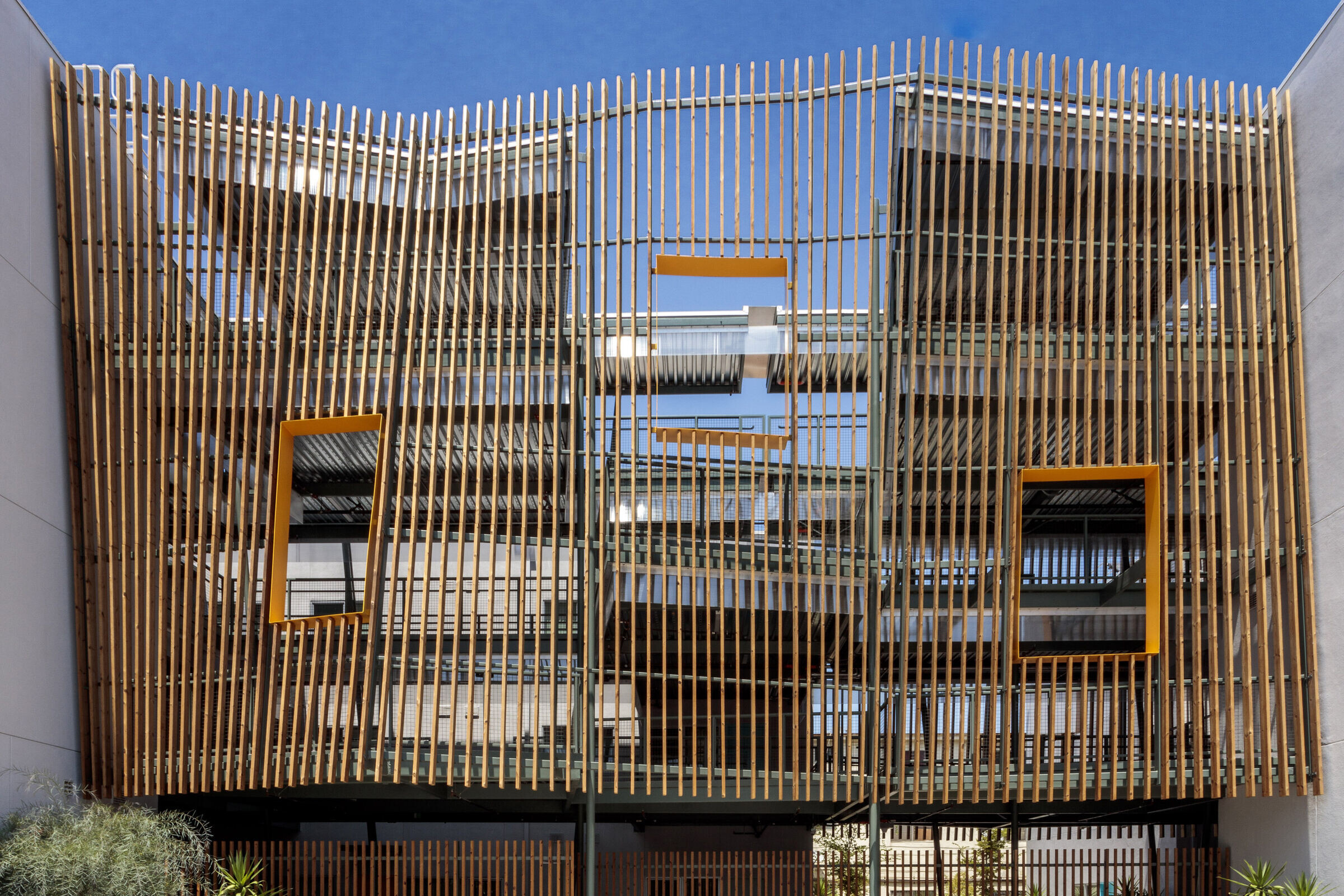 El proyecto de 70.000 pies cuadrados de uso mixto y alta densidad incluye 64 nuevos pisos para residentes de la tercera edad (mayores de 55 años) que ganan menos del 50% de los niveles de ingresos medios de la zona (con la mitad designada para los antiguos sin techo), una cafetería comercial, espacios comunitarios y una plaza pública en el nivel de entrada.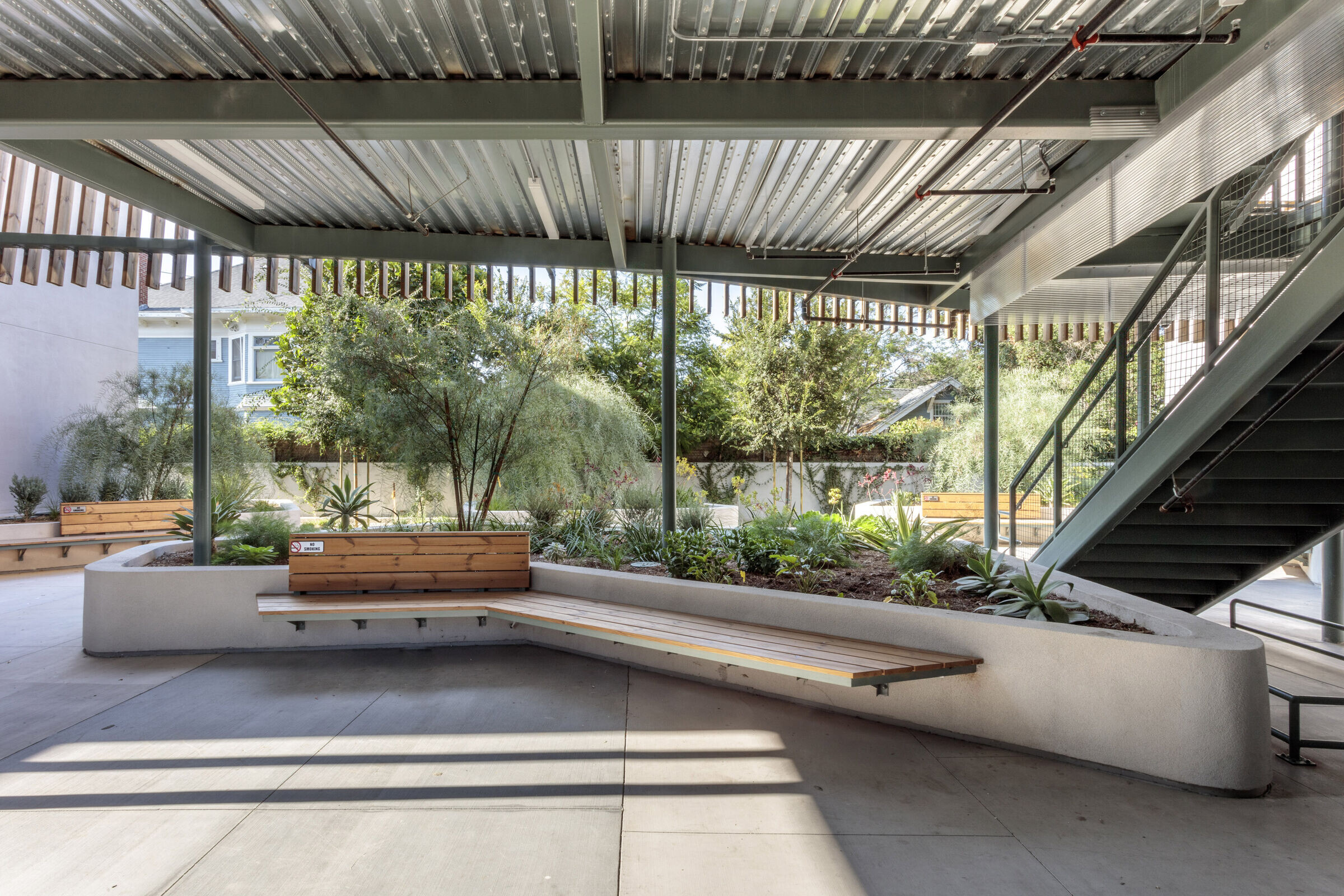 El proceso de desarrollo de la KDA se apoyó en una amplia campaña de concienciación pública. El proyecto está diseñado como seis edificios distintos, que reflejan la escala de las residencias unifamiliares circundantes. Construido en un terreno estrecho que limita con el ajetreado bulevar Washington al oeste y con casas artesanales al este, el complejo se presenta como un conjunto lineal de seis estructuras distintas conectadas por un sistema de pasarelas exteriores terminadas por una celosía suelta y orgánica que contrasta intencionadamente con los bloques residenciales racionalmente organizados.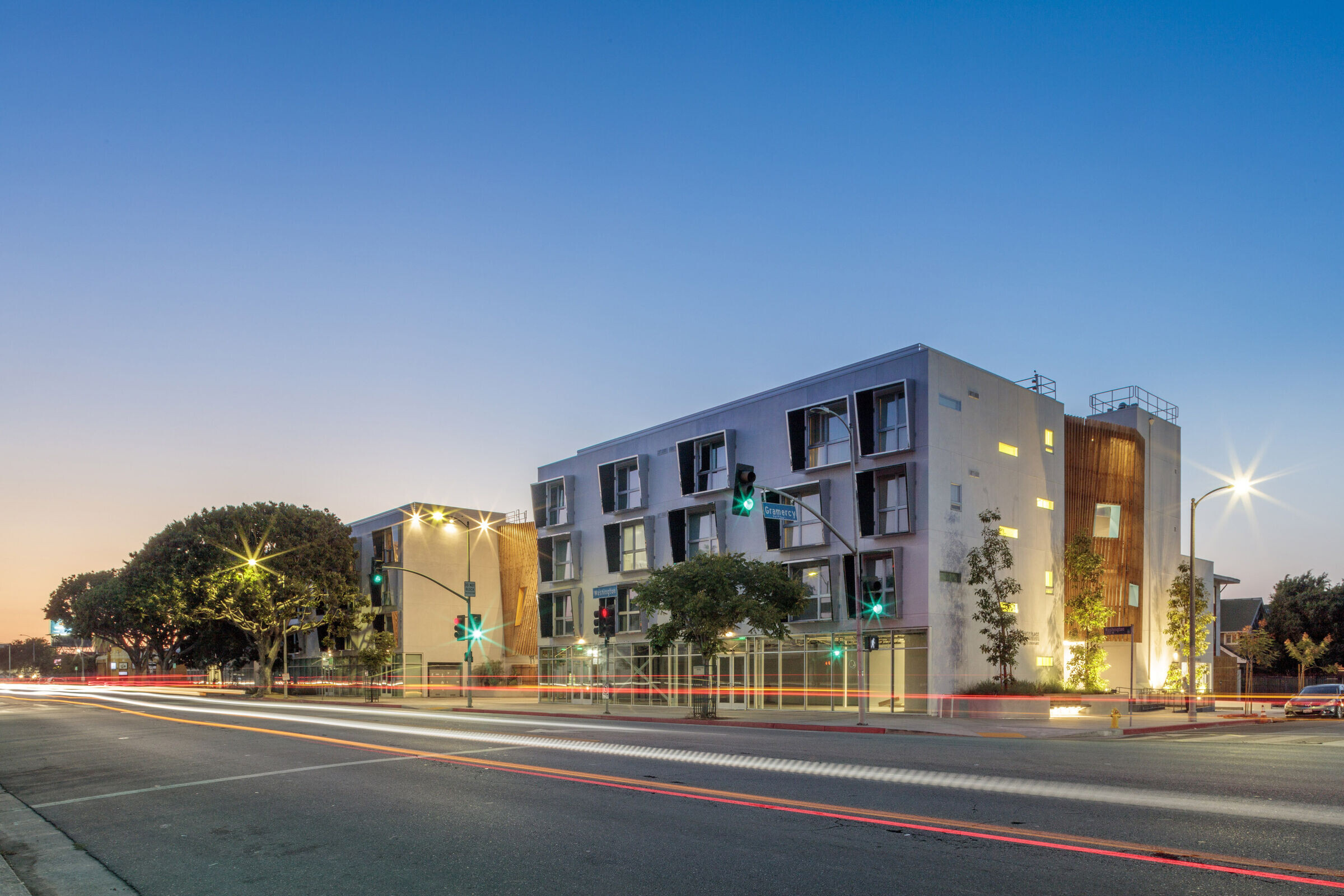 La masa de los edificios a lo largo del bulevar Washington está diseñada para ser más alta para proteger a los del otro lado, proporcionando más privacidad a los residentes y maximizando la luz disponible para las parcelas circundantes. Optimizados para la construcción modular, los planos de planta altamente eficientes de cada estructura permiten la entrada de luz natural y la ventilación en ambos lados, mientras que los espacios de los patios fuera de los pisos sirven como zonas de estar compartidas donde los residentes pueden reunirse. Un jardín comestible en la azotea proporciona un espacio comunitario compartido adicional.

El equipo:
1. Ingeniería estructural + diseño de apuntalamiento: John Labib & Associates
2. MEP/Sostenibilidad: PAE Engineers
3. Civil: KPFF Consulting Engineers
4. Arquitecto paisajista: lieu
5. Código/Fuego: Simpson Gumpertz & Heger
6. Acústica: Newson Brown Acoustic Engineers
7. Especificaciones: CGA Associates, LLC
8. Residuos y carga: American Trash Management, Inc.
9. Iluminación: Oculus Light Studio
10. Gráficos ambientales: Lucy Newson Design
11. Impermeabilización: James West
12. Suelos/Geotecnia: Geocon West
13. CASP: RJC Group Inc.
14. Mitigación del metano: Especialistas en metano
Material Used:
Exterior
1. Windows: Alpine Windows. Acoustically enhanced vinyl windows with 1" insulated glazing units. Series A680-80, A6-81-80 and A6-82-80.
2. Storefront: CR Laurence. US Aluminum Series FT601 2x6 for 1" insulated glazing units. Vitro Solarban 70 XL clear glazing and Opaci-Coat 300 warm gray spandrel glazing.
3. Exterior Doors: Masonite Vista Grande patio doors and Door Components Inc. honeycomb core hollow metal doors.
4. Interior Doors: Masonite Flush Series particleboard core and hollow core.
5. Door Hardware: Schlage, Pamex and Ives.
6. Design/Build Roof Truss: Elliott/Drinkward Construction, Inc.
7. Wood Slats: Thermory. 2x6 Scots Pine.
8. Traffic Coating: Tremco. Vulkem 351. Slate Gray.
9. Concrete Paving: Davis Colors pigment additive, Outback, Silversmoke and Dark Gray.
10. Planters: Tournesol Boulevard, Green-form Bonsai and Green-form Osaka.
11. Light Fixtures: Lithonia, Kuzco, Rab and BL Lighting.
Interior
1. Tile: Daltile. Portfolio Colorbody Porcelain. Ice 12x24 wall tile and Iron Gray 2x2 floor tile.
2. Waterproof Deck Coating: Pli-Dek system over plywood substrate.
3. Vinyl Floor: Mohawk Group. Pro Series Luxury Vinyl Flooring. Travane 6x48 TV35 Golder Oak.
4. Vinyl Wallpaper: Astek wall coverings. Dornick, Morning Light and Climbing Eucalyptus.
5. Countertops: LG Hi-Macs. Platinum Granite.
6. Architectural Casework Cabinets: Centerline Wood Products with Snergy thermally fused laminate finish. Folkstone Gray and Deep Blue Sea.
7. Appliances: GE EnergyStar Certified.
8. Drop-In Showers: Fiber Care. HES62-36BF-T stall. 3 wall handicap accessible with trench drain, grab bars and seat.
9. Plumbing Fixtures: American Standard and Delta.
10. Light Fixtures: Elite LED lighting.
11. Solar Hot Water System: Cal Solar.