El Centro de Investigación Informática es un rediseño inteligente del antiguo que introduce la nueva tecnología de realidad virtual (RV) de última generación para los estudiantes y la comunidad universitaria en general.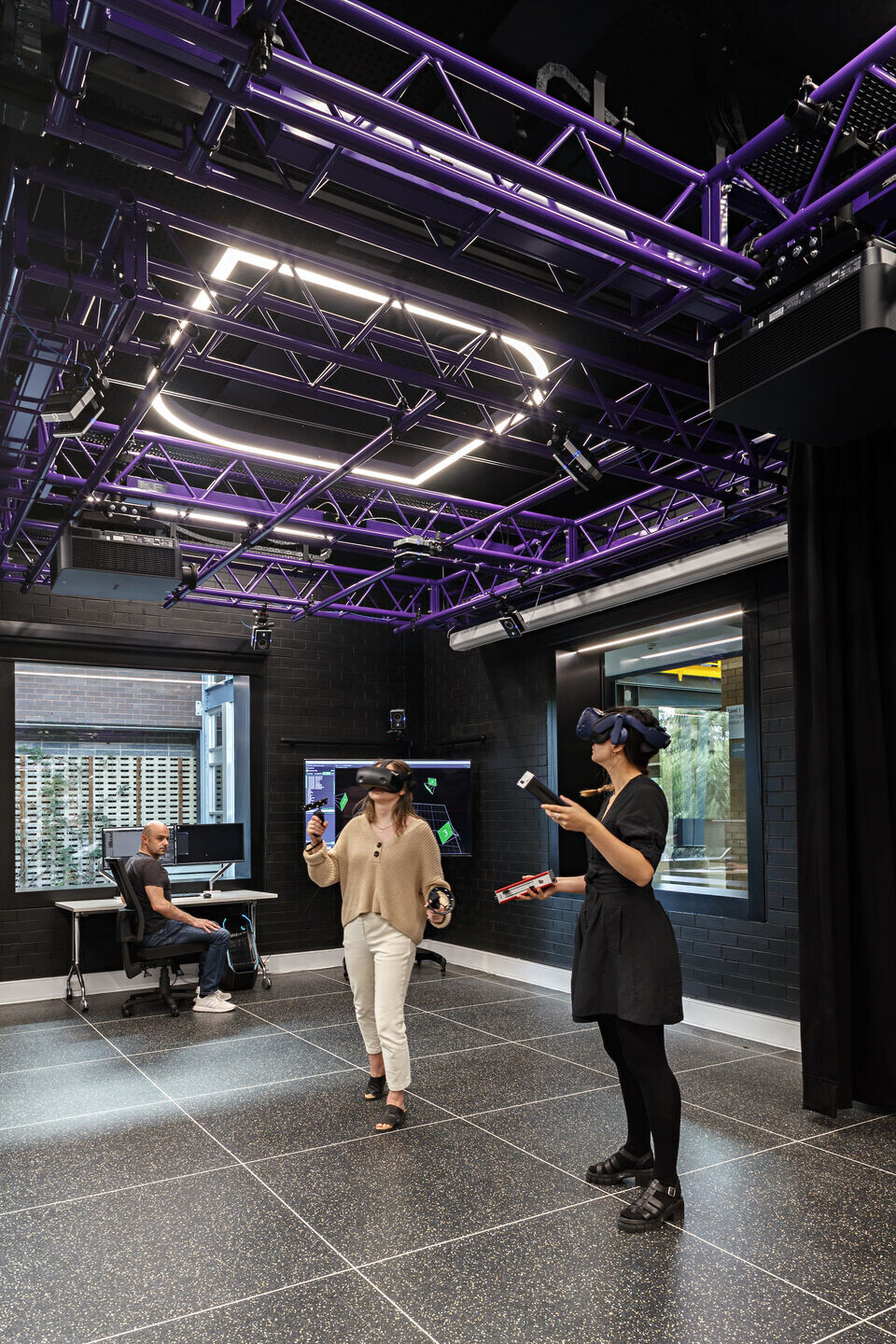 El proyecto forma parte de un importante traslado de la Facultad de Informática del campus de Caulfield al de Clayton, y transforma dos aulas en desuso en el barrio de ingeniería de la universidad. Al fusionar las salas de conferencias se crean una serie de espacios diseñados para la captura de movimientos en 3D y las áreas de apoyo asociadas.
La idea básica era crear entornos de alta tecnología para apoyar la investigación de la facultad en materia de RV, de acuerdo con los ideales expresados en el Plan Director de la Universidad de Monash. Fuimos un paso más allá, haciendo visible el acto de la investigación a través de un diseño reflexivo.
Nuestro diseño marca la fachada con una serie de grandes ventanas cuadradas al norte y al oeste. En lugar de limitarse a mirar una fachada glorificada, se invita a los transeúntes a asomarse a las ventanas, que revelan las áreas de RV y la investigación en acción, como si se tratara de un escaparate.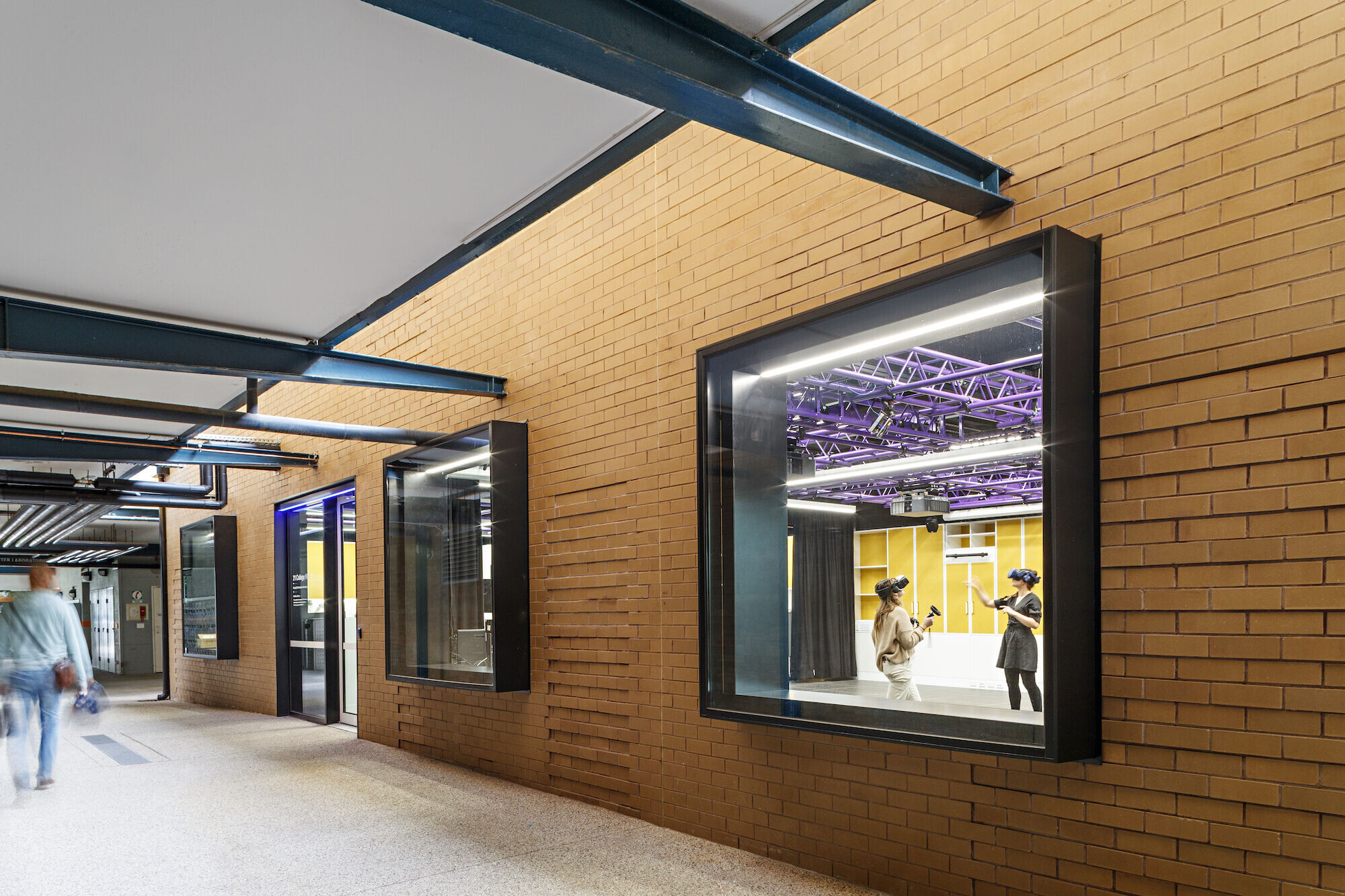 Las ventanillas se han colocado estratégicamente a lo largo de una ruta principal de tráfico, tras analizar cómo se mueve la gente por el lugar. Por ejemplo, el lado oeste es el que más tráfico atrae, por lo que los espacios de RV se colocaron en ese lado. Las ventanas metálicas de la fachada significan la nueva obra y permiten "mostrar la investigación", lo que también está en consonancia con el plan director de la universidad.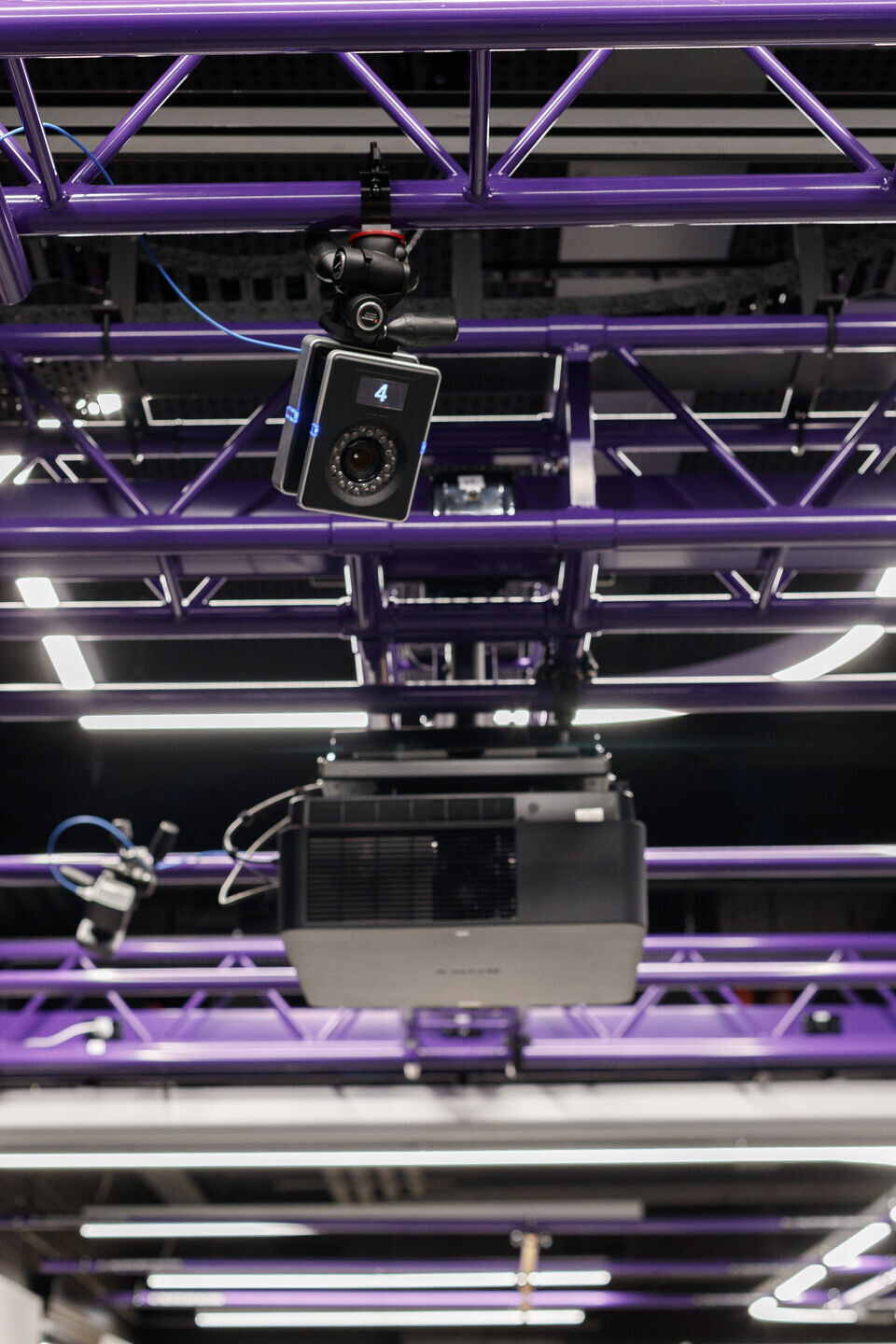 El proceso de diseño incluyó un cuidadoso estudio de los entornos de realidad virtual existentes, incluido un espacio de investigación de doctorado y un espacio de RV en Caulfield, así como el espacio de investigación de biomecánica de la Universidad de Deakin.
Tras experimentar con muchas iteraciones de diseño diferentes, nuestra respuesta fue diseñar una gran zona de pruebas de realidad virtual al oeste del edificio. Esta área podría dividirse en cuatro zonas más pequeñas, lo que proporcionaría la flexibilidad necesaria para crear los diferentes entornos necesarios para llevar a cabo una mezcla de investigación y recogida de datos.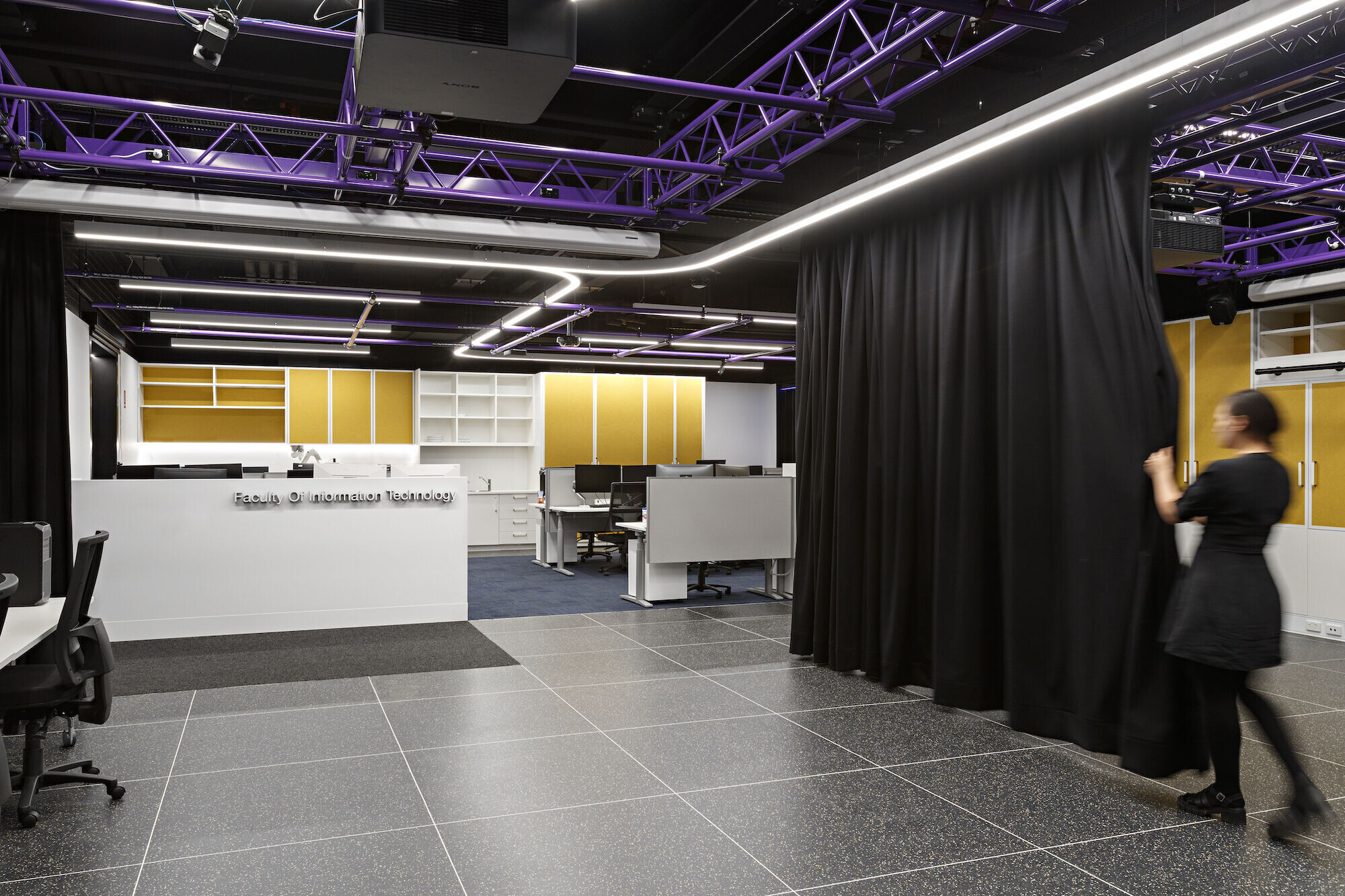 El edificio incluye
Una nueva área de investigación dedicada
Una gran zona de pruebas de RV de 9 m x 9 m en el extremo occidental del edificio.
Un espacio de trabajo técnico de planta abierta para 15 personas
Una zona de oficinas
Instalaciones de cocina.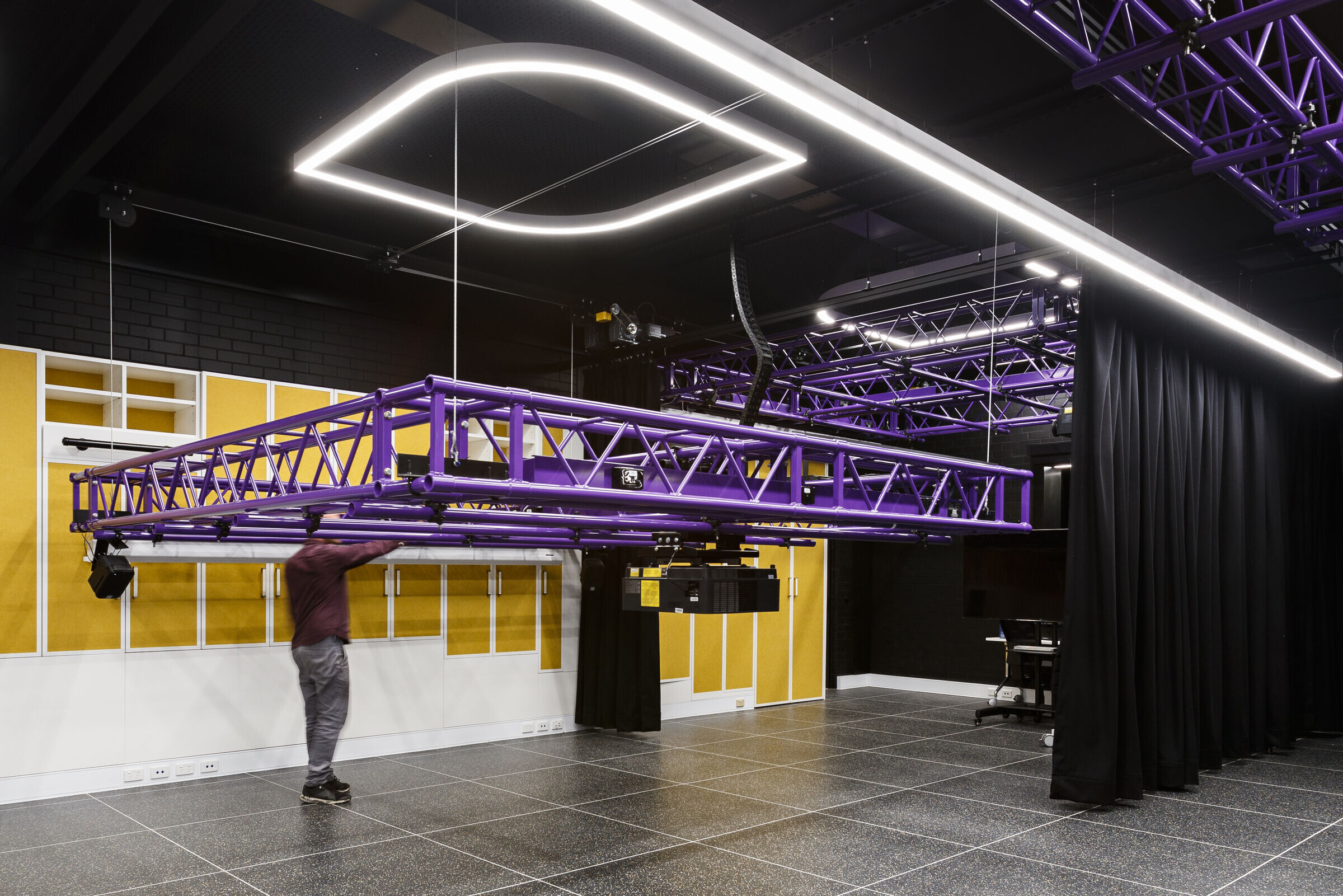 Durante la construcción, se desmontaron las salas de conferencias de hormigón escalonadas y se instaló la mitad del techo sobre las zonas de RV con rejillas motorizadas suspendidas altamente especializadas. Una serie de cámaras de seguimiento del movimiento están fijadas a la rejilla, junto con disposiciones para altavoces, focos, iluminación y cámaras de seguimiento adicionales.
En consecuencia, las rejillas requerían puntos de anclaje y arriostramiento precisos y adicionales. Esto era importante para garantizar su estabilidad cuando las cámaras se utilizan para la captura de movimiento precisa. Las rejillas también se pueden subir y bajar para reorganizar las cámaras, según las necesidades de la investigación.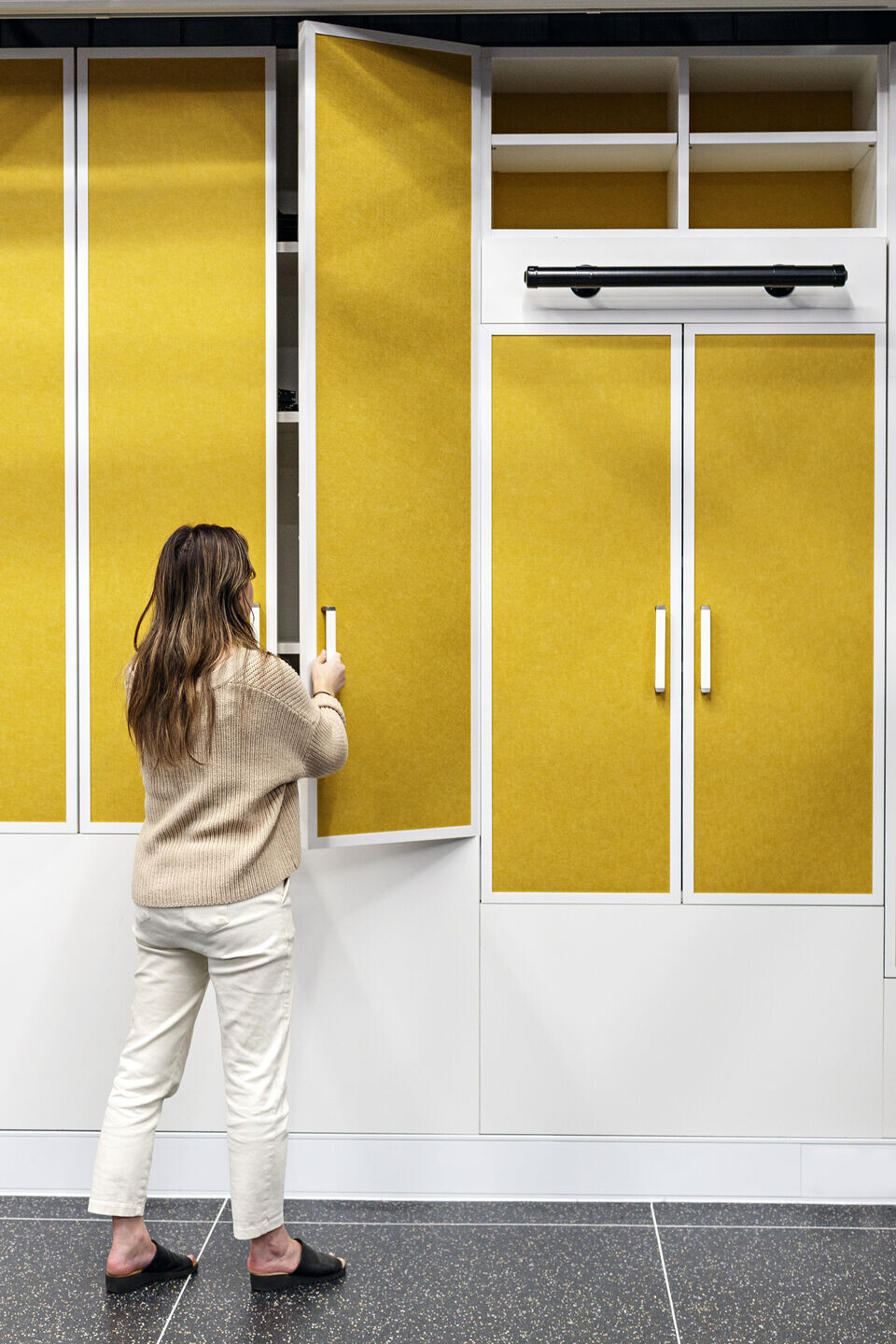 Como los requisitos de construcción también cambian, el centro de investigación está preparado para el futuro. El espacio de oficinas de planta abierta está diseñado para permitir un espacio adicional de RV, que puede adaptarse y ampliarse con la instalación. El color y las características modernas incluyen el delicado detalle de un nuevo enrejado para la plantación, mientras que para los ocupantes, las nuevas ventanas proporcionan acceso a la luz natural que faltaba en los antiguos teatros.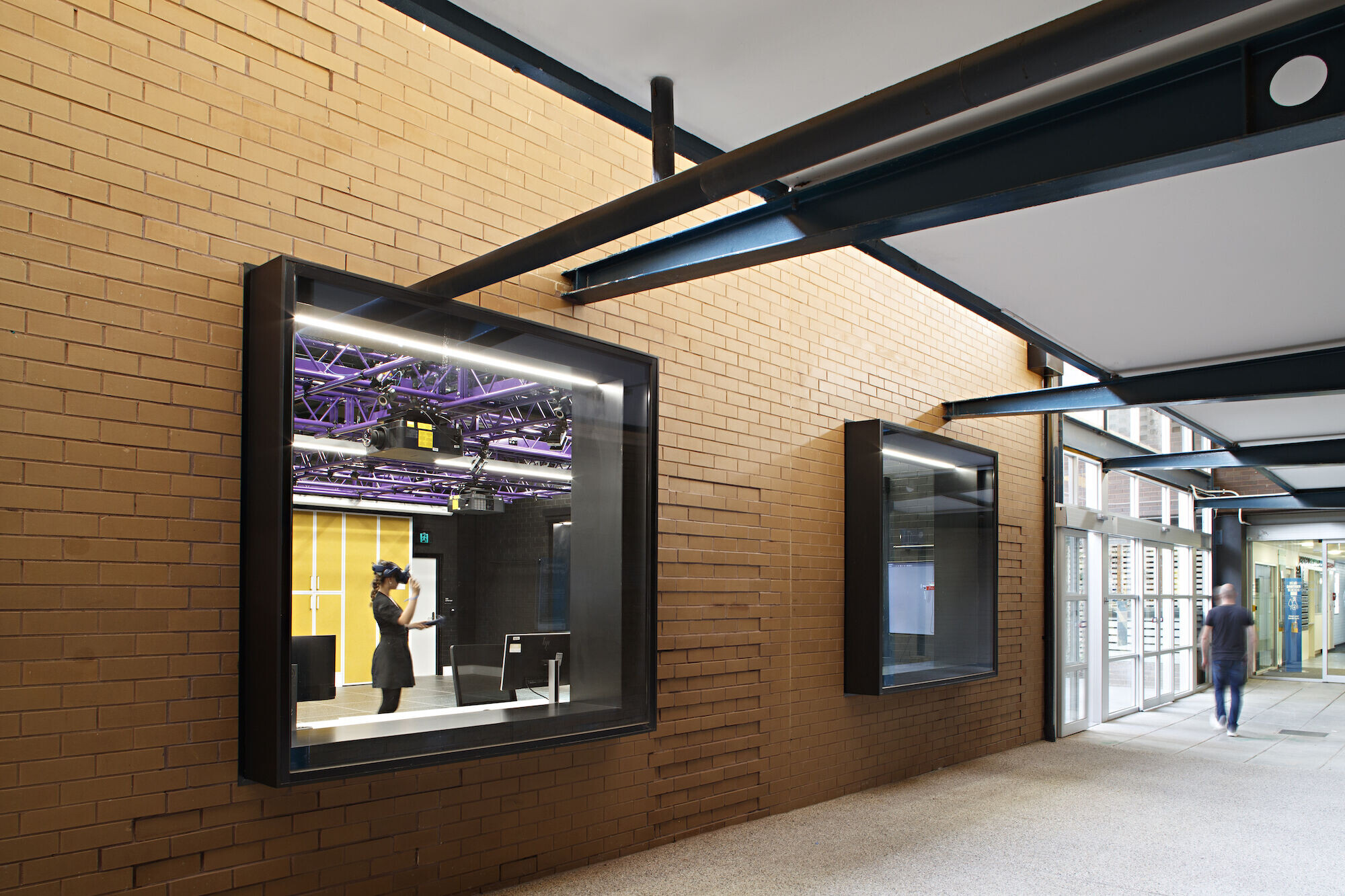 Aunque este proyecto mira al futuro, también rinde homenaje al pasado. La fachada de ladrillo se ha tratado de forma cuidadosa y deliberada con un enfoque patrimonial, y se ha conservado no sólo para minimizar los residuos, sino también para proporcionar un elemento de diseño único al proyecto. Este elemento se resalta con detalles de ladrillo deliberadamente escalonados que resaltan las puertas antiguas, reflejando la vida pasada del edificio.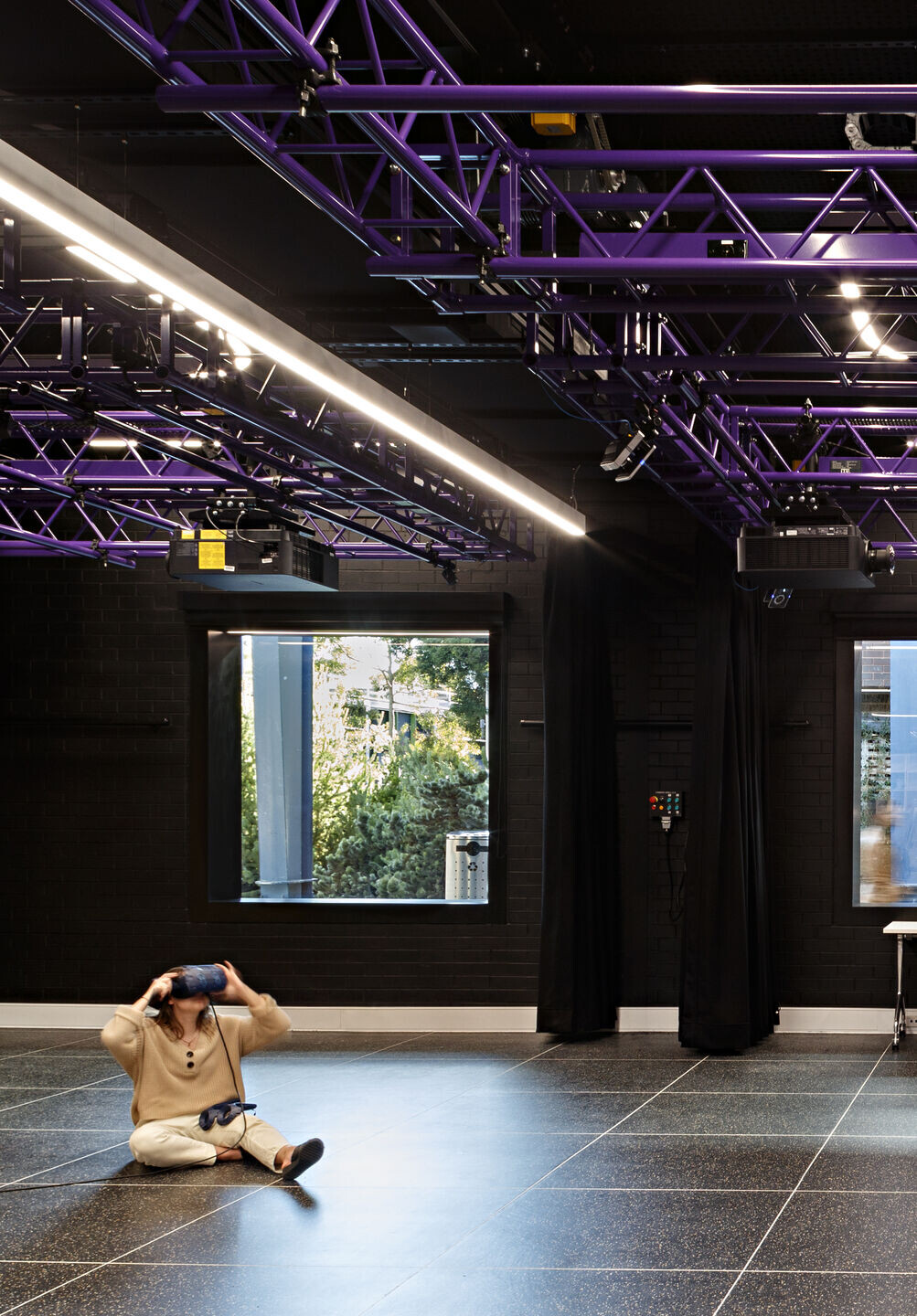 Juntos, los elementos antiguos y los nuevos crean un edificio que atrae la conversación y el interés de los transeúntes. Su ubicación en el distrito de la ingeniería también ofrece mayores oportunidades de interacción interdisciplinaria entre las facultades, un tercer ideal del plan maestro.
Básicamente, se trata de un edificio que cumple con la visión de la universidad de ser líder en educación e investigación. Al hacerlo, nos sentimos orgullosos de contribuir a un edificio que está a la vanguardia del futuro de la Universidad, apoyando a las mentes tecnológicas más brillantes de Australia.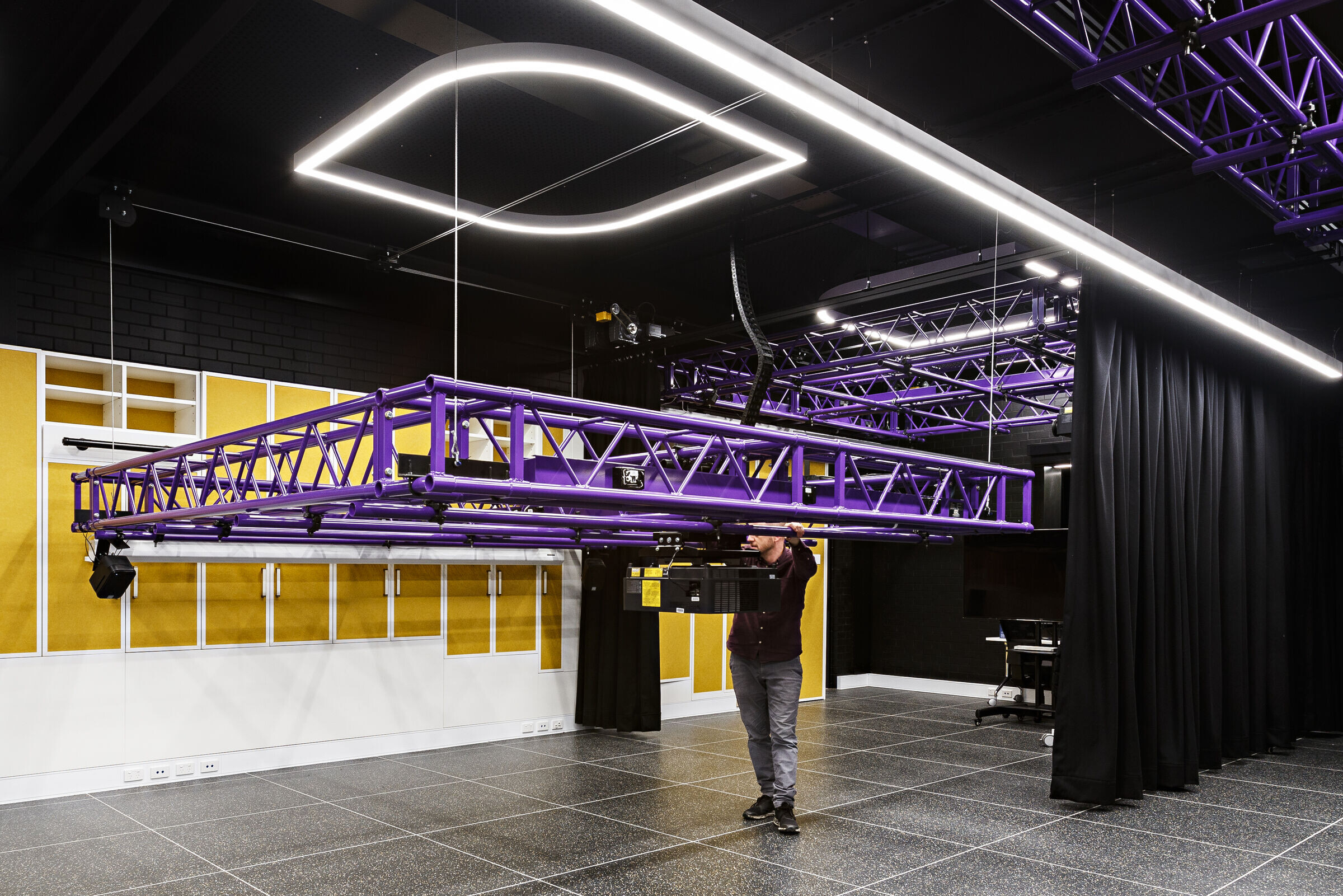 Materiales utilizados Sección 16a:
Floors:
HydroControl HydroSton H50 - Permeable Paving (PV)
Concrete Paving, Concrete Paving (CPV), Concrete Footpath, Exposed concrete in front of door, Exposed concrete
Walls & Linings:
Brickwork - BRF, BRR, Existing External Brickwork (BRX), Mortar
Stainless Steel Trellis - Dulux Fluoroset Xtreme Aluminium SHS and fixing plates, Mesh Anodised
Doors:
Dulux Powdercoat Fluoroset Xtreme- Aluminium door frame (PC1), Alumnium frame for door leaf, Shroud (PC1), Cover for auto door operator (PC1), Aluminium frame for sidelight (PC1), Shroud, Door Frame
Dulux - Door Leaf - external side, Door Leaf - internal side
Glazing Framing & Film:
Dulux Powdercoat Fluoroset Xtreme- Glazing Adaptors, External Window Shroud (PC1)
Internal Aluminium Windows / Shrouds, Safety Decal
Roof:
Colorbond - Roof Sheeting, Ridge Capping, Gutters, Rain Water heads (RWH), downpipes (DP), Parapet flashing and capping
Dulux - Existing downpipes noted to be painted on the drawings
Mechanical:
Dulux Powdercoat Duratec Zeus- Roof Cowls, Screen Around Condenser Unit On Roof
Dulux - New Pipework
Colorbond - Covers To External Pipework And Cable Trays
Electrical:
Colorbond - Covers To External Cable Trays
External Wall lights (W1)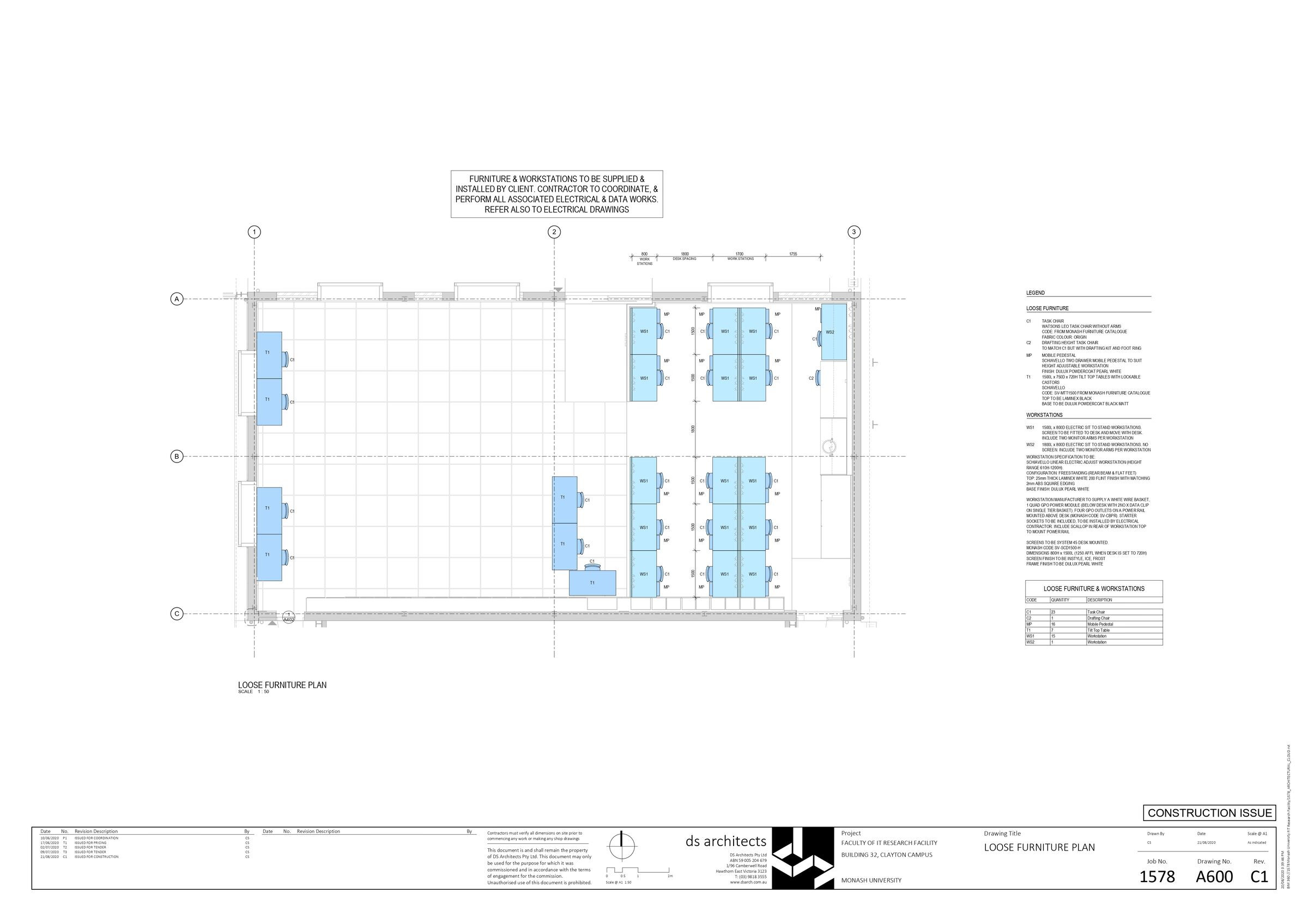 Matériaux utilisés Section 16b :
Floors:
Troika - Dirt Barrier Mat
Interface - Equilibrium II Carpet Tarkett - Vinyl Sheeting VS1 Tarkett Primo Premium, Highlight Welding Rod iQ Surface, Vinyl Sheeting VS2 Tarkett Primo Premium, Welding Rod iQ Surface, Vinyl Sheeting VS3 iQ Granit SD Anti- static, Welding Rod
Walls & Linings:
Dulux - Internal exposed brick, Existing Steelwork, Plasterboard feature paint colour (PF1), Flush Plasterboard Boxing To Mechanical Fan Coil Units And Exhaust Fans
Dulux Powdercoat - Aluminium plate to P1 wall (AP1)
ITE - Curtains 500gsm wool-fire retardant
Track (CTK)
Ceilings:
Perforated Plasterboard (PP)
Dulux - Existing Steelwork, New Steelwork
Skirtings:
Armstrong - Vinyl 150mm Flat vinyl skirting
Windows:
Sapphire Aluminium - Internal Aluminium Shroud / Reveals (AF1)
Dulux Powdercoat Fluoroset Xtreme - Glazing Adaptors
Blinds:
Mermet - Sheer M Screen 5% Openness, Blockout Plaza Plus
Dulux Powdercoat - Bracket, Fascia and Endcap, Bottom Rail
Joinery:
Laminex - Tea Point Benchtop (LM1), Splashback (SB), Concealed Shelves, Carcass, Kickboard, Kicker
Woven Image - Acoustic Panel cupboard fronts (EP1)
Dulux Powdercoat - Trim to Acoustic Panel, Perforated Metal sheet behind Acoustic Panel, Perforated Metal Sheet Behind Acoustic Panel, CHS, Brackets And End Caps
Megasorber - Comms Cupboard Insulation
Screw fixings for Acoustic Panel Cupboard Fronts, Fixings
Motorised Grid:
Dulux Powdercoat - Space truss and adjustable pipes Alphatec, Hanging rods, Pulley, Winch, Wire Ropes, Energy Chains, Cable Duct
Power and data outlets, Motor control cabinet
Electrical:
Dulux Powdercoat Cable Trays - Mounted to brickwork, Mounted to underside of perforated plasterboard ceiling
Dulux Powdercoat Lights - Suspended Linear lights L1, L2, L3, LED1 Light, LED2 light, Skirting Duct
Dulux Fluoroset Xtreme - LED3 light
Emergency Lights, Exit Lights, Power And Data Outlets On Skirting Duct, GPOs at high level, WAPS and security cameras, Access Control
Mechanical:
Dulux Powdercoat - Return Air Grilles, Supply Air Grilles, HHW, CHW Pipework, Cabletrays, Ductwork
Fire:
Speakers And Smoke Detectors.