Architectural wood
An overview of projects, products and exclusive articles about architectural wood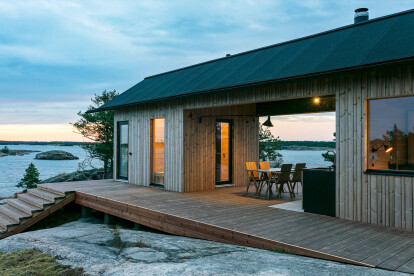 Producto • By Lunawood • Lunawood Cladding
Lunawood is an unrivaled material for facades thanks to its dimensional stability, weather resistance, durability and beautiful appearance - all achieved without chemicals naturally through thermal modification. Lunawood Thermowood does not require surface coatings even in the most challenging climate conditions which makes it a truly sustainable choice throughout its life cycle. This allows your project to have that naturally grayed exterior cladding, if desired. The raw material for our products comes from a renewable and certified Scandinavian forest.
Más
Proyecto • By Estudio PK • Casas Privadas
Situada en Tigre, Buenos aires, Argentina con orientación Noreste y visuales directas a la laguna central del barrio Virazon situado en Nordelta. La impronta de la casa partió de generar una geometría pura y limpia que realza la naturaleza del entorno y respeta la privacidad de la propuesta. Casa Grava fue proyectada como un macizo, con su impronta personal y tectónico, hubo una búsqueda con respecto a la materialidad, la elección de la piedra en su exterior tuvo que ver con una idea nostálgica del cliente, esto genero un diseño que parte de la idea del asentamiento de una piedra. Conceptualmente partimos de una base pesada, con la piedra como protagónico que iden...
Más
Proyecto • By DKA ARCHITECTES • Escuelas Primarias
An innovative project, the Domaine-Vert-Nord school has become the main pilot project of the Quebec's Ministry of Education for the design of tomorrow's primary schools. The primary goal of architecture is to place students and their success at the heart of the project. The concept developed around a new approach to make school a child-scale living environment: maximum integration of natural light, large presence of vegetation and programming of spaces allegorically evoking a home. In the same vein, the building has only one floor and has several joint multipurpose classes that allow exchanges between class groups. The facilities are flexible, designed on the model of houses, that each combine 4 classes that can be modulated accordin...
Más
Live Oak Bank's Wilmington, NC campus celebrates its serene, forested site while fulfilling the company's goal of creating the best possible workplace environment for its employees. The buildings draw from a shared materials palette of cypress, glass, and steel to integrate with the natural surroundings while creating a modern aesthetic. The first campus building is anchored by a central lounge overlooking the central courtyard and deck; slender two-story office wings create a sense of transparency and offer fabulous views from any point within the building. A second building with a canted form takes advantage of optimal daylighting and passive solar design and features an employee restaurant and lake views. An adjac...
Más
Proyecto • By StructureCraft • Exposiciones
At over 800,000 sqft (75,000sqm), the new Tianfu Agriculture Expo is the largest timber structure in Asia, and one of the largest in the world. The structural design for this series of 5 vaults uses unique Vierendeel trusses to achieve clear spans of more than 115m/375ft and heights of 45m/150ft, which are fully erected on site. The building is slated to open for visitors mid-2022.
Más