Cersaie2018
An overview of projects, products and exclusive articles about Cersaie2018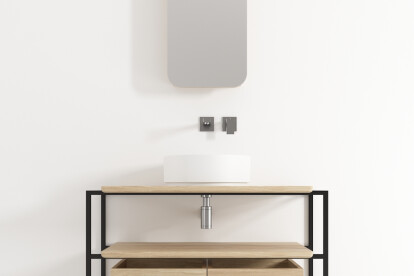 Producto • By IDI STUDIO • Naked
A simple iron structure defines two practicaltowel hangers and sustains two solid wooden topsthat cover the open drawers allowing an easy wayopening and creating a modern and contemporarystyle.Naked cabinet 140 cm made in solid oak woodnatural with double countertop washbasin B578.Free standing bath tub B530, wall units AC06 andAC07. Taylor made showertray FLAT CUSTOM.
Más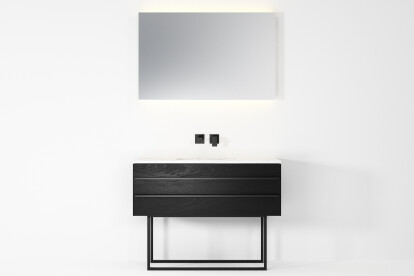 Producto • By IDI STUDIO • Less is more
Less is more cabinet made in solid oak woodnatural and black iron details. Top with integratedwashbasin (available in different models) andCloud free standing bath tub mod. B490.Regular and minimalistic shapes are the maincharacters of Less is more's design, a compact andergonomic cabinet that contains all the essentialobjects of the modern bathroom.Black metal finishing and different solid woodtimbers structures sustain the top with integratedwashbasin or the countertop washbasin made inhigh quality 100% acrylic solid surface.
Más
Producto • By IDI STUDIO • Beetle
Beetle three drawers version made in solid American walnut with countertop washbasin B180Marquinia marble version. Free standing bathtub B400, high stool towel hanger from Naked collection made in walnut and black iron.Beetle four drawers version made in solid American walnut, container mirrors and double countertop solid surface washbasin B180.FLAT STANDARD shower tray and walnut towel hanger ladder with four steps from Accessories collection.
Más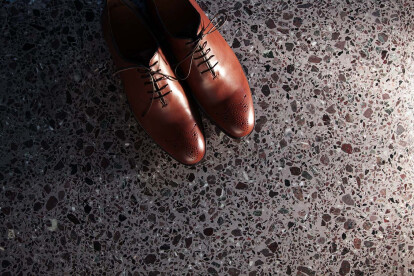 Producto • By Grandinetti • Fragmenta
Small gestures from the past, material created by nature which becomes a part of our memory.Seeing things from a different point of view can change its dimension, aspect, colour and shape: a piece can be a lifetime or just a few seconds, it's a stone or an entire continent. Parts of history and of knowledge tradition and innovation technology and art all inside "Fragmenta".
Más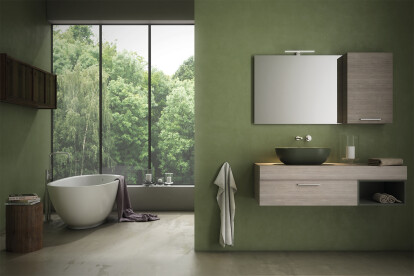 Producto • By Ceramica Globo S.p.a. • T-Edge
T-Edge with thin edges of only 6 mm. This new mixture was developed inside our chemical laboratory by experts with decades of experience, using new raw materials that have never been used before. This has allowed us to create extremely thin thicknesses while meeting all the standards provided by the regulations and guaranteeing flat planarsurfaces.
Más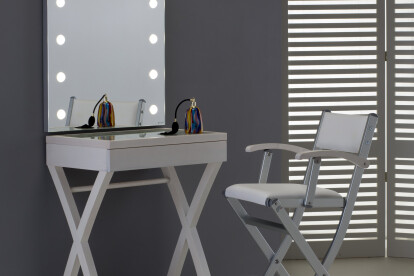 Producto • By Unica by Cantoni • MDE Mirror collection
MDE wall mirror line is a successfull sythesis of functionality, advanced technology and a kind of sensual Hollywood appeal. The aery surface of the mirror welcomes, in a precious setting, the curved profile of opalescent lenses, replicating with absolute perfection the chromatic shade of the sunlight. A collection encasing, in its apparently simple lines, countless hours of study and research on the refraction of light. Wall mirror with I-light diffused lighting in silver-backed float glass with 3.5-cm (1,4 inch) silver anodised aluminium linear profile and adjustable light intensity. Rectangular and rounded wall versions, available also in table foldable version. Rectangular version are side by side modular elements too. TECHNI...
Más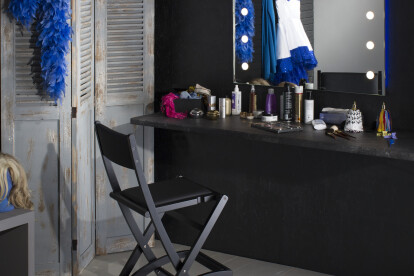 Producto • By Unica by Cantoni • MH Mirror collection
Wall mirrors with I-light diffused lighting in silver-backed float glass with 3.5-cm (1,4 inch) silver anodised aluminium linear profile and adjustable light intensity. The application of an aesthetic concept developed around a particular constructive curved geometry to the intrinsic strength of the aluminium gives lightness and movement to the glass. A stylistically-impeccable formal research wisely mixes elements of classicism and modernity to create refined spaces that are surprising but comfortable.The opal lenses, directly embedded into the reflecting surface and carved with high-precision instruments, spread the light created by the I-light integrated technology. . Customised and on-demand production . Standard dimensi...
Más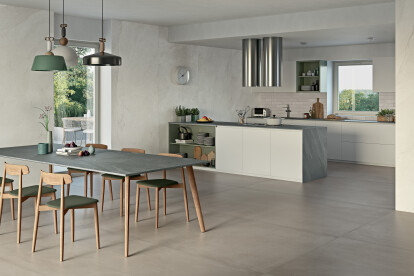 Producto • By CERAMICHE CAESAR • Project Evolution
Caesar's range of surfaces for architecture grows and expands the possibilities of Project Evolution extra large slabs. The success of the project for walls in sizes 120x240 cm and 120x120 cm with a thickness of 9 mm, which was completed with the 6-mm thick 160x320 cm and the 160x160 cm last year, now boasts the 120x278 cm size with a thickness of 6 mm. A version that is a further step forward in the renewal of the large scope solutions for designers and architects that are looking for more and more customisation.Available in the marble, metal, travertine, stone and concrete versions, large slabs encompass further new Caesar collections and extend their palette of colours so as to cater for even more projects. To all this, one must add the...
Más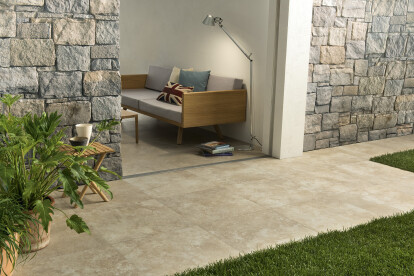 Producto • By CERAMICHE CAESAR • Aextra20
Æxtra 20 is a series of monolithic porcelain stoneware slabs that are perfectly wedged and rectified and feature a thickness of 20 mm. The excellent resistance of Caesar porcelain stoneware, the prestigious aesthetic finishes and the broad range of colours and trim pieces are the perfect solution for any requirement in terms of outdoor floor paving. Five different installation options: on gravel, grass, sand, raised on supports or with adhesive, ideal for different kinds of floor.The Æxtra 20 range features 47 colours, belonging to the various Caesar collections, which have been gradually expanded to offer different types of look , from the stone-effect, to concrete or quartzite and wood. At the 2018 edition of Cersaie, Caesar will be prese...
Más