Column covers
An overview of projects, products and exclusive articles about column covers
Proyecto • By Codex srl • Centros de Exposiciones
Entre el diseño y la seguridad: Just Don elige Codex para su nueva sala de exposición Fashion elige el diseño de los protectores contra impactos Onda Nuestra Onda protectores contra impactos han sido recientemente los protagonistas de la puesta en marcha de la nueva sala de exposición de Just Don, una conocida marca de ropa deportiva estadounidense. En tan solo un día (¡tiempo récord!), Nuestro equipo se encargó de la producción, procesamiento e instalación de las protecciones en la nueva sala de exposición de Milán. La mayor parte del material ha sido modelado in situ por nuestros técnicos con el fin de adaptarse mejor a los soportes a prot...
Más
Proyecto • By Surfacing Solution • Hoteles
Premium walnut solid wood tambour panels cover the columns and bookend the staircases of this artistic downtown Milwaukee hotel.Saint Kate is a boutique arts hotel named after the patron saint of artists - Saint Catherine. Known as the hotel "created by artists for artists" Saint Kate's boasts multiple gallery and exhibition spaces, a black box theater, along with 219 elegant guestrooms and 11,6000 square feet of meeting space.The hotel is also within walking distance from notable art attractions in Milwaukee's entertainment district - the Third Ward and Fiserv Forum.Saint Kates Hotel was designed by Stonehill Taylor - a hospitality focused architecture and interior design firm based in New York City. Oth...
Más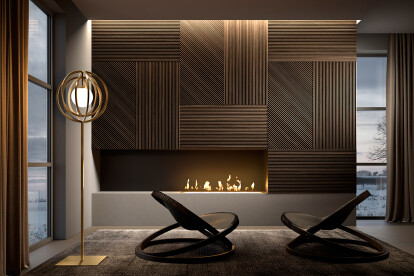 Producto • By Surfacing Solution • Solid Wood Tambour
Solid Wood Tambour is a flexible grooved decorative surfacing material. The grooving is visually attractive and allows for the panels to have flexibility for ease in designing curves and angles, inwards and outwards. Available in 30 unique standard profiles. Custom Profiles are welcome. Wood Species include: Poplar, Red Oak, Maple, Ash, Red Grandis, Cherry, White Oak, and Walnut. Common applications include full and accent walls, wall to ceiling transitions, bar fronts, column wraps, reception and boardroom desks, etc.
Más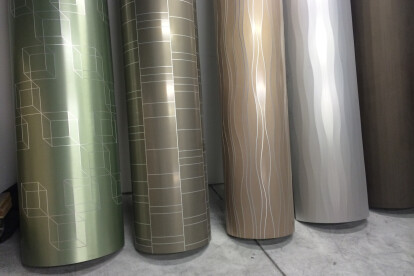 Producto • By Móz Designs • Metal Columns
Móz decorative columns offer the performance of stainless steel — without the price tag — and are available in dozens of color options not possible with stainless steel. Our simple specification process makes it simple to choose the options that fit your project's budget and installation environment. Our aluminum columns are versatile and work for use in hospitals, corporate offices, hotels, restaurants, schools and transit areas.
Más
Proyecto • By Codex srl • Centros de Deportes
Our purpose is to make every environment safe, with more attention to highly frequented and dynamic spaces like sport facilities, gyms, stadiums.This project involved a newly built sport hall located in Bolzano (Italy). We have supported a team of architects and engineers in the selection of the best shockproof protection for the inner walls of the structure.Thanks to our 20 years experience in this field, we are able to find a solution for every support that need a protection. We are designers and producers of soft pads ideal as wall guards, column covers, corner guards, and more!
Más
Producto • By Codex srl • Column cover
Column safety covers made of a soft, flexible and resistant material. Onda (thickness 22 mm) and Maxionda (thickness 28 mm) are the best shockproof pads, ideal for covering columns of any size and diameter. The particular wave section allows to distribute the impact between the various concave spaces, absorbing the impact power. Both Onda and Maxionda are made of Polymat (material based on EVA foam) and are available in the non-toxic or fireproof version. Both products are tested according to the UNI EN 913 regulation. Our column covers can be applied in both indoor and outdoor spaces and are ideal for highly frequented environments such as sports facilities, schools, accommodation facilities, workplaces, ships, hospita...
Más
Producto • By Codex srl • Hot Dog corner guards
Our "Hot Dog" corner guards are called in this way because of their shape. They are made of Polymat® (E.V.A.) and can protect every edges. Ideal protection for corners, shelves and ledges. "Hot Dog" are very flexible and resistant, even if applied in outdoor places.Easy application for all surfaces (iron, wood, cement, ceramic, etc.) with the proper Polycoll adhesive for indoor and outdoor spaces applications or with adhesive tape.Our corner protectors can be customized with a U section, V section or with a different section on request.
Más
Producto • By Codex srl • Maxionda padding protection
Maxionda is a padding protection made of Polymat E.V.A., a microcellular structure material with high resistance and elasticity and high shock absorption capacity.It is repellent to all substances, anti-mold and antibacterial. Particularly suitable for indoor and outdoor use: sports facilities, gyms, gardens, industry, early childhood, schools and accommodations where the risk of impact is very high. It has an excellent shock absorption capacity, and is totally non-toxic.
Más
Proyecto • By Móz Designs • Hoteles
Rays of Gradient Metal at the Envoy Hotel As a pioneer in the newly emerging Seaport Innovation District, the 136-room, Four Diamond rated Envoy Hotel is one of the top boutique hotels in the Boston area. The lobby's bold interiors and easy styling contrast with the city's New England traditions - an aesthetic fit for this wunderkind neighborhood. The lobby of the Envoy Hotel showcases a quintessentially urban view, providing tastes of comfort with custom details, hints of surprises, and pops of color. The unique yellow column covers radiating soft yellow gradients were selected from Móz's signature Gradients collection. The sunny metallic tones begin as a bright yellow color then gradually fade to a transparent layer, revea...
Más