Decorative etched glass
Los últimos proyectos, productos y artículos exclusivos.
Producto • By Bendheim • Ultra-White Laminated Fade® & Low-Iron Fade® Glass
Bendheim's Ultra-White Laminated Fade® and Low-Iron Etched Fade® glass designs present an elegant, timeless aesthetic, defining interior spaces when used in partitions, doors and windows, atriums, and staircases. The superior fade effect of Bend...
Más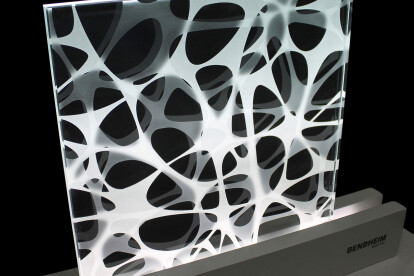 Producto • By Bendheim • SatinTech® Etched Glass
Bendheim SatinTech® etched glass offers elegance, a sense of privacy, and exceptional ease of maintenance. The permanent, chemically etched glass surfaces are superior to sandblasted and particle-etched glass, and are naturally resistant to fingerpri...
Más
Producto • By OmniDecor glass design • DecorFlou Design - decorative glass
DecorFlou® Design High-quality glass for architecture, decorated with modern textures given by selective etching on one or both sides of the sheet. The high light transmission of the DecorFlou® acid etched glass sheets is further enhanced in DecorF...
Más