Etched glass
Los últimos proyectos, productos y artículos exclusivos.
Proyecto • By William Garvey Ltd • Alojamiento
British furniture designer, William Garvey, delivers on bathroom vanity with its handcrafted portfolio of luxury wooden vanity units and washstands. With highly skilled mastercraftsmen and quality artistic values, William Garvey epitomises interior i...
Más
Producto • By Bendheim • Ultra-White Laminated Fade® & Low-Iron Fade® Glass
Bendheim's Ultra-White Laminated Fade® and Low-Iron Etched Fade® glass designs present an elegant, timeless aesthetic, defining interior spaces when used in partitions, doors and windows, atriums, and staircases. The superior fade effect of Bend...
Más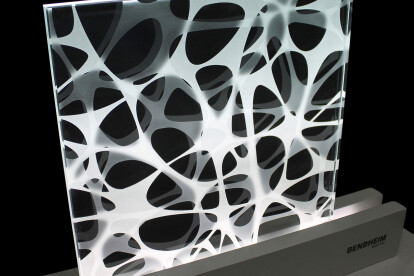 Producto • By Bendheim • SatinTech® Etched Glass
Bendheim SatinTech® etched glass offers elegance, a sense of privacy, and exceptional ease of maintenance. The permanent, chemically etched glass surfaces are superior to sandblasted and particle-etched glass, and are naturally resistant to fingerpri...
Más
Producto • By OmniDecor glass design • DecorFlou - etched glass
DecorFlou® - Classic collection DecorFlou is the stylish, versatile, practical and resistant glass, etched on one side. It is the ideal solution for multiple applications in architecture and furniture: glass doors, shower enclosures, kitchen cabinet...
Más