Fireplace design
An overview of projects, products and exclusive articles about fireplace design
Proyecto • By CF + D | custom fireplace design • Centros Comerciales
This impressive Custom Curved Outdoor Gas Fireplace was an exciting challenge forCF + D | custom fireplace design due to its monumental size. Once approval drawings were accepted the custom fabrication of one of CF + D's largest fire features to date began. A few of our selected craftsmen were assigned to create this one-of-a-kind 20ft. long by 10ft. high outdoor fire feature. The finished fireplace was placed at the Clarksburg Premium Outlet Mall in Maryland, USA.Space and manpower required for successful completion were set in place and the build was underway. Our talented designers and steel craftsmen welcomed the challenged to create this outdoor curved steel design to meet the client's vision for a custom outdoor fire fe...
Más
Proyecto • By CF + D | custom fireplace design • Universidades
We are pleased to have one of our exclusive VITA Fireplaces with Vapor-Fire technology installed in the University of Waterloo Tenant Lounge in Ontario, Canada. The NICO model specified for this project has a unique fluted hood with a curved base to match. Incorporating this revolutionary burner system has provided an operating efficiency of 100%, using low-voltage electrical intake and regular tap water as a fuel source. This contemporary fire feature is the perfect fit to meet The Chamberlain Group's criteria to work within the building's environmental specifications. The University prides itself on energy-efficiency throughout the campus, including building products that are eco-friendly, providing the ideal place for students and facult...
Más
Proyecto • By CF + D | custom fireplace design • Apartamentos
When contacted for this spectacular fireplace project, the CF + D team was thrilled at the opportunity to achieve the client's vision for this Custom 4-Sided Vapor-Fire feature. Each project starts in the hands of our skilled design team in partnership with the client to ensure the features expressed by the client are matched as closely as possible through the use of craftsmanship and technology. One of the key features of this fireplace design was to ensure that the Vapor-Fire flame effect can be comfortably enjoyed from all angles of the luxury clubroom amenity space. Once the client and designer have approved the design, final drawings are sent to our production team. The talented CF + D metal craftsman and fabricators interpret the...
Más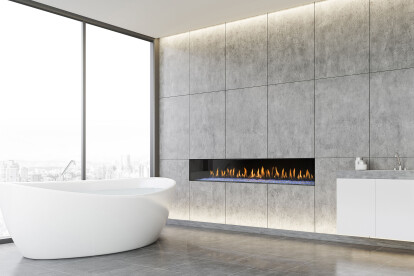 Producto • By Montigo • Montigo Prodigy
Perfect for high end luxury homes or light commercial applications, the Prodigy adds tranquility and warmth to any space.The linear burner produces a relaxing ribbon-like flame. Your desired media can completely cover the bed of the firebox, enhancing the ambiance even when the fireplace is not in use.Clean contemporary lines and frameless double glass design deliver breathtaking aesthetics. Finishing materials can be attached directly to the fireplace and brought down to the edge of the glass creating a stunning focal point without interruption.
Más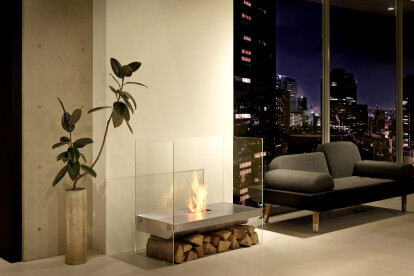 Producto • By EcoSmart Fire • Igloo Designer Fireplace
Made entirely of glass and stainless steel, the Igloo is a sleek and modern update to the traditional fireplace. Its clear frame allows it to blend in with any decor style while simultaneously enhancing it. Artful in its simplicity, the Igloo can be used in residential applications as well as a wide range of commercial ones such as lobbies, restaurants, bars, and offices. The BK5 burner features an adjustable flame and comes standard with the Igloo.More information available at: https://ecosmartfire.com/product/igloo-bk5/BenefitsSeamless Integration: Glass surrounds create a disappearing effect when the Igloo is placed in front of windows, doors and feature walls.Carbon Neutral: Igloo burns readily available, environmentally friendly e-NRG...
Más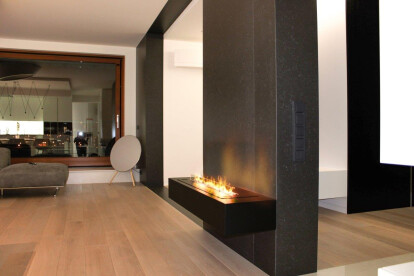 Producto • By Planika • FLA 2 model E
FLA2 model E is a smart and stylish way to provide natural fire in your interior.This automatic and highly functional ribbon fireplace offers functional solutions that create a charming atmosphere and brings real fire to any place.
Más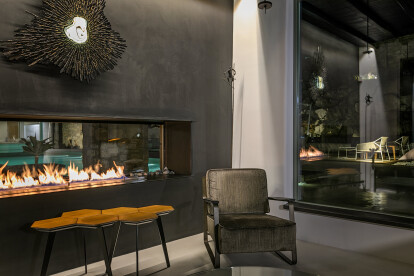 Producto • By Planika • Fire Line Automatic 3
Fire Line Automatic 3 is the most intelligent and luxurious long ethanol fireplace available today. It combines the stylish beauty of a traditional fireplace with the fresh approach of modern innovation.
Más
Proyecto • By European Home • Paisaje Residencial
Read the full story on the European Home blog.Millennium Tower is, on its surface, a 684 foot residential skyscraper containing 442 units. We could write for days about the architecture of this glass-clad skyscraper, the private dinners prepared by James Beard Award winning chefs or the Olympic-class fitness center. However, at the end of the day, where is the home always made? In between a handful of exterior walls, or in this case 10' floor to ceiling windows 59 stories above Hawley Street.Modern Linear Fireplace:The penthouses feature H Series Millennium gas fireplaces by European Home. This modern gas fireplace was engineered specifically for the style and comfort of Millennium Tower residents and the archi...
Más
Proyecto • By IONS DESIGN • Casas Privadas
Presenting a distinctive and elegant lounge area design ideas with serene and calming atmosphere. The neoclassical style architecture in brilliant white paint complemented with admirable European columns and intricately designed gypsum moldings is pulled off together with elegant and contemporary furniture obtaining a timeless and classy home interior. A decorative mirror framed by a prominent arch structure accompanied with an abstract wall painting not only breaks the formality of the space but provides modern touch in the interior design and becomes a fantastic backdrop to the Italian sofa in Cashmere Velvet Cream fabric. It also provides an intriguing appeal as it reflects the other luxurious interior decoration in the room such as the...
Más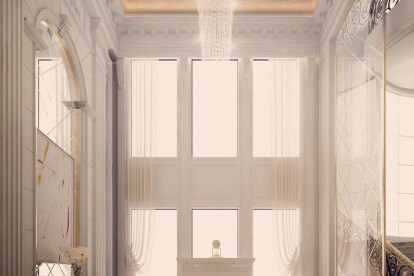 Producto • By IONS DESIGN • Adorable Luxury Fireplace Lounge Interior Design
This lovely lounge is designed for a private villa in Qatar. It is layout symmetrically with the neoclassical fireplace as the focal point, an epitome of calmness and serenity. The large window furnish with translucent drape allows substantial natural light to fill the space adding freshness and tranquility to the interior. An over-sized arch window opposite a stunning glass chamfered divider and a remarkable high ceiling makes the room looks bigger and welcoming. There is sense of luxury and elegance brought about by the invigorating white color gypsum decorated walls, intricate cornices and antique paint finished ceiling embellished with exquisite Swarovski made chandelier. It is gracefully adorned with gorgeous sofa in Waltz White fabric...
Más