Grooved
An overview of projects, products and exclusive articles about grooved
Proyecto • By Surfacing Solution • Tiendas
Murrays' first brick-and-mortar location is sure to inspire. Designed by The Rockwell Groupthis state of the art cheese facility mixes light oak tambour walls, black and white tiles, and polished concrete to create a seemless connection. The concrete walls and pillars are complemented by vibrant and solid purples, greens, and browns set against the grooved pattern of tambour colu wraps and bar fronts.
Más
Proyecto • By Surfacing Solution • Restaurantes
Domu's interior has a warm, earthy palette: walls, shelving and counters are constructed from the same clay block and complemented by real wood tambour veneers. The grooved tambour panels provide an orderly appeal that contrasts well with the patterned red brick pavers adoring the free standing walls behind the bar and under the booths. These subtle tones and textures lend to a saturated space that feeld warm and harmonious.
Más
Proyecto • By Surfacing Solution • Bares
Kingside, the restaurant and bar in the Viceroy Hotel New York. Architects Roman and Williams incorporated tambour panels along the bar front to enhance a rich interior clad in a black and white tile floor. Leather bar chairs, a steel counter, tile walls, and and hanging lights combine together to create the feel of a true classical American eatery.
Más
Proyecto • By Surfacing Solution • Centros de Bienestar
Designed by Studio Vice, NE Wellness in Minneapolis, MN incorporated solid wood tambor panels by Surfacing Solution in all aspects of its design. A tambour reception desk is flanked by tambour full wall treatments and accent walls. Arched tambour panels frame in wall openings and doorways. Living Green walls and other plants are complimented by the light natural tones of maple tambour panels.
Más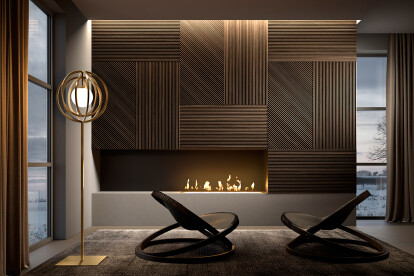 Producto • By Surfacing Solution • Solid Wood Tambour
Solid Wood Tambour is a flexible grooved decorative surfacing material. The grooving is visually attractive and allows for the panels to have flexibility for ease in designing curves and angles, inwards and outwards. Available in 30 unique standard profiles. Custom Profiles are welcome. Wood Species include: Poplar, Red Oak, Maple, Ash, Red Grandis, Cherry, White Oak, and Walnut. Common applications include full and accent walls, wall to ceiling transitions, bar fronts, column wraps, reception and boardroom desks, etc.
Más
Proyecto • By Surfacing Solution • Hoteles
In crafting The Standard Highline, the guestrooms had to speak to the ethos of The Standard while incorporating a finer material palette and making the experience sophisticated enough for the New York and international audiences. In contrast to the concrete shell of the building, Roman and Williams strived to give the rooms a warmth that harkened to a bee hive environment – organic and beautiful, but also efficient. The breathtaking views from the floor to ceiling starfire glass windows of the guestrooms served as the ideal backdrop to Roman and Williams' open and airy design. Packed with texture and color and light, they are clad in customized handmade orange, black and cream tile. The bedrooms have a tambour wooden ceili...
Más