Indoor fireplace
An overview of projects, products and exclusive articles about indoor fireplace
Proyecto • By dade-design • Hoteles
The days are getting shorter, daylight is already scarce in the afternoon and the weather in November makes us freeze. It's nice if you can light a fireplace at home that looks cool – but also provides cosy warmth. OPEN FIREPLACES AND WOOD STOVES MADE FROM CONCRETEDid you know that concrete stores warmth very well? That is why the natural building material is made for fireplace cladding, concrete fireplaces and stove benches. Whether you choose natural concrete grey or one of our concrete colours – we are happy to implement your personal concrete wood stove with our dade ROC high-performance concrete. Firebricks must be installed for the combustion chamber – for the rest you can let your imagination run wild...
Más
Proyecto • By CF + D | custom fireplace design • Apartamentos
When contacted for this spectacular fireplace project, the CF + D team was thrilled at the opportunity to achieve the client's vision for this Custom 4-Sided Vapor-Fire feature. Each project starts in the hands of our skilled design team in partnership with the client to ensure the features expressed by the client are matched as closely as possible through the use of craftsmanship and technology. One of the key features of this fireplace design was to ensure that the Vapor-Fire flame effect can be comfortably enjoyed from all angles of the luxury clubroom amenity space. Once the client and designer have approved the design, final drawings are sent to our production team. The talented CF + D metal craftsman and fabricators interpret the...
Más
Proyecto • By Comelite Architecture Structure and Interior Design • Apartamentos
This Modern Contemporary Apartment Interior Design in Byblos, Lebanon has been inspired by the works of British craftsman, Timothy Oulton. The result is a creative blend of vintage-chic and stylishly modern aesthetics that propagate the best of functionality and visuals. The visually dynamic design is littered with trendy accessories, colorful statement artwork, and a dynamic decorative panel. With the help of fashionable furniture and accessories, the whole ambiance has been uplifted two-fold.
Más
Proyecto • By Pollard Architects • Casas Privadas
The CS Residence is four-bedroom house with three car garage and a bike workshop in the garage. The clients', avid bikers and software owners, had purchase a site from when they were married and sat on it for many years, thinking of what they could build. Pollard Architects were chosen for a prominent list of architects, because of our level of design and unique approach to their site and program. The residence resides at the base of Mt. Olympus, a prominent iconic mountain cliff in the Salt Lake City Valley, in Olympus Cove. The site is on the end of a dead-end street on the down hill side facing north west towards the city. The views to Mt. Olympus and the views to the valley and the city beyond were enriched by the specific layout o...
Más
Producto • By European Home • Summum 100 Gas Fireplace
With an expansive viewable opening of 39" wide by 21" tall and a 3 sided configuration, very little stands between the most perfect fire and your favorite lounge chair. Featuring the most realistic gas flames available today, it's like having a modern campfire in your living room. The Summum 100 Single-Sided, Corner Style and 3-Sided gas fireplace series come standard with the Real Flame Burner System. This innovative burner solution creates the most realistic flame patterns available today as the burners are specially designed to wrap your flames around a detailed log set, just as you would see in a real wood-burning fire. In addition, this fireplace delivers exactly the right ambiance as the flame height, tempera...
Más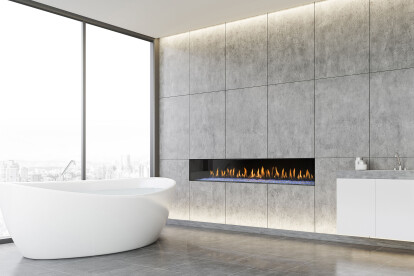 Producto • By Montigo • Montigo Prodigy
Perfect for high end luxury homes or light commercial applications, the Prodigy adds tranquility and warmth to any space.The linear burner produces a relaxing ribbon-like flame. Your desired media can completely cover the bed of the firebox, enhancing the ambiance even when the fireplace is not in use.Clean contemporary lines and frameless double glass design deliver breathtaking aesthetics. Finishing materials can be attached directly to the fireplace and brought down to the edge of the glass creating a stunning focal point without interruption.
Más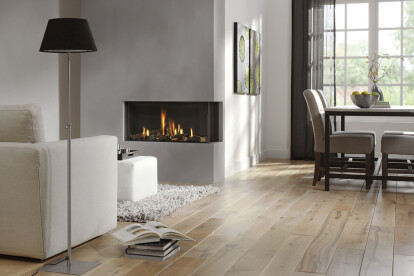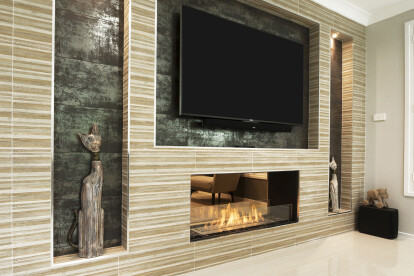 Producto • By EcoSmart Fire • Double Sided Flex Series
Providing unobstructed views of EcoSmart's flickering flame from both sides, Flex DB Firebox's see-through design injects warmth and ambiance in two adjacent rooms.Models available range from: 18DB- 158DB, with configurations such as Flame only, Decorative right or left box and 2 Decorative boxes.More information available at: https://ecosmartfire.com/flex-fireplaces/double-sided/BenefitsApplication: Indoor or outdoor multi room application. With two open sides, view the flame from the front and the back.Quick and Easy Assembly: Requiring virtually no assembly, Flex Fireboxes are designed to be placed into the desired location, safely secured into position, and operated immediately.Optional Log Sets: Eye-catching accessory for the decorativ...
Más
Producto • By European Home • Bathyscafocus Indoor Wood Fireplace
Get more information on this product on the European Home website.CENTRAL, SUSPENDED, ROTATING FIREPLACEThe perfection of geometry allied with the purity of fire …With a nod towards the sea, this round, compact fireplace has a serene, understated and warm presence. The fireplace rotates 360 degrees so the fire can be turned to create drama and ambiance in any corner of the room.The Bathyscafocus, more a reward than a fireplace, is a perfect balance between style and technology.With Focus' new Augmented Reality App, you can easily see how this unit looks in any space in your home. You can download this app at the Google Play Store or the Apple App Store.An outdoor version of this unit is also availble.The Bathyscafocus is produced by Fo...
Más
Producto • By European Home • Agorafocus 850 Fireplace
Get more information on this product on the European Home website.360° SUSPENDED FIREPLACEThis model was introduced following the success of the Agorafocus 630.Considerably larger than the model that inspired it, it is better suited to larger rooms or spaces with higher ceilings. Its more generous dimensions are enclosed in heat-resistant pyroceramic glass doors, offering a view of the fire from every corner of the room.With Focus' new Augmented Reality App, you can easily see how this unit looks in any space in your home. You can download this app at the Google Play Store or the Apple App Store.The Agorafocus 850 is produced by Focus Fires, the award winning fireplace manufacturer from France, and is imported and distributed by Europe...
Más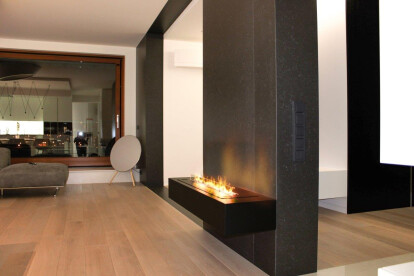 Producto • By Planika • FLA 2 model E
FLA2 model E is a smart and stylish way to provide natural fire in your interior.This automatic and highly functional ribbon fireplace offers functional solutions that create a charming atmosphere and brings real fire to any place.
Más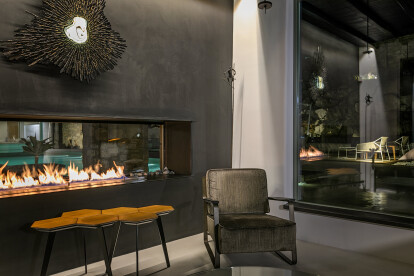 Producto • By Planika • Fire Line Automatic 3
Fire Line Automatic 3 is the most intelligent and luxurious long ethanol fireplace available today. It combines the stylish beauty of a traditional fireplace with the fresh approach of modern innovation.
Más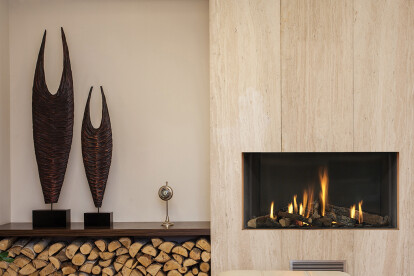 Producto • By European Home • Modore 95 Fireplace
Get more information on this product on the European Home website.A frameless, direct vent fireplace ideal for smaller spaces, the Modore 95 features exceptionally clean lines.Element4 fireplaces feature unique Fire Media options, which sit directly in the flames. Choose between log set, fire glass, white Carrara pebbles, grey stones or our new Landscapes Series of pre-curated media mixes. Scroll down to see them all.The Modore 95 comes standard with all MKII features such as designer trim, improved tube-style burners, and the E-Save Control System which can save up to 45% on fuel consumption.The Modore 95 is produced by Element4 B.V., the award winning fireplace manufacturer from the Netherlands, and is imported and distribu...
Más