Large fireplace
An overview of projects, products and exclusive articles about large fireplace
Proyecto • By CF + D | custom fireplace design • Centros Comerciales
This impressive Custom Curved Outdoor Gas Fireplace was an exciting challenge forCF + D | custom fireplace design due to its monumental size. Once approval drawings were accepted the custom fabrication of one of CF + D's largest fire features to date began. A few of our selected craftsmen were assigned to create this one-of-a-kind 20ft. long by 10ft. high outdoor fire feature. The finished fireplace was placed at the Clarksburg Premium Outlet Mall in Maryland, USA.Space and manpower required for successful completion were set in place and the build was underway. Our talented designers and steel craftsmen welcomed the challenged to create this outdoor curved steel design to meet the client's vision for a custom outdoor fire fe...
Más
Proyecto • By CF + D | custom fireplace design • Apartamentos
When contacted for this spectacular fireplace project, the CF + D team was thrilled at the opportunity to achieve the client's vision for this Custom 4-Sided Vapor-Fire feature. Each project starts in the hands of our skilled design team in partnership with the client to ensure the features expressed by the client are matched as closely as possible through the use of craftsmanship and technology. One of the key features of this fireplace design was to ensure that the Vapor-Fire flame effect can be comfortably enjoyed from all angles of the luxury clubroom amenity space. Once the client and designer have approved the design, final drawings are sent to our production team. The talented CF + D metal craftsman and fabricators interpret the...
Más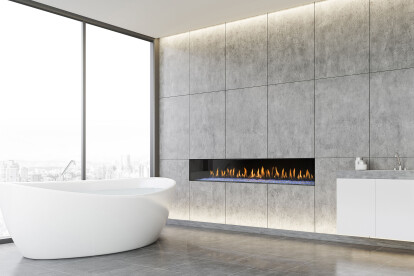 Producto • By Montigo • Montigo Prodigy
Perfect for high end luxury homes or light commercial applications, the Prodigy adds tranquility and warmth to any space.The linear burner produces a relaxing ribbon-like flame. Your desired media can completely cover the bed of the firebox, enhancing the ambiance even when the fireplace is not in use.Clean contemporary lines and frameless double glass design deliver breathtaking aesthetics. Finishing materials can be attached directly to the fireplace and brought down to the edge of the glass creating a stunning focal point without interruption.
Más
Proyecto • By European Home • Paisaje Residencial
Pack your bags, today we are heading out to the Netherlands! The Villa Aan De Vect is a beautiful modern home designed by the architectural firm HOGO from Helmon, in the Netherlands. The home, inside and out, incorporates the clean lines and neutral tones that we've come to expect from modern design. However, the designers were able to sprinkle in a few traditional elements such as muted still-life paintings, representational sculpture, and a reclaimed wood table that could hold the dinner conversation all on its own. The Villa Aan De Vect transitions between traditional and modern style with an elegant ease — both time periods resting comfortably on the strong shoulders of great design.Read the full story on the Eu...
Más