Vent free fireplace
An overview of projects, products and exclusive articles about vent free fireplace
Producto • By Glen Dimplex Americas • IgniteXL® Linear Electric Fireplaces
The IgniteXL stands apart as more lifelike and visually stunning than any other electric fireplace. With new, patented flame effect and advanced heat technology, this industry-leading electric fireplace transforms the look and feel of any space. Available in several sizes and offering simple installation.
Más
Proyecto • By CF + D | custom fireplace design • Universidades
We are pleased to have one of our exclusive VITA Fireplaces with Vapor-Fire technology installed in the University of Waterloo Tenant Lounge in Ontario, Canada. The NICO model specified for this project has a unique fluted hood with a curved base to match. Incorporating this revolutionary burner system has provided an operating efficiency of 100%, using low-voltage electrical intake and regular tap water as a fuel source. This contemporary fire feature is the perfect fit to meet The Chamberlain Group's criteria to work within the building's environmental specifications. The University prides itself on energy-efficiency throughout the campus, including building products that are eco-friendly, providing the ideal place for students and facult...
Más
Proyecto • By CF + D | custom fireplace design • Apartamentos
When contacted for this spectacular fireplace project, the CF + D team was thrilled at the opportunity to achieve the client's vision for this Custom 4-Sided Vapor-Fire feature. Each project starts in the hands of our skilled design team in partnership with the client to ensure the features expressed by the client are matched as closely as possible through the use of craftsmanship and technology. One of the key features of this fireplace design was to ensure that the Vapor-Fire flame effect can be comfortably enjoyed from all angles of the luxury clubroom amenity space. Once the client and designer have approved the design, final drawings are sent to our production team. The talented CF + D metal craftsman and fabricators interpret the...
Más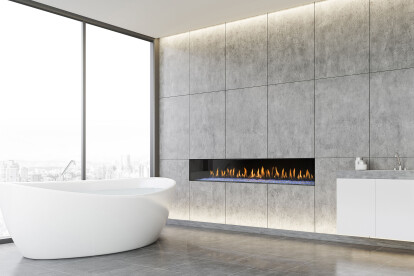 Producto • By Montigo • Montigo Prodigy
Perfect for high end luxury homes or light commercial applications, the Prodigy adds tranquility and warmth to any space.The linear burner produces a relaxing ribbon-like flame. Your desired media can completely cover the bed of the firebox, enhancing the ambiance even when the fireplace is not in use.Clean contemporary lines and frameless double glass design deliver breathtaking aesthetics. Finishing materials can be attached directly to the fireplace and brought down to the edge of the glass creating a stunning focal point without interruption.
Más
Producto • By European Home • Gas Stones - Vent Free
Get more information on this product on the European Home website.For use in a wood burning fireplace – these gas stones eliminate the "log" look of traditional gas log sets and fireplace inserts. Clean, contemporary and thoroughly modern. If you're looking for a modern alternative to gas log inserts, Gas Stones is an elegant option. This minimalist design will provide you with robust flames and a calming, uncluttered presence in your fireplace.Gas Stones is available in two sizes: 24″ and 30″. Beautiful beach stones crafted from fireproof ceramic sit atop a ceramic cover (steel cover for 30″ model) concealing gas burner and controls. The cover is available in white (24″ model only) and black and maintains a clean finish on all si...
Más
Proyecto • By European Home • Hoteles
Read the full story on the European Home blog.For those with a passion for history, and an eye for design, the St. Gregory Hotel in Washington D.C seamlessly combines the two. Sitting in a lively cultural scene in Dupont circle, the hotel is within easy access to the city's most iconic neighborhoods. You'll find some of D.C's finest art, best shopping, and dining choices all at your fingertips. And as for the design, the recently remodeled lobby will have you so cozy, you may never want to venture up to your room.This new design is a tasteful mixture of heritage and modern design elements. The designers at Billy Rooney Studios and Boxwood Architects worked together to create this space, selecting each detail with great consideration. In a r...
Más