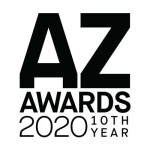 AZ Awards 2020
213 Sterling Rd, Toronto, ON, Canada
The 2020 AZ Awards Is Now Open for Submissions
Now in its 10th instalment, the AZ Awards is a unique opportunity for those in the design and architecture community to receive the international exposure and recognition that their exceptional work deserves.
2020 marks a major milestone for the AZ Awards – a decade of recognizing excellence in design and architecture across the world. Since Toronto-based AZURE debuted the AZ Awards in 2011, the program has grown in size, scope and momentum to be internationally recognized and acknowledged for its influence and significance within the global design and architecture spheres.
In 2019 – the biggest year yet – the AZ Awards received projects from over 1,000 architects, landscape architects, product designers, interior designers, students and manufacturers from 50 countries. From that outstanding number, the international jury of experts selected 68 finalists, chosen for their innovative design, impressive environmental or social benefits, or for simply evoking delight.
AZ Awards 2020 welcomes submissions until February 18 and promises to attract entries from some of the most forward-thinking firms from all corners of the globe. Enter now!