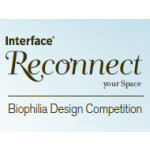 Biophilia Design Competition
Industrielaan 15, 3925 BD Scherpenzeel, The Netherlands
- Enter the competition here:
interfacereconnect.com/competition/enter.php
- About the competition
From Holland and Norway to Turkey and Bangladesh... Architects and interior designers around the world are incorporating natural materials, or those that mimic nature and natural forms, to elevate and improve human experience of constructed spaces. Inspired by the benefits biophilia brings, we have launched a competition to find designs for original, undeveloped projects that incorporate biophilia in the most innovative and exciting ways.
- Who can enter – and how?
The competition is open to students of design and architecture, interior designers and architects. If you have a vision that incorporates biophilic principles and its benefits into the design of interior or urban spaces then we want to hear from you. The focus will be on designs for interior spaces that echo nature and put our experience of spaces centre stage. But we also invite architectural design submissions for urban projects – a biophilic vision for specific areas of a city. We're not putting limits on your imagination -- if you want, you can submit more than one design. But the designs must be entirely your own creations and never presented before.
You will need to:
Submit your entry using the Interface Reconnect website by 1st April 2013 Attach a sketch, drawing, rendering or other visual Include a description of up to 150 words Keep in mind that you may need to provide proof of age, residence or identity. For full information on eligibility, entry, prize and winner conditions read our full terms and conditions. - How will we choose the winners? The public can vote through our social media channels between 1st March 2013 and 15th April 2013 to determine the finalists – which will then be judged by an Interface appointed panel. - Win a trip to the inspiring global destination of your choice Your creation could win you a trip to one of three inspiring destinations to see some of the most pioneering examples of biophilia in action. These include discovering what Singapore is doing to achieve its goal of becoming a city in a garden. Exploring San Francisco's popular monuments and its dynamic architectural and design scene – from the California Academy of Sciences, designed by renowned architect Renzo Piano, to Angel Island and the DeYoung Museum. And delving into the UK's Eden Project and its exploration of humanity's dependency on nature – and the ways we can work collaboratively to thrive within it. -
Enter the competition here:
interfacereconnect.com/competition/enter.php