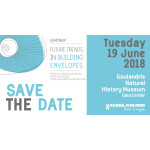 PRESENT & FUTURE - HIGH OCCUPANCY BUILDINGS DESIGN
Levidou 13, Kifisia, Greece
ELVAL COLOUR
SEMINAR WITH TITLE
«PRESENT & FUTURE IN HIGH OCCUPANCY BUILDINGS DESIGN»
Tuesday 19 June 2018 - Goulandris Natural History Museum - GAIA CENTER
Following the successful conference "FUTURE TRENDS IN BUILDING ENVELOPES", Elval Colour organizes a seminar with title:
· Present & Future in the design of facades of high occupancy buildings
· International practices in fire protection of building and material certifications
· Grenfell Tower case
The seminar will take place on Tuesday, June 19, from 09.30 to 15.30, at «Aggelos Goulandris» amphitheater, Goulandris Natural History Museum - GAIA CENTER (Levidou 13 & Othonos 100, Kifissia).
Objectives
• The awareness of the Greek community of architects, engineers and building contractors on issues related to the contemporary design of facades in high occupancy buildings.
• Present the best practices of international design and construction in relation to the fire protection of buildings.
• Explore the possibilities and the alternatives of the use of the materials and their role in building fire safety.