Un cadre en béton établit la structure et le rythme de Frame House, une résidence située au sommet d'une colline dans la campagne de Sonoma. Enracinée sur un plateau au-dessus d'un canyon boisé et de vignobles, cette grille structurelle maximise la connexion entre l'intérieur et l'extérieur, permettant la lumière naturelle et l'accès direct à l'extérieur depuis presque toutes les pièces de la maison. La loggia, qui s'étend sur trois côtés du périmètre de la maison, fait de l'ombre aux espaces de vie situés en dessous et donne accès à des vues étendues depuis les terrasses du deuxième niveau.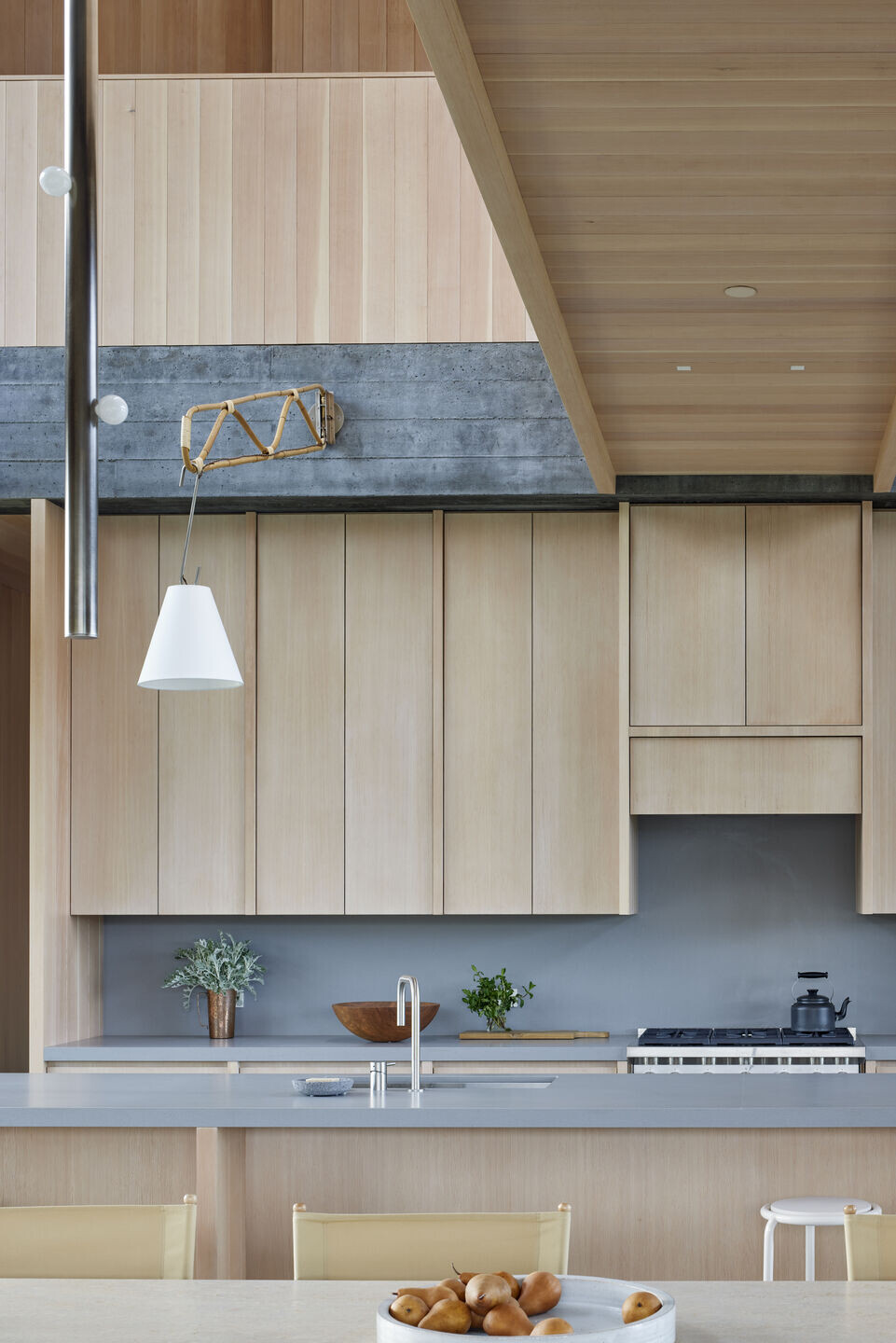 Les matériaux de la maison sont organiques et rustiques dans leur apparence et leur tactilité, tout en offrant une résilience contre la menace des feux de forêt qui sont devenus fréquents dans la vallée de Sonoma et qui ont endommagé la résidence précédente sur le site. Pour protéger la nouvelle maison, des murs de refend en béton sont revêtus d'une couche sacrificielle de bardage en bois grisonnant entre les colonnes, qui organisent également les espaces intérieurs. Cette structure rigoureuse en béton crée un perchoir d'où l'on peut admirer la vue sur la propriété et au-delà.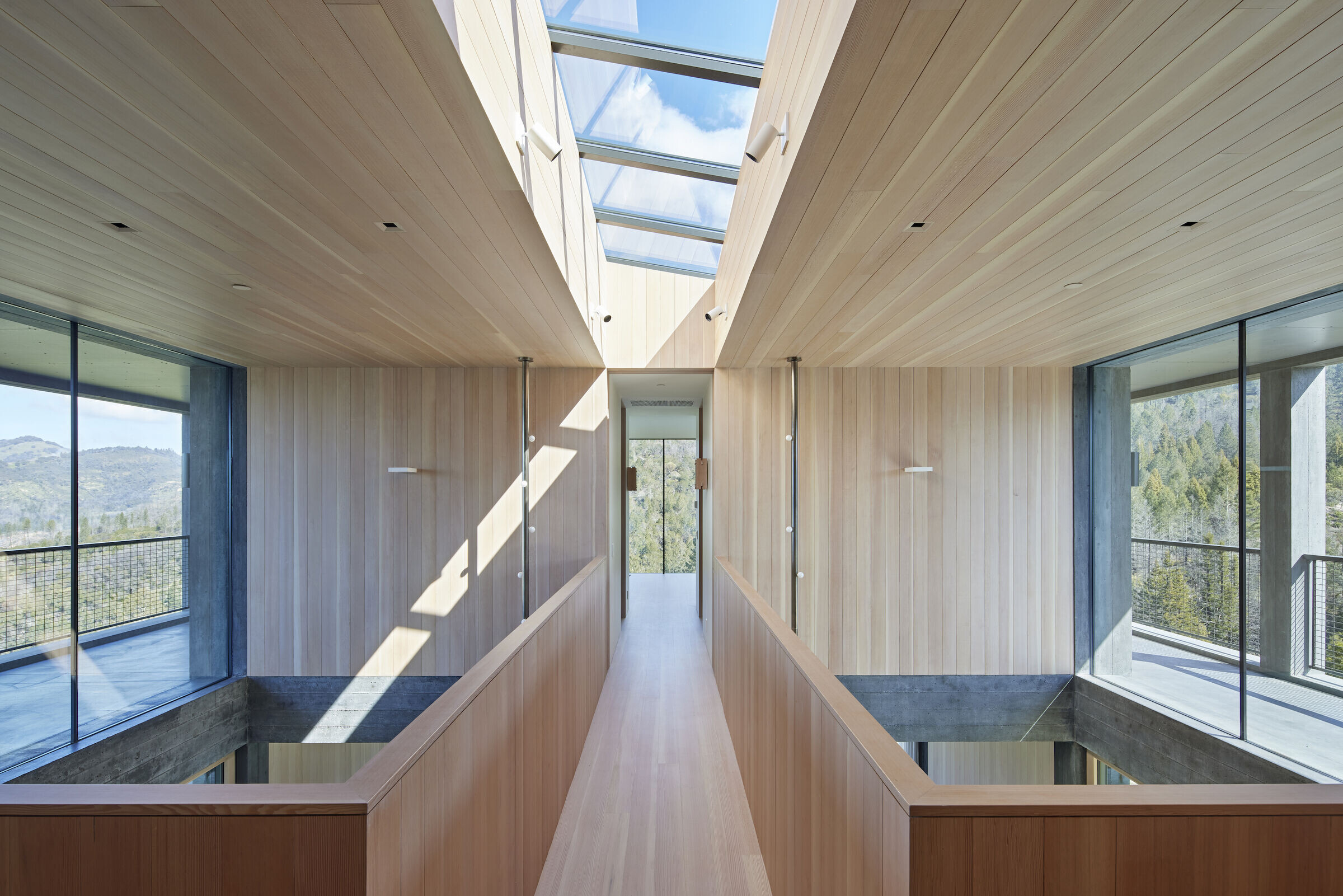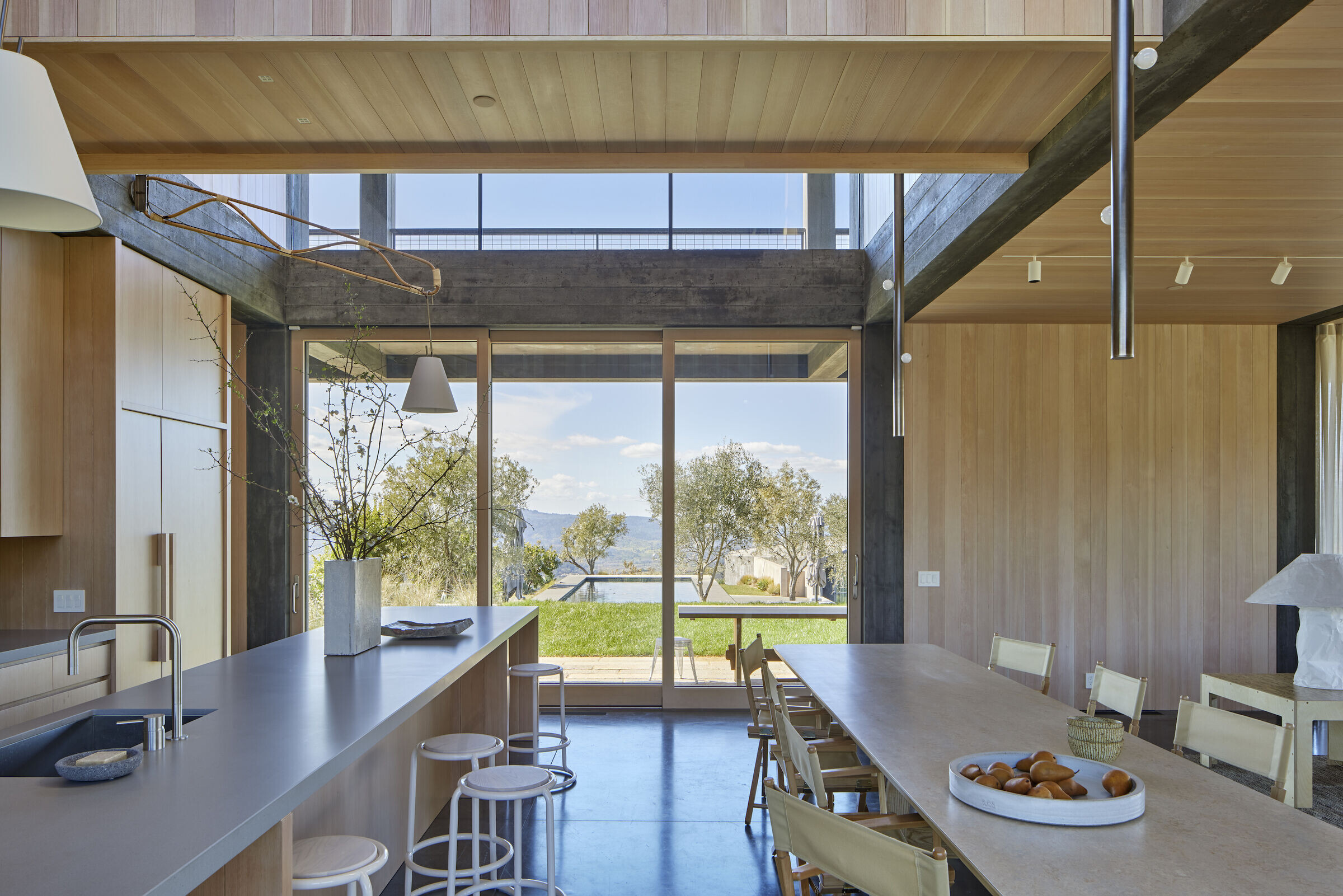 Contrairement à l'extérieur de la maison, revêtu d'une armure ignifuge, les intérieurs chaleureux sont revêtus de sapin de Douglas. La maison entretient une relation extravertie avec le paysage environnant, reliant l'intérieur de presque chaque pièce au climat californien. À l'intérieur, la maison s'organise autour d'un espace à double hauteur au-dessus de la cuisine qui relie les deux niveaux et est ponctué par une passerelle flottante menant aux deux ailes de chambres à l'étage.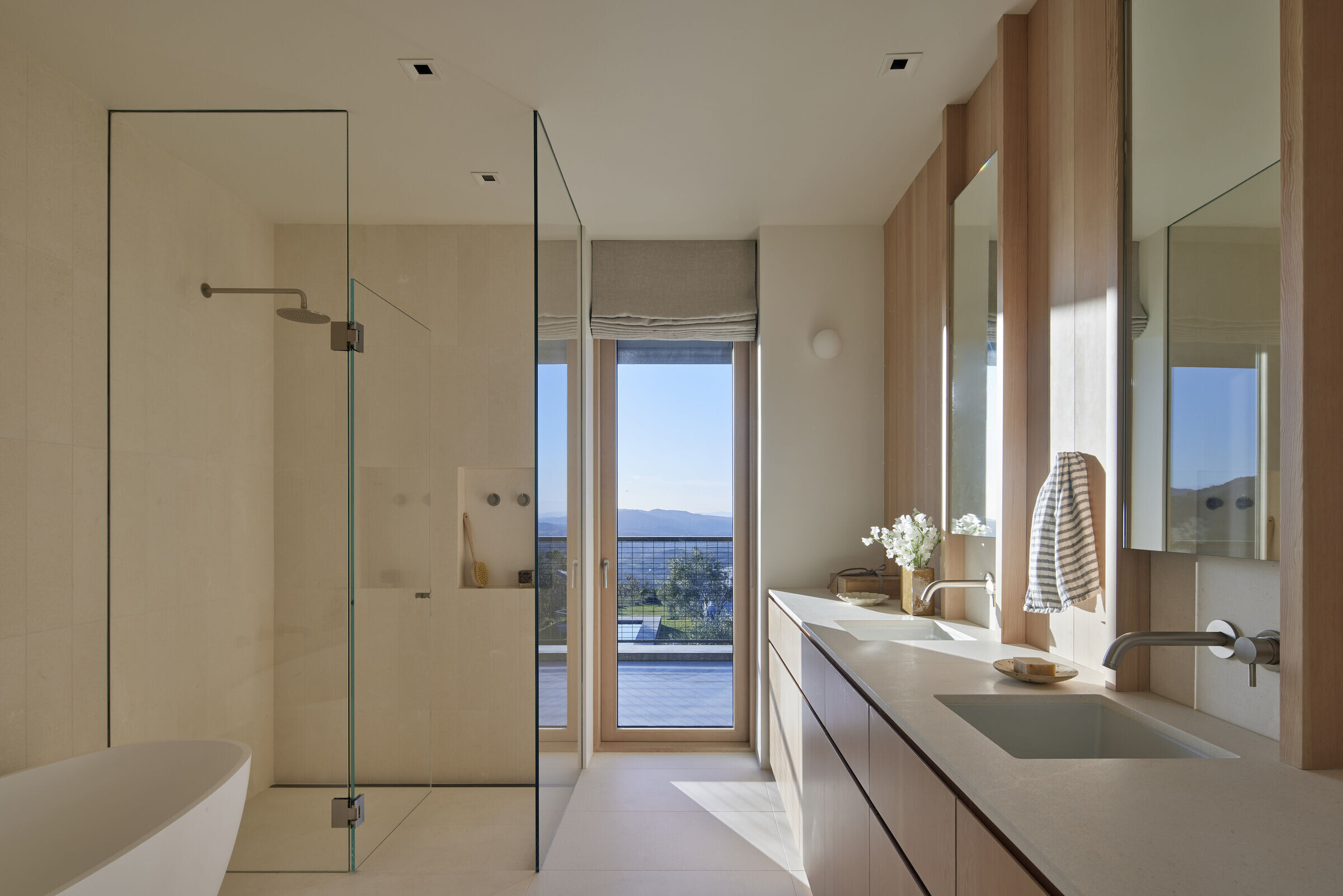 Le programme de la maison comprend 4 chambres à coucher, 4,5 salles de bain, une salle de presse et une grande salle sur une surface de 4 000 pieds carrés, avec un mobilier intérieur conçu par The Office of Charles de Lisle. La propriété de 18 acres comprend une maison d'hôtes en béton de 3 chambres et 3 salles de bain, également conçue par Mork-UlnesArchitects et dont l'intérieur est signé Charles de Lisle. Le jardin, les potagers et la piscine ont été conçus par Surface Design.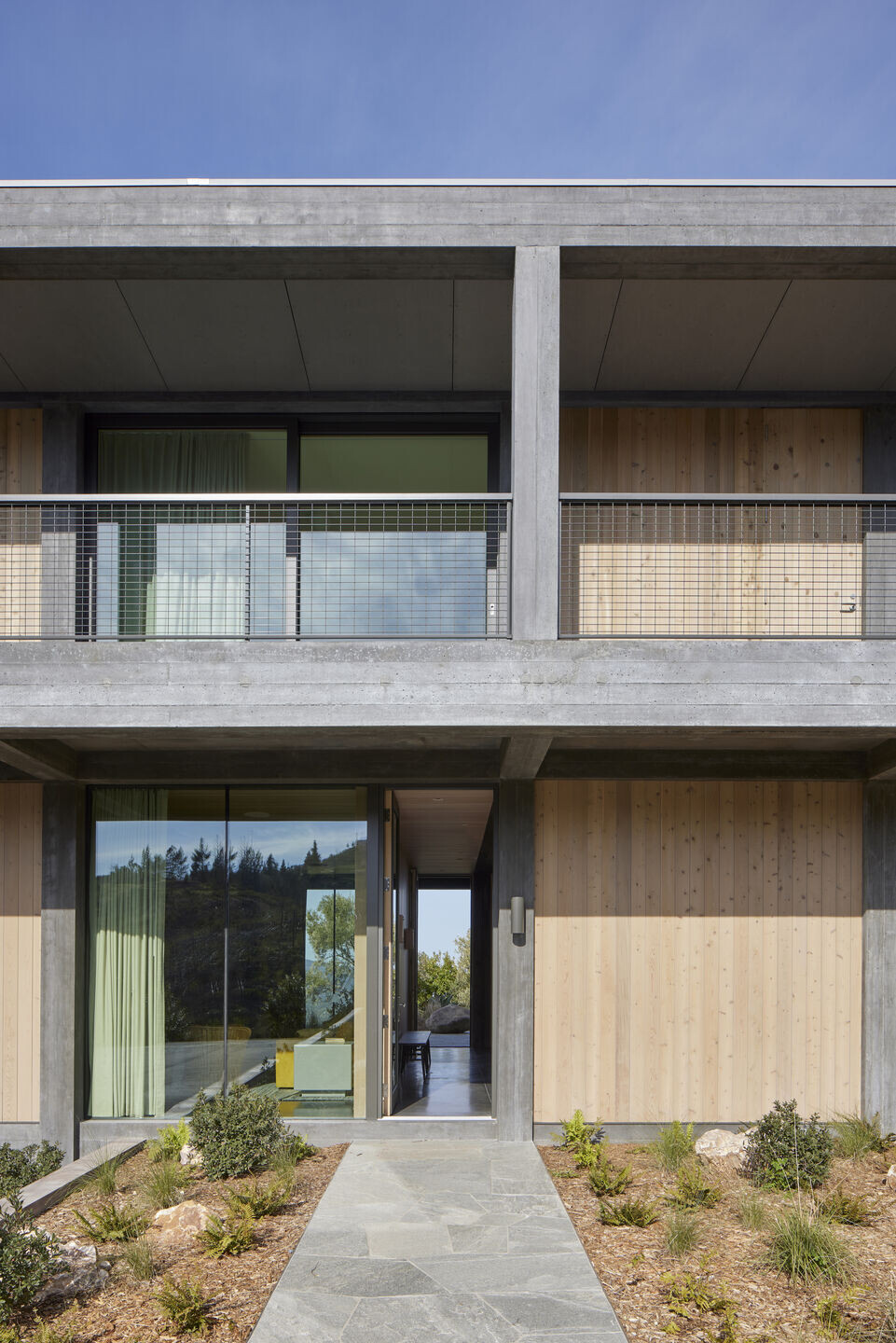 Équipe :
Architecte : Mork-UlnesArchitects
Architecte paysagiste : Surfacedesign, Inc. (Roderick Wyllie et Michal Kapitulnik)
Ingénieur structurel : ZFA Structural Engineers (Kevin Zucco et Drew Fagent)
Design intérieur : Le bureau de Charles De Lisle
Ingénieur géotechnique : RGH Consultants (Jared Pratt)
Ingénieur civil : Adobe Associates (Tim Schram)
Ingénieur septique : Adobe Associates (Greg Schram)
Entrepreneur général : Nordby Signature
crédit photo Bruce Damonte
Bruce Damonte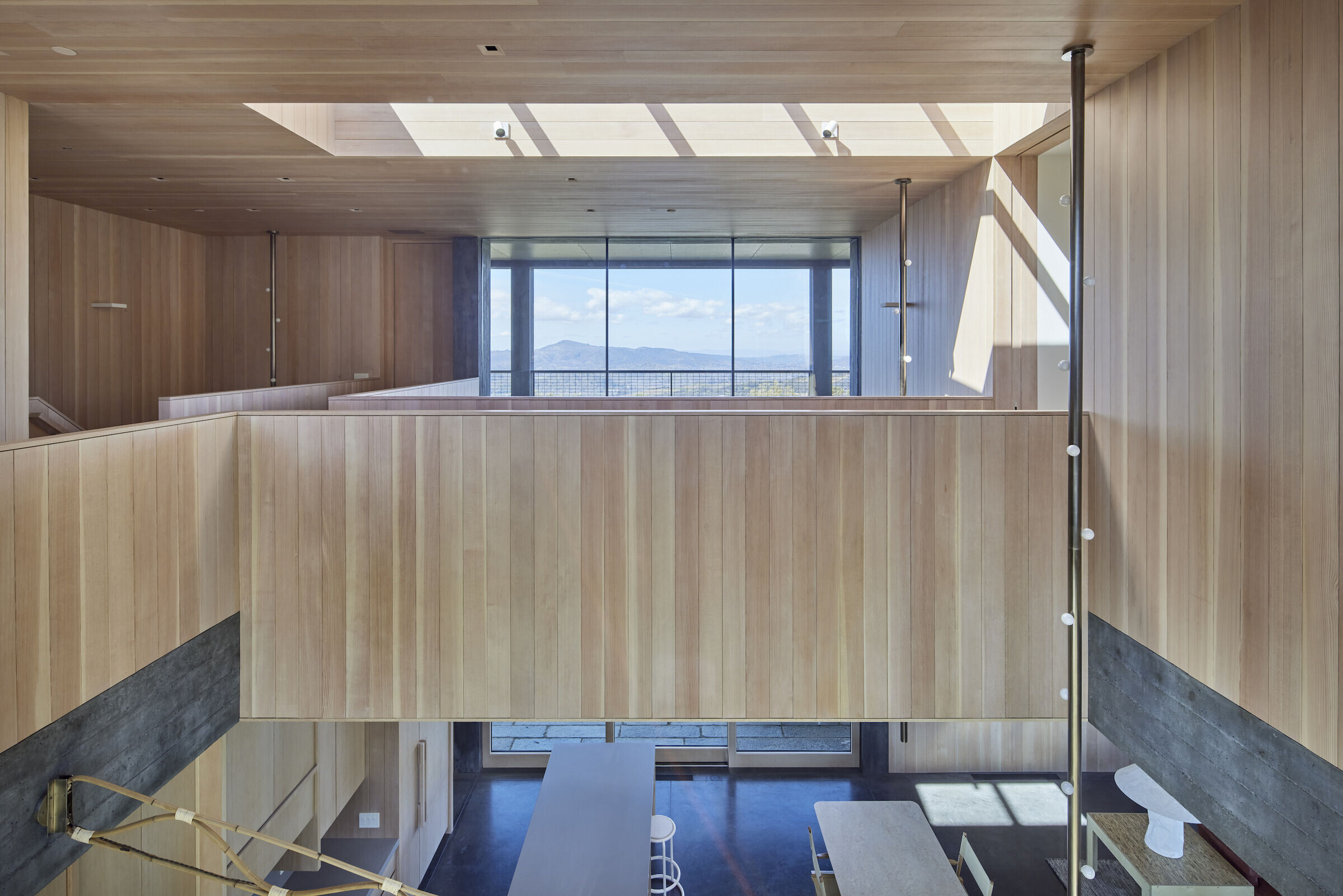 Matériauxutilisés :
Homes Lighting designer: Tucci Lighting
Structural / architectural concrete: Partners Contracting , Inc.
Wood doors and hardware: Curtis & Sons Door, Inc., Quantum Windows and Doors
Fixed glazing: B&L Glass
Cabinetry: Mueller Nicholls Builders
Plumbing fixtures: Premier Bath and Kitchen
Electrical fixtures: Tucci Lighting Design
Bathroom accessories: Doug Mockett and Company, Inc.
Exterior structure and framing: boardformed reinforced concrete columns and beams, concrete masonry unit (CMU) walls covered in solid western red cedar
Exterior wall treatment: solid western red cedar
Interior walls: solid douglas fir paneling, painted gypsum board
Interior ceilings: solid douglas fir paneling, painted gypsum board
Floors: smooth troweled concrete topping slab over concrete structural slab (downstairs); douglas fir flooring (upstairs)
Bathrooms: honed limestone, ASN stone
Lighting: track lighting – lucifer; recessed downlights: intense; indirect wall sconce – creon Decorative light fixtures (dining / double height space, over kitchen island, wooden wall sconces) by the office of Charles de Lisle
Plumbing fixtures: GRAFF M-Series, Chrome. Antonio Lupi Dafne Tub, Duravit WCs, Nameeks sinks Kitchen appliances: Wolf, Miele, SubZero
Windows and glazed doors: Quantum Windows & Doors (aluminum clad, solid core douglas fir wood doors)
Door hardware, Deltana Omnia. Linnea Pocket Door Hardware
Fixed Glazing – Site-glazed
Roofing: Sika SarnaFil PVC roof membrane with gravel overlay
Guardrails: welded wire mesh
Eaves: clad in matte fibre cement panels
Cabinetwork: custom planked douglas fir cabinetry, lyed and sealed with clear matte sealer
Kitchen counters: Caesarstone Sleek Concrete
Structural system: concrete slab on grade, with concrete posts and beams and concrete masonry unit (CMU) infill walls