Corporate design
An overview of projects, products and exclusive articles about corporate design
Projet • By Greenarea • Bureaux
Different compositions that show the versatility of our preserved products when it comes to incorporating nature into the interior of offices and making them more wellbeing. Green ceilings with our Moss&Plants Mid finish, a corporate garden with neon and small green touches in the form of planters help to connect the different work areas with the benefits that biophilic design transmits.
En savoir plus
Projet • By Allen Saunders • Bureaux
The headquarters for a private equity investment firm presented an opportunity to design space illustrating the firm's successful history with a nod to the future. The design objective centered on two environments: a dramatic transportive initial impression within the Reception Lobby and Board Room, and alternatively, day-lit workspaces that offer private and group work zones. A palette of substantial material selections for the Reception Lobby creates an environment of rich and textural surfaces. Oversized porcelain slab flooring, oak planked millwork walls and curved ceiling soffits in deep tones evoke an impression of permanence and strength. A cubist reception desk of warm bronze provides a reflective focal point con...
En savoir plus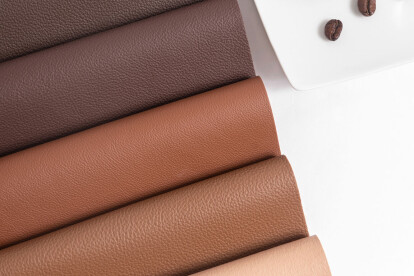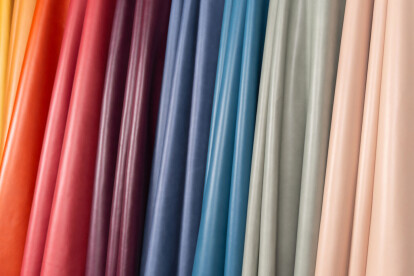 Produit • By JAMIE STERN Furniture, Carpet & Leather • Veneto
Veneto is a pure aniline top grain leather with a smooth two-toned finish. It is produced on European raw material which averages 55 square feet per hide. The leather surface is finished with waxes and oils to create a product which will look beautiful from day one, but continue to breathe, age and develop a sophisticated patina over time. Veneto is available in ten distinct colorways which will ship within 72 hours.
En savoir plus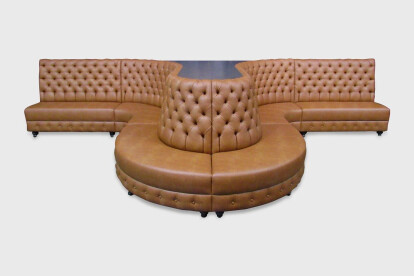 Produit • By JAMIE STERN Furniture, Carpet & Leather • Silicon Serpentine
The Silicon Banquette's serpentine frame features a deep diamond-tufted inback, a single row of button tufts on its apron and a finished wood top, all resting on ornate turned legs. All of the banquettes by Jamie Stern can be manufactured in any size, dimension or custom banquette configuration. Jamie Stern makes custom as easy as standard! W: 203″ D: 26″ H: 42″
En savoir plus
Projet • By SpAce / Juan Carlos Baumgartner • Bureaux
Grupo Axa, global leader in Insurance has committed to benefiting society using its experience in risk management through prevention impacting the 4 great challenges that affect Mexican society: road safety, savings culture, quality healthcare and natural disasters. Axa, driven by the implementation of equal partnership and flexibility of change, renews and expands its offices in order to strengthen its recognition and collective success. With the move the opportunity was taken to redesign its spaces so that all the collaborators of this company can do their work efficiently and productively in a contemporary environment that encourages collaboration and increases the quality of service. The project is developed in a single b...
En savoir plus
Projet • By SpAce / Juan Carlos Baumgartner • Bureaux
Smurfit México is a leading company in production of personalized packaging adapted to any product, that invests in the training and development of its employees with a unique focus on innovation through the combination of science, experience, big data and creativity. They are leaders in the cardboard, packaging and parcels industry, with a presence in several countries worldwide. The design proposal was based on a new trend in image and architecture for offices together with its first Experience Centre in Latin America. Its concern for the social, environmental and workplace wellbeing of its employees has galvanized it to implement strategies of innovation and family values through teamwork, in an environment of modernity and...
En savoir plus
Projet • By Basics Architects • Bureaux
Landis + Gyr is a Swiss company, involved in manufacturing rugged metering systems for various industry applications. On the other hand, their products are Smart and incorporate high technology for a modernized future. The design of the work space was an attempt to show these two opposite aspects of the company. On one side the exposed ceilings and services convey an industrial look whereas the center islands are clean and minimal. The duality in the design creates an interesting interplay between two bold aspects of the design. The planning of the office was carefully crafted to harvest the daylight inside the office space. The solid offices & meeting rooms have been strategically placed to provide a continuous flow of open spaces addi...
En savoir plus
Kelly Scott Madison (KSM), a leading independent media agency, required a new office space for the latest arm of its Media Family in Austin, Texas. Focused on their core belief that media is at the center of our world, KSM sought to create a space that both shows how media impacts our lives and blends Austin's bright, colorful Southwest aesthetic with subtle references to its home base in Chicago. The new space includes open office benching, movable furniture, vintage signage and a custom mural created my famed Austin street artist Federico Archuleta.
En savoir plus
Logicalis, is an international IT solutions and managed services provider that designs, builds and supports ICT solutions for customers throughout Europe, North and South America, and Asia Pacific. HED provided architecture and design services for their new workplace environment in Bloomfield Township. This new office space provides Logicalis an opportunity to program and design a workplace that best leverages the Detroit real-estate environment.
En savoir plus
Modern corporate building. Designed for competition to be build in Vilnius, Lithuania.
En savoir plus
Projet • By Steven Leach Group • Bureaux
Korean lifestyle innovator Kolon Group ushered in the beginning of a new era with the opening of the stunning "One & Only Tower" in April of this year. With a passion of bringing change to the lives of customers since 1954, Kolon continues to stand by its customers and strives to bring technological excellence to the world. After many years of success, the company brought on the multi-disciplinary team at SL+A Seoul to spearhead their move to the Magok neighborhood. As seasoned design consultants and project managers, SL+A could create a welcoming and inspiring space for close to one thousand Kolon employees relocating to Gangseo-gu, Seoul. The new complex consists of three buildings: an eight-floor research center, an expans...
En savoir plus