Rehabilitating a single-family house constructed between party walls in Barcelona in 1942, this bioclimatic and passive restoration preserves the surrounding typology of the two-storey family home with roof terrace and single-storey pavilion at garden level.
The architects, El fil verd estudi d'arquitectura, sought to improve distribution, thermal-acoustic comfort and energy efficiency while maintaining high standards of quality that include the use of natural materials wherever possible.
In terms of distribution, the main house rooms are oriented towards the southern façade to maintain a visual connection with the garden and watercourse. The pavilion is a library and study thanks to its north orientation and a previously existing overhead skylight. The existing courtyard is an 'urban forest' that interacts bioclimatically with the buildings.
In the main building, which is constructed of baked clay brick loading-bearing walls and baked clay brick vaults, the floors and foundations were reinforced while in the pavilion, damaged wooden beams were replaced.
In response to the capillary humidity affecting the ground floor walls and foundation, a solution was found by a physical cut at the base of the walls, affording waterproofing and drainage of the foundation and a ventilated chamber in the party walls. A ventilated slab was also executed to assist in providing good insulation and ventilation at ground level.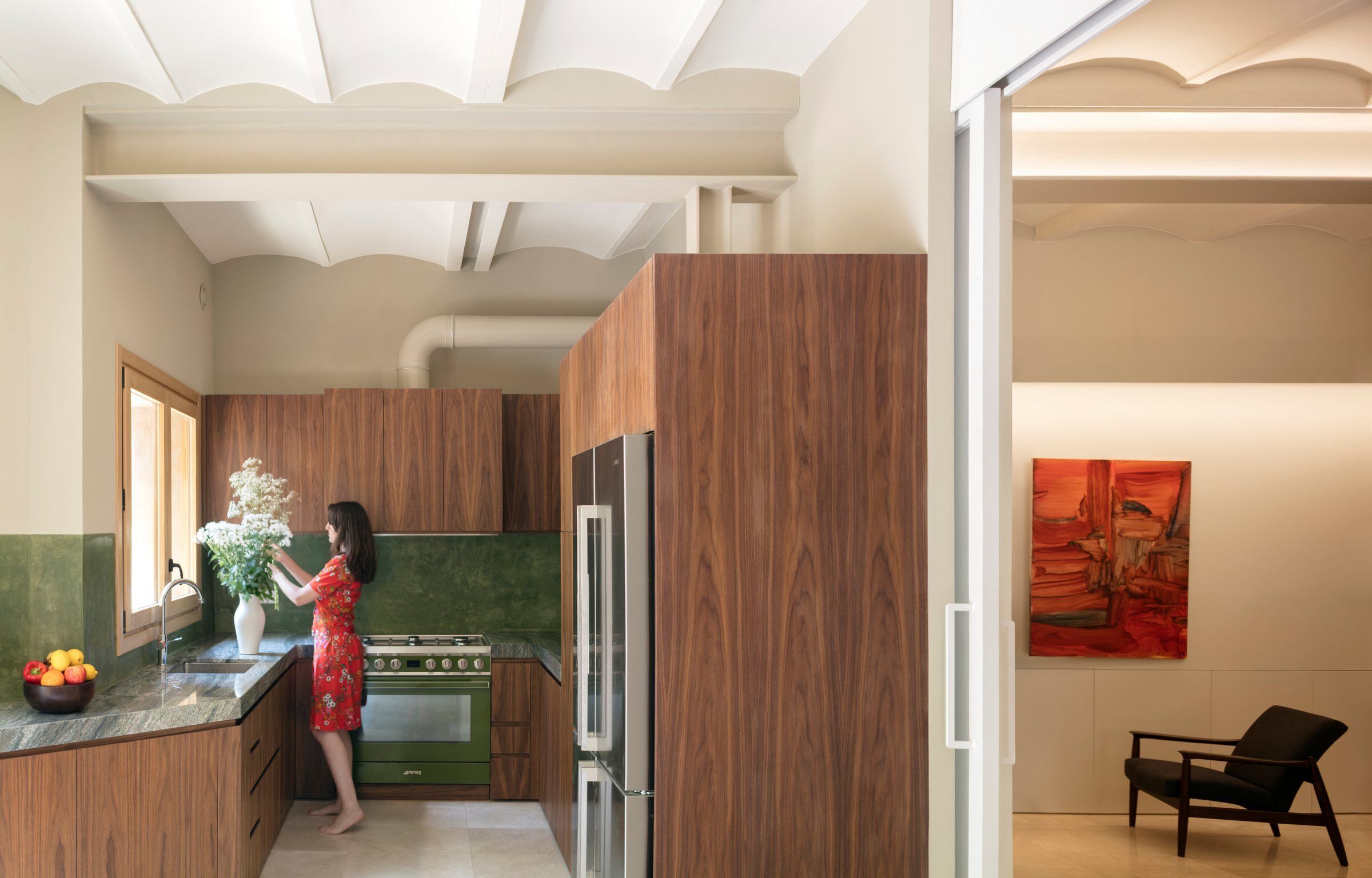 The envelopes of the two volumes – main house and pavilion – were completely insulated with thermos-treated cork to maintain a comfortable temperature year-round. breathability. On the internal façade of the garden, cork is placed on the building's outside, as a visible finish.
The materials specified are not only high quality but also natural, breathable and free of toxic substances. Key materials include exposed cork, terracotta, natural wood, and corten steel. Custom-made furniture is made with woods like oak, linden and walnut, treated with natural oils and waxes. Interior modules of cabinets are made with pine plywood to avoid the use of melanin. The main staircase is restored and partly rebuilt, readapting the original railing.
A fountain in front of the pavilion collects rainwater in a large underground take, which is then reused for irrigation. In the summer, water reduces temperatures and promotes natural ventilation on the ground floor.
All floors have underfloor heating and cooling, powered by a high-efficiency heat pump. Two buildings include dehumidifiers for air treatment with heat recovery units. The system is monitored and regulated by an electronic automation system.