At the very highest point of the Norwegian Railway track and only accessible by train, you will find the mountain village Finse. Situated amidst the beautiful mountain landscape is the stately hotel Finse 1222. Originally constructed in 1906 to provide lodging for railroad workers, it reopened as a hotel in 1902. Snøhetta was commissioned in 2022 to bring a modern vision while bridging with the past.
With a down to earth yet exclusive feel, the existing hotel was welcoming an increasing number of visitors that wanted to explore the outdoors but also fully take in the indoor realm of the hotel.
The Snøhetta team began by investigating the extensive amount of historic material on the site which included design classics in the attic to numerous photographs revealing the history of design, interior and activities. While the exterior of the hotel is classical Swiss chalet-style, the interiors had developed as a mix of high-end British design and Norwegian design. Drawing from this eclectic fusion, the architect's new interior features Nordic-style wooden future, alongside bold and colourful planes and elegant details.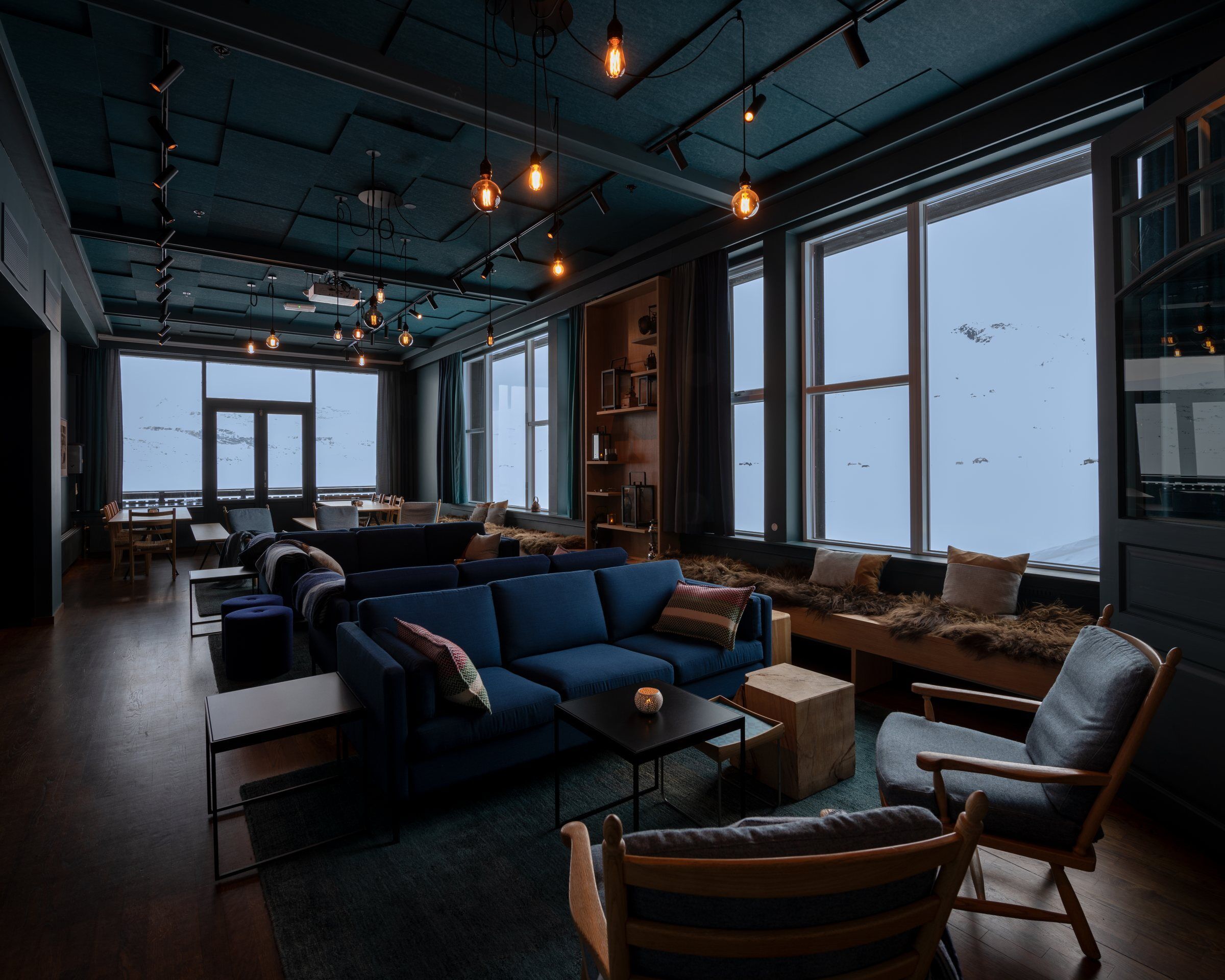 The architects used as many of the existing materials and elements of the projects as possible including old wooden floors and furniture classic.. New elements were only added when needed, thus ensuring visitors would remain aware of the legacy of the hotel experience.
The key to the arrival experience was presenting an inviting vibe. A welcoming new reception and lounge area were redesigned to be a warm space with a bright red and orange colour palette, fireplace, and space to sit, relax, and take in views. From this lounge, the room was extended to include a broad terrace.
Walls throughout display history and memories including prominent visitors as well as quality historical photos.
One of the most spectacular attractions at Finse is the winter sunset turning everything blue. "Blåsalen", the "blue room", is designed for maximizing this experience. The spectators that regularly follow the changing light and colours minute by minute on these afternoons are a testament to the truly magical experience of the place.