In a small residential area called "Waldsiedlung", which was built between 1962-1963 under the site management of Max Bächer, a terraced house was modernized and converted cautiously. Max Bächer was responsible for the proper conduct of the site and took care of a homogeneous structure – so that the building owner adhere to the design regulations. There were 65 bungalows and 26 terraced houses generated.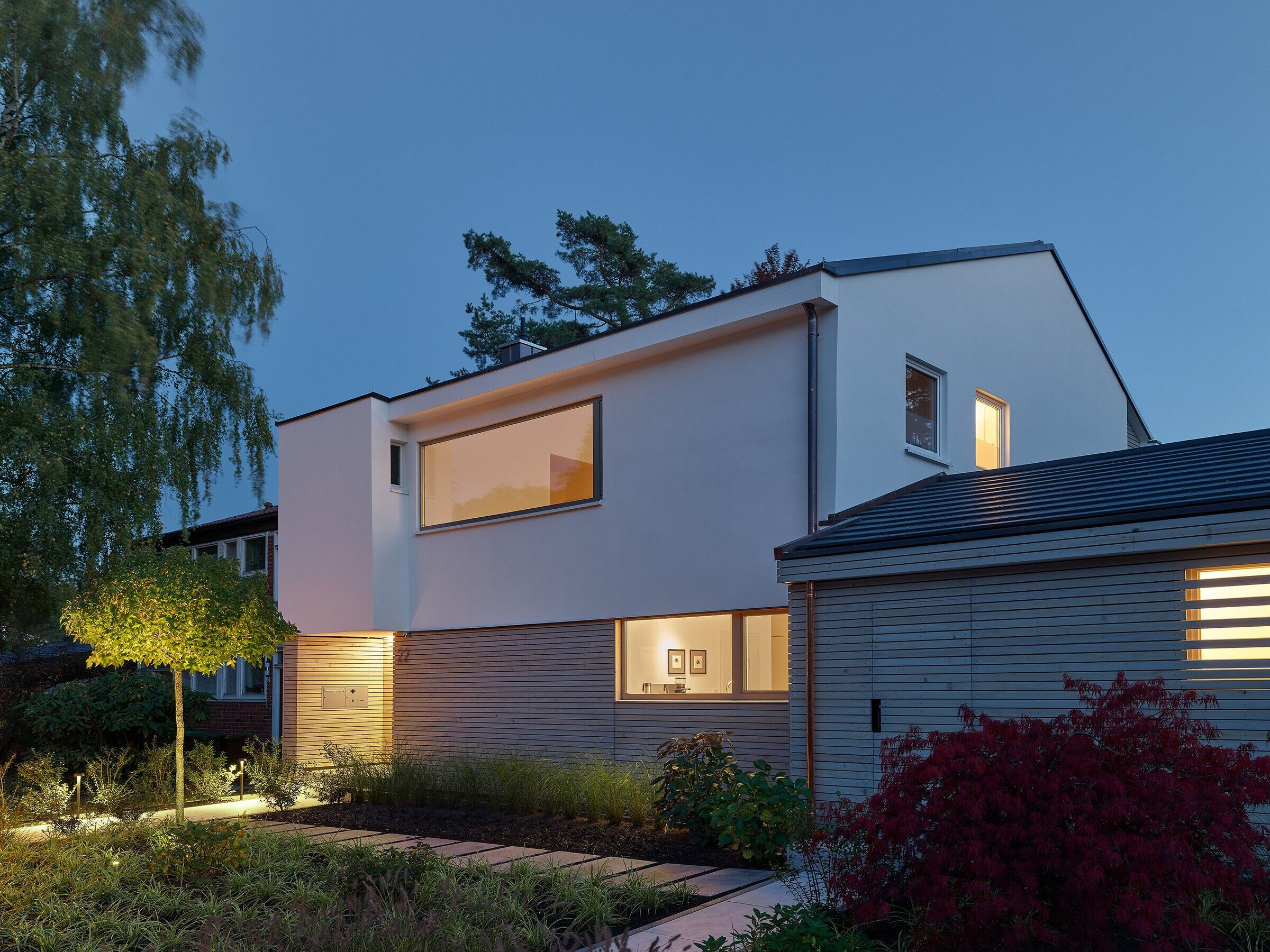 The regulations of the development plan – arrangement of the roof, roof overhang, connection of the roof cornice, design of the façade (horizontal structuring due to a wooden façade) – were maintained and in parts reinterpreted. The ecological development to not build a new house at all costs was important.
The two-story house was solidly built – the walls made of brickwork, the ceilings made of concrete. But the arrangement of the rooms and their sizes was not what it is supposed to be nowadays.
So, the family with two kids who acquired the property wanted to converse the house at their convenience and extend it to include a granny annex. It was supposed to be modernized to also be state of the art.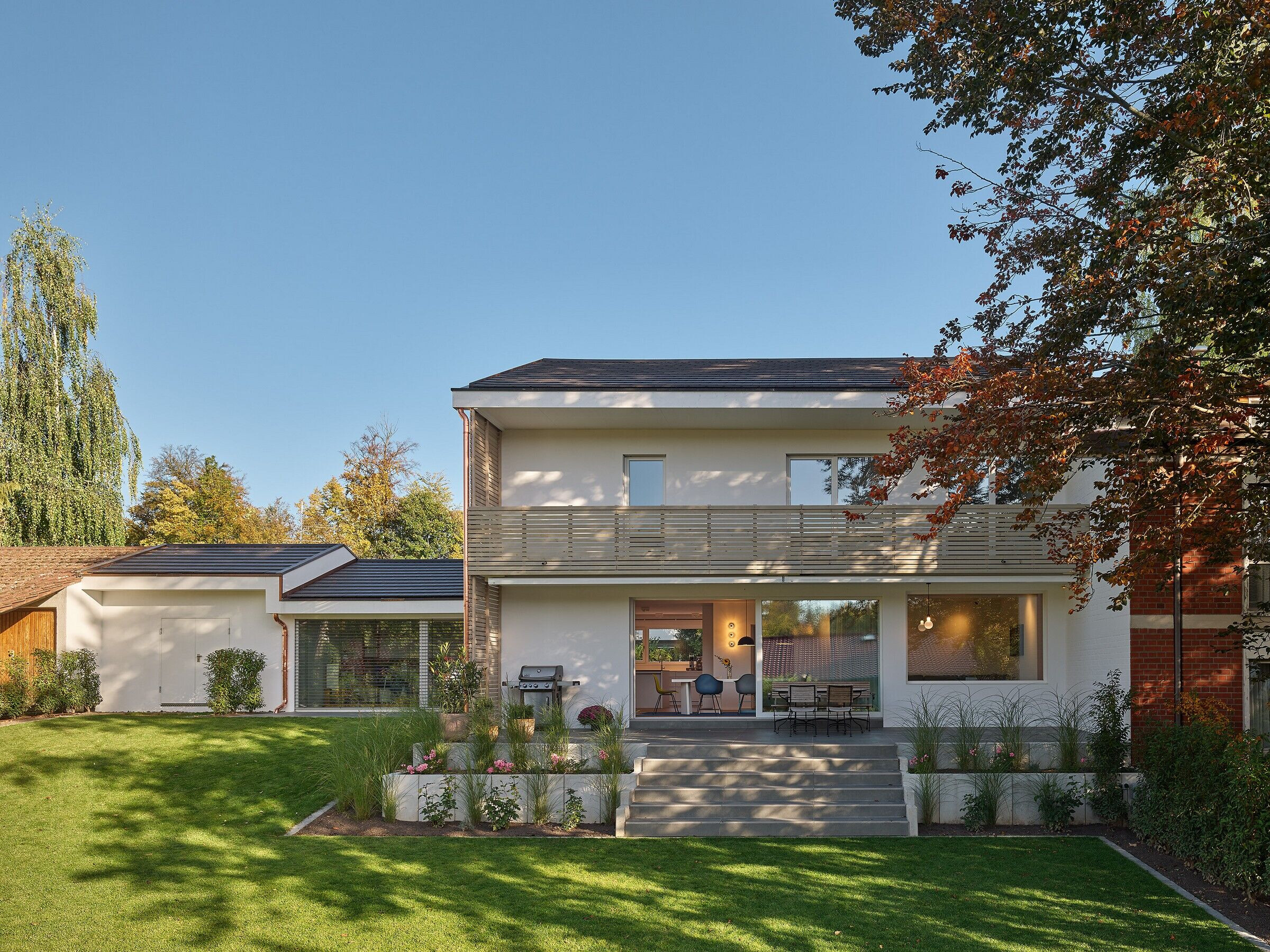 Not only in a technical way but also seen from the spatial perspective, the building was revalued. At the upper floor the parents' bedroom and the bedrooms of the kids were enlarged. At the ground floor the further terrace at the west needed to yield to the granny annex. Instead, there was a new terrace built over the full length of the southern façade. And with a few changes in the floor plan (some walls needed to be removed) there could be some benefits gained: the typically small and divided rooms of the 1960s were turned into a broad living area, including the kitchen and dining room, where daily family life is taking place.
The charming and absolutely worth preserving staircase was renovated cautiously and complemented with a built-in furniture made of wood and indirect lighting.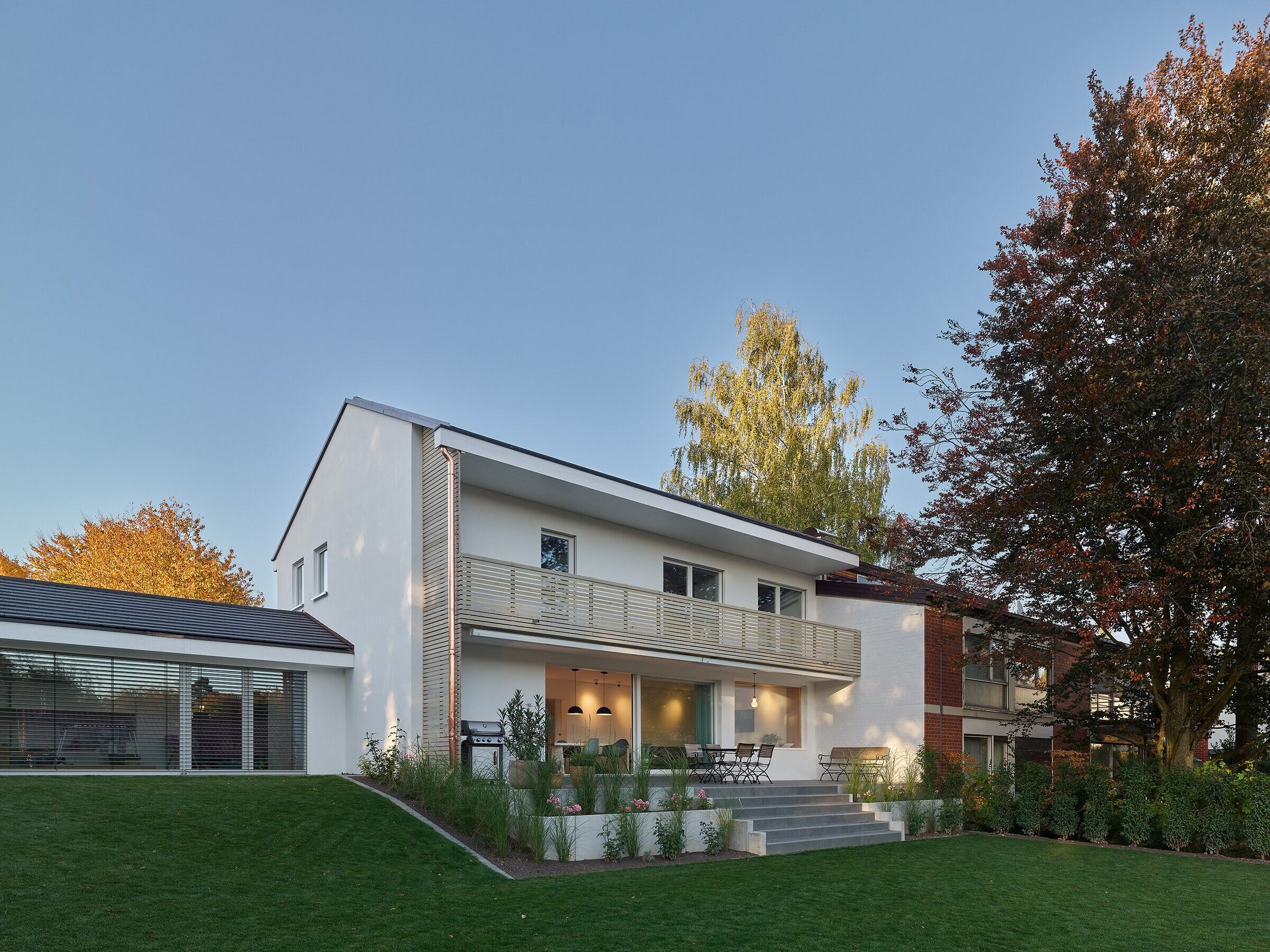 The required insulation of the façade was resized, thanks to a KfW-subvention (building stock worthy of preservation), so that the former typical wall and roof offsets could be preserved. Corresponding to the design regulations the building was structured by a wooden façade within the range of the ground floor height, which helped to obtain a warm and comfortable atmosphere. This was also possible in the inner part of the house by using a wooden floor, creating a window with a bench and opening the living area with huge windows to the garden. A conversion has been generated which offers the family a new living environment.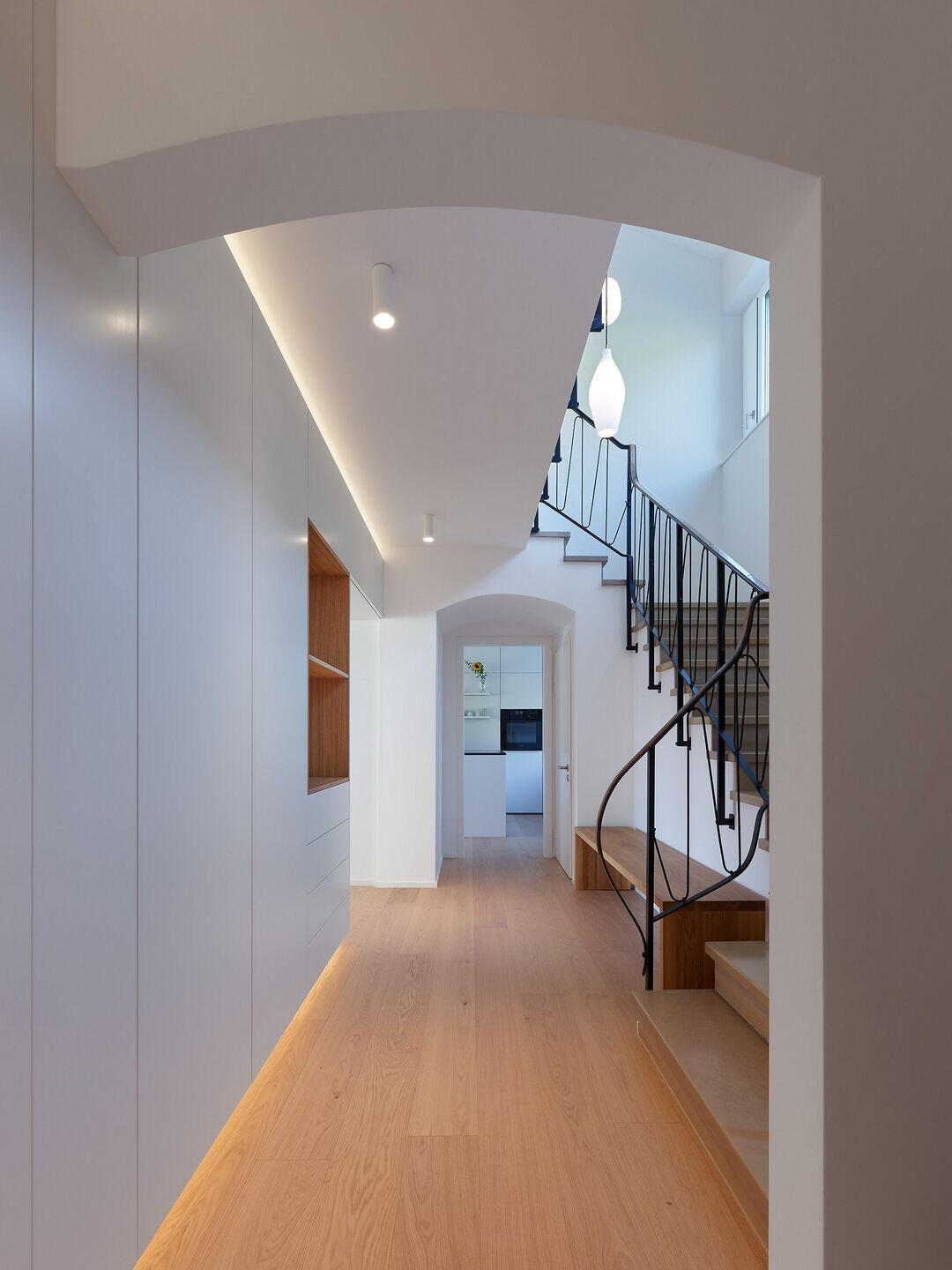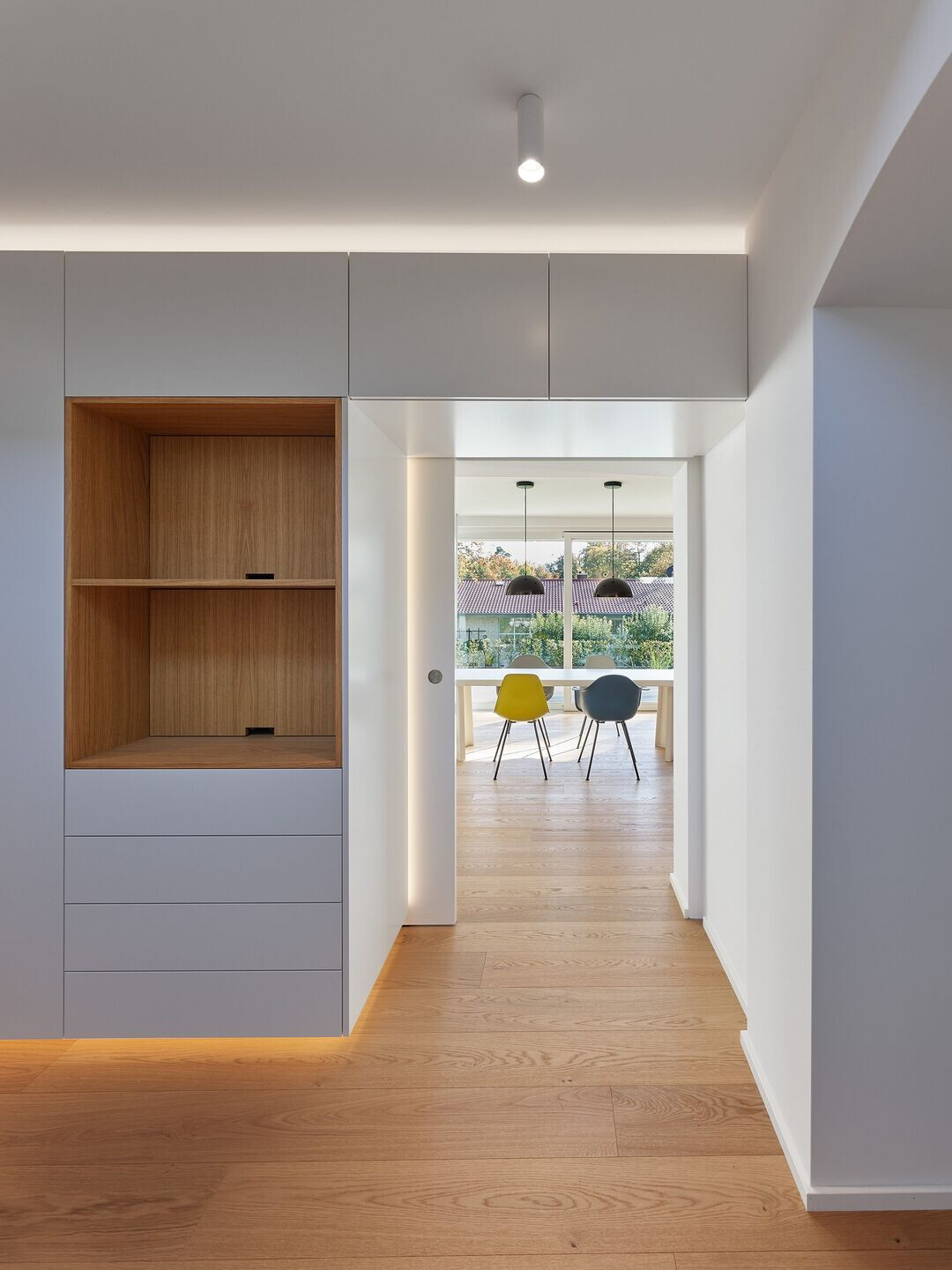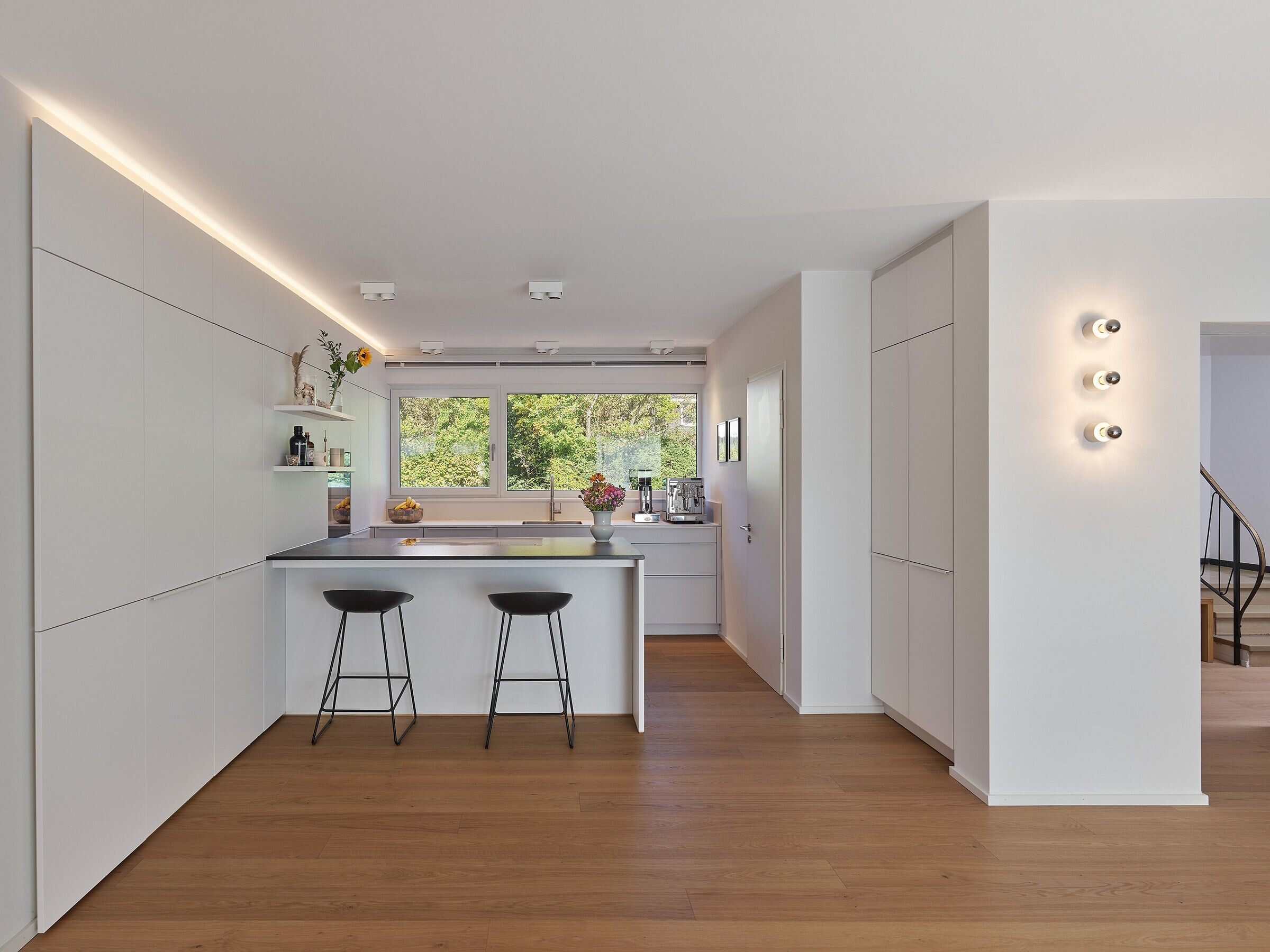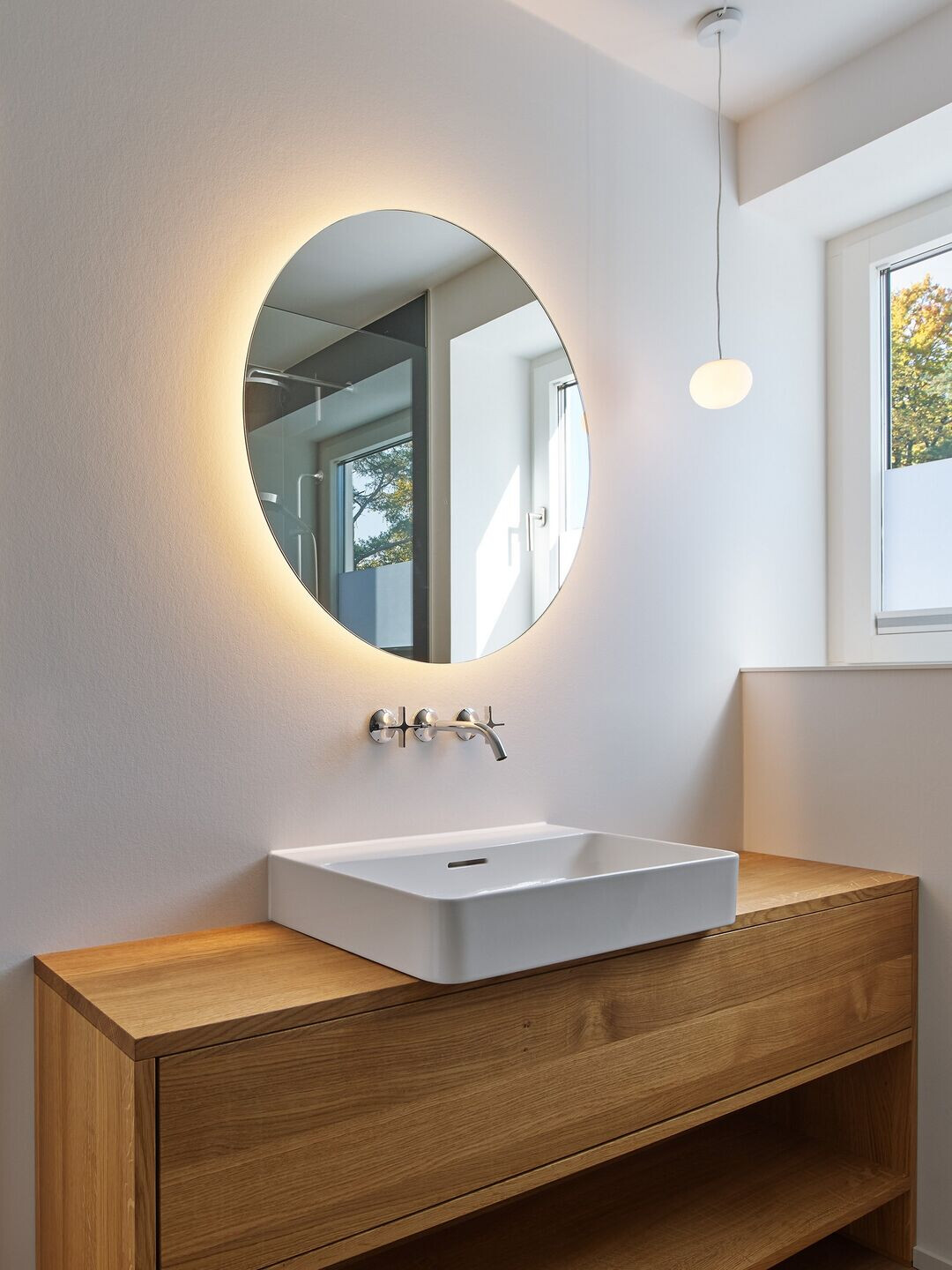 Material Used :
1. Facade cladding: Silver fir (greyed out) wooden facade
2. Flooring: oak parquet
3. Doors: wooden doors (carpenter), varnished white
4. Windows: wooden windows
5. Roofing: Erlus Linea anthracite
6. Interior lighting: Marva "Eintopf"
7. Interior furniture: furniture: vitra; kitchen: "LeichtKüchen"