Situata in un prato in leggera pendenza, la Hudson Valley House II è un insieme di sei padiglioni separati per un totale di 4.600 metri quadrati, ognuno dei quali ospita una funzione diversa comunemente presente in un'unica residenza. Le strutture sono raggruppate intorno a un cortile centrale pieno di erbe autoctone, alberi di robinia e conifere e arbusti da fiore. Questa configurazione offre il senso di isolamento, privacy e ritiro pastorale ricercato dai clienti e incoraggia le passeggiate nella natura. Le funzioni di supporto sono situate in un capanno da giardino e in un garage poco invasivo.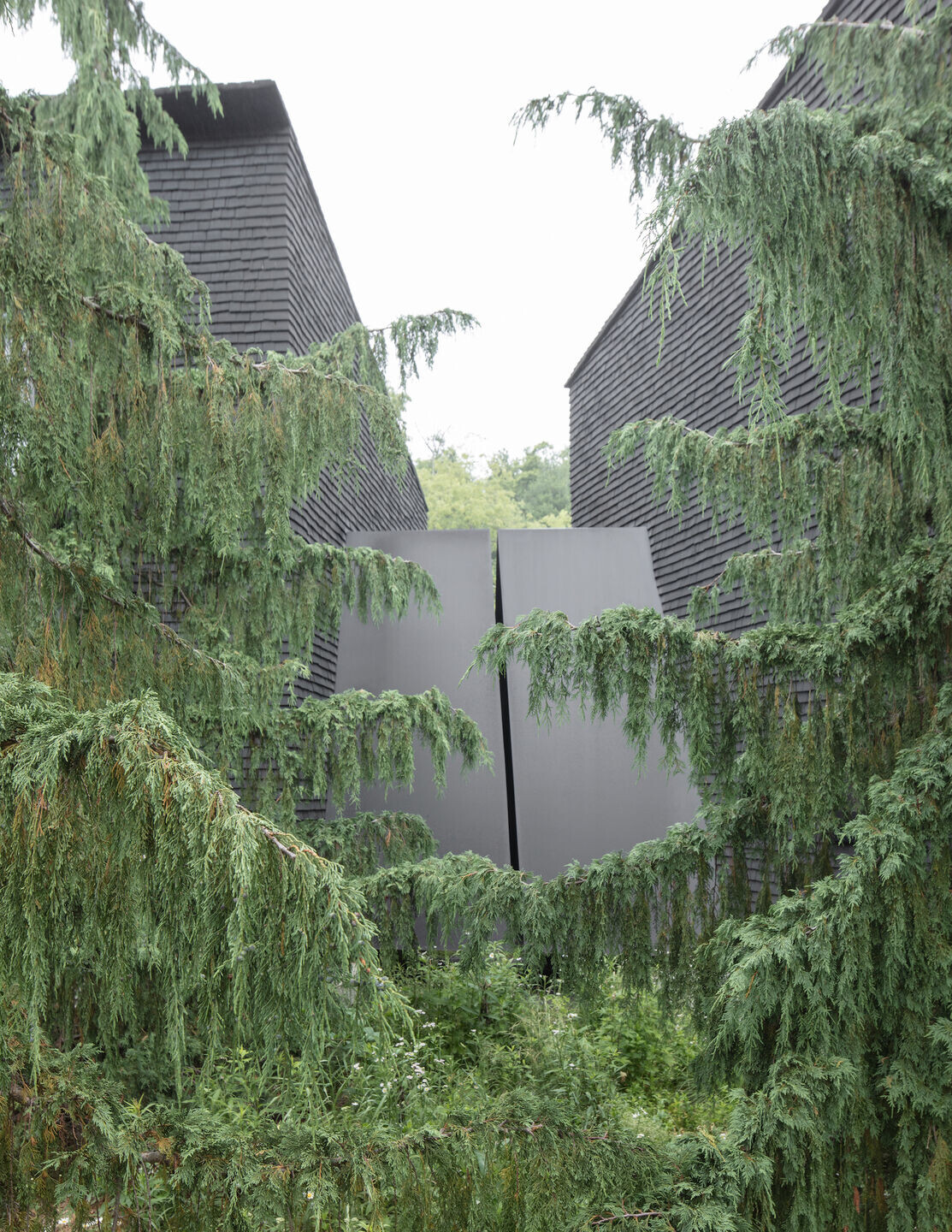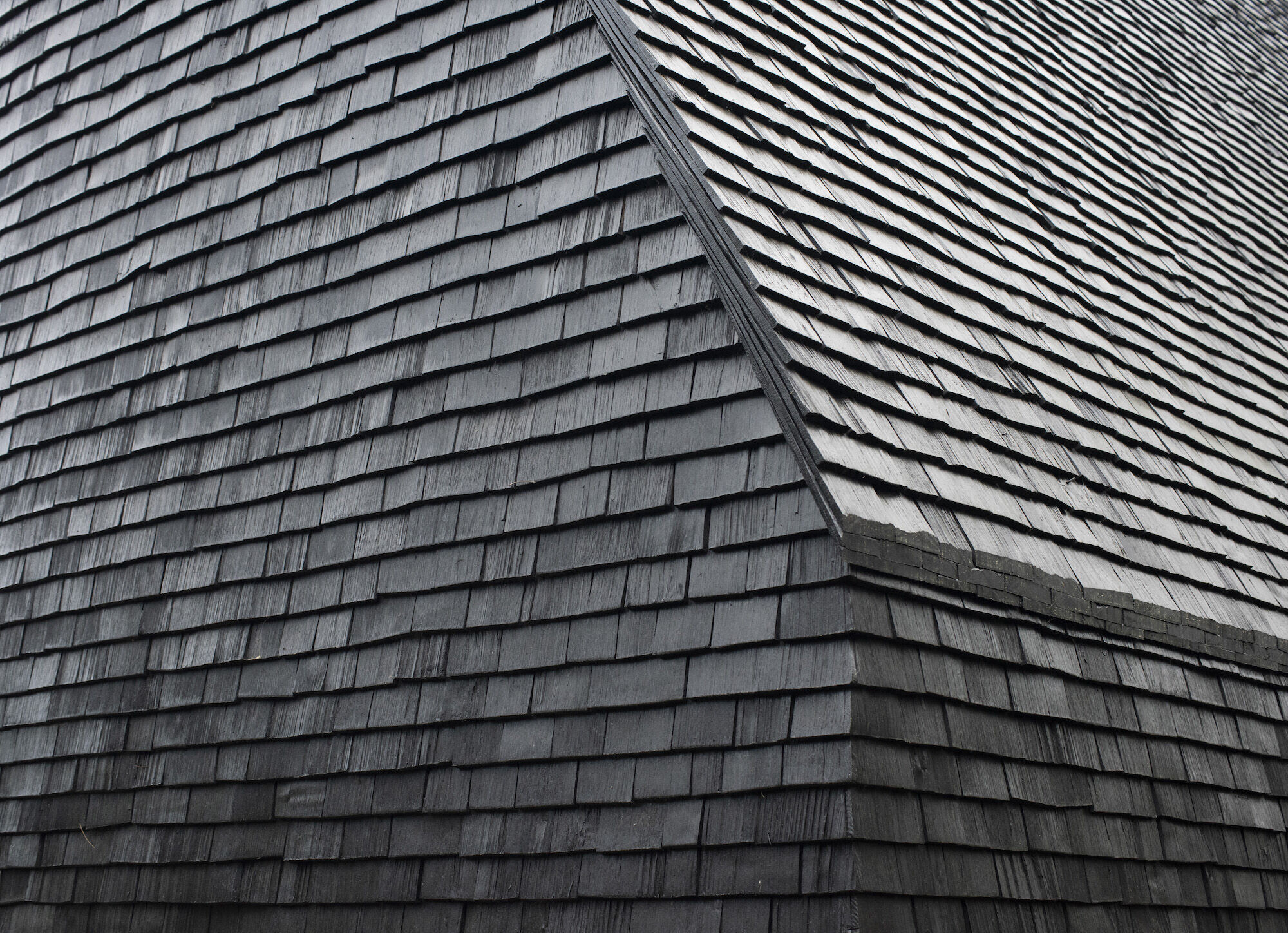 Ispirati ai tradizionali insediamenti agricoli delle Alpi svizzere, gli edifici del cortile hanno tetti spioventi e sono rivestiti di scandole di cedro grezzo ricoperte di catrame nero che funge da conservante naturale. Ciascuna forma rivestita di scandole poggia su un piazzale in cemento continuo e sporgente che si libra sopra il piano del terreno. Grandi lastre di granito non rifinite e alti portali di metallo nero, fiancheggiati da arbusti autoctoni fioriti, segnano l'ingresso di ogni edificio.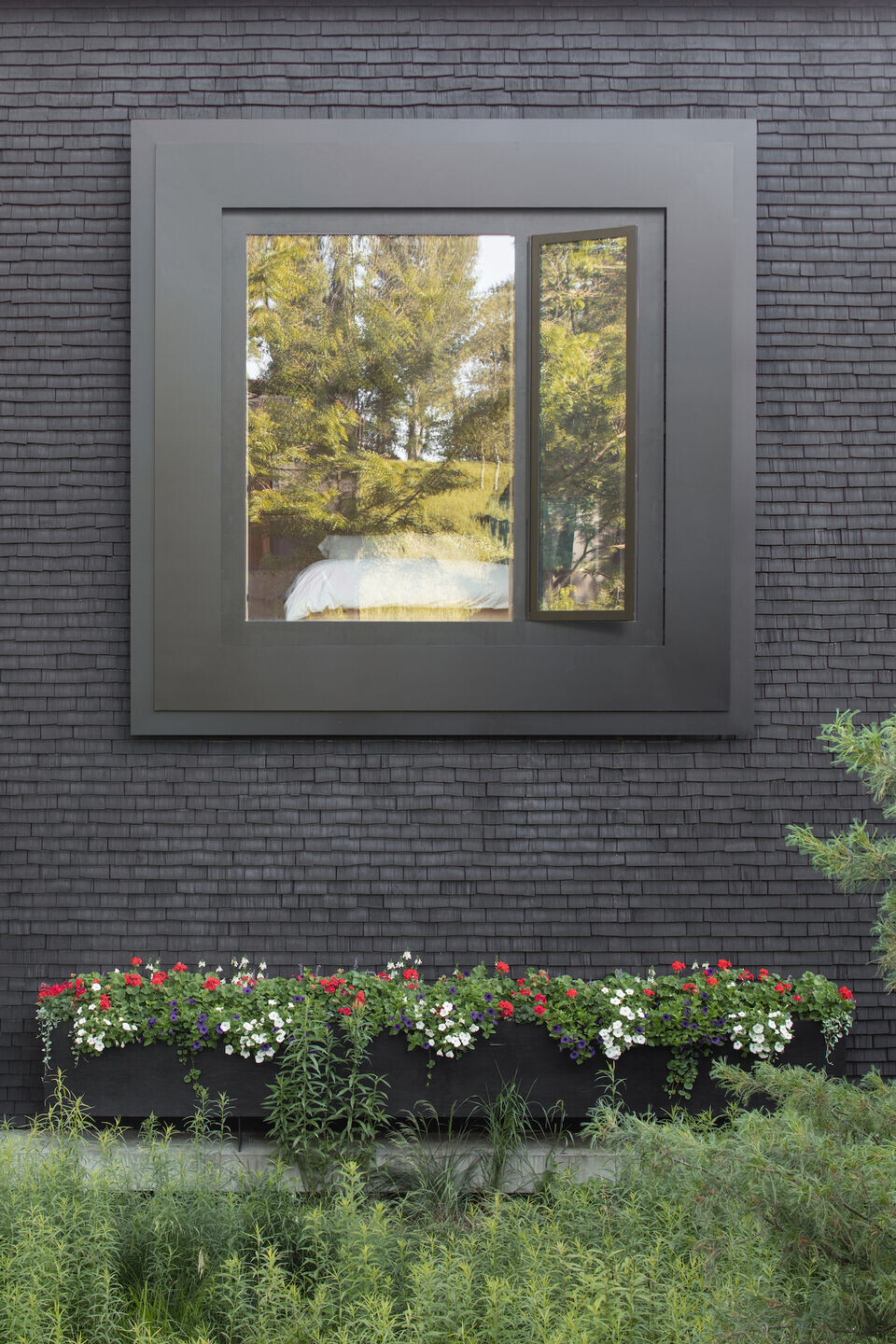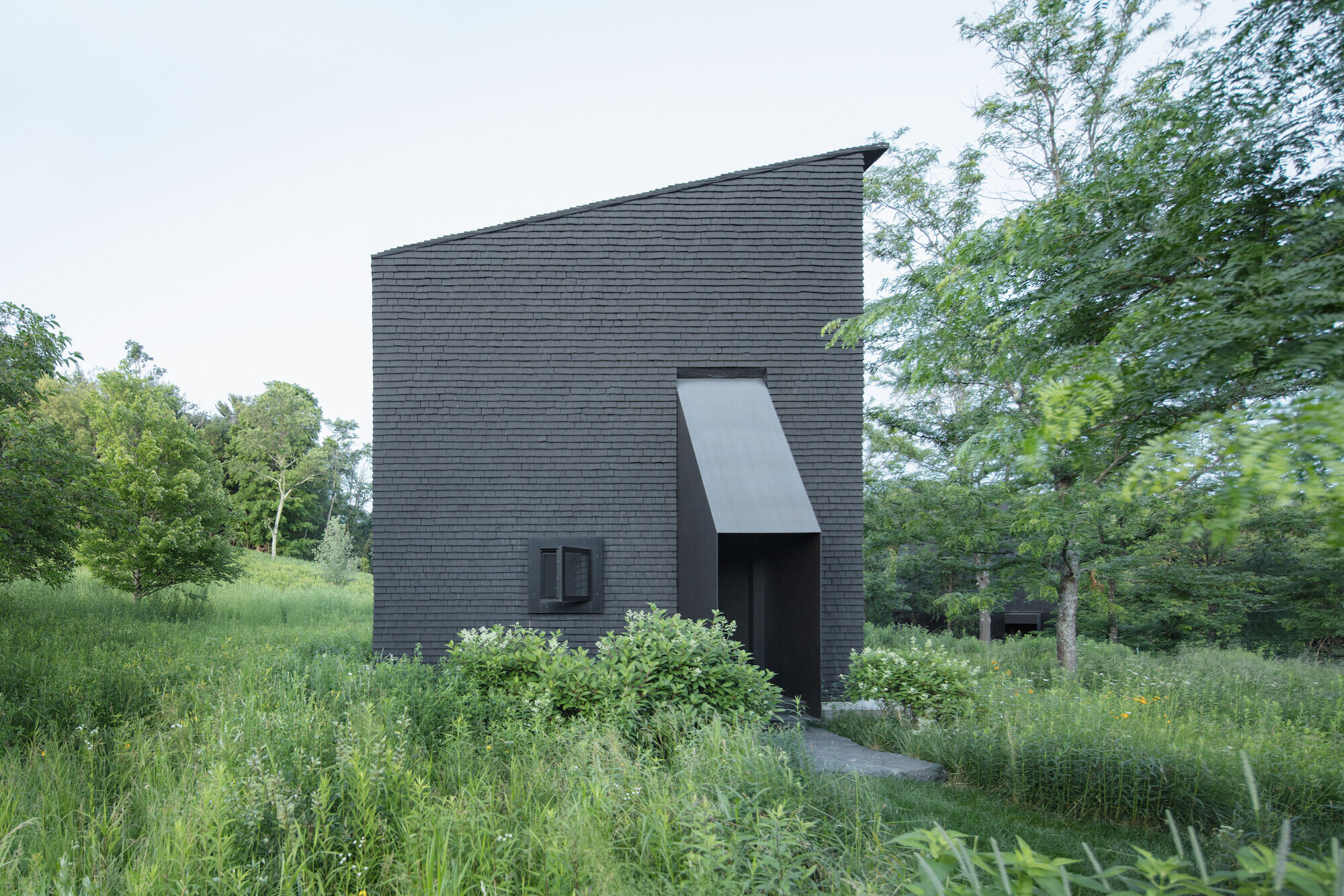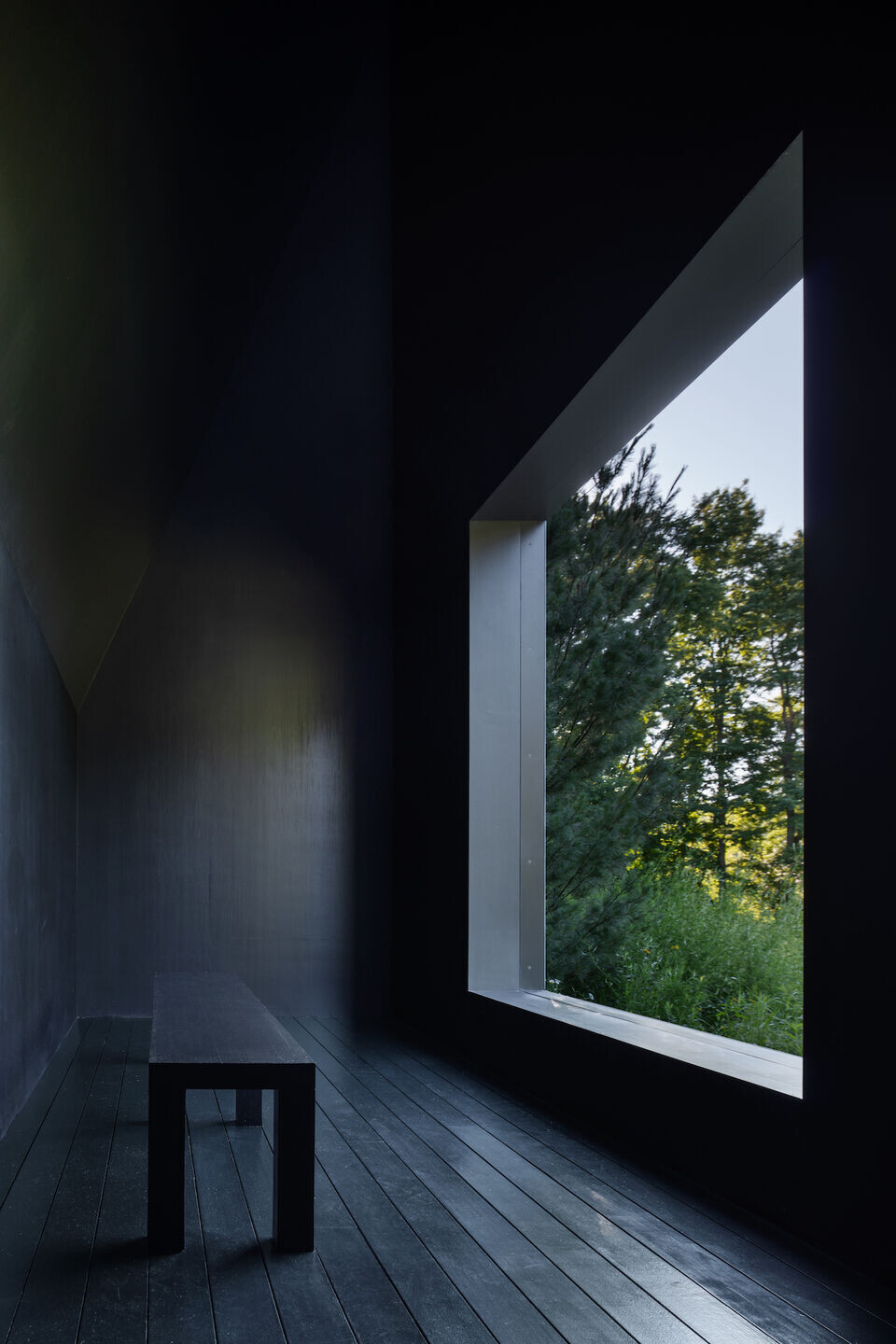 Il piano terra dell'edificio principale comprende spazi di supporto, mentre il soggiorno, la sala da pranzo e la cucina sono situati in alto per offrire una vista ottimale sul paesaggio e sulla foresta circostante. Una passerella sopraelevata, a sezione triangolare, collega la camera da letto principale adiacente. Il gruppo è completato da due camere da letto separate, uno studio e una sala di meditazione con un tetto alto e spiovente. Il compensato di abete rosso austriaco per esterni ricopre i pavimenti, le pareti e i soffitti interni. L'interno della sala di meditazione è dipinto di nero, oscurando la percezione dell'alto soffitto e concentrando l'attenzione sulla grande apertura quadrata che si affaccia sul campo adiacente.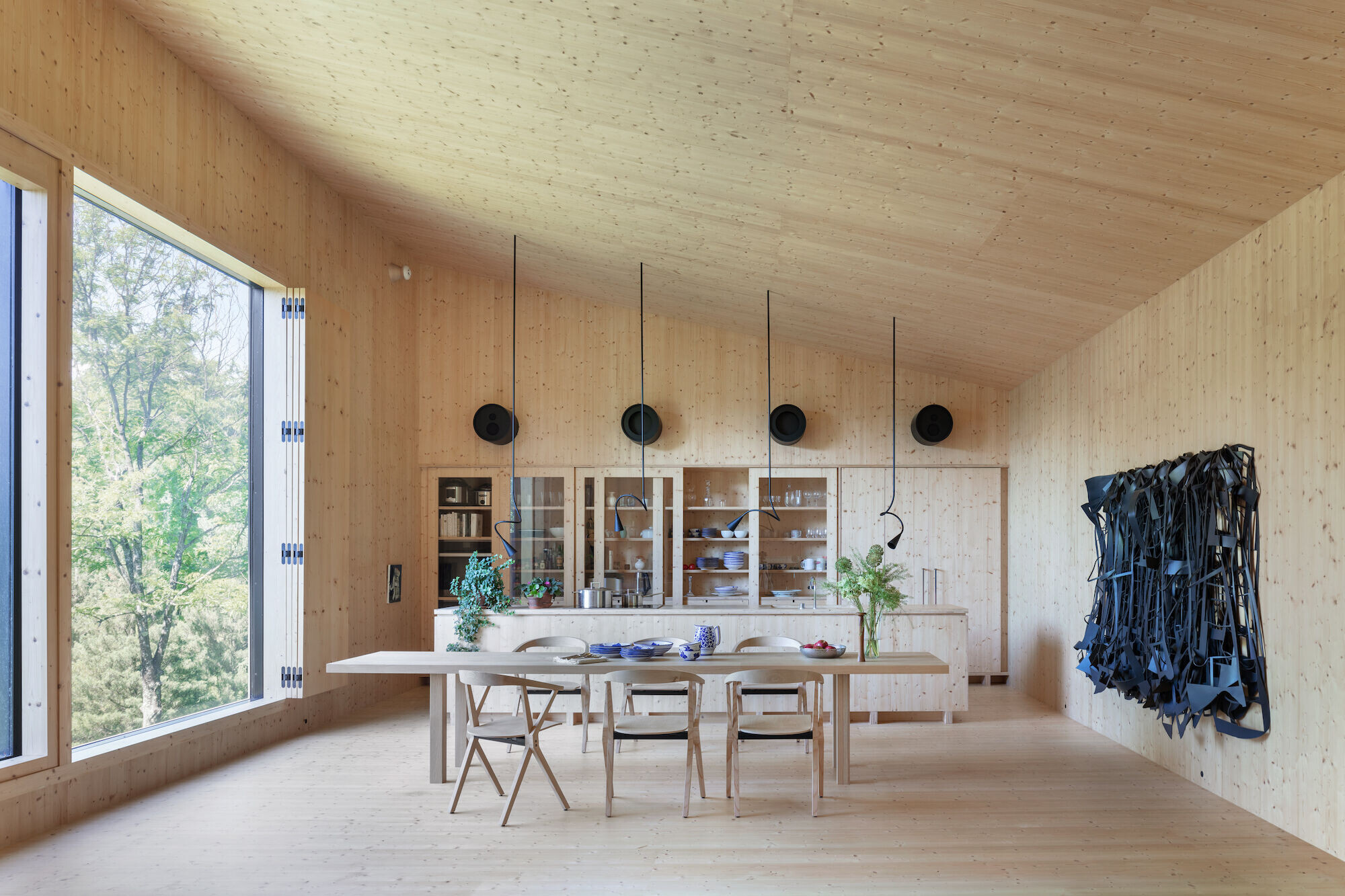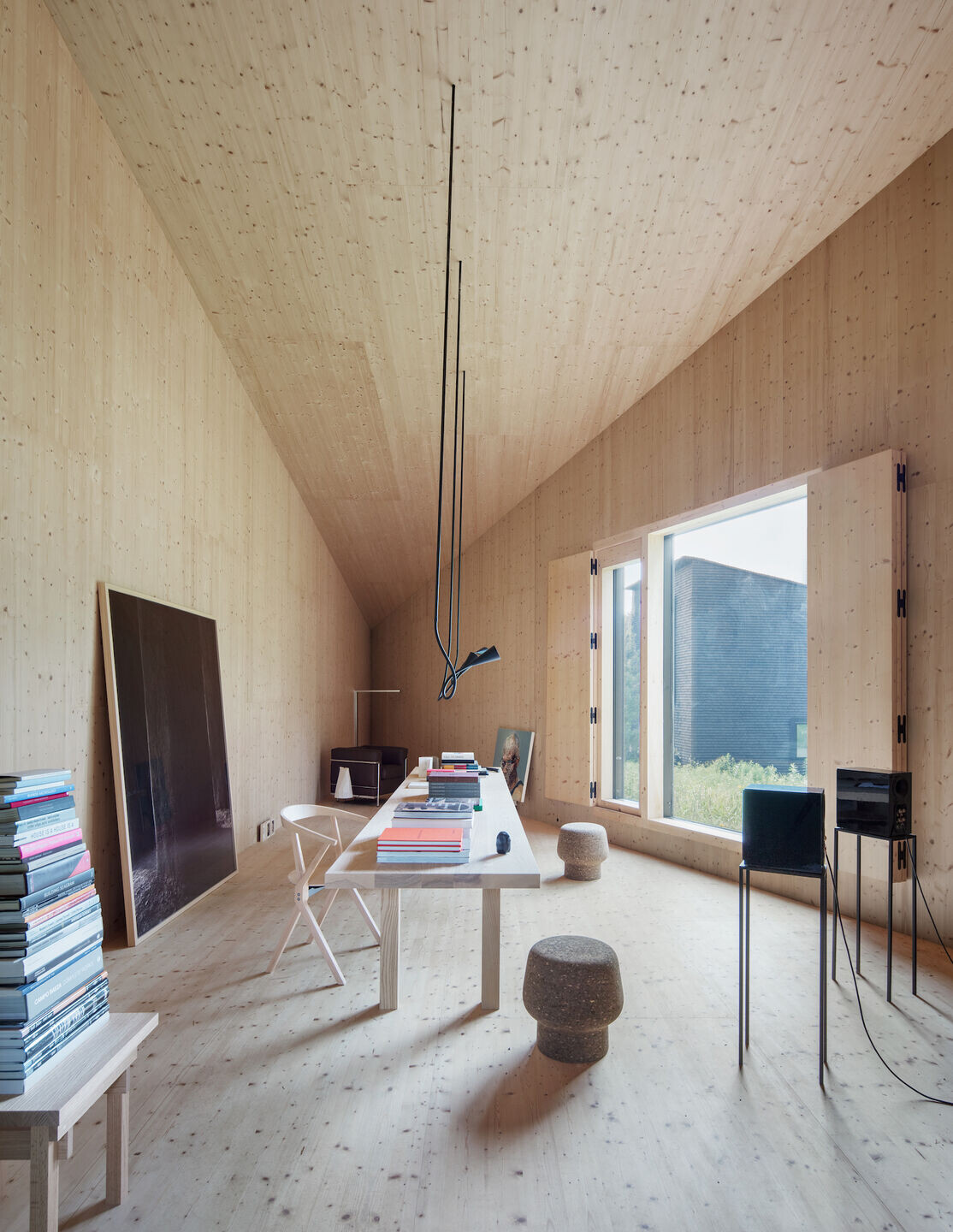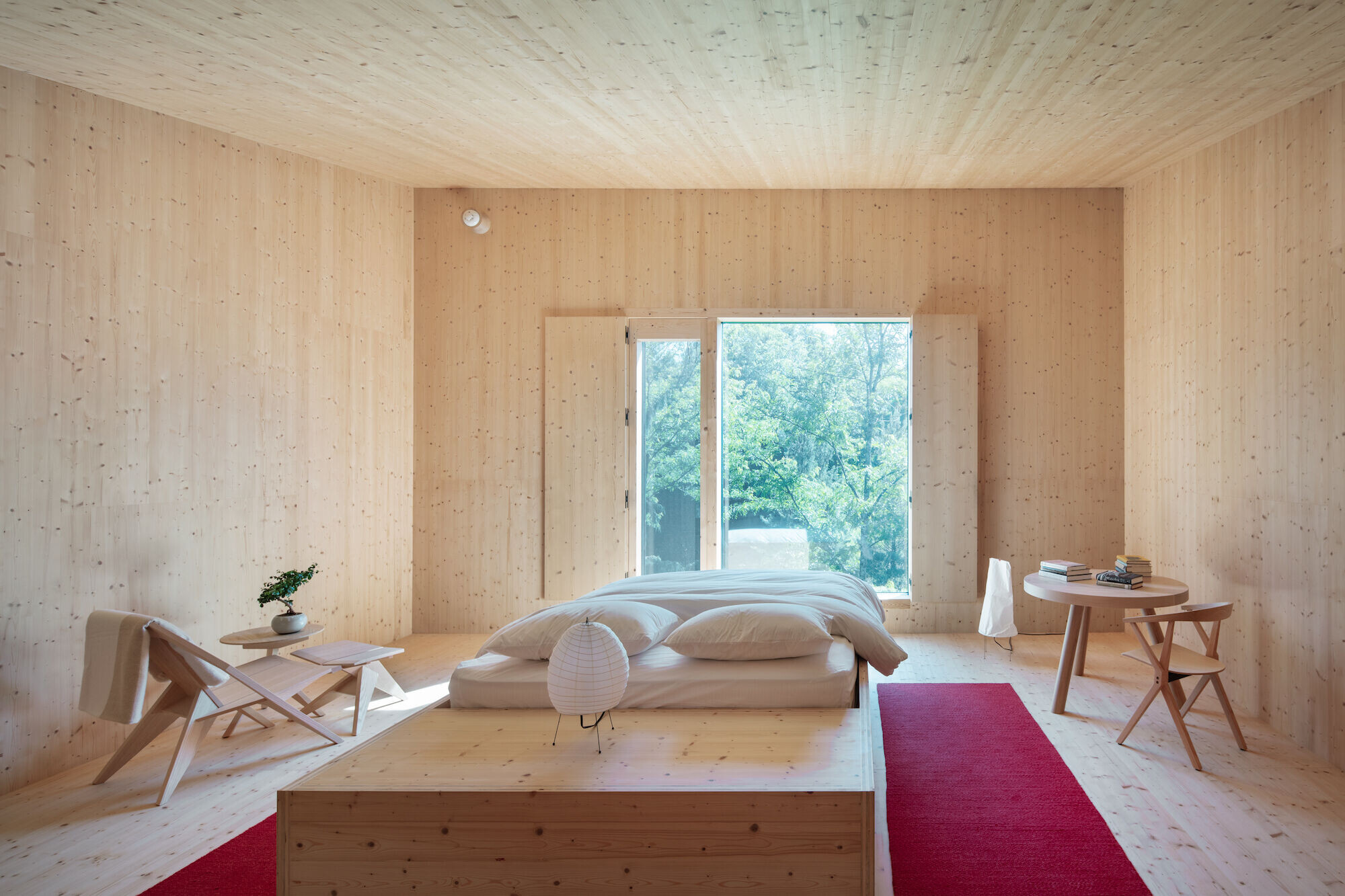 Team:
Architetti: Thomas Phifer and Partners
Team di progettazione:
Thomas Phifer and Partners Thomas Phifer
Jean Phifer, architetto del progetto Lauren Eggert
Jeremiah DeMoss
Larry Weaner Landscape Associates Larry Weaner, direttore
Rebecca Kagle, Project Manager
Struttura: Skidmore, Owings & Merrill
Paesaggio: Larry Weaner Landscape Associates
MEP: Thompson Plumbing Heating and Electric
Appaltatore generale: Eastern Construction Professionals
Fotografo: Scott Frances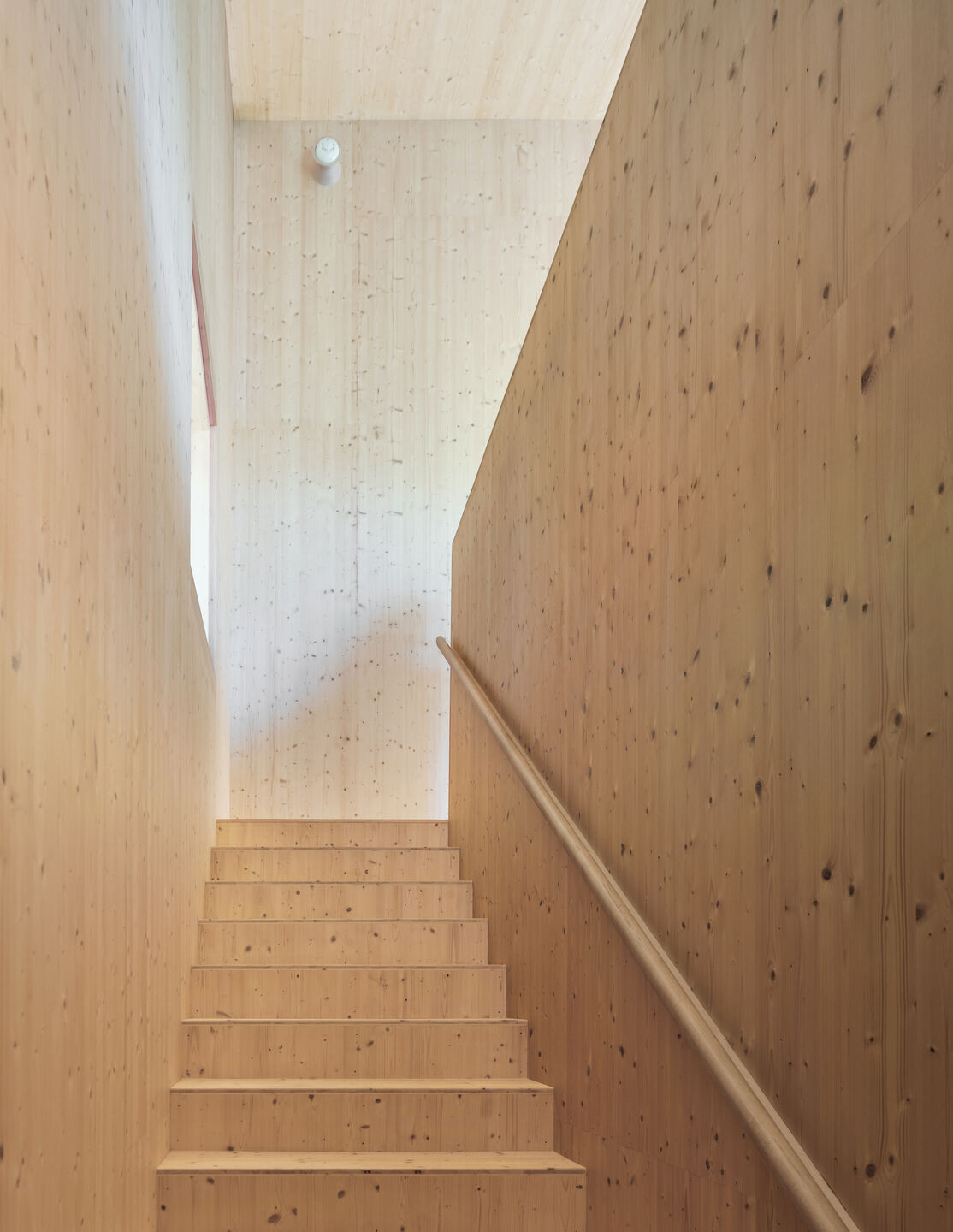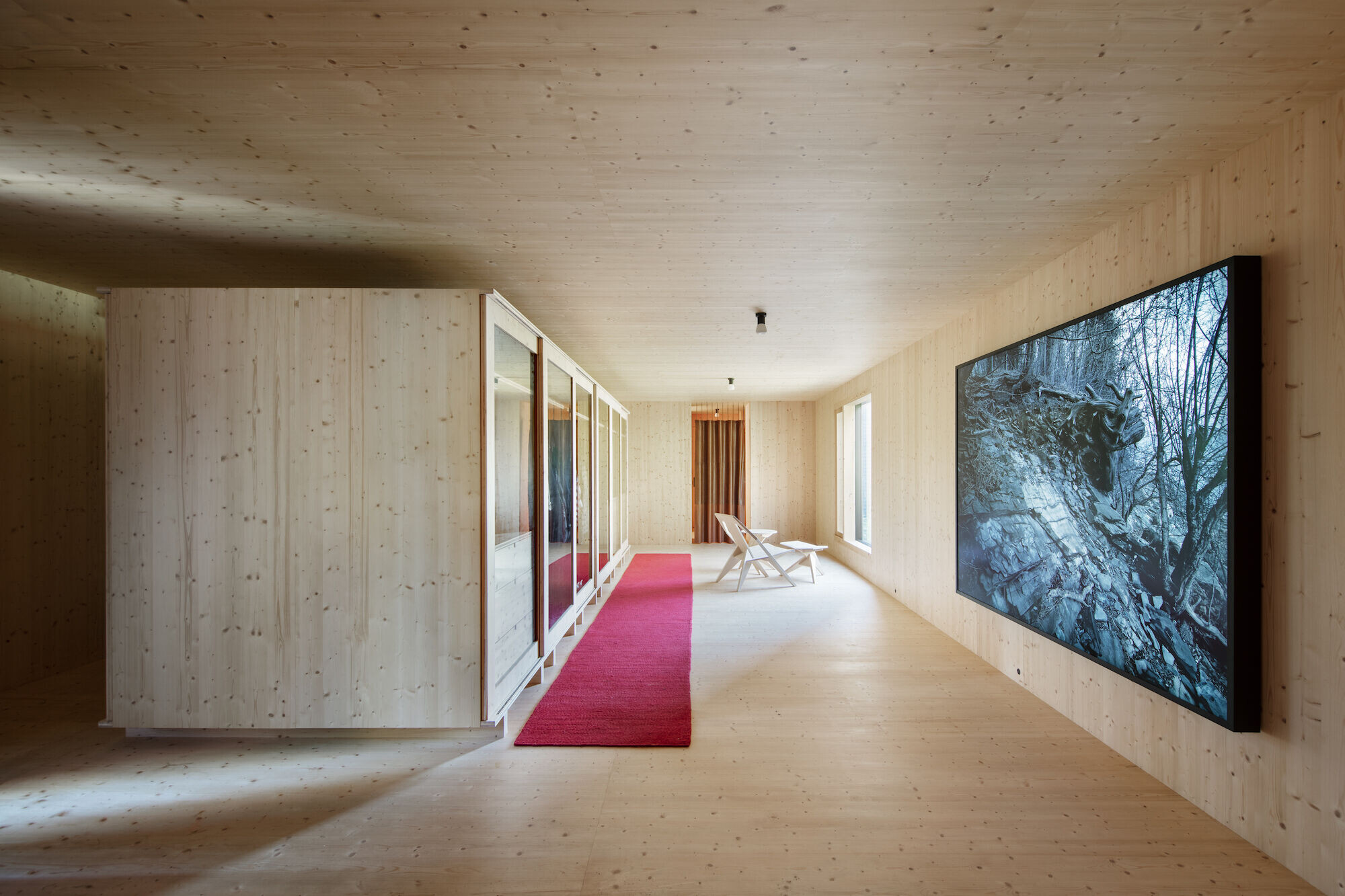 Materiale Utilizzato:
Portali d'ingresso, Opere metalliche: Dutchess Metal Supply Corp.
Ferramenta, porte, persiane: Lowe, Bench Dogs
Apparecchi di illuminazione: Viabizzuno America
Armadi e mobili: Dcor Design Works, LLC
Scavi: Ed Kading
Calcestruzzo: Marco Boscardin and Sons
Progettista di giardini: Jean Phifer
Paesaggista: Twin Brooks Gardens
Corian: Evans & Paul
Camino: CF + D I Custom Fireplace Design