Green facade
An overview of projects, products and exclusive articles about green facade
Notizie • Notizie • 12 mag 2021
Ateliers Jean Nouvel set out to entice passers-by on their walk through Shanghai into a surprising shortcut through a bright red overgrown arcade. The project nicknamed 'street of 1000 red jars' has a red colored passageway lined with earthenware jars that connects the Ma Dang and Dan Shui streets. © 10 Studio. 恒基-旭辉新天地/The Roof The mix-use building includes offices, restaurants and two levels of shopping that are interconnected with overhead walkways and bridges. Adjustable slats for shading produce a shadowplay of natural light. © 10 Studio. 恒基-旭辉新天地/The Roof The exterior is a timid greyish-beige that contrasts boldly with glimpses of the red interior street. In the same color the outside facade is lined...
Altro
Progetto • By Marin Binicki, Sinisa Blazenka and Marko Salopek • Vivai
Lead architects: Marin Binički, Siniša Blaženka & Marko Salopek Design team: Marin Binički, Siniša Blaženka, Marko Salopek and Vlasta Binički (KAT d.o.o.) Client: City of Zagreb / Contractor: AB gradnja Collaborators: Electrical engineering: Darko Žerjav - ELAG, Technology: Marko Bajič - Alarm automatika, Mechanical engineering: Nikola Zadravec - Eco Plan, Fire Protection/Life Safety: Martina Gajdek - FLAMIT, Landscape design: Ivanka Mlinarić, Road design: Robert Gojani - ROBUR, Land survey: Miroslav Sokolaj - GEO 88, Geotechnical report: Ivan Matković - IGH Project design start: 2005 / Project design completion: 2019 The Vrbani II kindergarten was built in 2020 in the Zagreb neighbo...
Altro
Progetto • By KARABON (Mehdi Panahi Architect) • Appartamenti
In the past the living of human being has been besides the nature, but nowadays due to definition of architectural space for living in floors above the ground, this relationship has been almost gone. Also In the past 40 years, the greenery of urban landscape in north Tehran gradually has been missed under continuous constructions. The main idea of this project was formed through an attempt to find an approach making the relationship with the nature stronger both physically and visually. In project design process, wherever it was possible to create a green area, an appropriate detail were designed according to the limitations and criteria. Generally, except living spaces and circulation paths, all other surfaces designed to...
Altro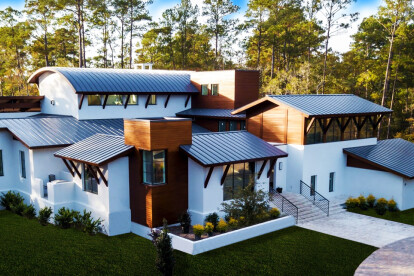 Prodotto • By Lamboo Technologies LLC • Lamboo® Rainscreen™
The Lamboo® Rainscreen™ Series Product Line offers the next evolution in interior/exterior bamboo cladding and bamboo siding product solutions. Lamboo® Rainscreen™ utilizes our engineered laminated bamboo along with a hidden clipping system that can be used in a variety of applications. Lamboo® Rainscreen™ products offer strength, rigidity, and uniformity making this product ideal for project integration.Ideal applications: Indoor/outdoor wall cladding and siding, fascia, soffit, canopy ceilings, and other applications as requested.
Altro