Green roofs
An overview of projects, products and exclusive articles about green roofs
Progetto • By Firestone Building Products EMEA • Fabbriche
Whoever said a factory should look grey and dull? The Meama Coffee Factory, gracing the hills around the city of Tbilisi, is a sight to behold. Combining futuristic elements but still abiding by the shape of the surrounding hills, the L-shaped structure features folded exterior concrete walls, angled glazed walls, numerous skylights and atriums and an impressive green roof. Founded in 2016, the Meama Coffee Factory has quickly risen to become the largest coffee producer in Georgia. The company imports high-quality coffee beans from all over the world to be roasted and grinded to meticulous quality standards, resulting in the finest coffee blends. To ensure a consistent flavor pattern in its premium coffee capsules, Meama felt it was...
Altro
Progetto • By Vizdome Space • Paesaggio Commerciale
Conception To decrease Urban Heat Island Effect we have decided to combine several methods. Surfaces that reflect and refract sunbeams, green roofs, formation of artificial air currents are used simultaneously in this project. At the same time, the project is easy to be realized, its implementation doesn't need significant material costs, developed constructions don't occupy much space. To transform the location into the place comfortable for people and to eliminate Urban Heat Island Effect we propose to set on its territory three types of easy metal constructions in the shape of mushrooms: · 1st type. Height 10 m, cap diameter 14 m. Are designed for sunbeams reflection. Painted...
Altro
Progetto • By Firestone Building Products EMEA • Uffici
French company specialized in industrial modular buildings chose Firestone's RubberGard EPDM membrane to waterproof the roof of the 'Cougnaud Campus' on the west of France. With an area of ​​5,000 m², the prefabricated modular building houses Cougnaud Construction's 250 employees since January 2019 and is a true manifesto in favor of eco-responsible construction. Why RubberGard EPDM ? Cougnaud Construction imagined a new generation roof that would contribute to the reduction of the building's overall carbon footprint. With a service life of more than 50 years, Cougnaud was convinced to use RubberGard EPDM thanks to its compatibility with green and photovoltaic systems and its chemical inert...
Altro
LIKO-Noe® demonstrates what the office buildings will look like in the future. It connects the interior with the exterior, modern materials with nature. It reflects the workmanship precision, state-of-the-art technologies, functionality and attention to detail. It introduces the principles of old times' robust buildings and, at the same time renewability, into the segment of prefabricated buildings. Natural Thermal Stabilization is in the heart of LIKO-Noe. What do we mean? The building works just with the energies from natural sources. The sun takes care of the electricity, the earth of heat or cold. Forget special machinery. Water is a symbiotic part of the concept - retention lake, water reservoir for the entire company area...
Altro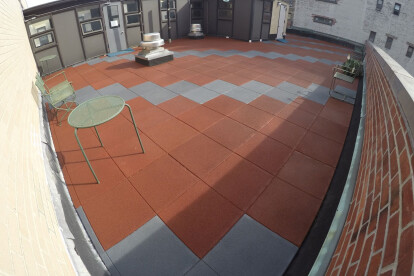 Prodotto • By Unity Surfacing Systems • Pave-Land Series
Our 1.75" and 2" thick Pave-Land Series is designed to meet and exceed all of your project needs for use on infant/ toddler playground areas (yielding a 4ft and 5ft fall rating), rooftops, recreational areas, fitness facilities and more. It is the foundation for a smart, long-term investment in durability and beauty that will last for years to come.As the industry leader, the superior raw materials we provide, coupled with our proprietary manufacturing process, unique design and large size product gives you the strongest, highest quality, environmentally friendly rubber tile system above all overs.All of our products are independently laboratory tested with respect to ASTM, CPSC, AD, FM safety standards and guidelines to be inst...
Altro
Progetto • By LIKO-S • Paesaggio Commerciale
LIKO-S, the leading production and construction family company from the Czech Republic, inaugurated the world's first living hall - LIKO-Vo on June 18, 2019. The grand opening ocurred under the auspices of the Minister of the Environment and was attended by the Deputy Prime Minister Karel Havlíček. Compared to other industrial buildings, which warms the surrounding air to up to 80 ° C, LIKO-Vo limits the amount of heat radiation and as a result its surroundings are up to 10 ° C cooler. "Conventional halls covered with standard materials generate huge amounts of heat and act as radiators. In fact, the construction industry in the Czech Republic daily devours 10 hectares of vegetated land, which then cease to retain water...
Altro
Progetto • By Tanya Karim NR Khan & Associates • Alloggi Privati
"Shanchita" means a "collection of memories", in a way to treasure. The lifestyle of Dhaka has considerably changed over the last 35 years. Beautiful one unit houses with gardens have been replaced by uncaring high-rise apartments. Today's apartments serve only to provide us with a residence and do little to become a home. The houses of the yesteryears held a rich collection of memories because families lived together, their gardens were treasured by the children to the elderly. There trees, verandas, terraces were not just elements but integral part of the life of the occupants. The clients aspired for a 'Baganbari' - house in a garden, where their own children could grow up with ample places to play...
Altro
Prodotto • By Firestone Building Products EMEA • FIRESTONE ULTRAPLY™ TPO
Premium quality since 1996 Thermoplastic PolyOlefin (TPO) roofing membranes are among the fastest growing commercial roofing products in the market. However, not all TPO membranes are the same. With an unchanged formulation since 1996, Firestone Building Products' UltraPly TPO thermoplastic roofing membrane is the smart choice when looking for a light colored, environmentally friendly roofing solution. It combines aesthetics with strong resistance to UV radiation, heat, weathering and outstanding seam strength. Why choose UltraPly TPO?UltraPly TPO is compounded using a proper balance of flexible polyolefin polymers, high quality UV, heat and ozone stabilizers, antioxidants, non-halogenated fire retardants and pigments. The...
Altro
Prodotto • By Firestone Building Products EMEA • FIRESTONE RUBBERGARD™ EPDM
EPDM roofing solution for a superior result Single-ply waterproofing systems have been steadily gaining market share. Outstanding durability, ease of installation, and ability to optimize the energy efficiency of buildings while minimizing their environmental impact are key factors behind this trend. Firestone Building Products' RubberGard EPDM roofing membrane ticks all these boxes. RubberGard EPDM is a single-ply waterproofing membrane for flat and low slope roofs of commercial, industrial and residential buildings. It offers outstanding durability, resilience and adaptability to current and future building needs. The installation of RubberGard EPDM is flame-free, making onsite working conditions safer. Being a single-ply membran...
Altro
Progetto • By Mono Architekten • Scuole Primarie
The grounds of the Waldorf School in Prenzlauer Berg possess a unique urban positioning between socialist prefabricated structures, Wilhelminian style blocks and the green spaces of the Jewish cemetery. The school building, having undergone a spirited renovation process, is a 5-storey prefab building from the 1970s.The after-school care centre and later extensions were designed in a completely different style. The new centre docks on the school's courtyard stretching towards the sports hall, providing the schoolyard with a structural back to the street and a clear centre. The projections and recesses create different outdoor areas for various uses. The buildings received green roofs inclined in different directions and, with the rising eave...
Altro
Progetto • By Transform Architecture • Hotel
MIA Resort is located on a coastal road linking Cam Ranh and Nha Trang in Central Vietnam. Man's control over nature had left the site abandoned when the side of the mountain was excavated to build the road, and extensive rock and debris was thrown down the sloping site. The demand for infrastructure had short-sightedly rendered the land damaged and barren.However, the site presented an amazing development prospect as there was a private beach below the steep 35m drop from the road. Upon our first visit, we saw the site as an opportunity to return the rubble-filled area back to its natural beginnings by planting the seeds for nature to take over. Unlike most projects where architecture dominates the site taming nature, this project attempts...
Altro
Progetto • By innate studio • Alloggi Privati
The Hill House in KodaiA small hill town which is over 2000m above the sea level, located in southern part of India. The house is conceived as vacation abode for a middle-aged couple and their working daughter and son, and the program on this 3000 sft. plot required 2 car parking, "Private space"- 2 bedrooms, "Living space"- living, dining and kitchen interacting with courtyards, green patios and a green roof to grow their edibles and allow great space for gathering.Plot measuring 40'x75', sits on an apex of the hill which slopes downhill towards the north, overlooking the valley. The shorter side faces the north-south and the site is abutted by roads on the north, south, and west, while the southern road faces a higher influx of touri...
Altro
Progetto • By Rockpanel • Scuole Primarie
La nuova scuola elementare Les Trèfles di Anderlecht, in Belgio, unisce armoniosamente innovazione educativa, design sostenibile e architettura attraente. L'eccezionale progetto, dello studio di architettura Árter di Bruxelles, è stato quindi selezionato per il bando "Edifici esemplari 2012" dell'ente pubblico Brussels Environment-IBGE/BIM. La scuola, che ospita 750 bambini dai 4 ai 12 anni, è composta da quattro cerchi parzialmente sovrapposti collegati da ampie passerelle e da una palestra adiacente. I tre cerchi più grandi presentano aule nella "pelle" e campi da gioco circolari riparati in un nucleo aperto. Un edificio circolare a due piani fornisce l'ingresso, gli spazi tecnici e la portineri...
Altro
Progetto • By FAKRO • Alloggi Privati
Living 'green' is a goal for many. The owner of this family home in the Dutch town of Lent took this goal seriously. He created a building that literally became one with it's surroundings. The house features an impressive green roof which, besides it's unique appearance, also provides a lot of benefits. An important advantage is the natural heat and noise isolation of this type of roofing. But also purification of the air, a richer biodiversity and planned water management are named as advantages. However, proper installation and regular maintenance are crucial. FAKRO develops windows and flashings for all types of roofing. For this project they provided center-pivot windows with a flashing especially designed for green roofs. The flashin...
Altro