Interior street
An overview of projects, products and exclusive articles about interior street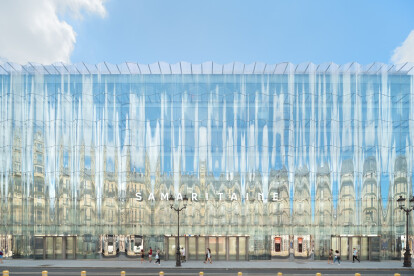 Notizie • Notizie • 7 lug 2021
Fashion house LVMH tasked SANAA with the revitalization of formerly the largest department store in Paris, La Samaritaine. The building on the rue de Rivoli has been destroyed and SANAA placed a new structure with an interior street that runs the entire building alongside social and commercial program. The passageway connects one existing and two new glass covered courtyards. © Jared Chulski SANAA sees the connection as both a physical and symbolic link between the historic facade facing the Seine and the new wavy curtain wall along the new Rue de Rivoli building. The courtyards bring in natural light and lightness into the interiors. © Jared Chulski The soft irregular waves resonate with the rhythm and scale of...
Altro
Notizie • Notizie • 12 mag 2021
Ateliers Jean Nouvel set out to entice passers-by on their walk through Shanghai into a surprising shortcut through a bright red overgrown arcade. The project nicknamed 'street of 1000 red jars' has a red colored passageway lined with earthenware jars that connects the Ma Dang and Dan Shui streets. © 10 Studio. 恒基-旭辉新天地/The Roof The mix-use building includes offices, restaurants and two levels of shopping that are interconnected with overhead walkways and bridges. Adjustable slats for shading produce a shadowplay of natural light. © 10 Studio. 恒基-旭辉新天地/The Roof The exterior is a timid greyish-beige that contrasts boldly with glimpses of the red interior street. In the same color the outside facade is lined...
Altro