White oak
An overview of projects, products and exclusive articles about white oak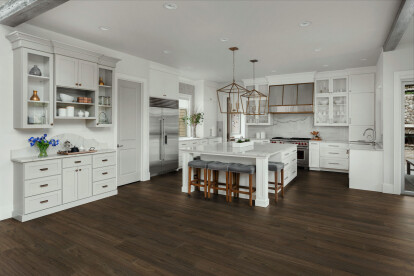 Prodotto • By Forestry Timber® • BLUE RIDGE - ANTIQUE COLLECTION
Our vintage Antique Collection of engineered hardwood flooring is made from Western European Oak. Each plank has been hand-crafted and carefully honed to accentuate the wood's natural textured surface which gives it the depth and dimension of a time-loved floor. This collection is characterised by the beautiful, big knots which create unique character and ambience.
Altro
Notizie • Notizie • 12 feb 2021
On a residential property in Southern Ontario, Fold House by PARTISANS gently 'folds' itself into the contours of the surrounding hillside. With a green roof blurring the edges between landscape and building, an impressive structural system affords wide spans and spectacular spaces. PARTISANS A total of two storeys, the wood and steel structure features an eighty-foot long by ten-foot-tall sliding glass façade that allows for panoramic views from the home's nestled vantage point. The undulating structure further disguises a ninety-foot structural steel which supports a floating canopy at the front of the building. PARTISANS The façade and the interior both make use of a compression-bent wood. Typi...
Altro
Notizie • Notizie • 5 feb 2021
On a traditional Chicago lot that borders an alleyway, this house flips known conventional arrangements upside down by locating bedroom and private uses on the ground level, and communal/living spaces upstairs. The architect, Kwong Von Glinow, explains the inversion is a response to contemporary desires for optimal amounts of natural light and visual contact with one's surrounding environment. James Florio Photography Here, common areas on the first and second floors are linked by a curving double-height atrium that runs from the front to the back of the house. Featuring a large picture window and curving wall, the courtyard is an informal area where residents can relax and children can play. James Florio P...
Altro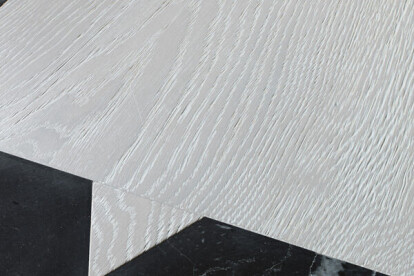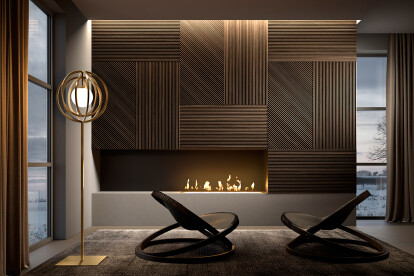 Prodotto • By Surfacing Solution • Solid Wood Tambour
Solid Wood Tambour is a flexible grooved decorative surfacing material. The grooving is visually attractive and allows for the panels to have flexibility for ease in designing curves and angles, inwards and outwards. Available in 30 unique standard profiles. Custom Profiles are welcome. Wood Species include: Poplar, Red Oak, Maple, Ash, Red Grandis, Cherry, White Oak, and Walnut. Common applications include full and accent walls, wall to ceiling transitions, bar fronts, column wraps, reception and boardroom desks, etc.
Altro
Prodotto • By Coolican & Company • Ellis Peg Rail
The Ellis peg rail is a contemporary take on a classic Shaker form. With solid brass pegs and hidden mounting hardware, it is an elegant addition to a hallway or room where open storage or display is desired. It is available in custom lengths, and can be paired with our Euclid mirror.
Altro
Progetto • By Rowland+Broughton Architecture and Urban Design • Negozi
Rowland+Broughton Architecture transformed an existing inadequate wine tasting room that had limited functionality, as well as minimal storage and temperature controls. Our design team successful corrected those limitation and created a new space which has a calm elegance and sophisticated refinement. Uniform grids of white oak bins are recessed into the wall and framed in blackened steel. The center piece is a substantial display table made of honed black slate with waterfall edge countertop and additional built-in storage. A white oak ceiling cloud is centers over the display table and features hidden light coves providing additional depth to the space. Material Used: 1. White Oak 2. Blackened Steel 3. Black Slate 4. Baja Sto...
Altro
Progetto • By Miró Rivera Architects • Alloggi Privati
Tucked into a steep site in West Austin, the Vista Residence is organized around a three-story, sculptural steel staircase that acts as the hinge point for the residence, with rooms and hallways unfolding from it on every floor. Paul Finkel | Piston Design Assembled from 5/8" thick plate steel with white oak treads, the staircase took eight months to fabricate, assemble, and paint. During construction, a large opening was left in the roof structure so that the shop-fabricated sections could be lowered into place. The pieces were then bolted and welded together on site, and integrated into the main steel structure of the house. The stair is made up of over 200 individual pieces of steel joined by over 160 concealed bolts in addit...
Altro
Progetto • By Atelier Barda architecture • Alloggi Privati
Context and setting La Maison Gauthier is located in the Laurentians, in Quebec, near the town of Mont-Tremblant. It is set in a hilly terrain and is surrounded by a dense expanse of forest characteristic of this mountainous region. The lot is located on a rocky hill covered with spruce and birch. It is bounded to the east by the main road and to the west by the owners' horse farm. The clients wanted a volume with views largely oriented towards the horses' riding arena below. At the same time, they wanted to take advantage of the intimacy created by the topography of the lot. The forested berm between the road and house creates a visual filter, allowing a sequential progression towards the building. The volume i...
Altro