On a sunny hillside overlooking the bay Lagos, in Portugal, Casa Libre faces inwards, towards the privacy of its patio, but is also open to the south, where the view becomes lost in the immense sea. With a clean, square design, the house, on a single floor, in exposed concrete, originates from this patio and then opens out towards the horizon.
The weight of concrete coexists with the lightness of a loose canopy and transparency of the glazed surfaces.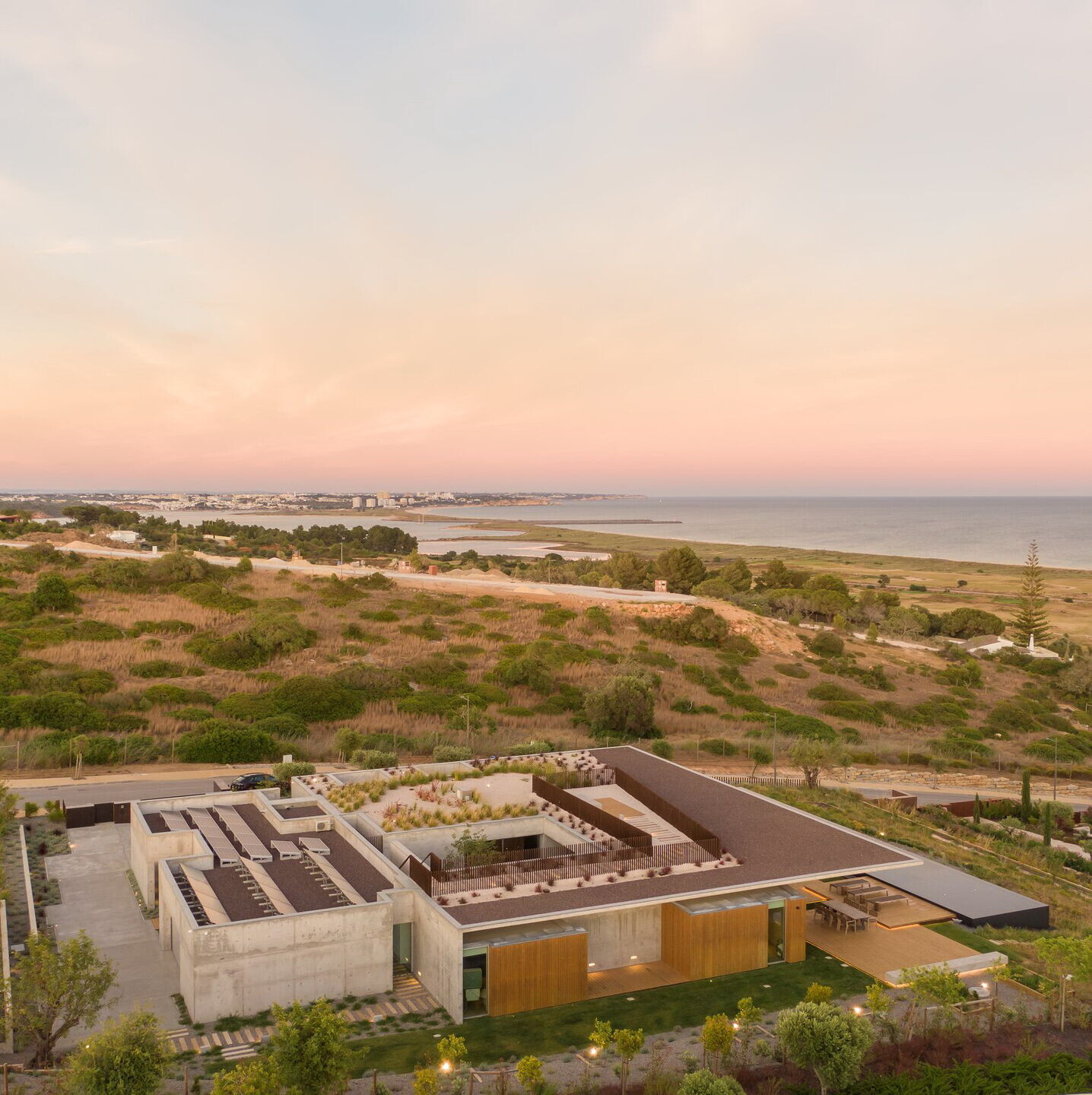 That loose and very slim canopy, in exposed concrete, which extends to the glazed area, and shelters and shades some wooden decking in the garden, is probably the most striking feature due to its design and elegance. This finds its counterpoint in the long swimming pool, which goes along the entire front of the house. A monolithic block, black, and therefore neutral, that rises from the garden, and from where the water appears to flow over all the sides.
The roof is accessible, to enjoy the green space that surrounds it and connects it to a garden, which is simple, natural and has drought resistant plants.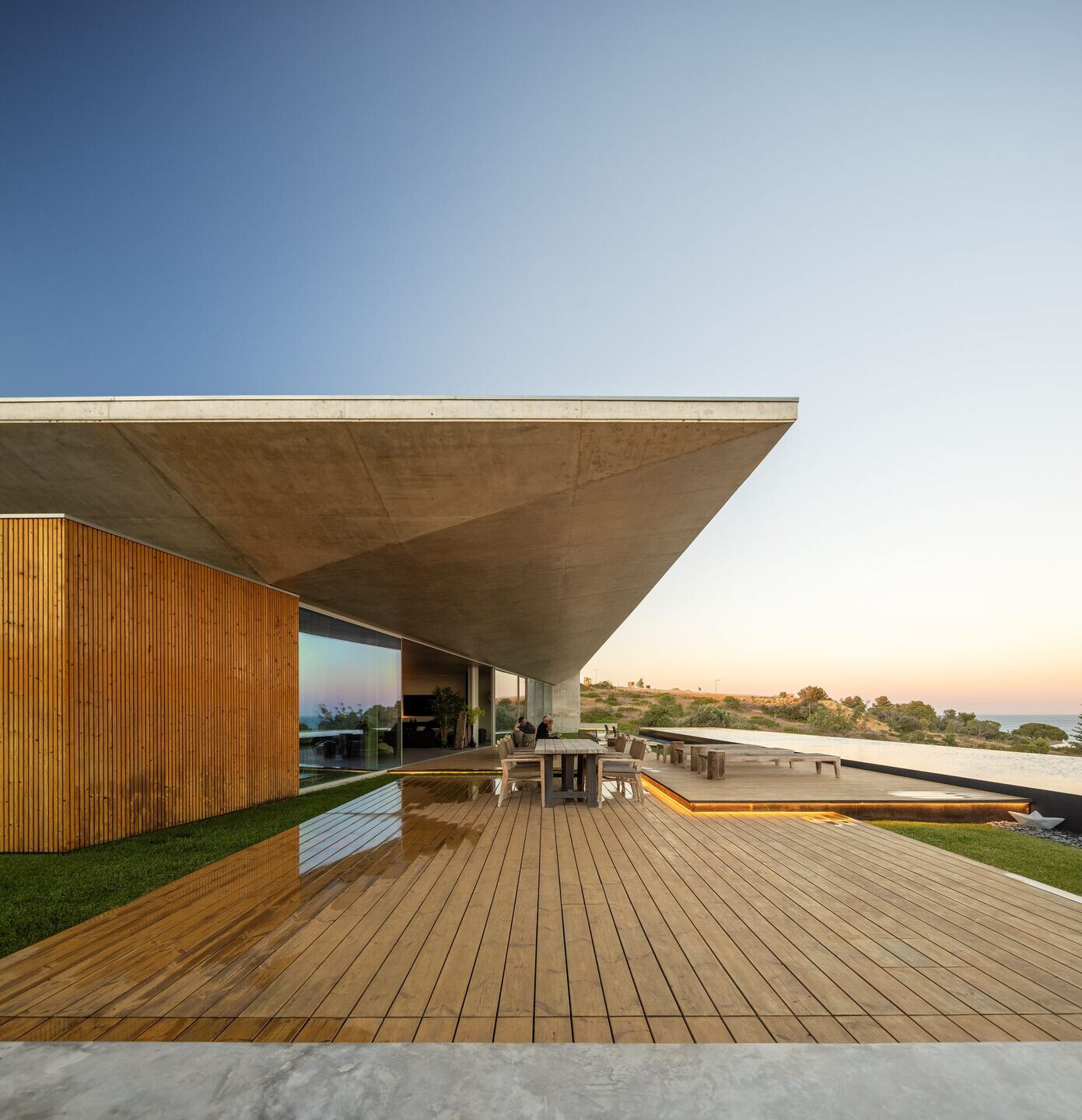 The house, instead of being imposing, allows itself to be taken over by the vegetation, which grows and flourishes, making outdoors tempting. The house continues to the garden which seems to want to embrace the house. The limits of the house are lost, which results in a better way of living.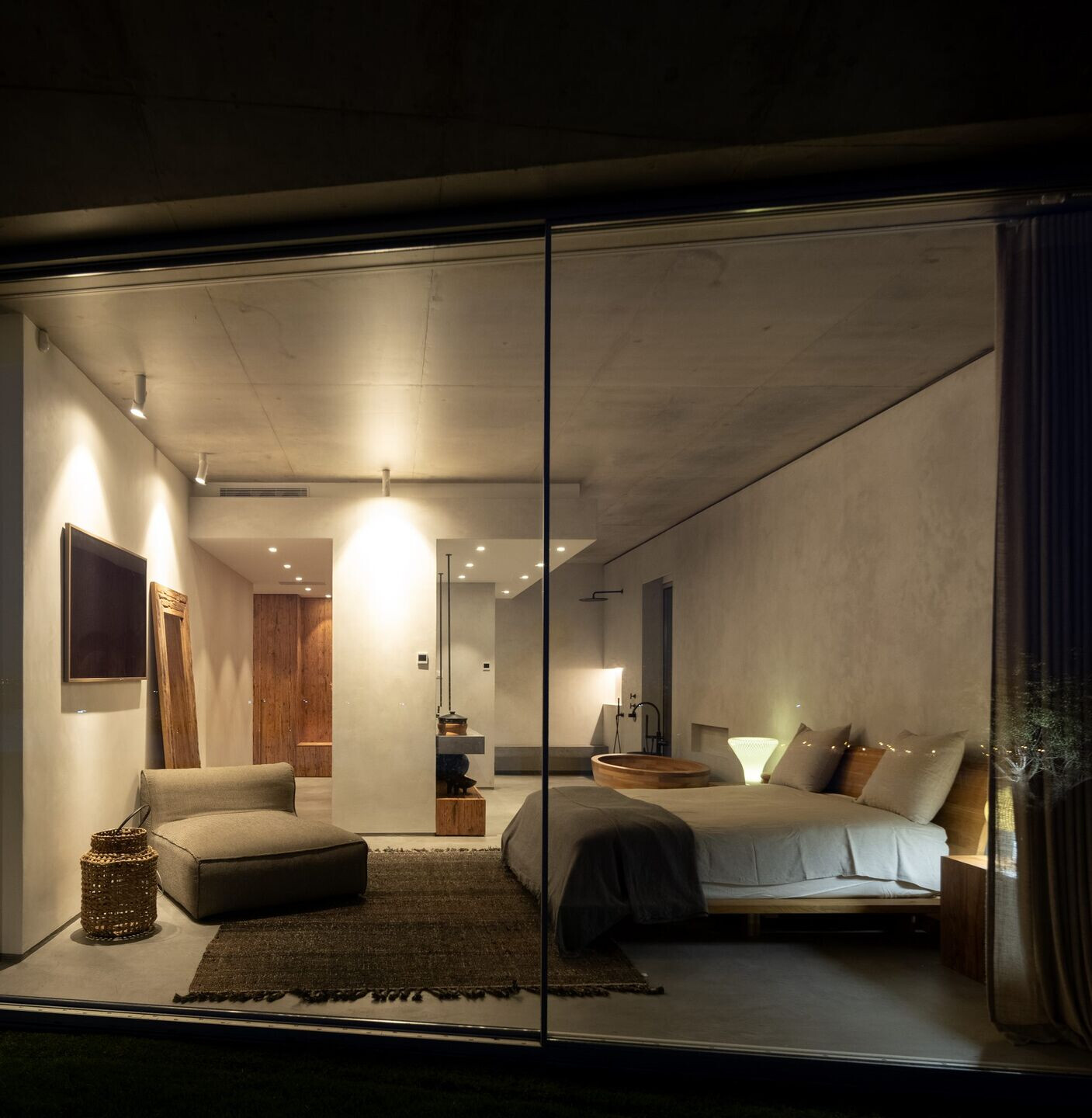 Here, there are intimate and snug corners, and other areas with breathtaking views.
Concrete volumes are cut out to create a path. A shaft of light from the west points to an imposing door in solid wood, through which the entrance is made, next to the patio, the centre of the house, marked by a carob tree. The patio defines the accesses, connects and separates the social areas of the living room and kitchen, facing south, from the more private areas with four bedrooms, located in the east wing.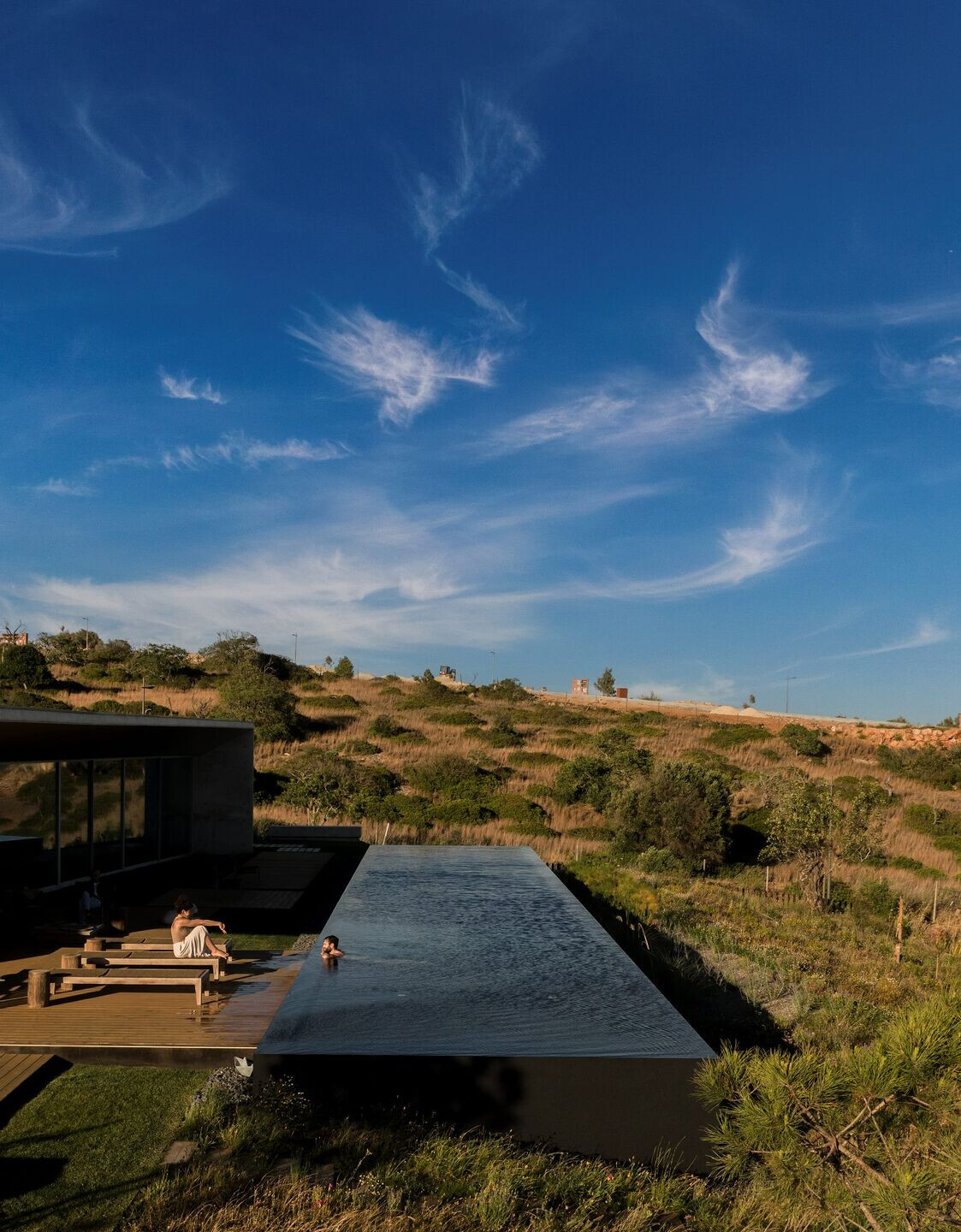 To the north and west are the garage, technical and other support areas.
By the design and concept, the choice of materials and proximity to raw materials, or the use of equipment, solutions are looked for which result in high standards of comfort and which minimise energy resources.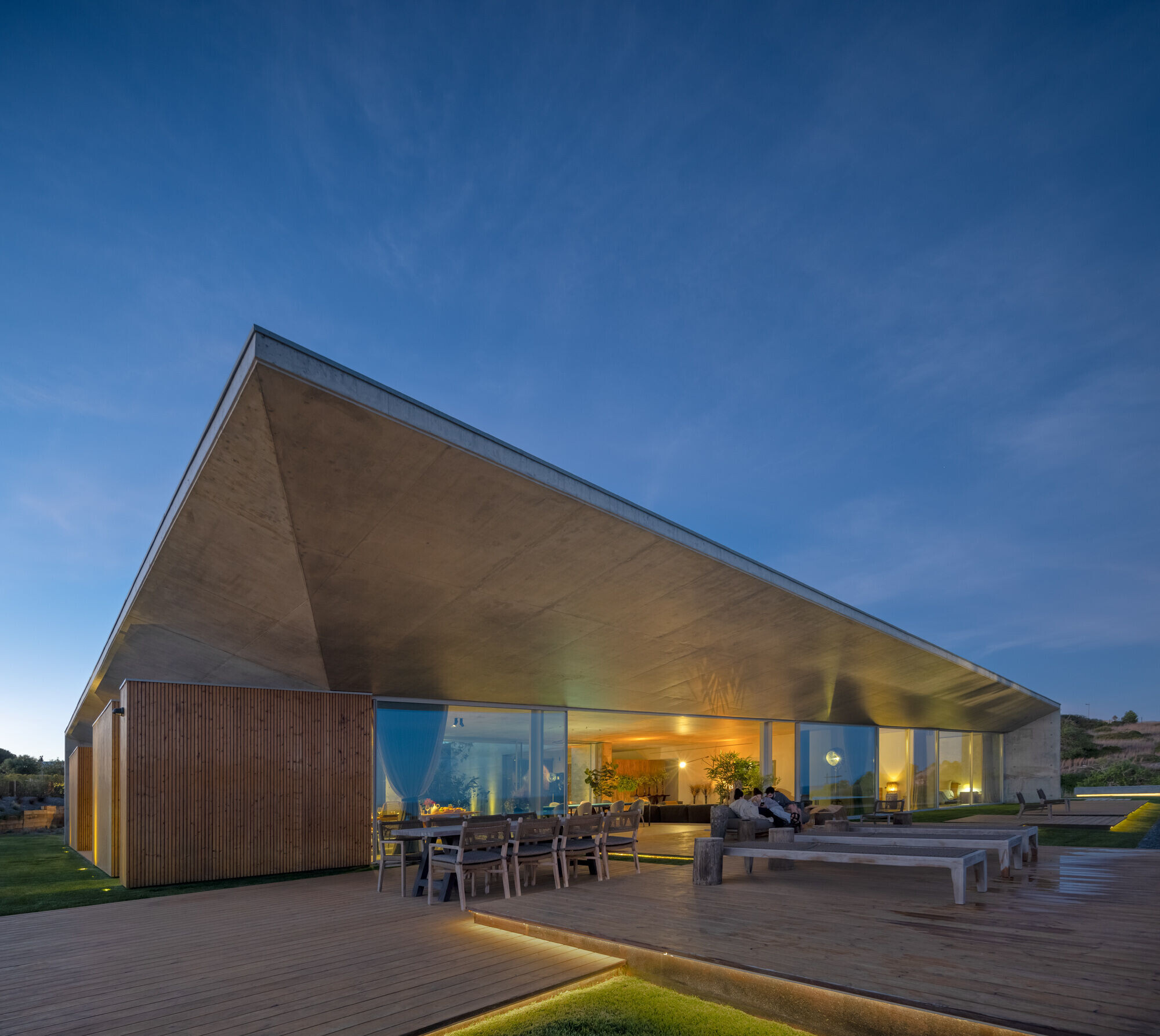 And so Casa Libre is, and should always be, the result of creative freedom in the search for new and improved solutions, while respecting people and places.