With the move to a new headquarters in Boston's Back Bay, DraftKings, creator of the leading global platform for fantasy sports and sports betting, signals its commitment to growth and to Boston. IA Interior Architects was tapped to design a welcoming space that celebrated technology and sports while also being inclusive of all genders, ages, ethnic backgrounds and sports affiliations.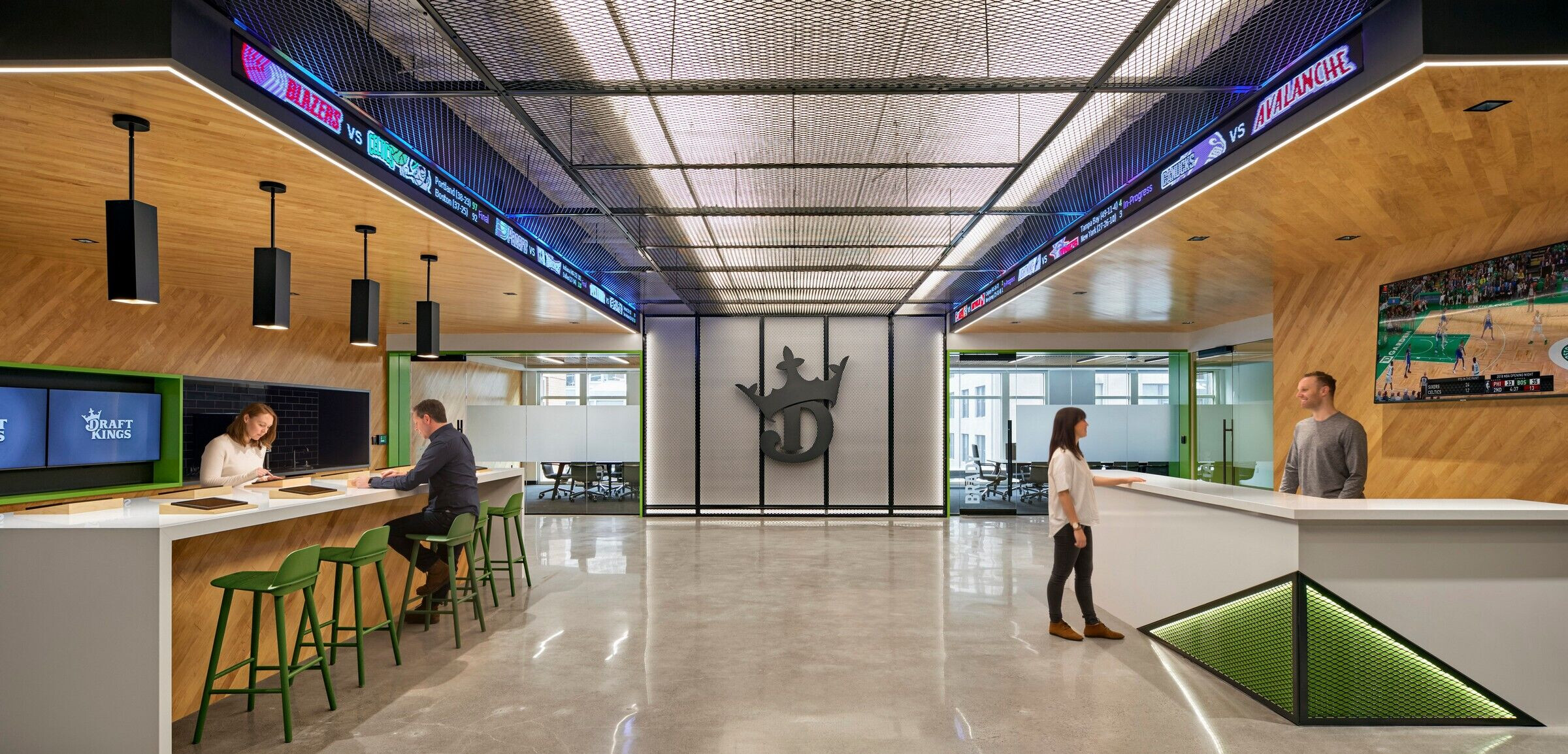 To create such a dynamic workspace, IA pushed the limits with color, wayfinding, lighting and technology.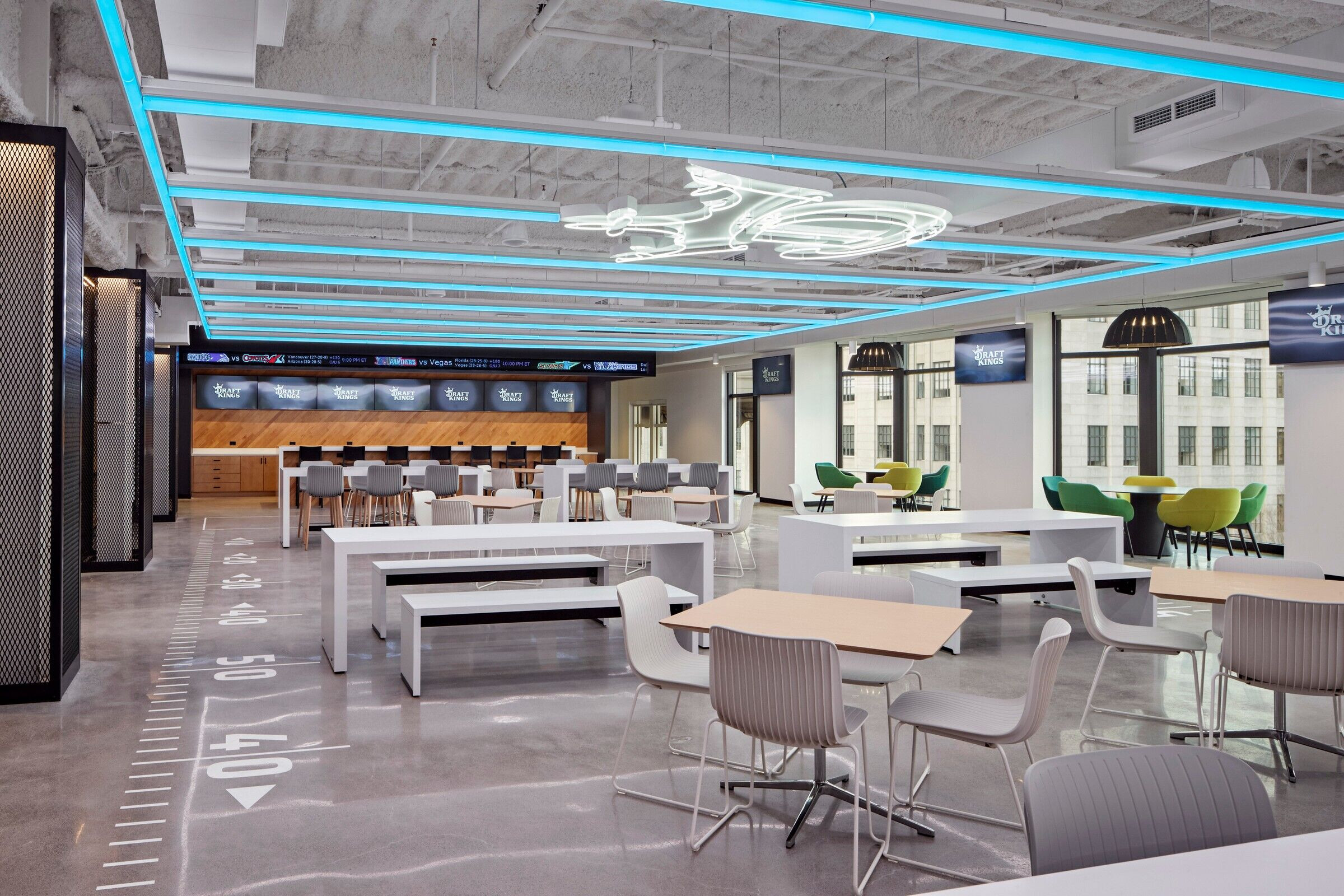 Stepping off of the elevator, one is immersed into the player's tunnel before emerging onto the field. Floor-to-ceiling vertical lights, angled, crossed, and embedded in dark vertical walls, punctuated by the illuminated DraftKings logo, are reflected in a black, mirrored ceiling. Visitors can look up and see -themselves, a reference to being inside the game, a DraftKings motto.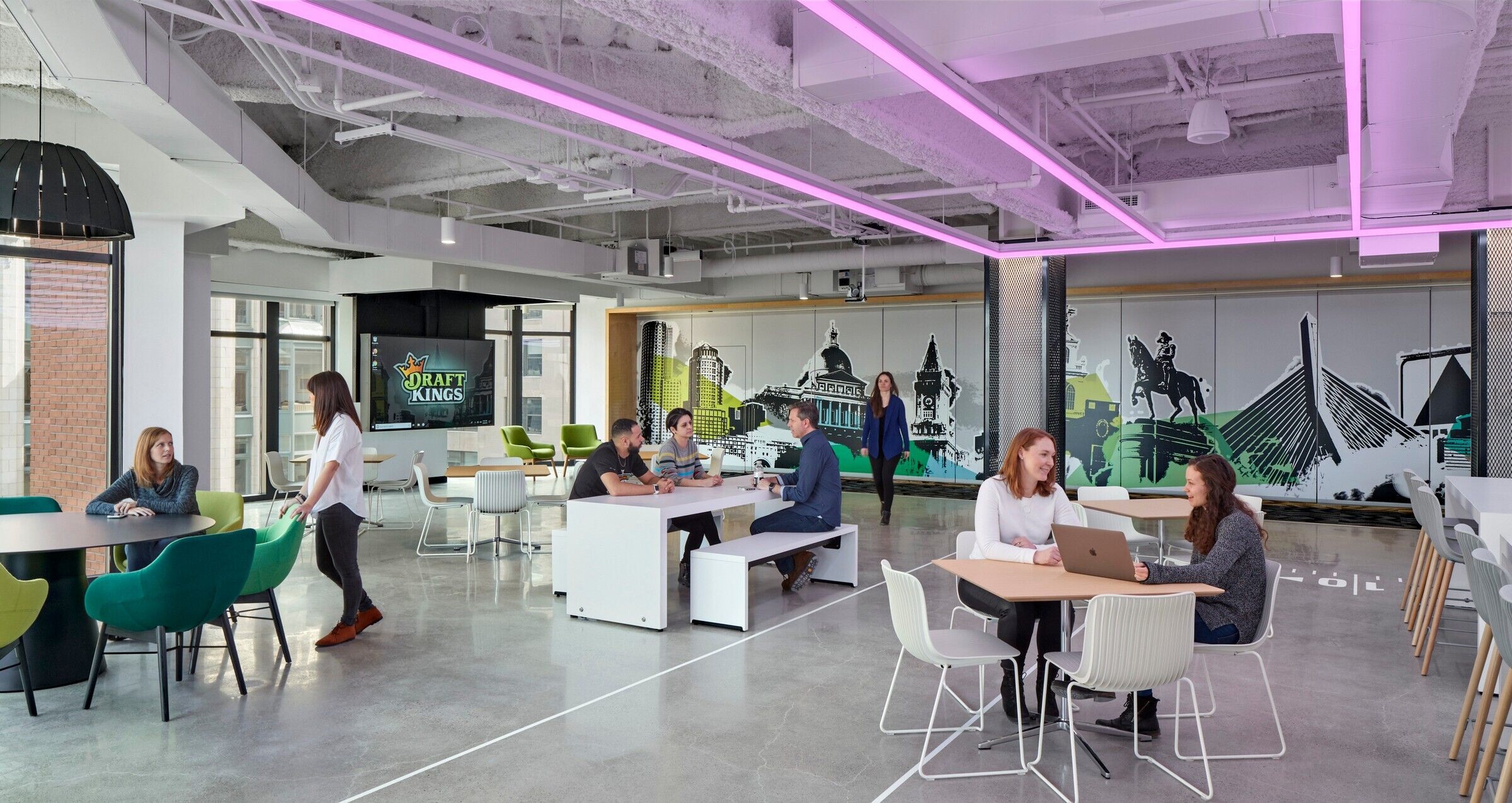 Ahead, a bright reception showcases DraftKings technology. While focused on sports, DraftKings is, at its heart, a tech company. Wood-clad walls and an open ceiling above a layer of metal mesh—that continues down the back wall separating two conference rooms—evoke a stadium. A free-standing tech bar invites visitors to login on iPads to check players and scores or explore the latest platform updates. A row of sports tickers run above the tech bar and reception desk leading to the large café, while additional screens along the corridor highlight all-star employees.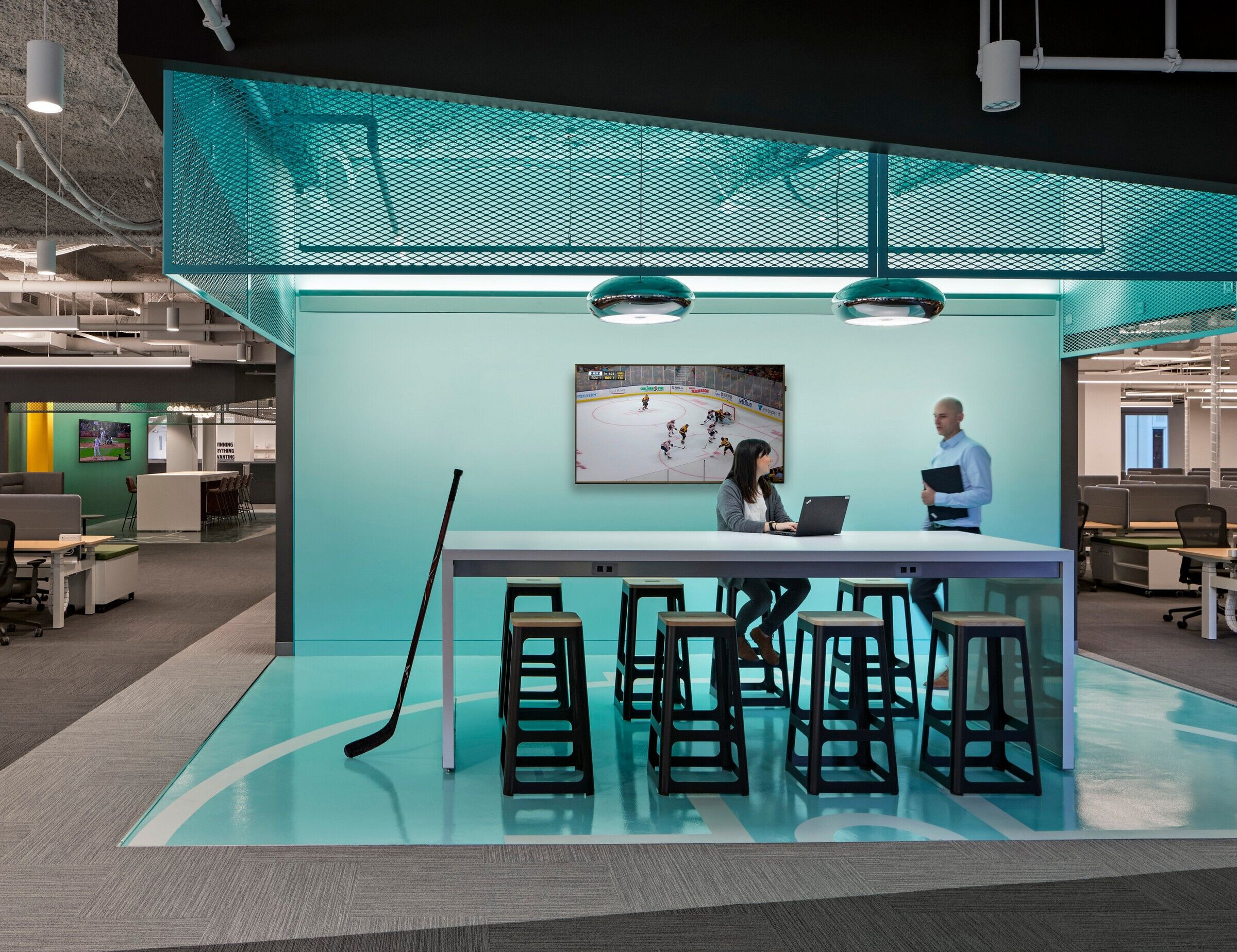 At the café, neon lighting, viewable from outside of the building, takes the form of a football field and can be set to match the colors of over 400 different teams. A large, lit DraftKings logo can be seen at the center of the field, while hash marks on the floor continue the aesthetic. At one end of the café, a ticker and games playing on multiple screens enliven a sports bar. At the other end, a training room enclosed by a retractable partition flanks the cafe. When closed the partition displays a Boston cityscape graphic; when open the room merges with the café for large gatherings.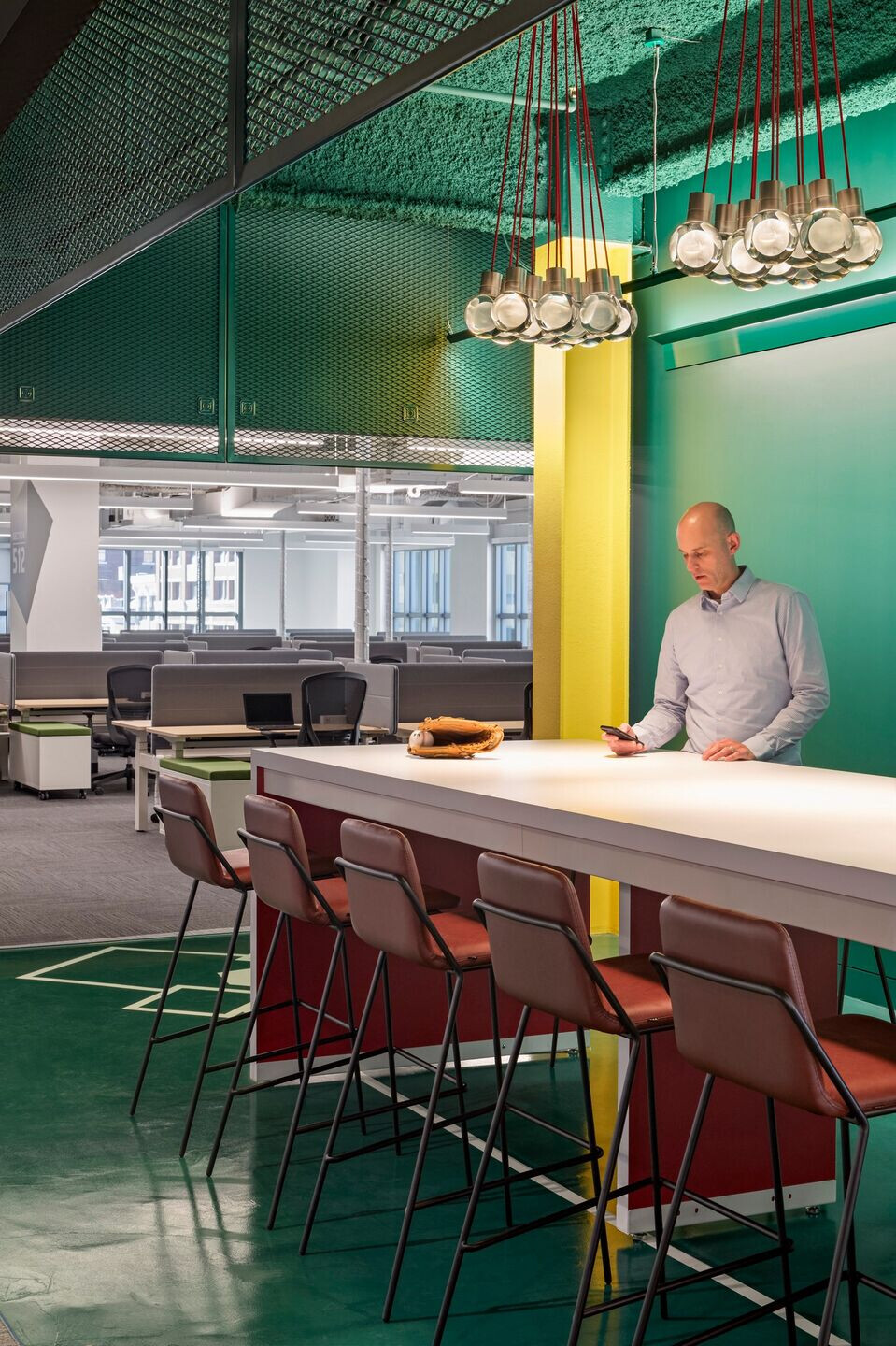 Within the workspace, wayfinding is paramount. Departmental neighborhoods are defined by different sports that DraftKings' platform supports. Each neighborhood—with section markers on columns like those at a stadium—offers a mix of large and small conference rooms named for famous athletes or tech innovators. These rooms are complemented by telephone rooms and open huddle spaces where each department's sports theme comes to life. Architectural details, palette, textures, dynamic angles, and graphics communicate the nuances of each game. From field, court, pitch, and rink graphics on the floor and writeable walls, to light fixtures and furniture selections—each huddle room creates a different experience within the overall space. For convenience along the corridor, concession stands offer a quick snack or beverage and the opportunity for a game of pool, foosball, or a putting session at the window-lined green.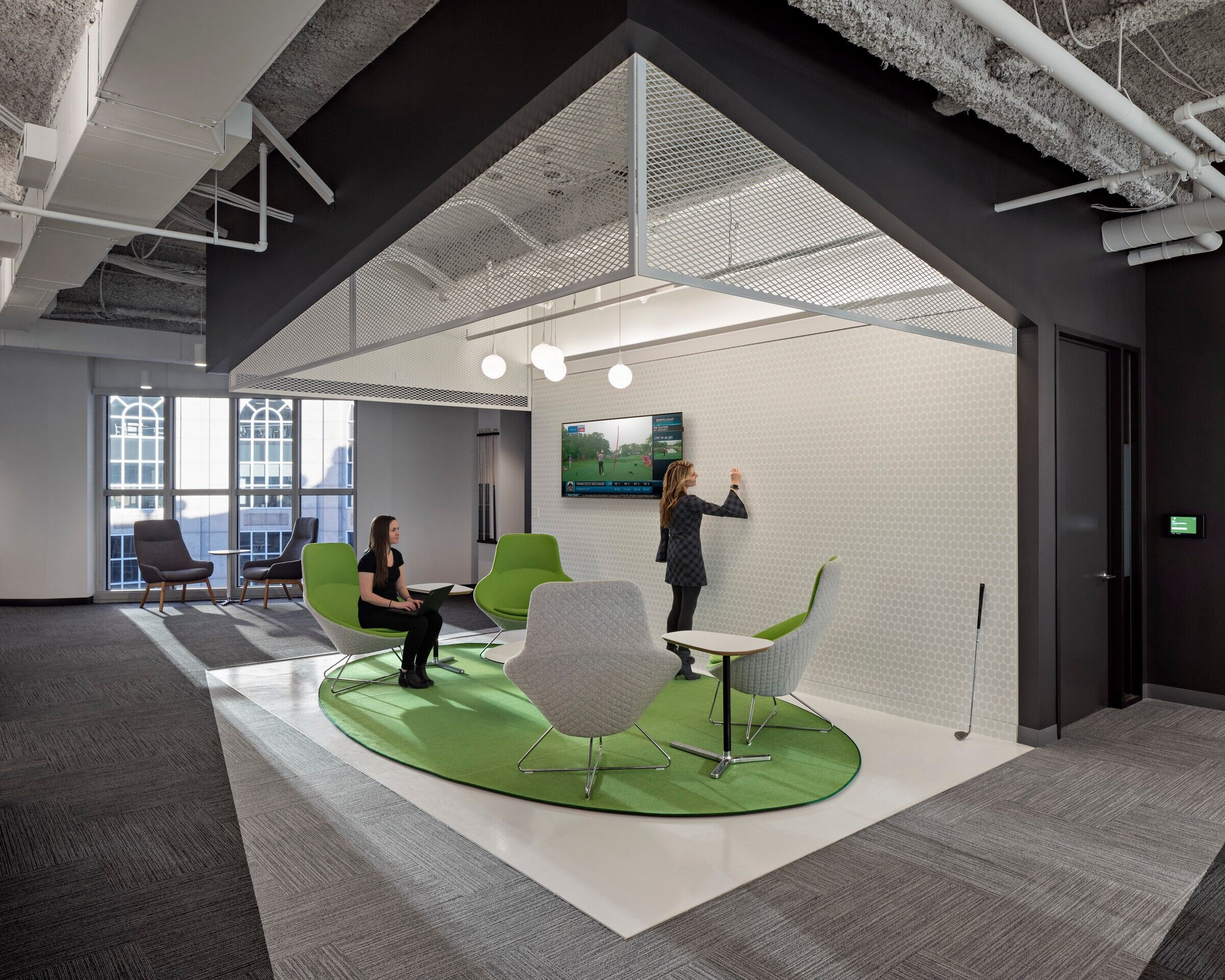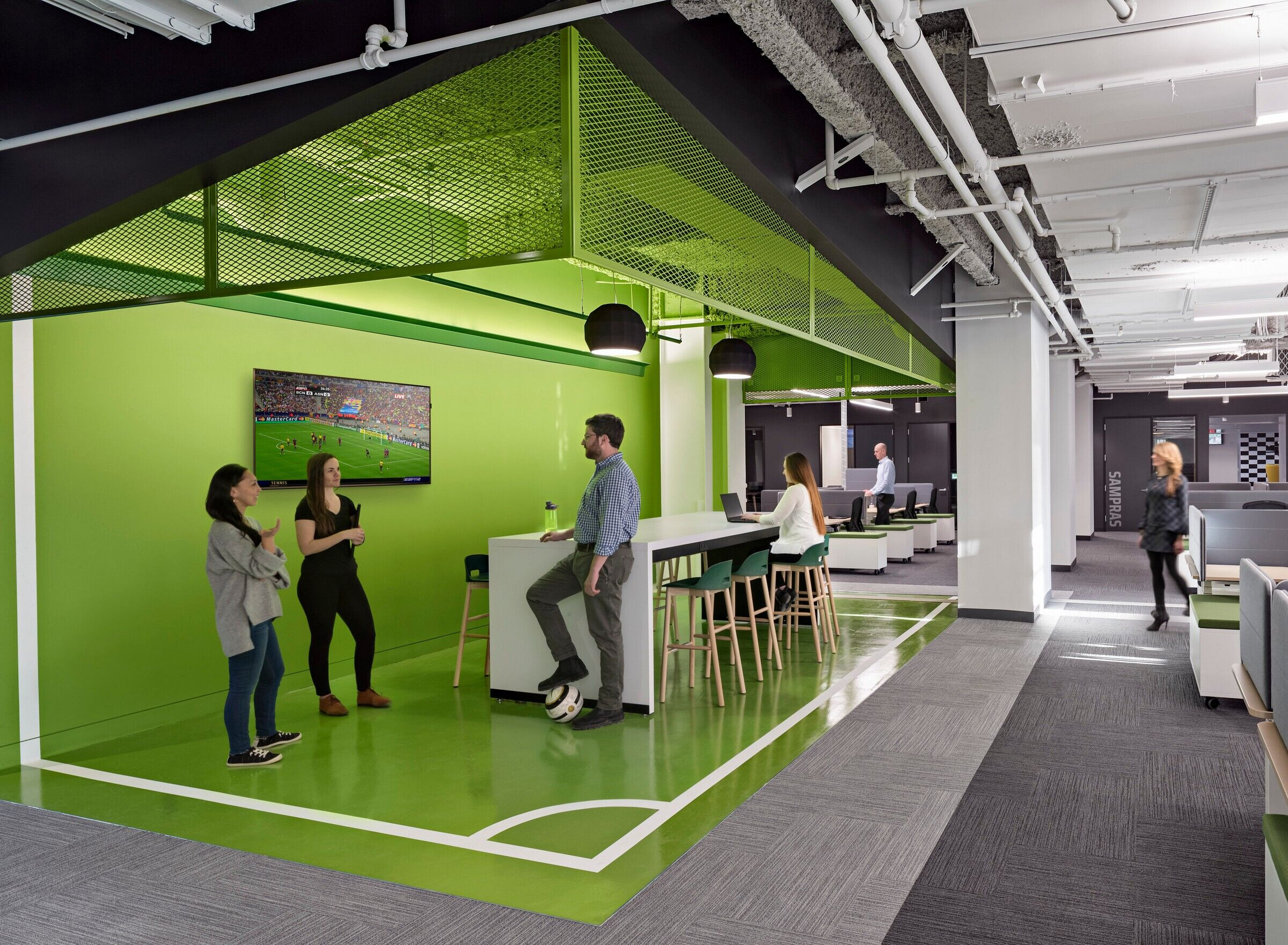 Material Used :
1. Flooring: Carpet, Bentley Mills, Wood/Rubber, Siena
2. Interior lighting: Coronet, Illuminate
3. Interior furniture: Senator, Andreu World, Allermuir, Boss
4. Mobile Walls: Modern Fold
5. Glass Marker Boards: McGrory Glass
6. Metal Mesh: McNichols