FLUID SPACES, AGILE WORK, A DIGITAL APPROACH. A HISTORIC BUILDING ENLIVENED WITH COLOURS.
"Then to conclude talking to you about Bologna, I can say that people lived there then and always live there harmoniously, generously, easily making friendships, and with festive gatherings." This is how Ippolito Nievo described the "red" city in his novel entitled Le Confessioni di un Italiano. The spaces of the new Bologna-based office of Garage Raw, a content and digital marketing agency specialised in creating visual strategies and content, express a playful spirit and ideas.
The digital agency has chosen Lapalma as its furnishing partner for its new headquarters hosted in one of the most historical buildings in the city, the 18th century Palazzo Aldrovandi Montanari, which has barrel-vaulted ceilings and baroque-style windows.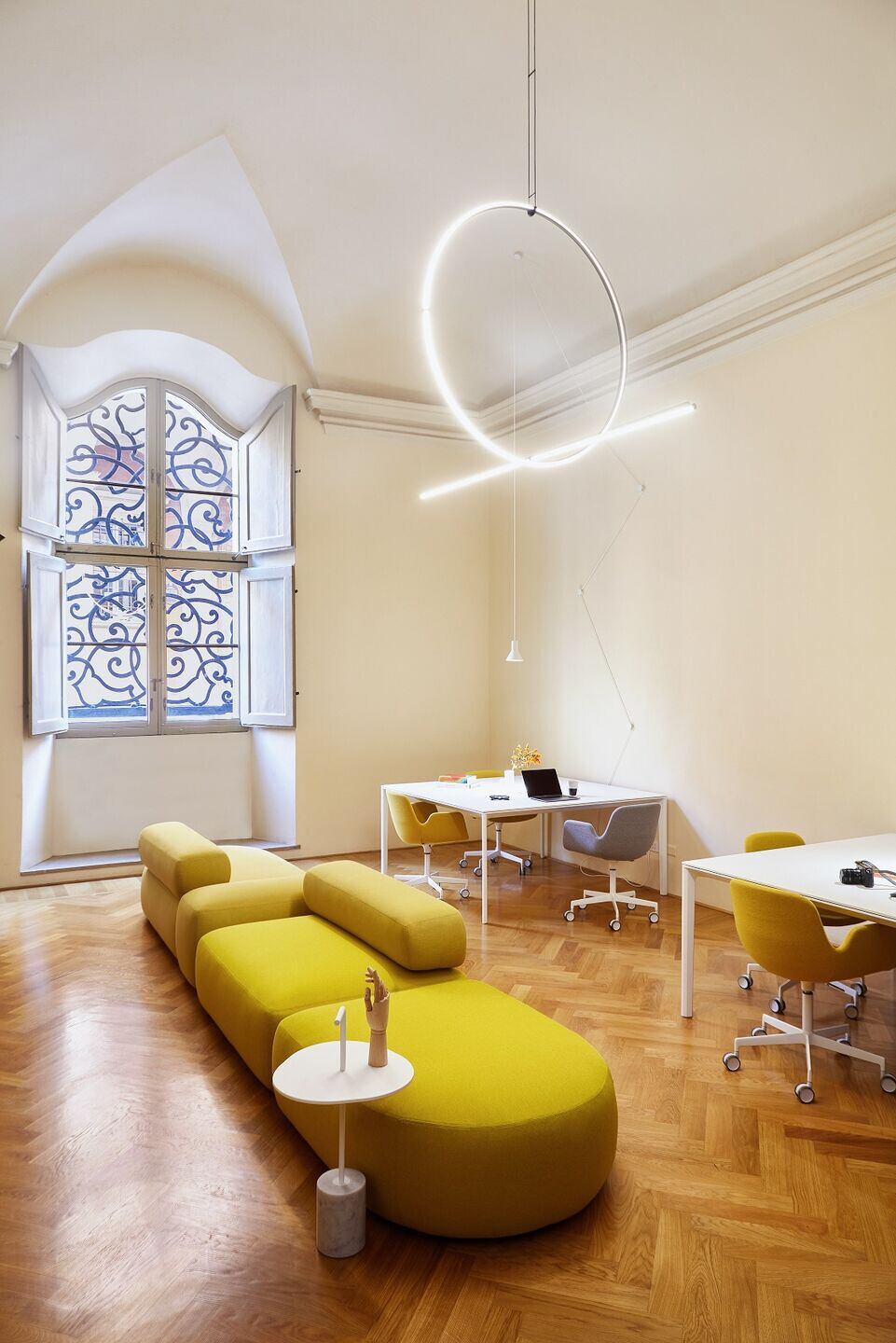 "We wanted to create a contrasting interplay, bringing together Rococo style and the timeless, linear design of Lapalma" explains Davide Pretto, Sales & Digital Strategist at Garage Raw - "Furniture plays a very prominent role, when the environment you work in meets your needs, makes you feel good and encourages a more proactive approach."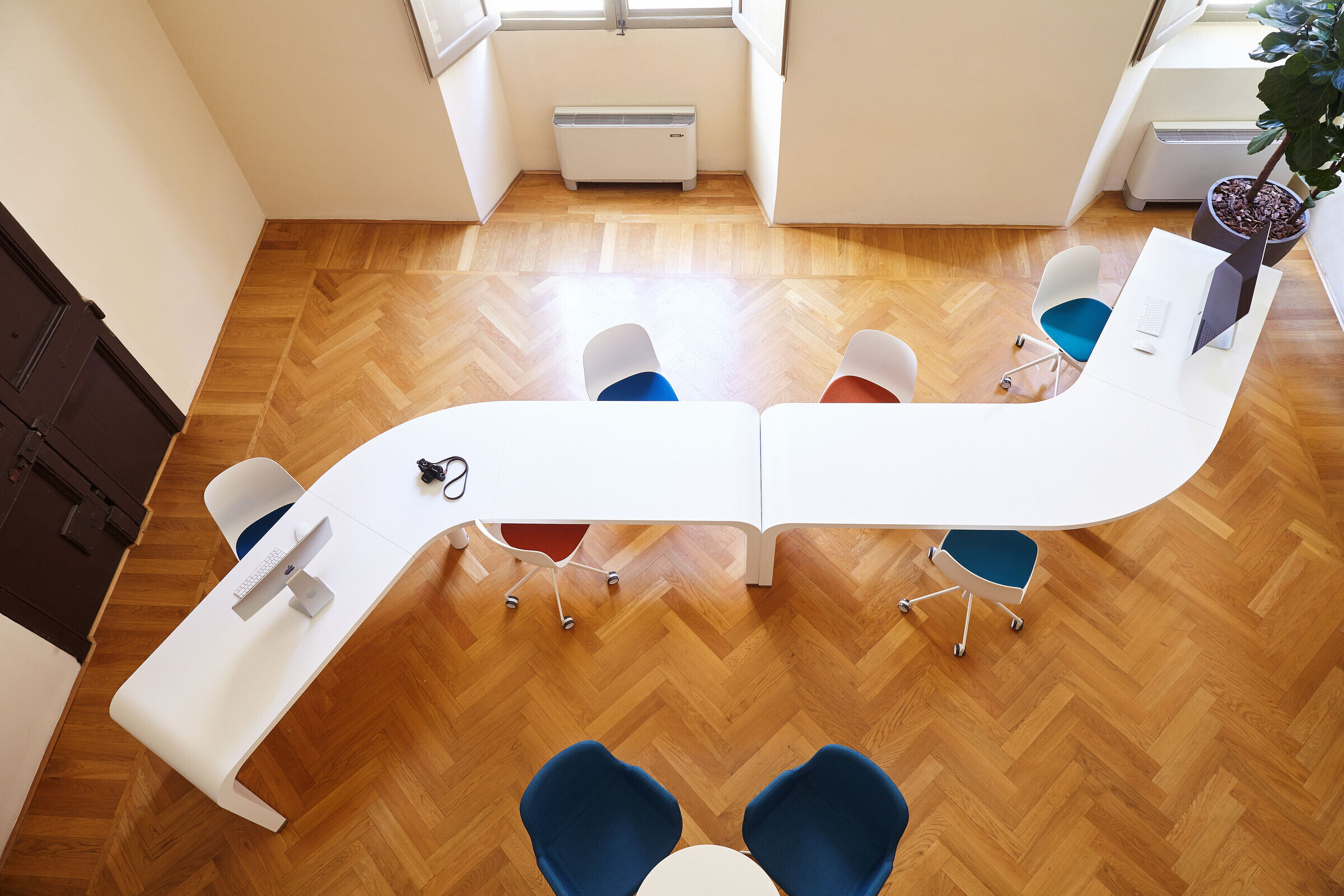 As company we entirely shares this vision. Our main spaces - researched by our artistic director Francesco Rota - includesLIGHT OFFICE, a design world expressing the new methods and needs of work that is always based on flexibility, fluid spaces and well-being. "The digital revolution has changed the way we live and work, suggesting that we design highly versatile furniture," explains Romano Marcato, founder of Lapalma along with his brother Dario - "We have transformed versatility into a powerful, recognisable yet light project in order to meet the new needs of professional spaces in the home, a place for meeting, movement and reflection."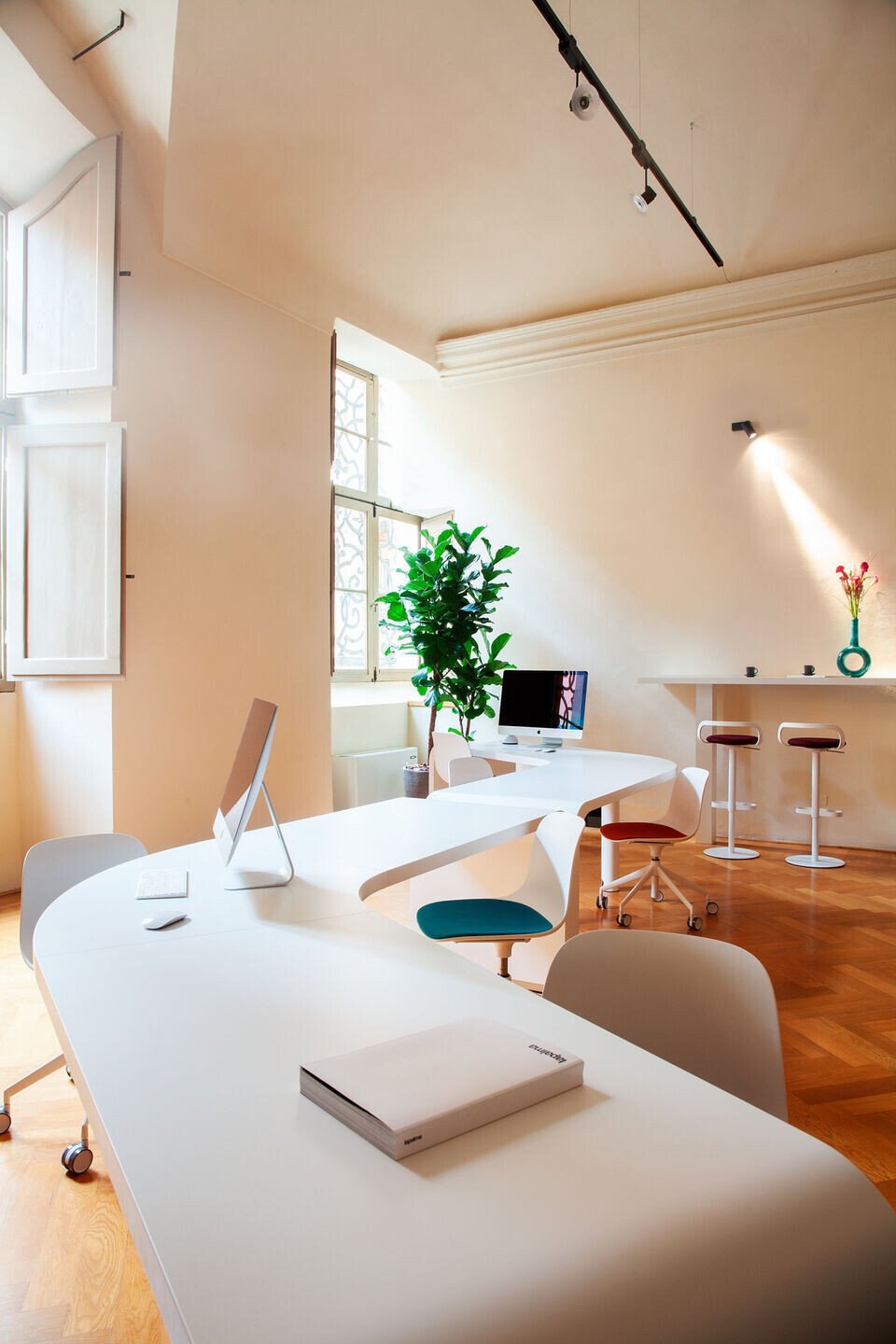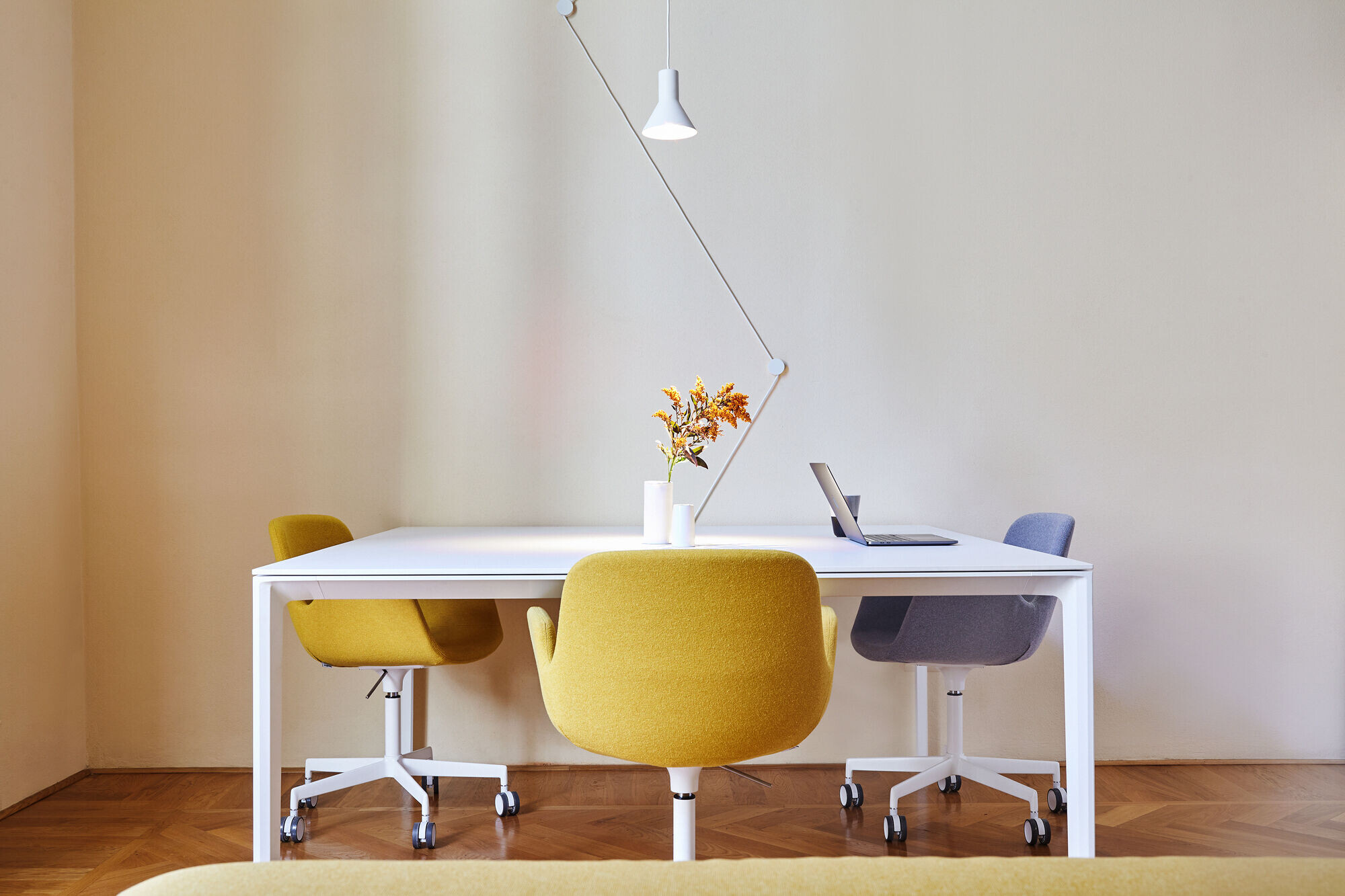 This has led to products and systems that perfectly suit the third millennium, offering extraordinarily consistent and versatile solutions, to furnish the open-space office and effortlessly organise it. Some of these furnish the new spaces of Garage Raw.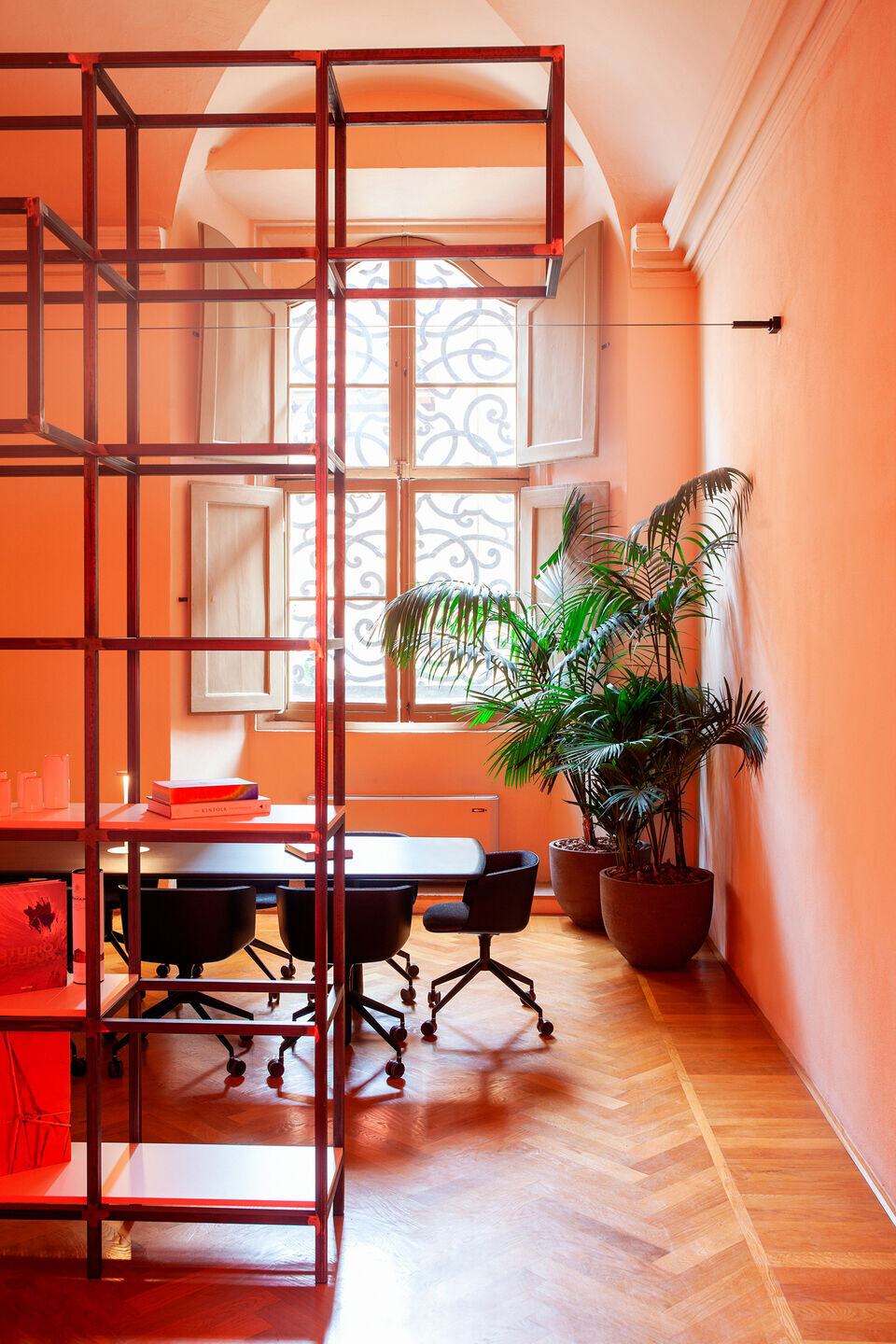 The agency, which has grown remarkably in recent years, immediately chose a work method based on working from home, and a non-hierarchical office, without specific workstations or fixed hours. In this space, staff can meet for discussions, use tools that help the workflow, simply have a coffee, or hold meetings and brainstorming sessions, even late in the evening over a glass of wine.