Located in Dallas' The Union building, Kimball's new showroom displays a variety of the company's award-winning portfolio from its office, healthcare, and education offerings. As part of its mission, Kimball is committed to sustainable best practices across its manufacturing plants and facilities. To reflect this in their new showroom, Kimball retained the Dallas studio of Perkins&Will for the design of the space. The project team created a clean, light-filled space that embodies Kimball's quality design and craftsmanship values and serves as a hub for collaboration and innovation for the Dallas design community.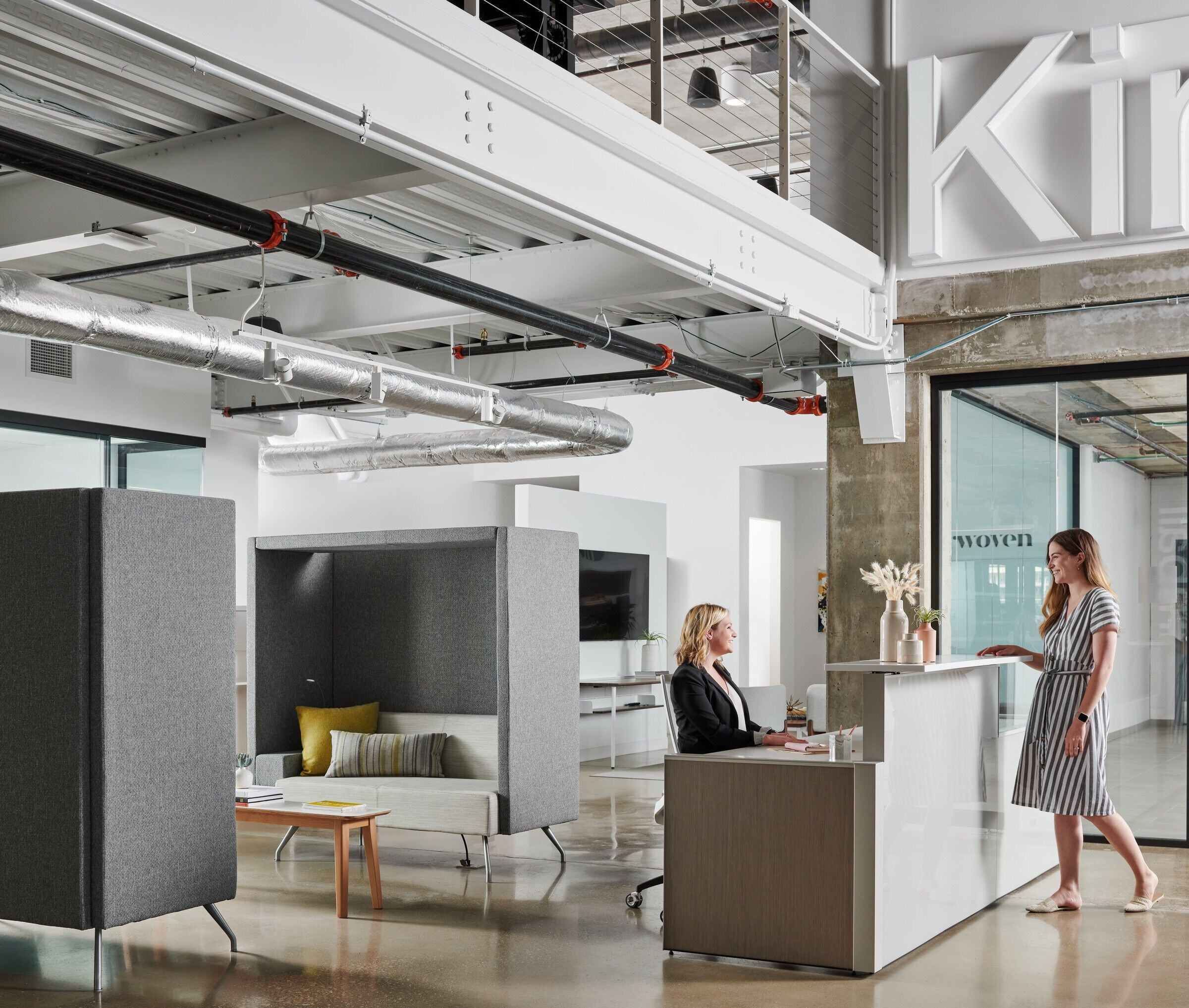 The 8,000-square-foot showroom honors Kimball's past and celebrates its future. The space offers Kimball the flexibility to update products and thoughtfully showcase multiple collections in an integrated way. An expansive mezzanine was added to the double height space allowing wonderful views through the hanging garden, along the wood clad columns and out to the garden space beyond, creating additional space to host presentations, meetings, and brainstorming sessions.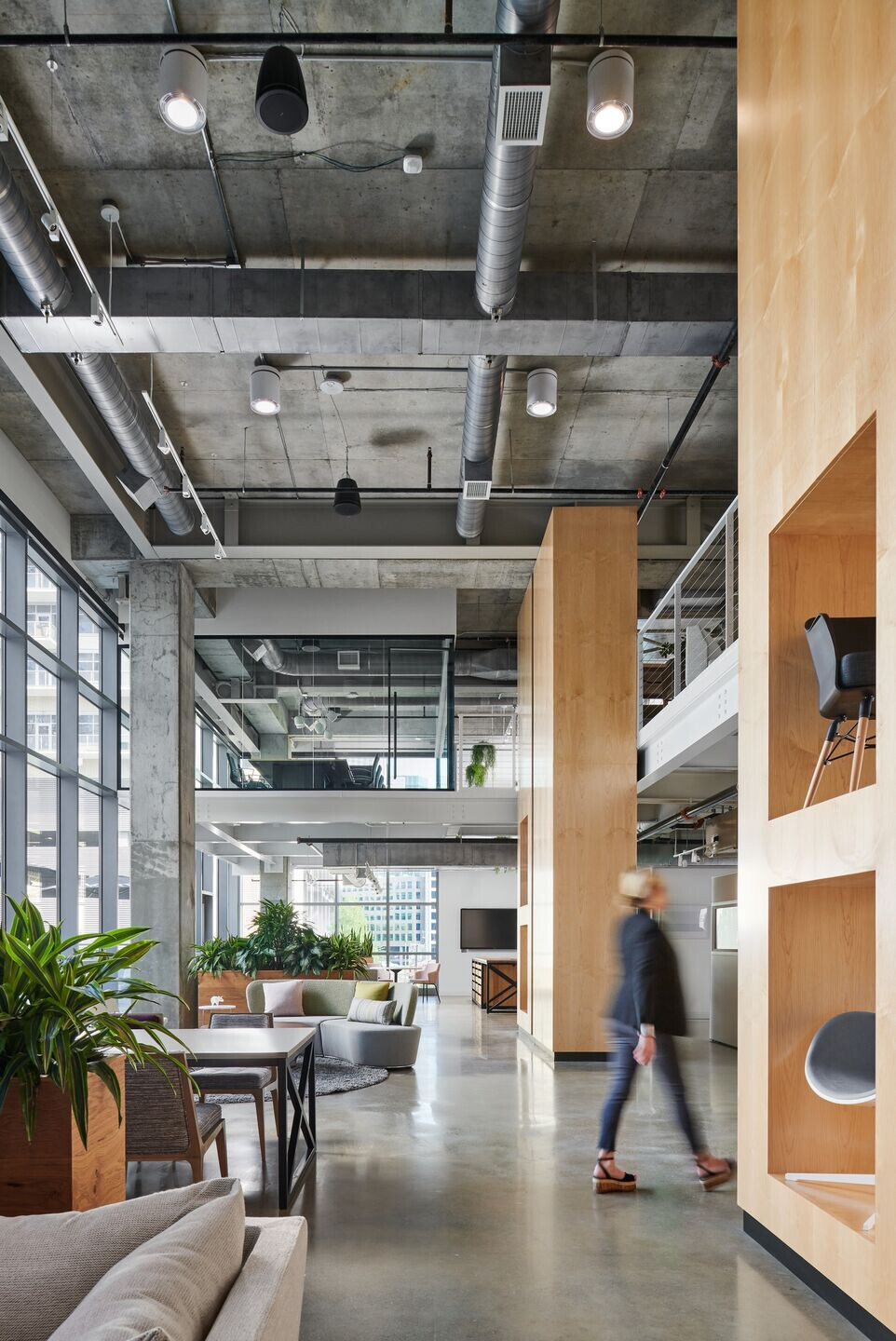 The hanging garden connects the upstairs overlook and a multipurpose break, meeting, and materials library space below. The showroom also doubles as a coworking space, with sit-stand desks spread across the open floor plan. Kimball's new space includes an outdoor terrace for work, meetings, and events, overlooking the public garden below and providing a visual connection to nature. In the glass-enclosed upstairs meeting room, visitors feel as if they are floating in mid-air. Employees can take in sweeping views of Dallas, a garden, and surrounding restaurants from this space, making it the highlight of the design.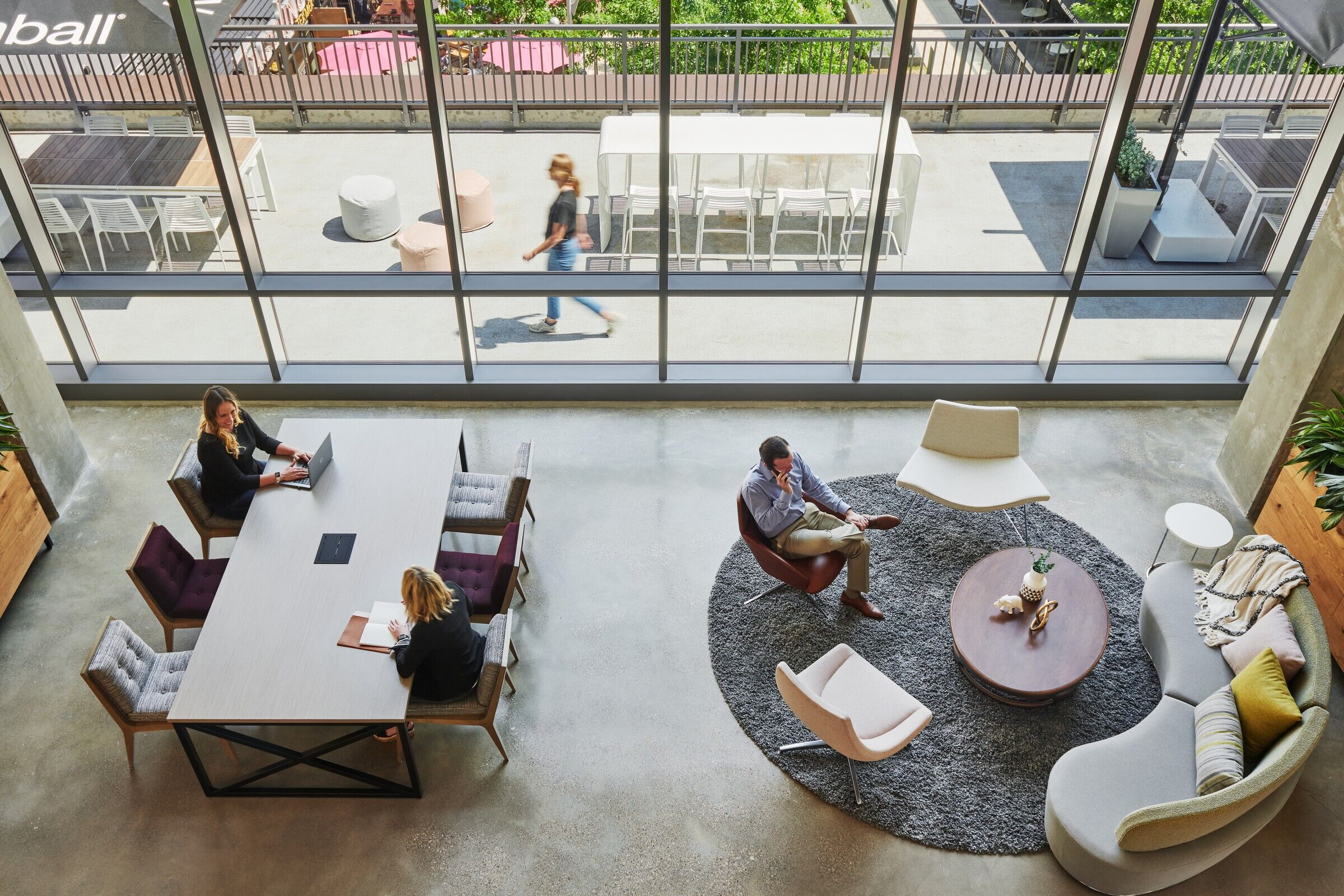 Conceptually, the design of the space relies largely on the base building palette of concrete floors, columns and the two-story glazing wall. Wood elements, interior glazing and white walls were then added lightly to create an unobtrusive framework against which the furniture is presented. The color and material palette builds on Kimball's other showrooms in Atlanta, Chicago, and Washington, D.C. Perkins&Will added to this foundation, infusing neutral colors and warm textures throughout to complement the raw, industrial aesthetic.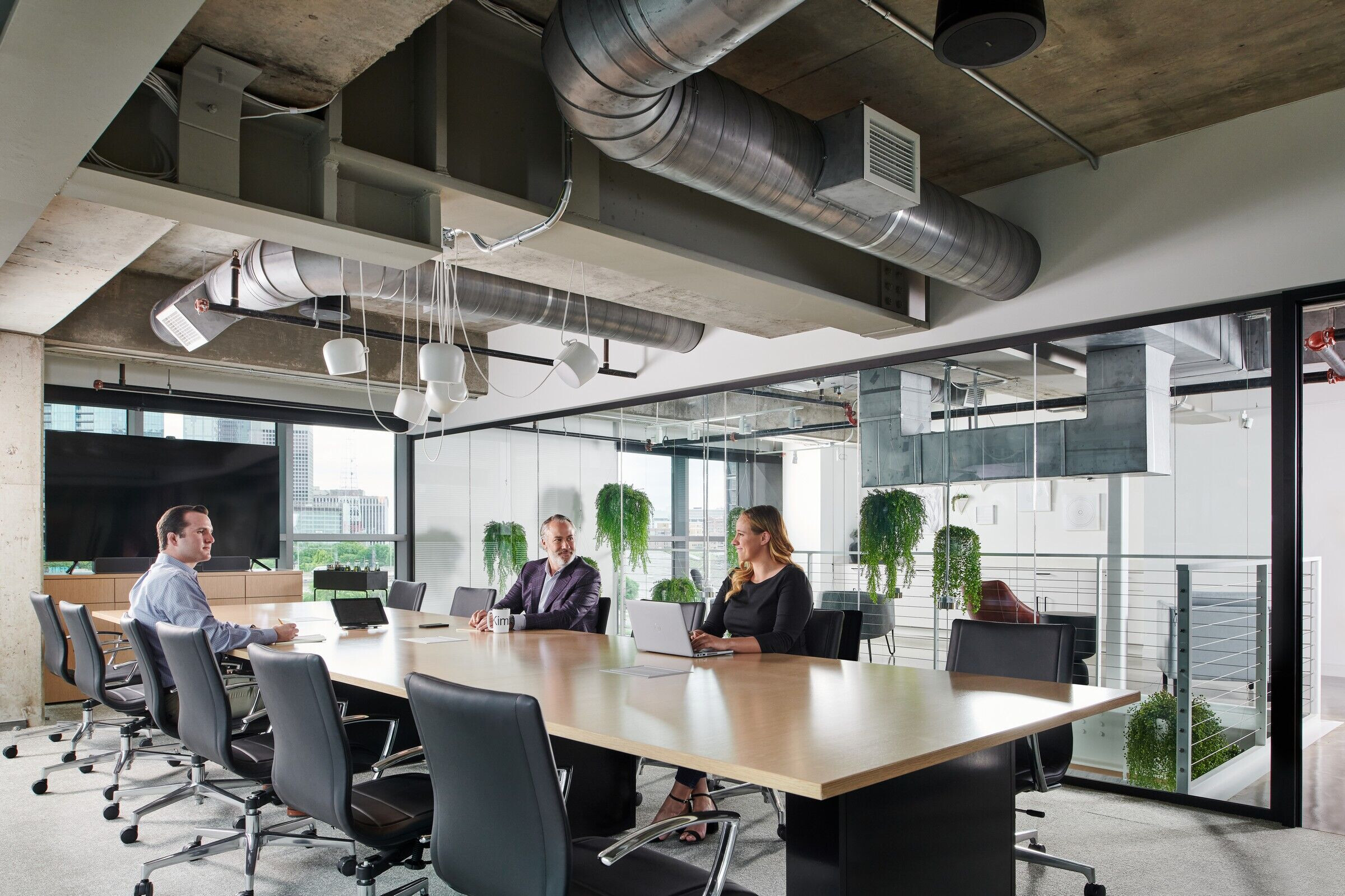 Perkins&Will integrated efficient, color-correcting lighting with a high color rendering index (CRI), allowing all materials on Kimball's products to be viewed accurately by showroom visitors. The design team strategically implemented two-story wood-clad walls, honoring Kimball's heritage as makers and craftspeople and providing a persistent visual touchpoint for the brand. The visual simplicity of the overall design, combined with an intentionally light and neutral palette, provides a compelling background to showcase the products.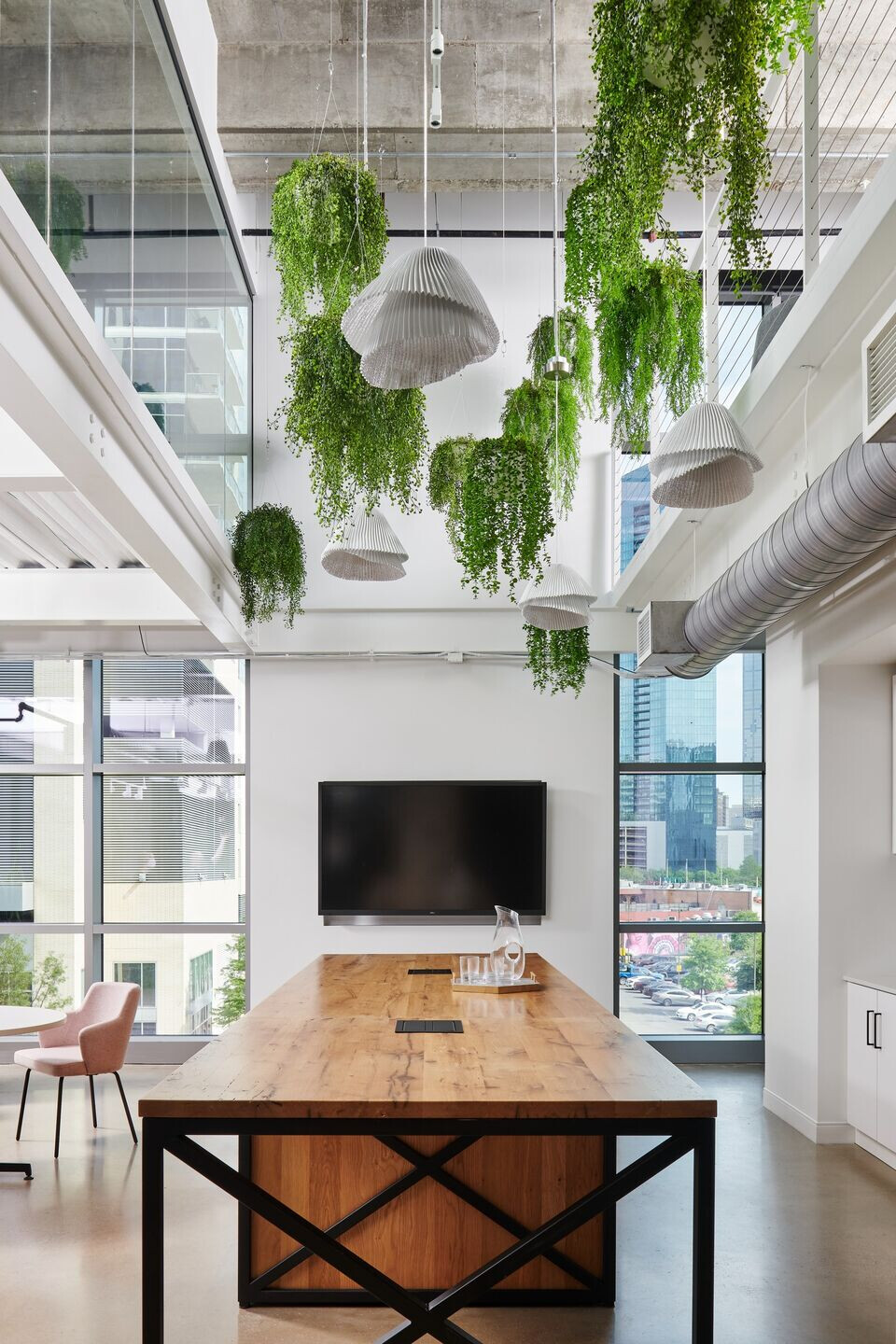 Kimball's Dallas showroom is currently seeking WELL Platinum certification. One of the highlights in the space, the hanging garden, serves as a bold expression of Kimball's commitment to sustainability and wellbeing. The WELL certification will serve as a touchstone and an educational tool for the Dallas design community and its clients.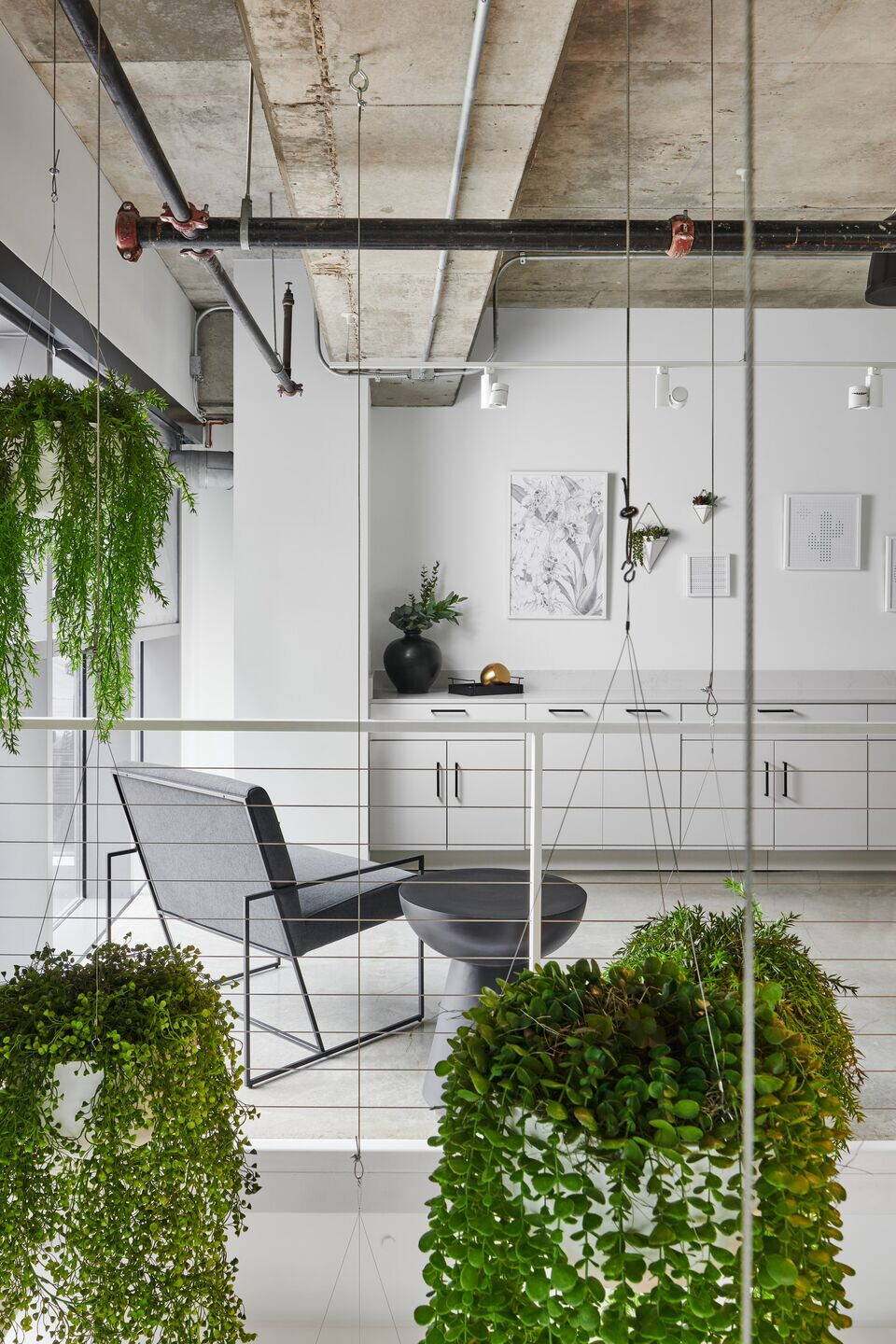 Material Used :
1. Flooring (Carpet): Shaw Contract
2. Demountable system: Muraflex
3. Paint: Benjamin Moore
4. Wall covering: Spinneybeck
5. Porcelain Wall Tiles: Concept Surface
6. Wood Paneling: Terramai
7. Ceiling: Armstrong
8. Lighting: Fluxwerx, Lithonia, Juno, Trac-Master, Gotham | incito and Vode
9. Furniture: Kimball, Interwoven, Poppin
10. Outdoor Furniture: Landscape Forms