Located within Mount Eagle Estate in Eaglemont, Local House is a modern, sustainable home that reinterprets the character of the historically significant suburb and harmonises with its landscaped surroundings. Marion Mahoney and Walter Burley Griffin planned and designed the picturesque subdivision in 1915, with winding roads and community parklands that follow the curving topography, and dwellings that are secondary to the natural landscape. Proponents of modern architecture, the Griffins designed houses free from stylistic precedent. Consequently, the guidelines for Mount Eagle Estate recommend architects take the same approach today, while complying with the heritage, landscape and vegetation protection overlays.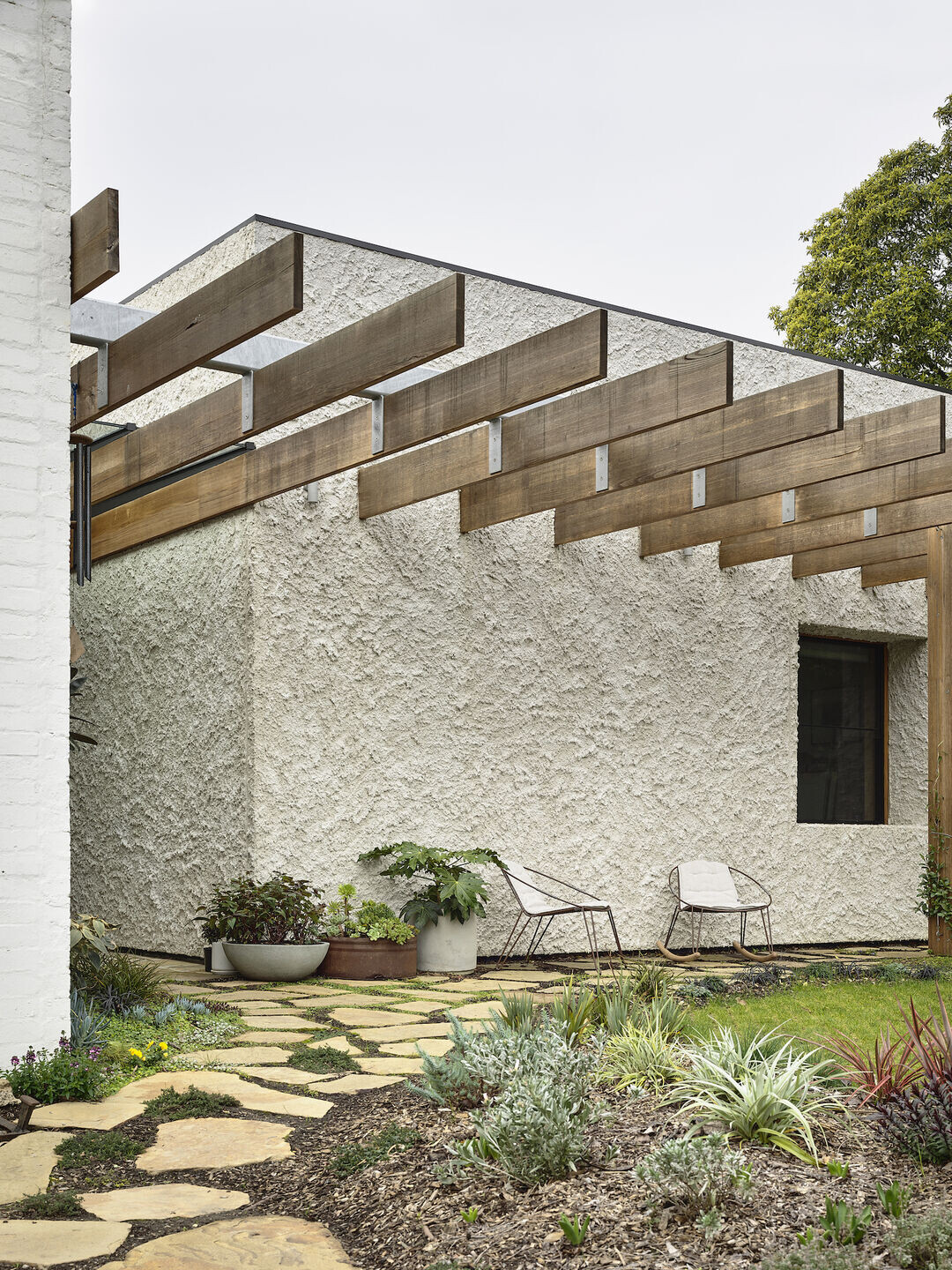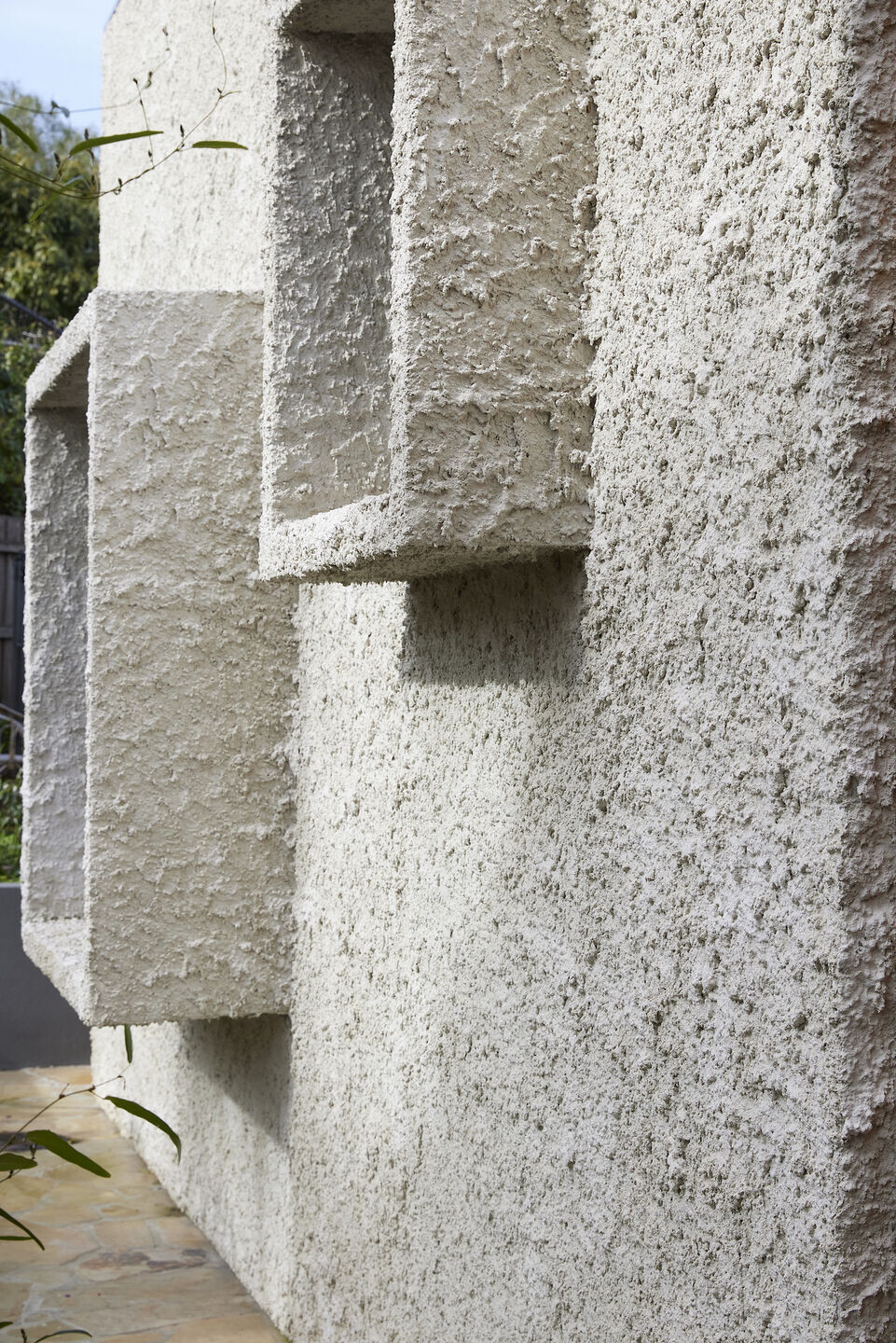 Local House is home to a couple who love art and travelling and have a great appreciation for design. They have four adult children and recently became grandparents, and wanted a house where their family could comfortably visit and stay. Their brief to Zen Architects also came with comprehensive requirements for sustainability and spatial planning, which we achieved through orientation, layout and palette.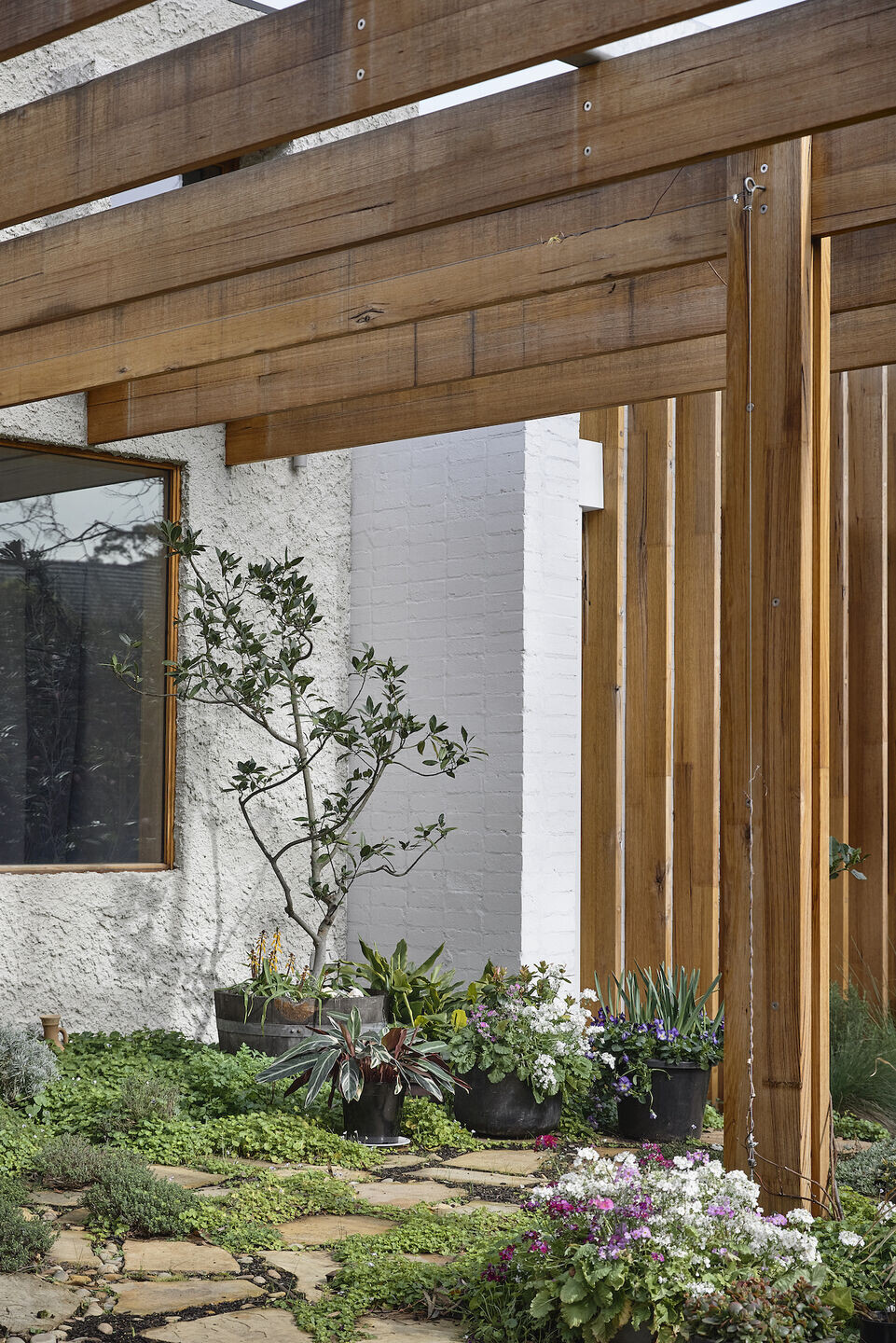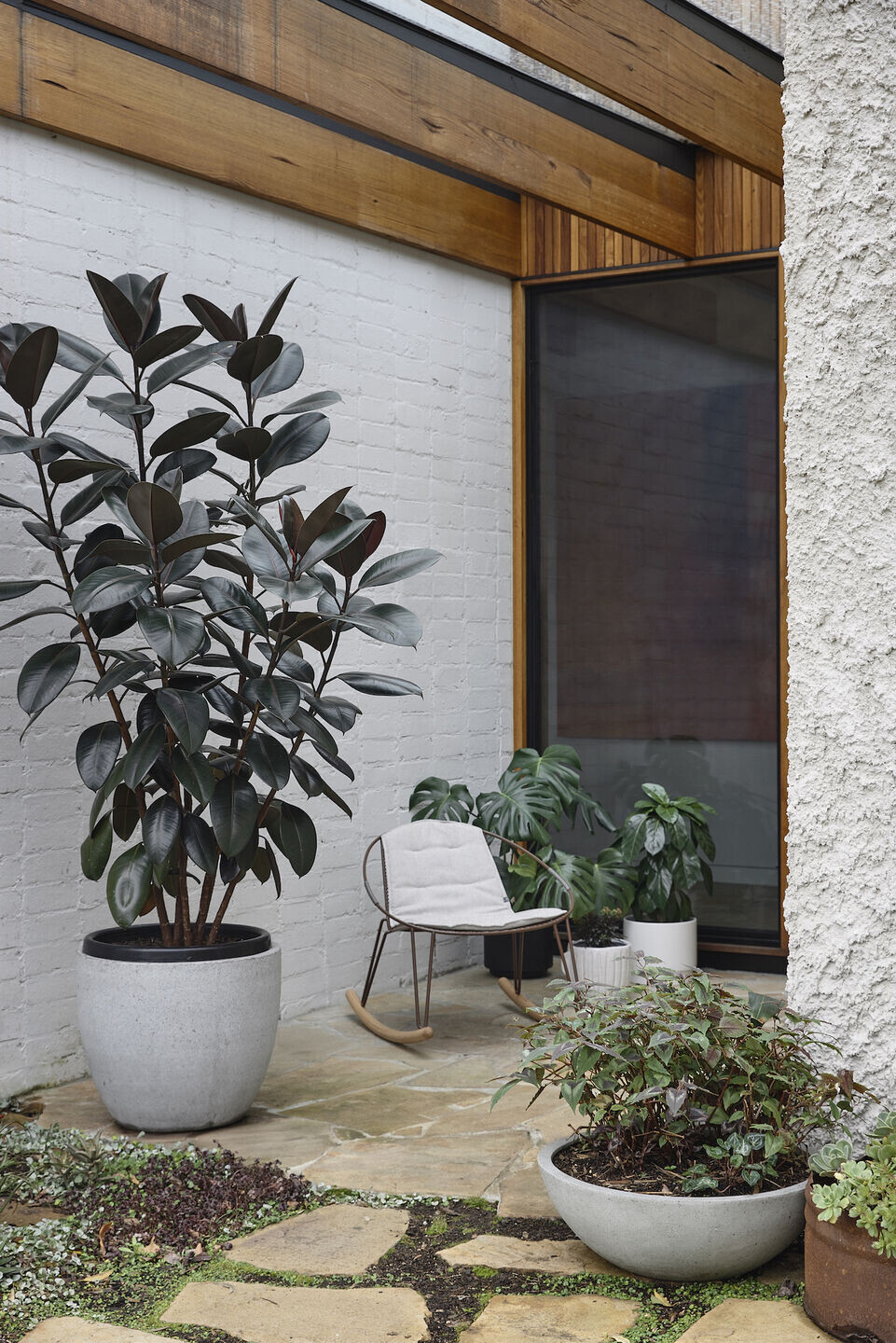 Replacing an existing building, the house now sits higher on the hill of the large sloping block and is oriented toward the expansive north-facing garden to the rear. The footprint has been reduced by almost 100 square metres, yet the house vastly improves the comfort, liveability and energy efficiency for the clients.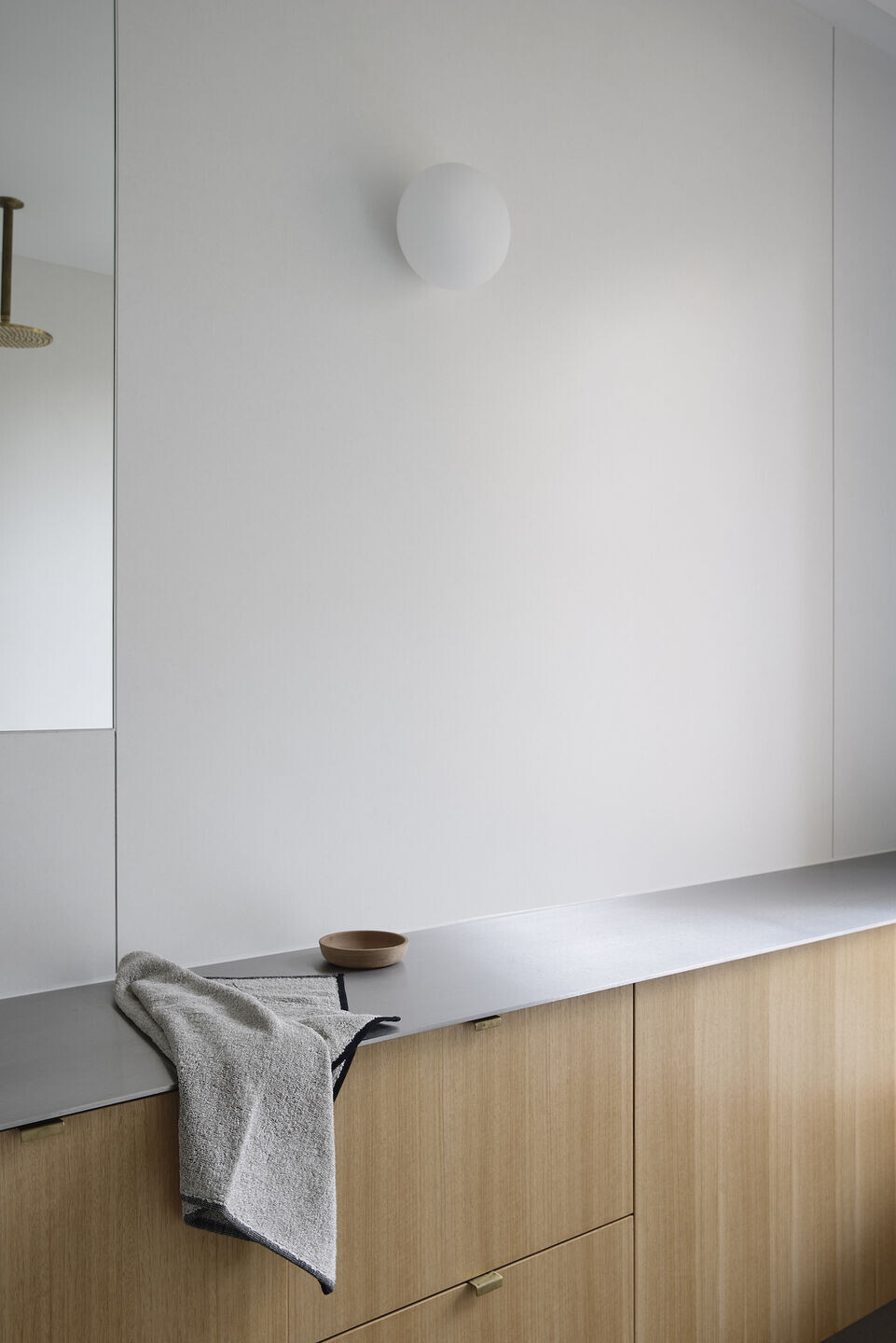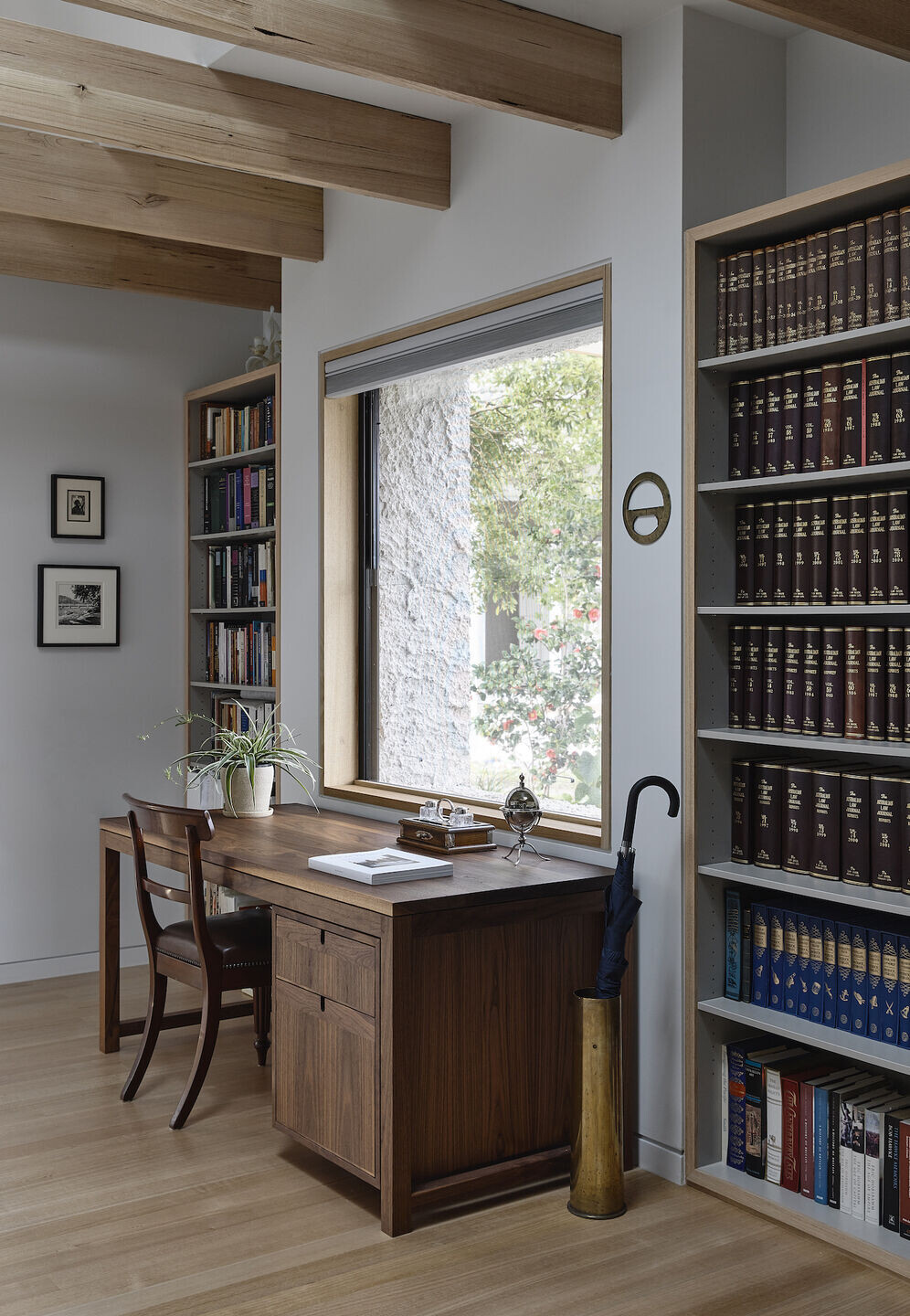 The single-storey home is accessible and mobility-friendly, designed for aging in place. The planning separates private, public and guest spaces, allowing the house to expand and contract with visiting family members. Each area is differentiated by materiality, volume, light and view, and interwoven with outdoor and landscaped areas. The private spaces to the east (bedroom, ensuite, library and sitting room) are intimate and textural. The spacious public area through the middle (kitchen, dining and lounge) is light, relaxed and connected. Guest bedrooms and a yoga room in a self-contained wing to the west are more modest.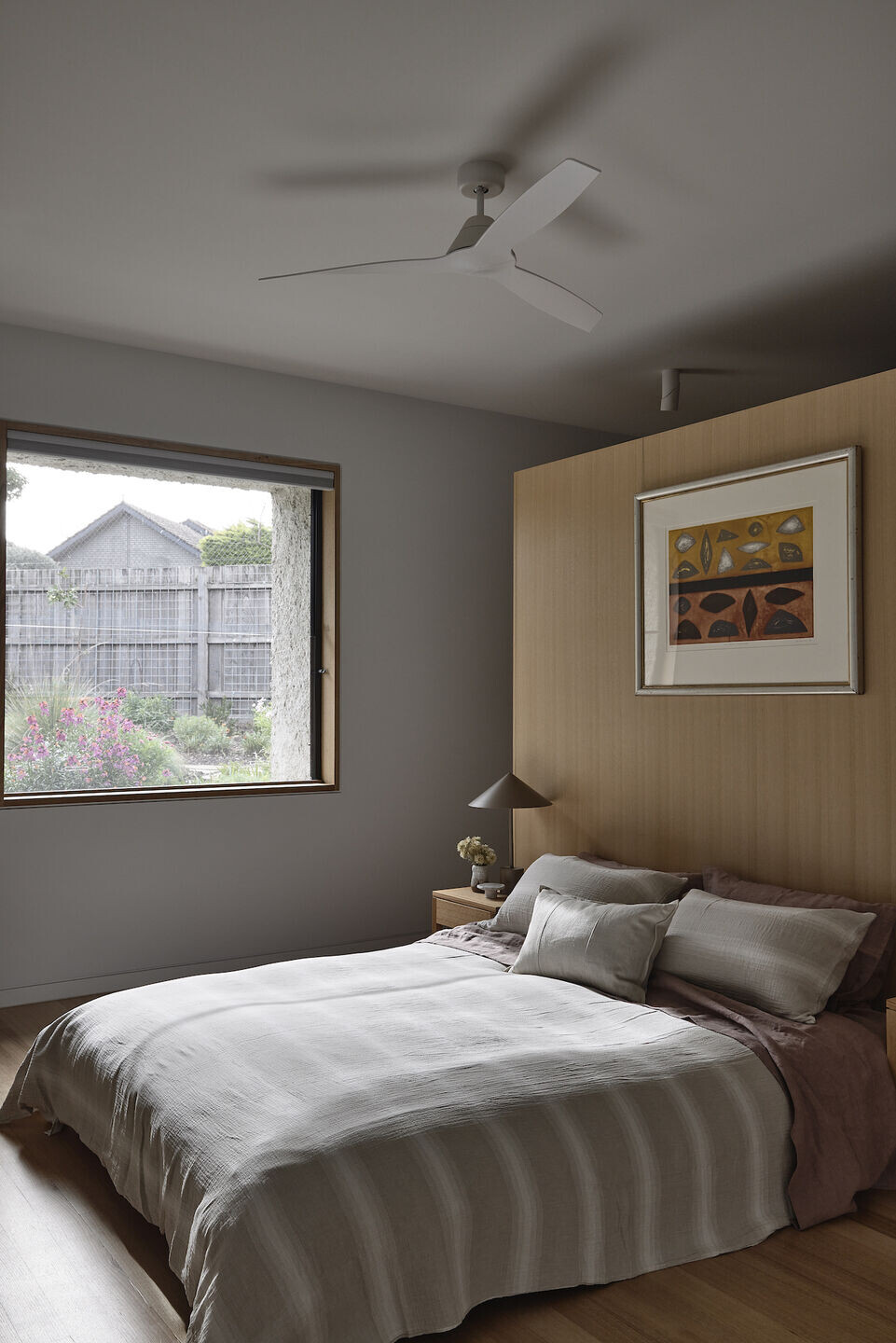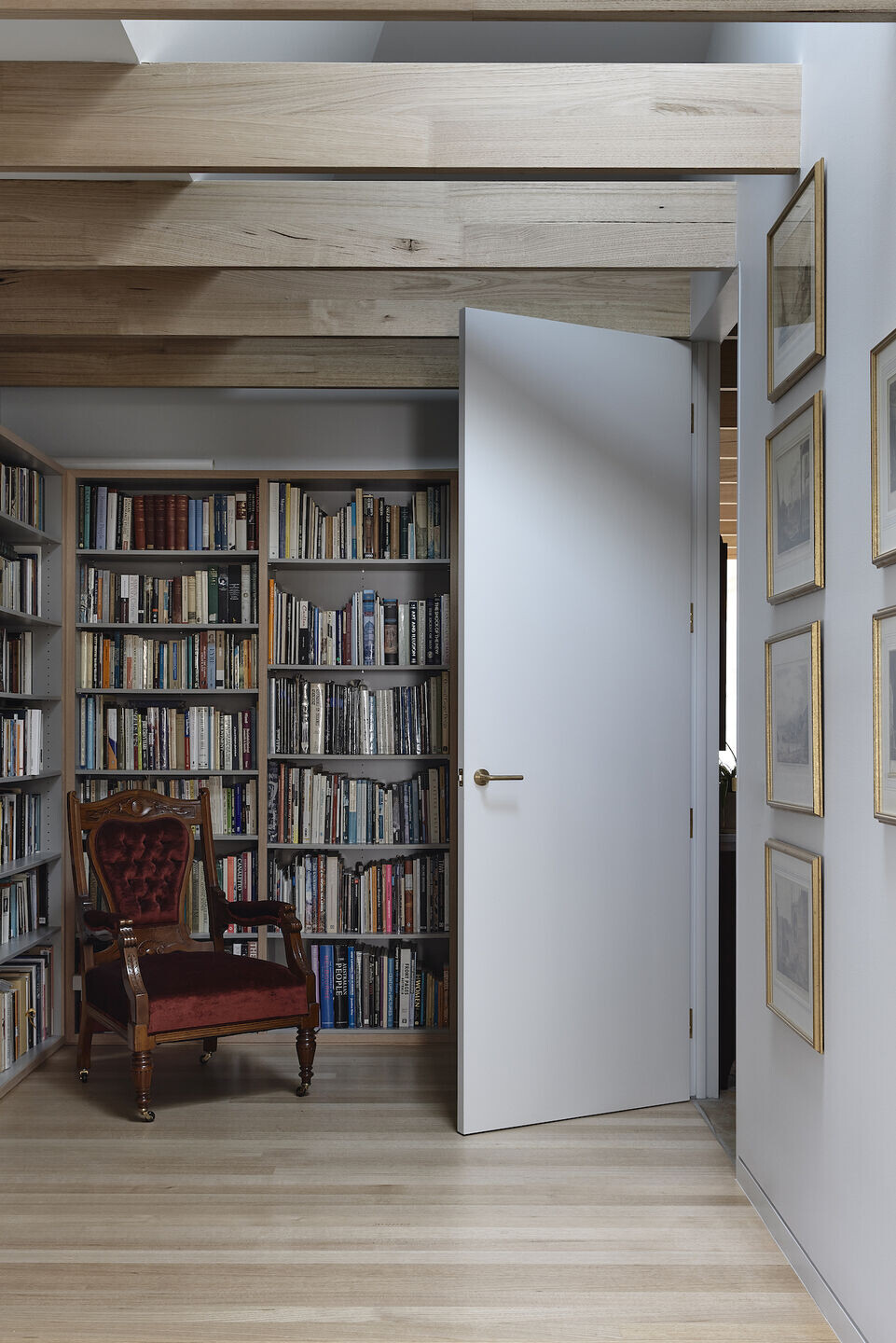 The robust and tactile material palette harmonises the building with its garden surroundings, helping to weave the landscape inside and out, and connecting the house to the site. The natural, recycled and sustainable materials are almost entirely sourced from within Victoria, and they will age gracefully, minimising maintenance and contributing to healthy interiors.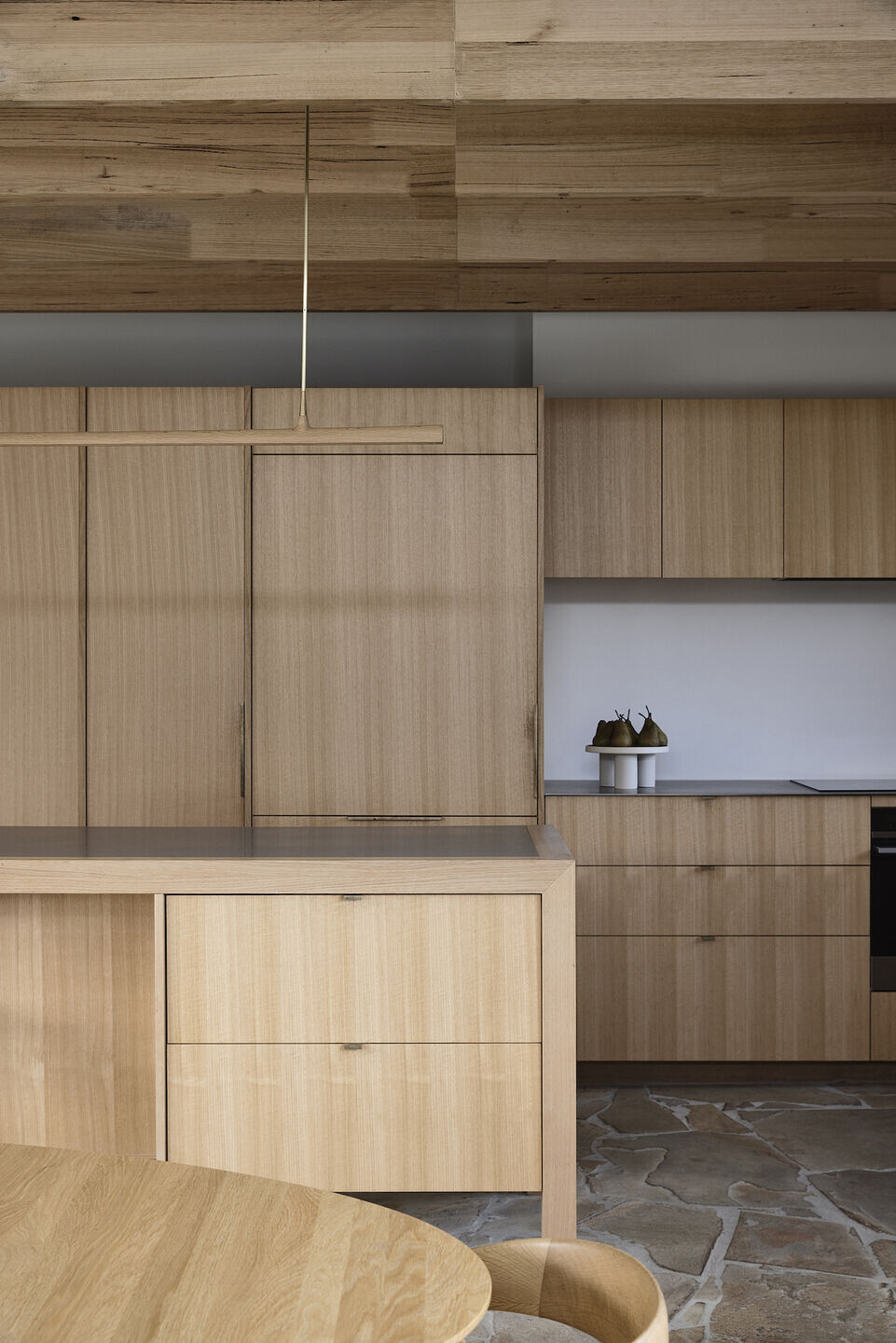 The recycled brick and course natural render on the exterior are in keeping with the houses in the area, sitting comfortably with the local heritage yet offering a contemporary timeless aesthetic. Castlemaine slate pavers continue from outside into the public spaces. Similarly, Victorian Ash timber beams of the pergola continue inside as exposed beams above the entry, library, kitchen and sitting room. The vertical timber-framed windows and rendered interior wall also help create an intimate, enclosed feel in the sitting room, creating a contrast to the spacious living area. Vertical timber in other parts of the house continues that theme and adds another level of privacy.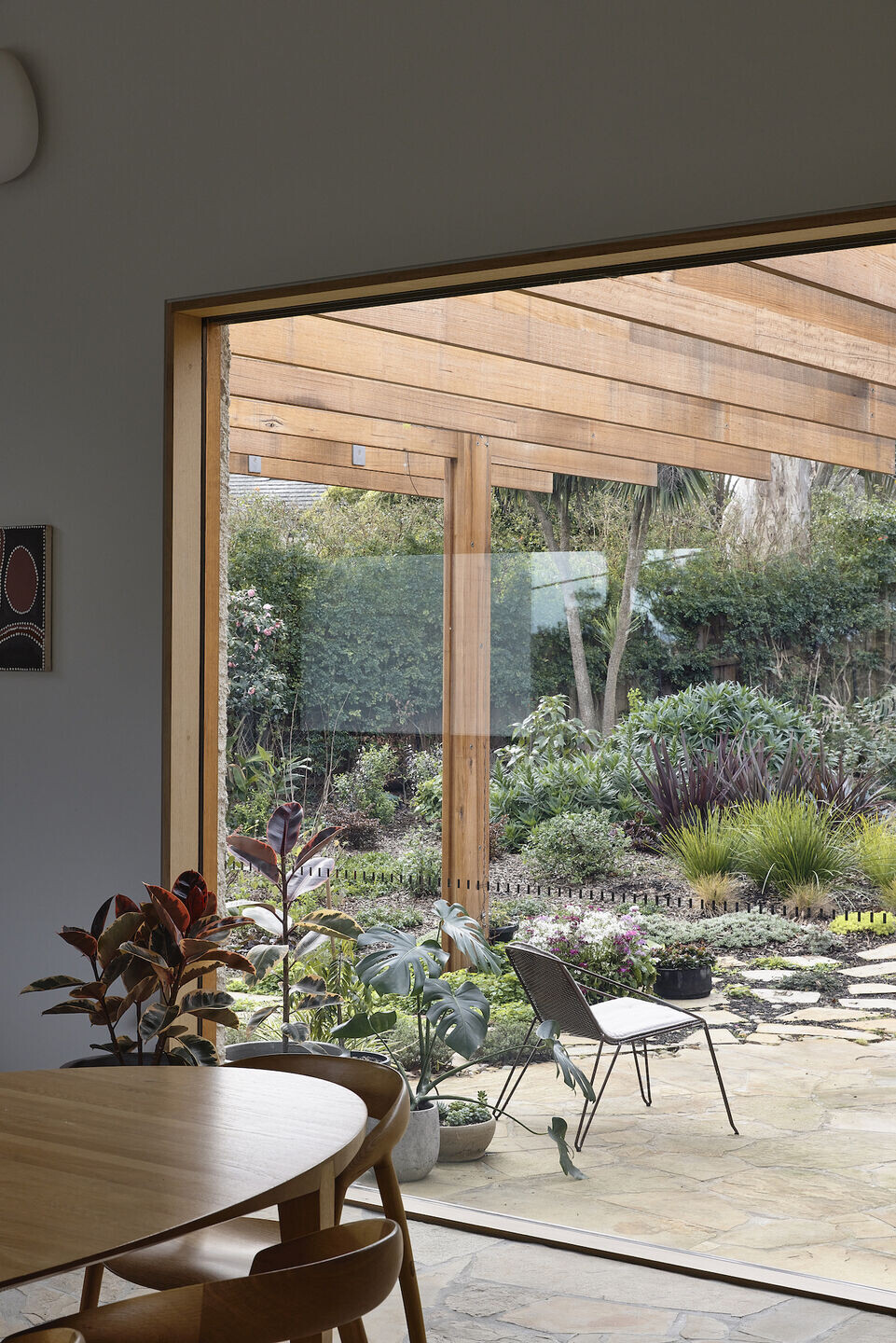 Windows are carefully placed for passive solar design and to optimise connection, view, light and ventilation. Protruding and hooded north-facing windows maximise sun penetration in winter, while excluding summer sun, and recessed south-facing windows provide privacy from the street.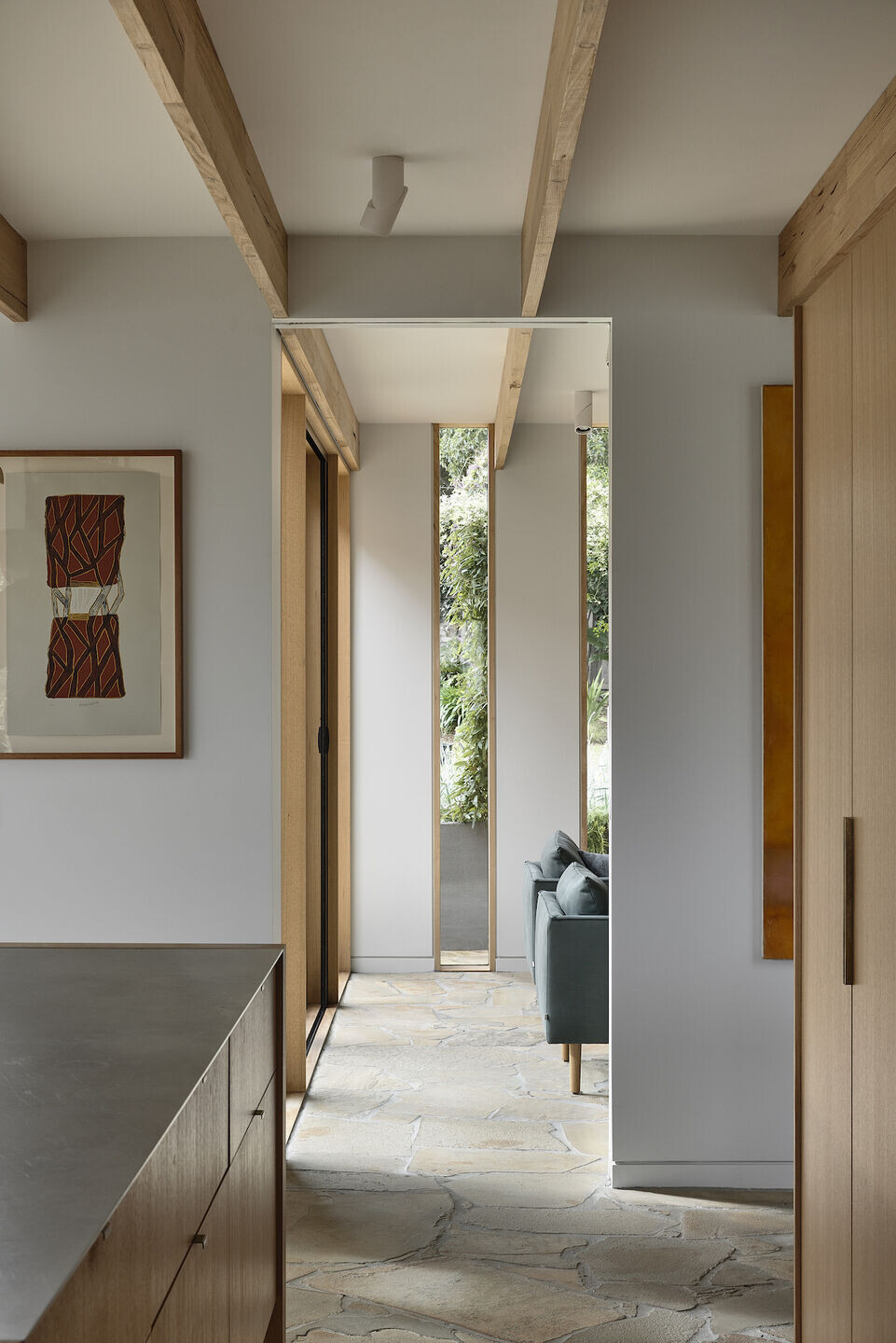 The landscape was integral to the architectural design, and the significant landscape overlay required a mixed native approach. Layered plants offer a variety of colour, foliage type and flowering times, and will grow in, around and over the building over time.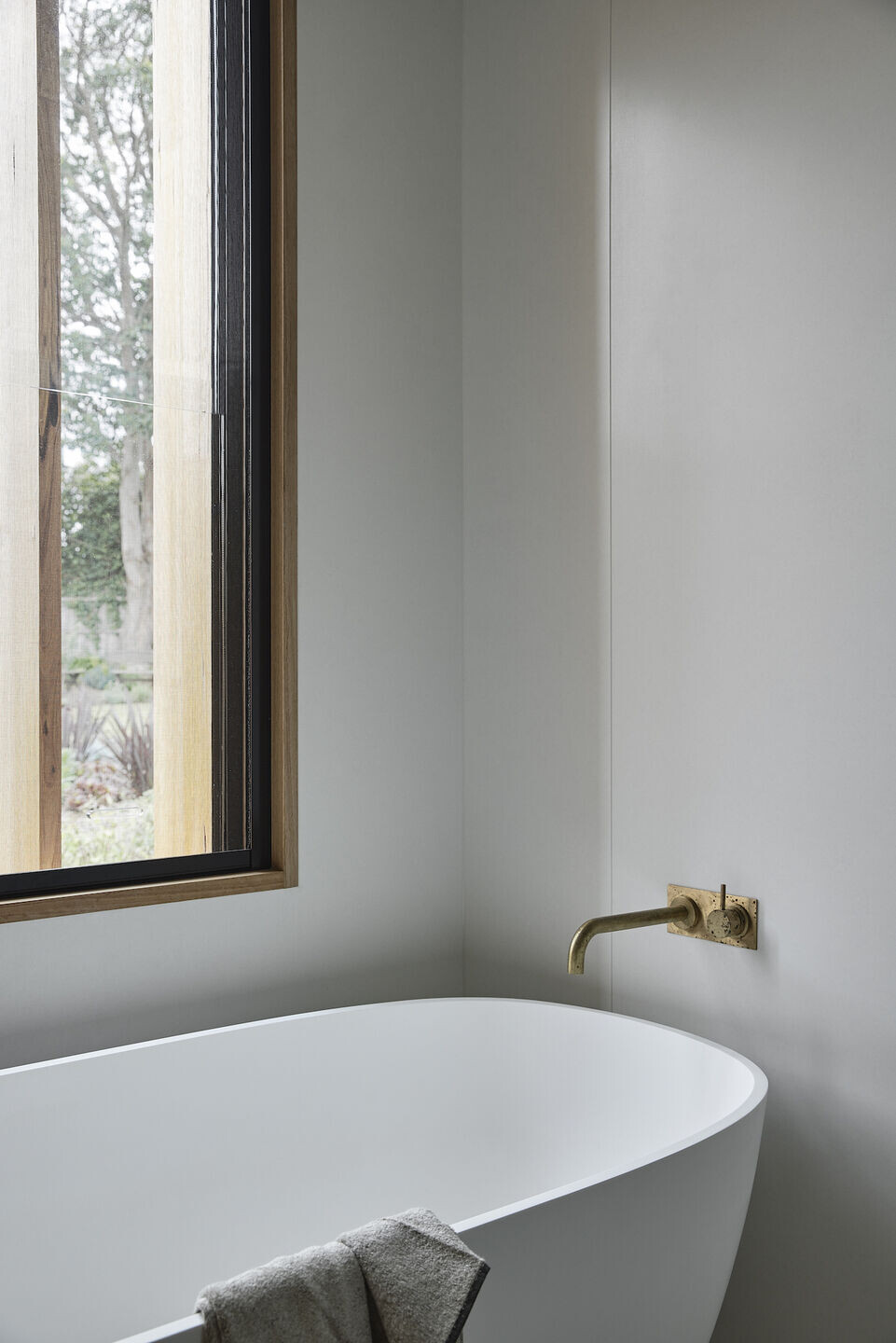 Taking its cues from the heritage and landscape of Mount Eagle Estate, Local House is a versatile, modern and sustainable home that is rich in texture and character to harmonise with its leafy, historical setting.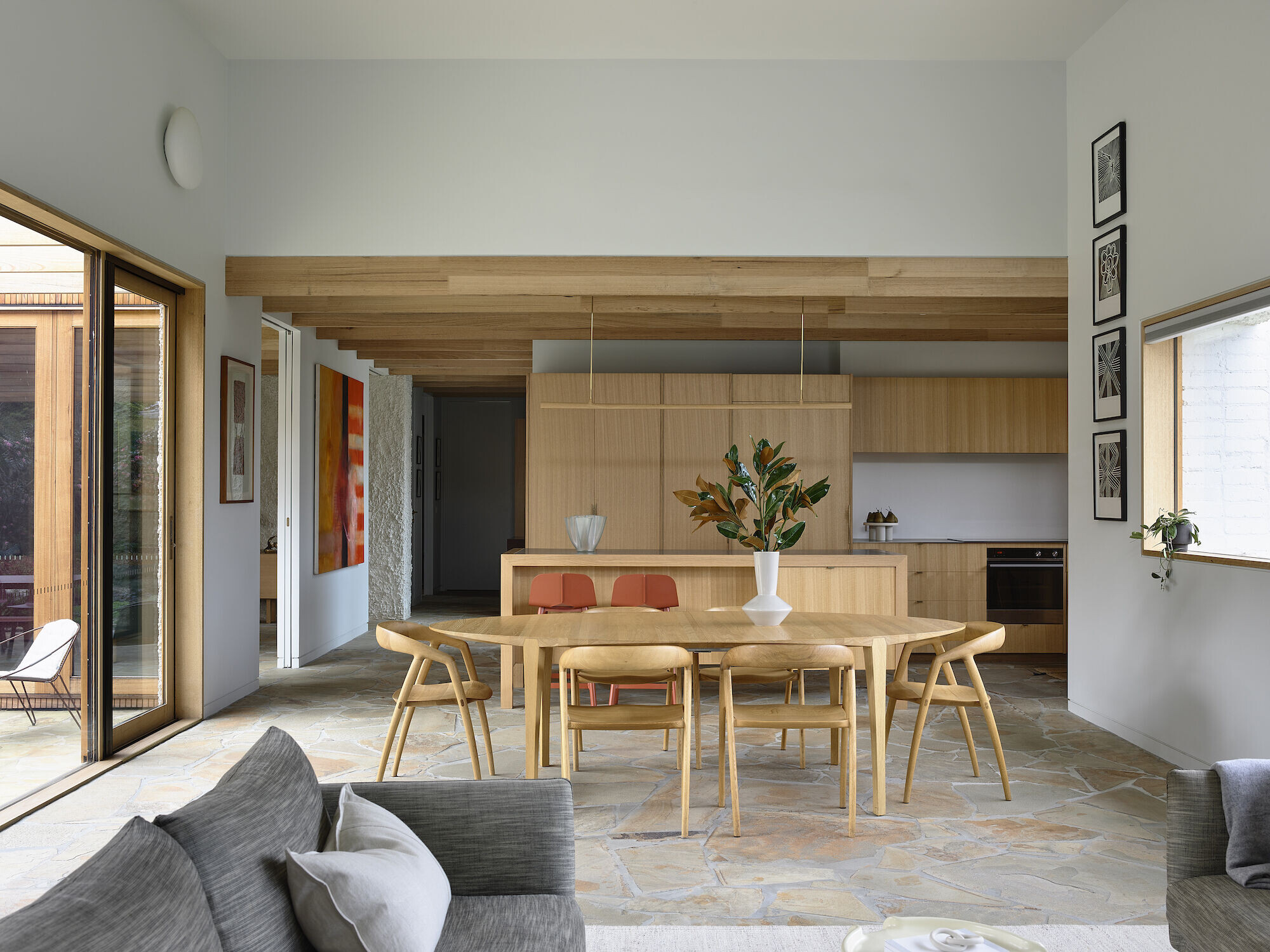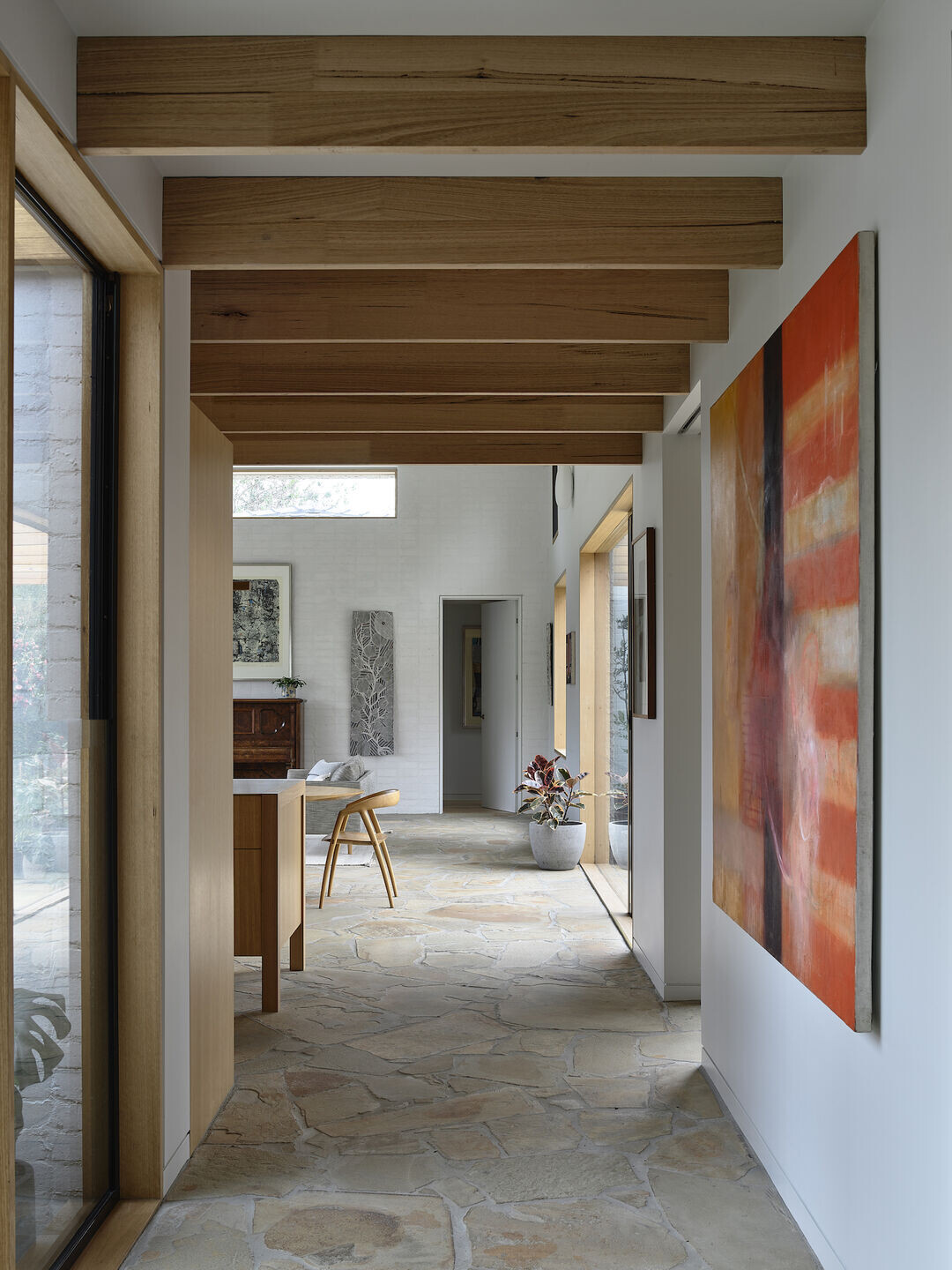 Pull quotes:
"The design tracks the sun throughout the day allowing natural light to fall over highly tactile and textural finishes, each room taking on its own character. It changes throughout the day and the year, constantly offering up surprises for our clients."
"Materials help weave the landscape inside and out, connecting the house to the site, and the landscape will grow in, around and over the building over time."
"The sitting room feels as though it could have been a sunroom built in over time. With the use of external materials – the course rendered wall, timber beams like a pergola and beautiful slate floor – the room feels relaxed and welcoming, somewhere you can sit comfortably and talk."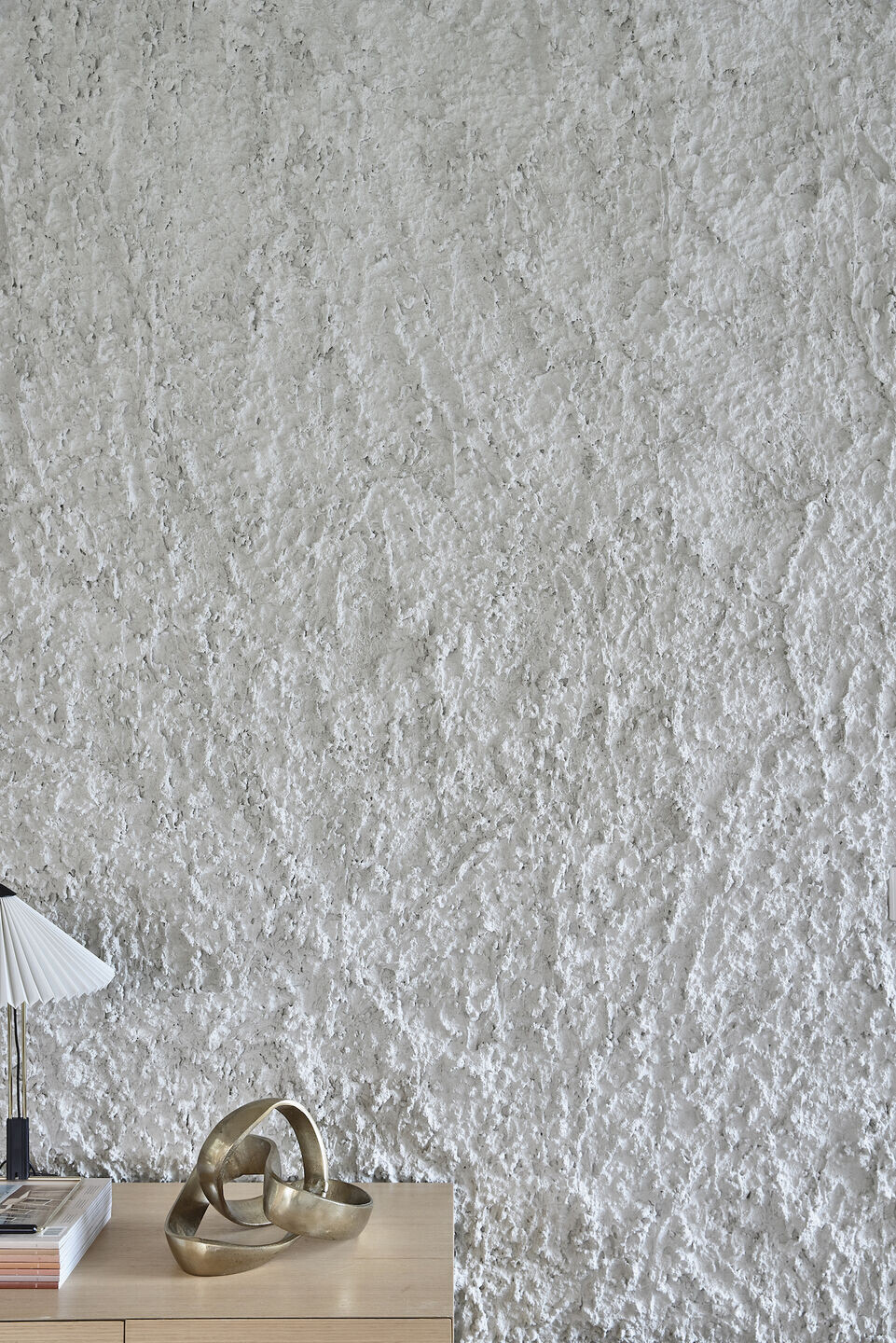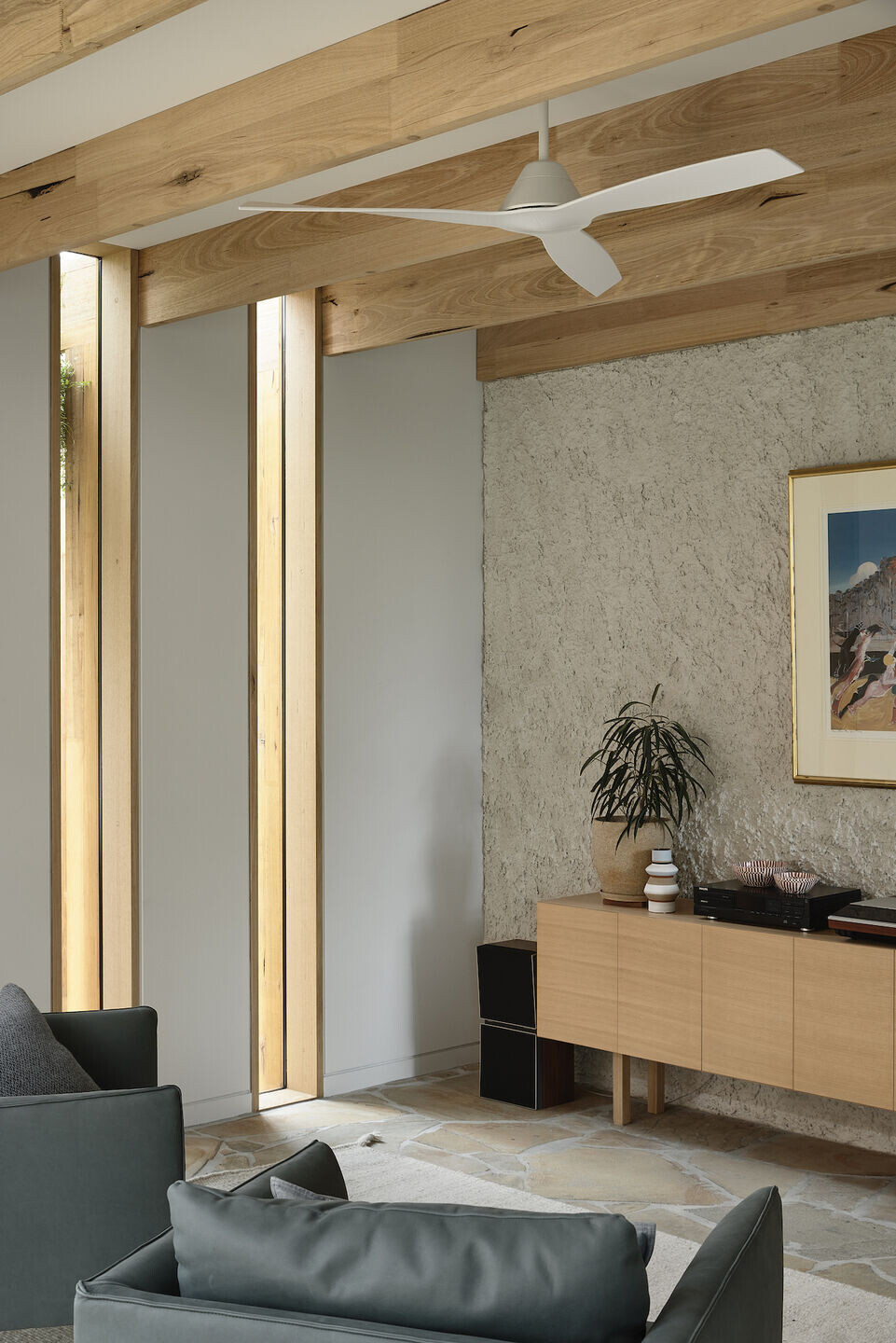 Sustainable design features:
• Well-oriented for light, shade and cross ventilation
• Thermal mass in floors and walls
• 60% cement replacement concrete
• All-electric, no gas
• Highly insulated (140mm stud frame with R4.0, R6.0 ceiling, insulated slab and slab edges)
• PEFC and FSC certified structural timbers
• Minimal structural steel
• Well-sealed (confirmed with airtight testing with post testing rectifications)
• High performance window suites: timber framed; low-E coating; clear double glazing; userfriendly openings; appropriate fixed shading elements
• Building footprint reduced by over 100 square metres from existing
• 8.3 Star NatHERS star rating
• Solar panels
• Solar hot water
• Heat pump in slab hydronic heating to slate floor
• Reverse cycle A/C to living and main bedroom
• 10,000L rainwater collection
• Locally sourced majority of the materials, fixtures and fittings
• Natural, recycled or sustainably sourced materials
• Natural render hand thrown by a single artisan renderer by trowel over a two-week period
• Low maintenance
• Single-storey
• Mobility friendly for aging in place
• Deep soil landscaping with mixed native plants
• Managed beehive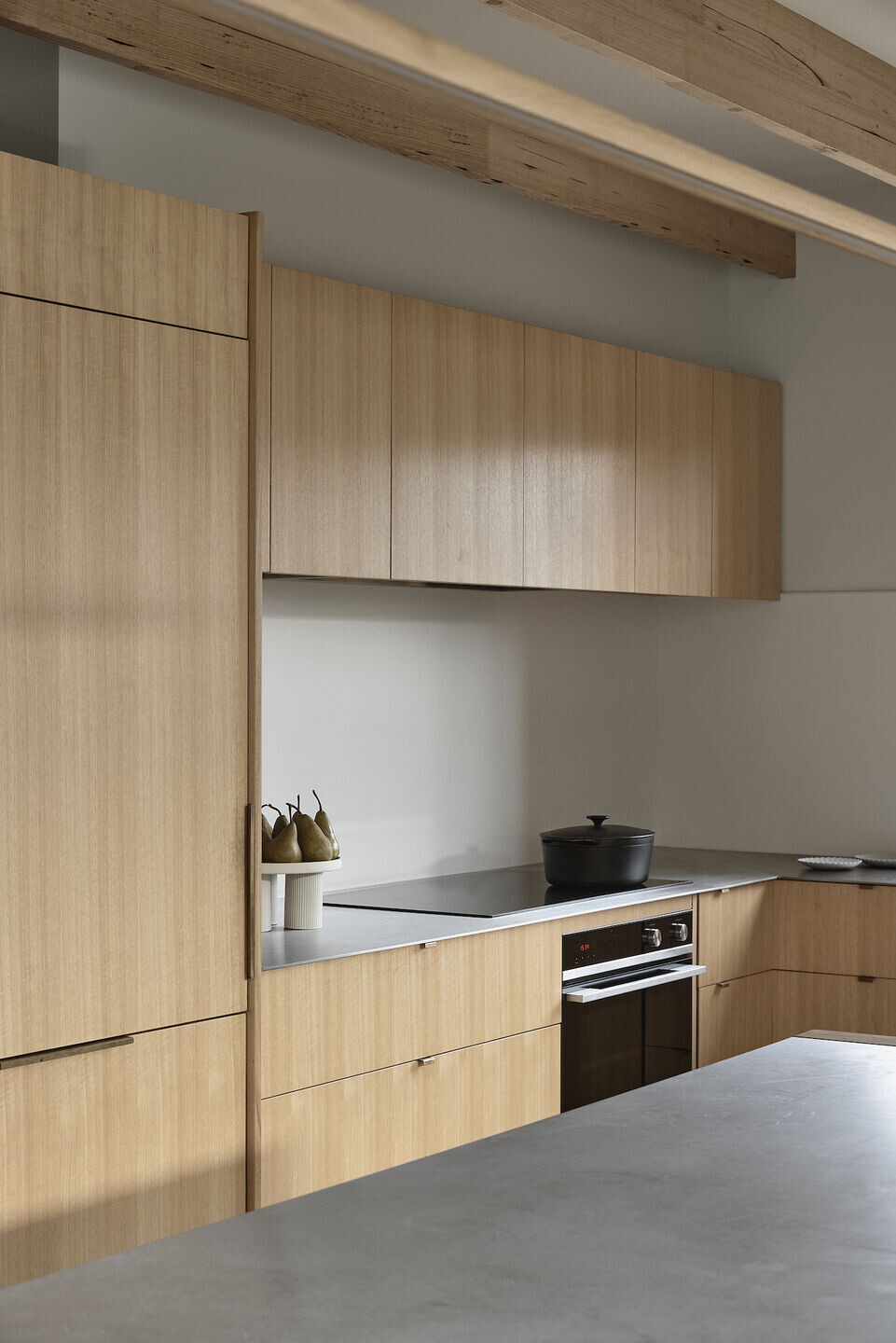 Team:
Architects: Zen Architects
Builder: CBD Contracting
Engineer: OPS Engineers
Energy modelling: Floyd Energy
Landscape Architect: Jo Russell-Clarke; The client's friend provided a basic landscape layout and suggested some species of native plants. The client has planted much of the garden over the course of two years.
Photographer: Derek Swalwell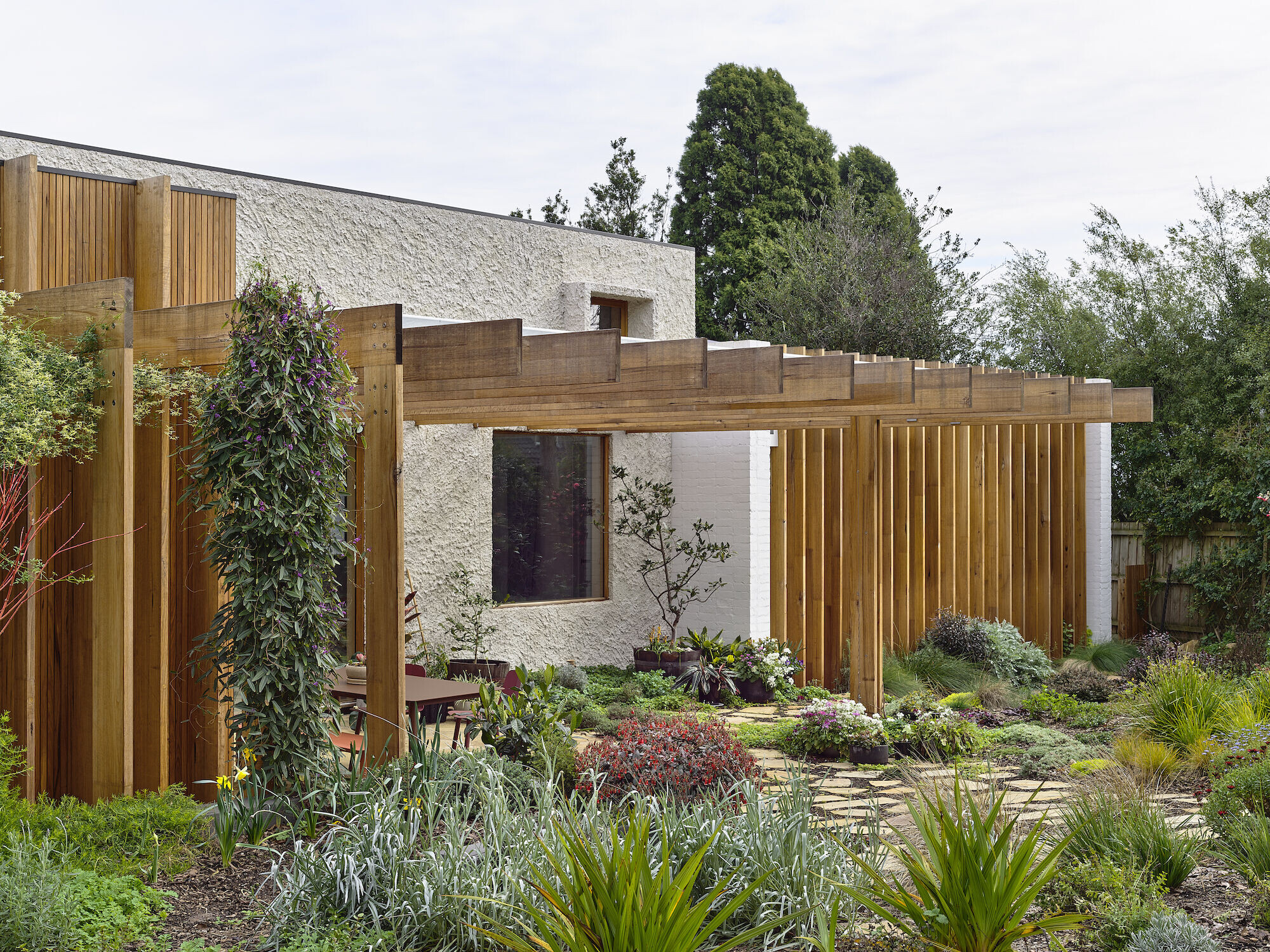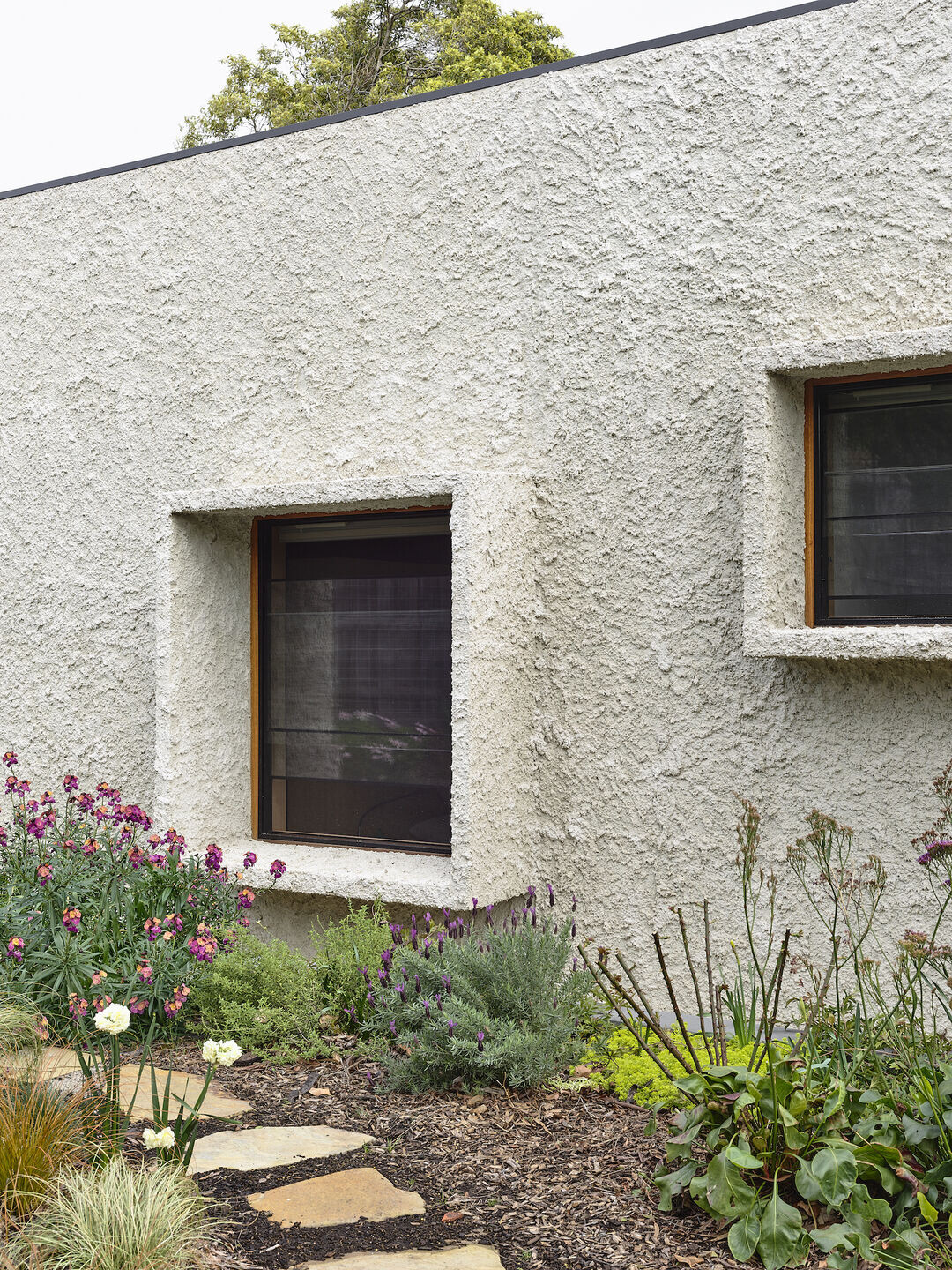 Materials Used:
Outdoor furniture and island bench stools: Tait.
Dining table and chairs: Great Dane Furniture
Stylist: Studio Georg
Custom timber windows: Pickering Joinery
Lighting: Richmond Lighting
Plumbing fixtures: Sussex living tumbled brass
Appliances: Fisher & Paykel
Door furniture: Designer Doorware
Custom pieces by local artisans:
Hugh McCarthy: bedside tables and library desk
Alex Earl: kitchen island pendant
Use Things: custom timber clothes drying rack on pulley system