The complex of seven luxury suites, is situated οn a plot of eight acres, in the outskirts of Preveza. The refined simplicity and minimalistic architecture bring "Meraviglia Slow Living" in total harmony with its surroundings.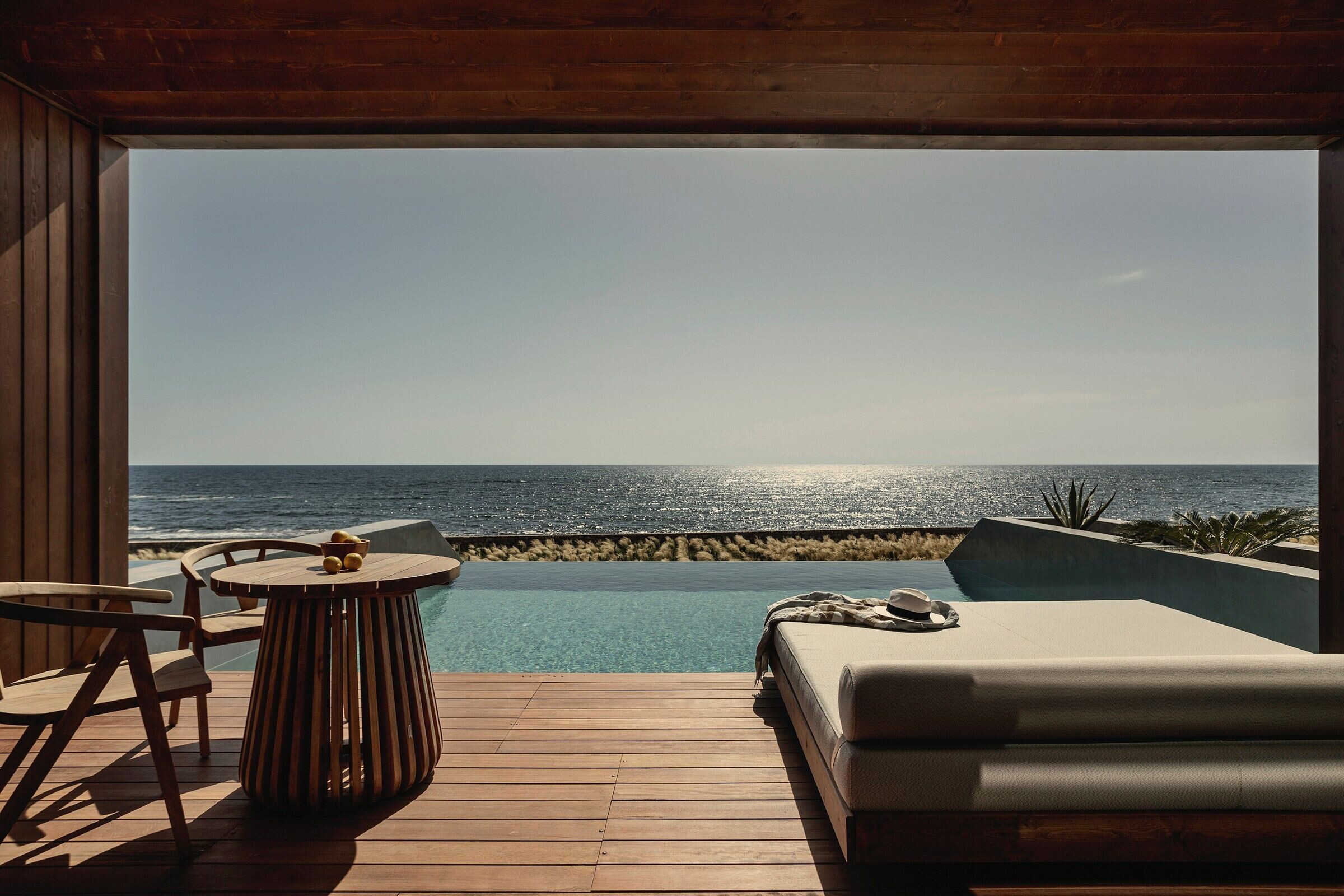 The suites are extended in two levels. On the ground floor, one will find the living area connecting to the exterior pool. From the bedroom on the first floor, the unobstructed views to the sea give a sense of place.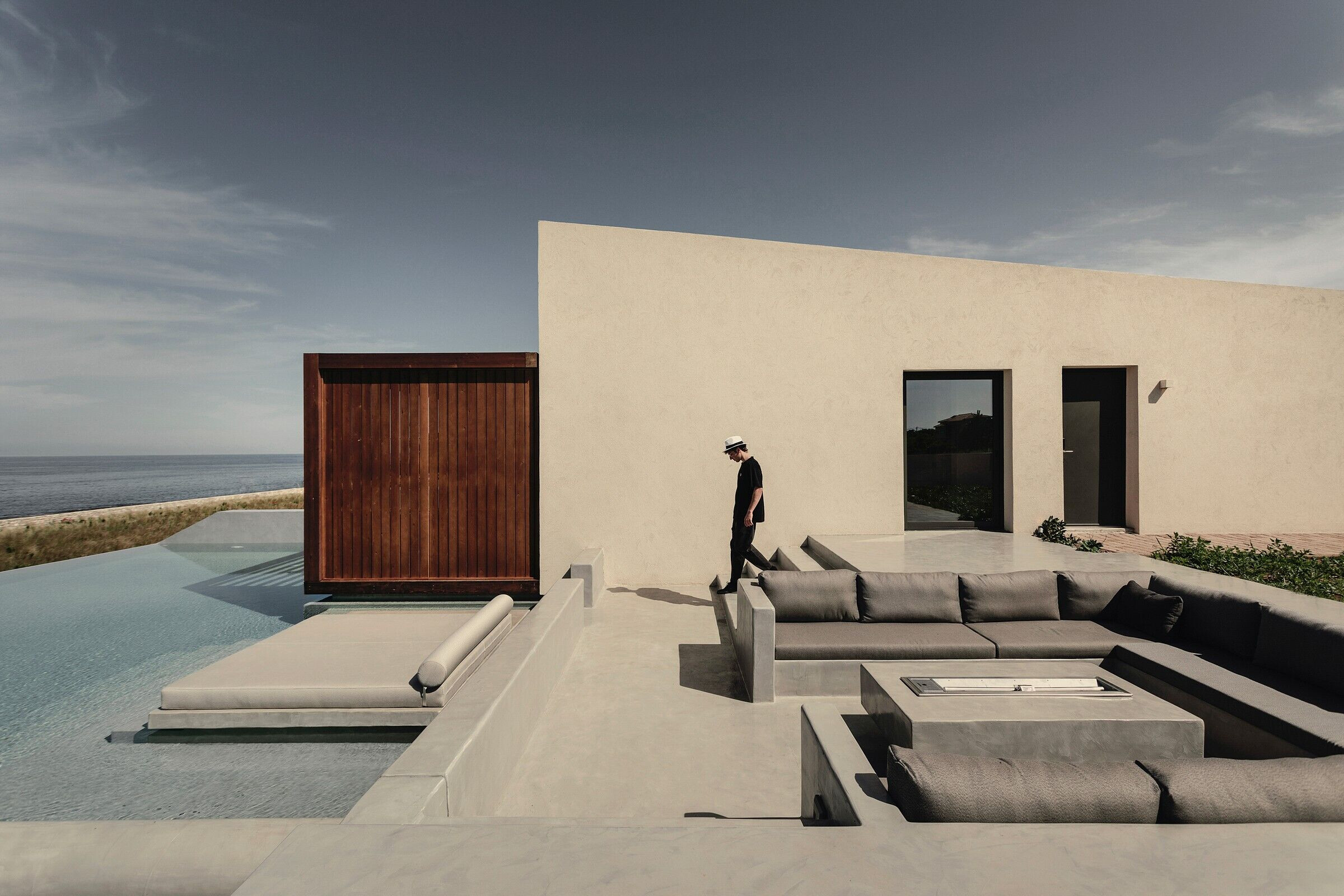 The Scandinavian design influences are combined with Greek furniture and local materials to yield an earthy warm feeling in absolute symmetry with nature. The outer stone wall was constructed using rocks from the surrounding area while in the courtyard, aged cobblestones are spread between the gardens.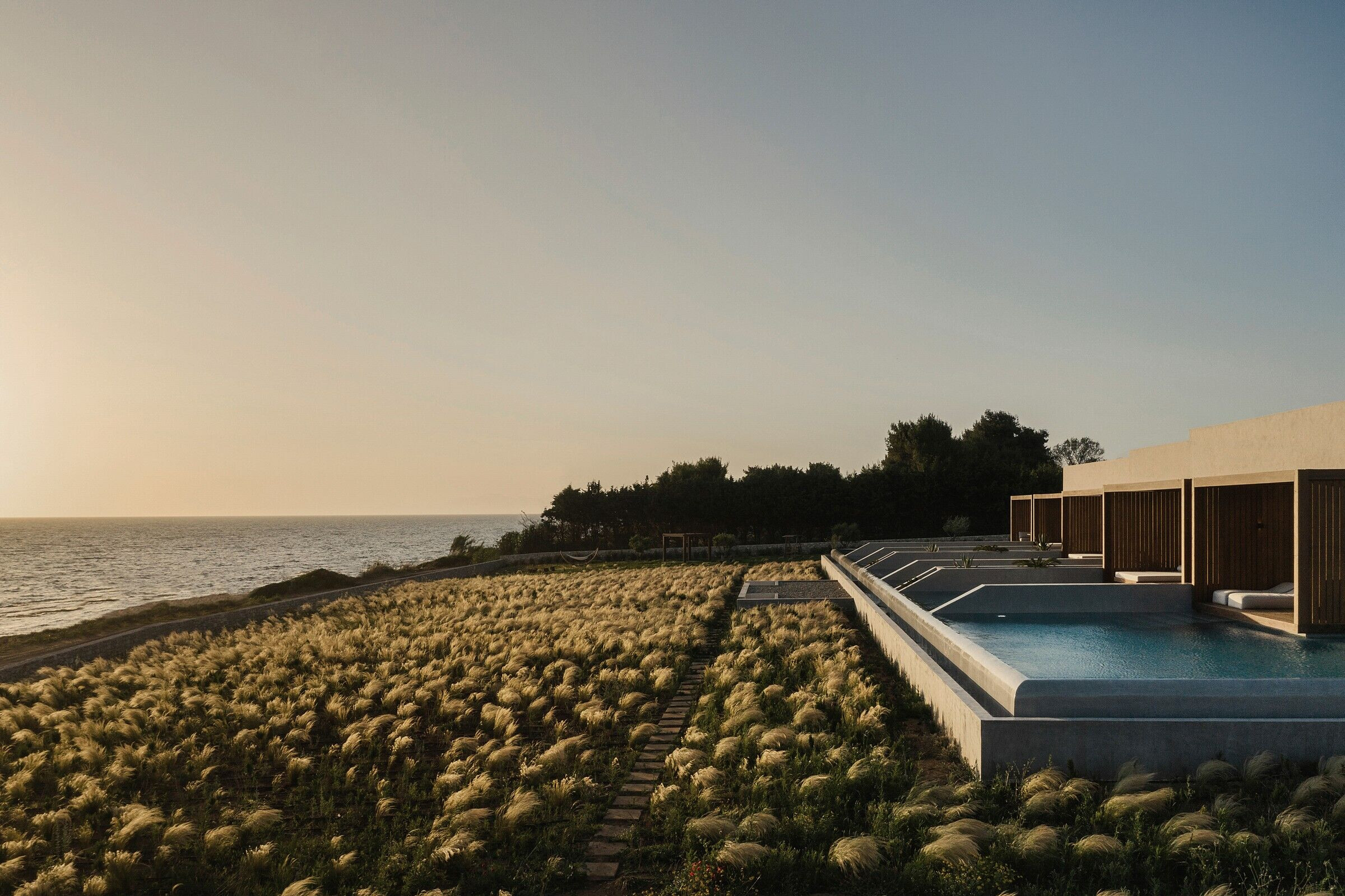 A lot of the suite's features, such as the mosaic floor, are handmade and all the materials are carefully chosen to allow for a carefree barefoot living.
The complex is surrounded by a lush garden of rosemary and lavender herbs. The roofs are also planted, assisting to maintain a pleasurable room temperature.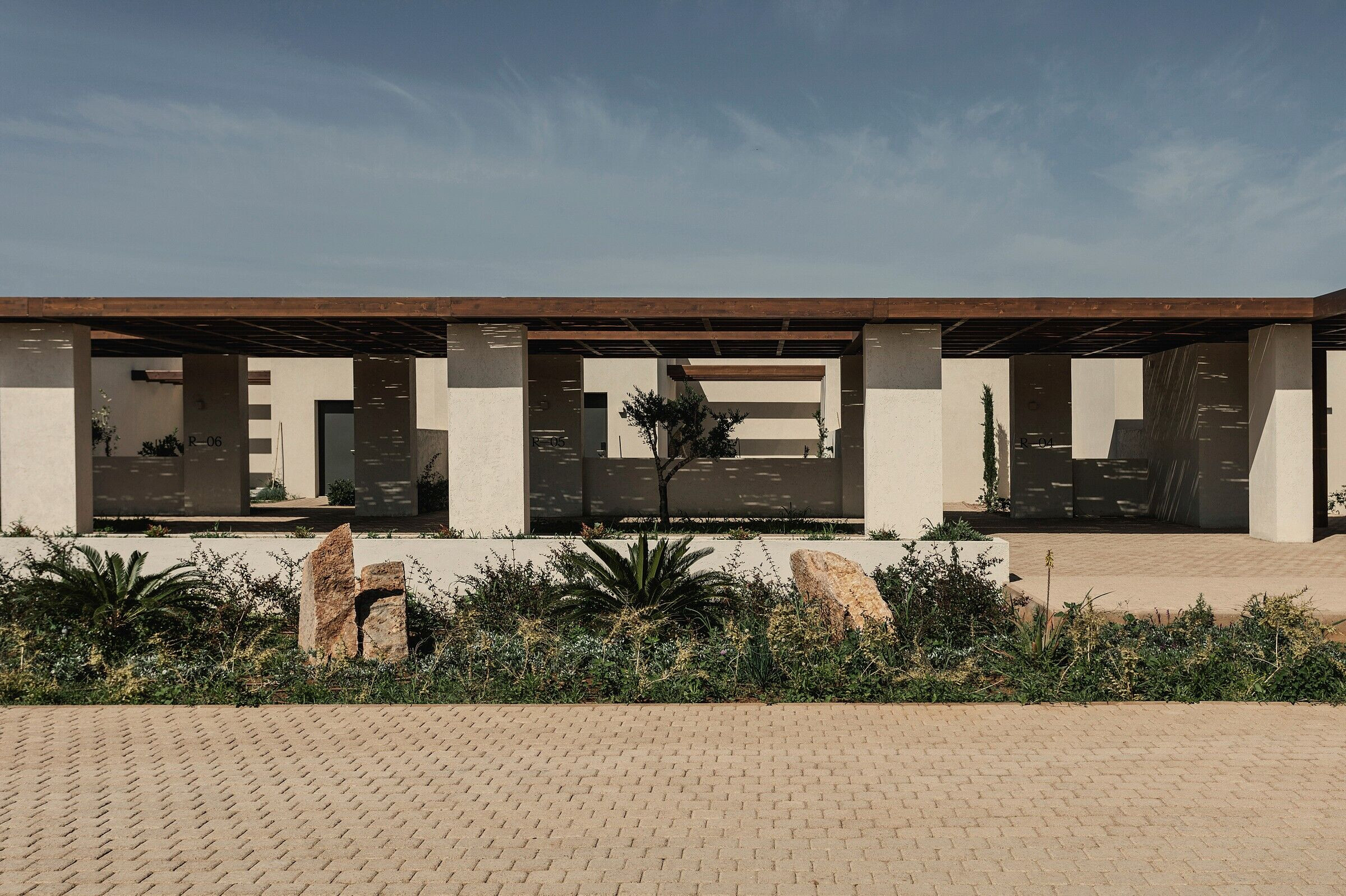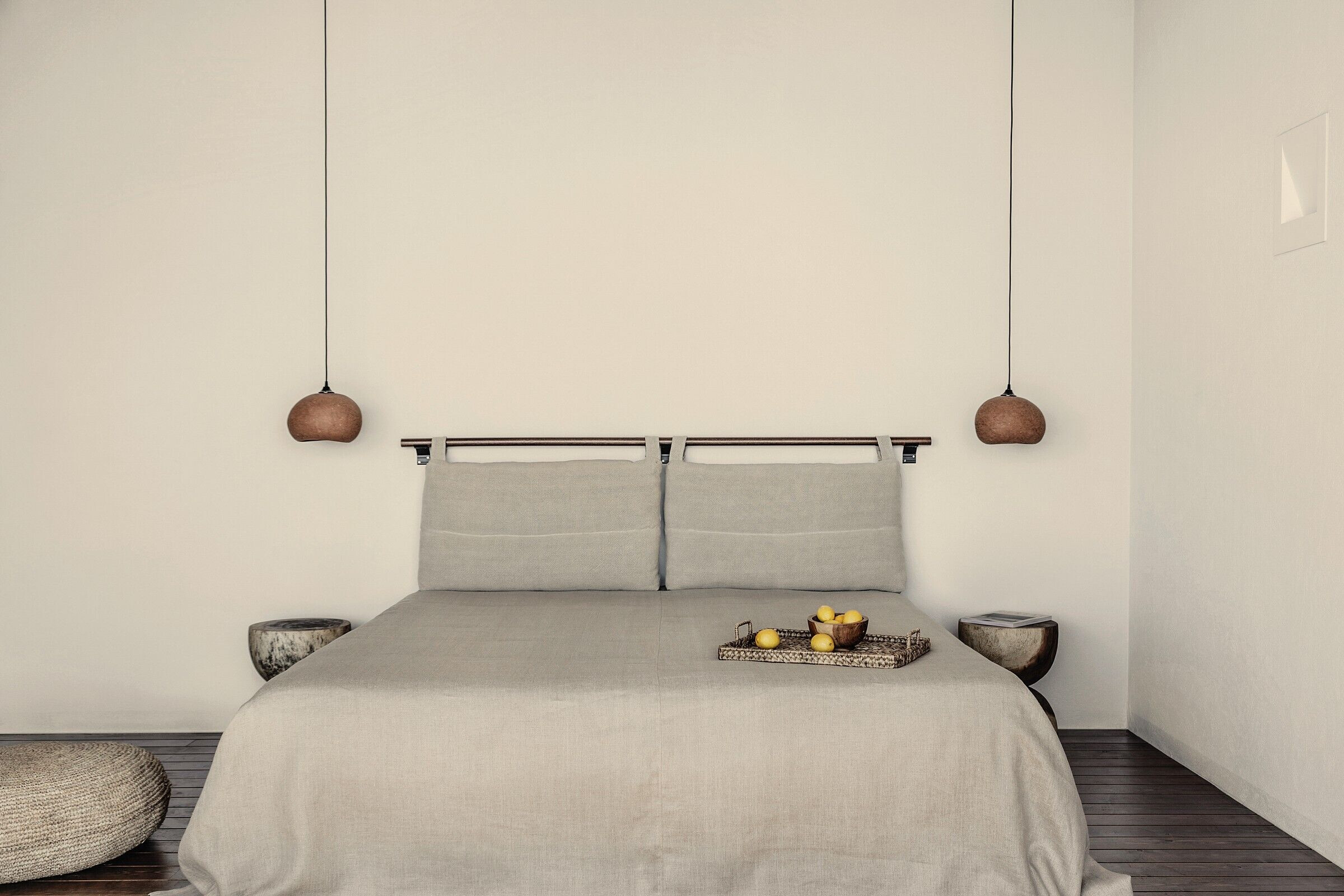 Masterplanning and Architecture: block722
Creative Direction: block722
Interior and Styling: block722
Lighting Design: Gruppo Linea Light
Landscape Design: Ztopos
Planting: George Matsiras
Client: Aris Tzimas
Contractor: Tzimas Constructions S.A.
Structural &MEP Engineering &Consultant: Tzimas Constructions S.A.
Βranding Strategy & Positioning: Design Ambassador, Vassilis Bartzokas
Design: Post Spectacular Office curated by the Design Ambassador
Material Used :
1. LIGHTING:
Ay illuminate B.V.
New Works
Zaira Collection S.A.
Katsiouleris, John D., Sole Shareholder Co. Ltd
2. SPECIAL WOOD CONSTRUCTIONS:
Techniki Xylou ltd.
3. DOOR&WINDOWS| SPECIAL WOOD CONSTRUCTIONS:
Trianti Furniture
4. FLOOR-MOSAICS:
TZIMAS CONSTRUCTIONS A.E.
5. APPLICATION OF WALL TECHNIQUE:
TZIMAS CONSTRUCTIONS A.E.
6. DOORS:
Exalco-M. Stasinos
7. SANITARY WARE:
Patiris, Nic. S.A.
8. MATTRESSES:
COCOMAT
9. FABRICS:
Guy Laroche-Vagenas S.A.
10. CURTAINS&PILLOWS:
Vagenas S.A.
11. TABLES:
ENKA Moisiadis
SET S.A. The Design Workshop
12. SIDE TABLES:
Mos Design
Wood and Stone(Aroma Ioniou S.A.)
13. DINING CHAIRS:
ENKA Moisiadis
SET S.A. The Design Workshop
14. OBJECTS:
Wood and Stone (Aroma Ioniou S.A.)
Box Interiors IKE