Italian architect Simona Alù completes an apart- ment renovation in Milan, Italy.
The 1930s original building features high ceilings, plaster frames, and herringbone parquet that interact with the new finishes and tailoring inter- ventions designed by the architect.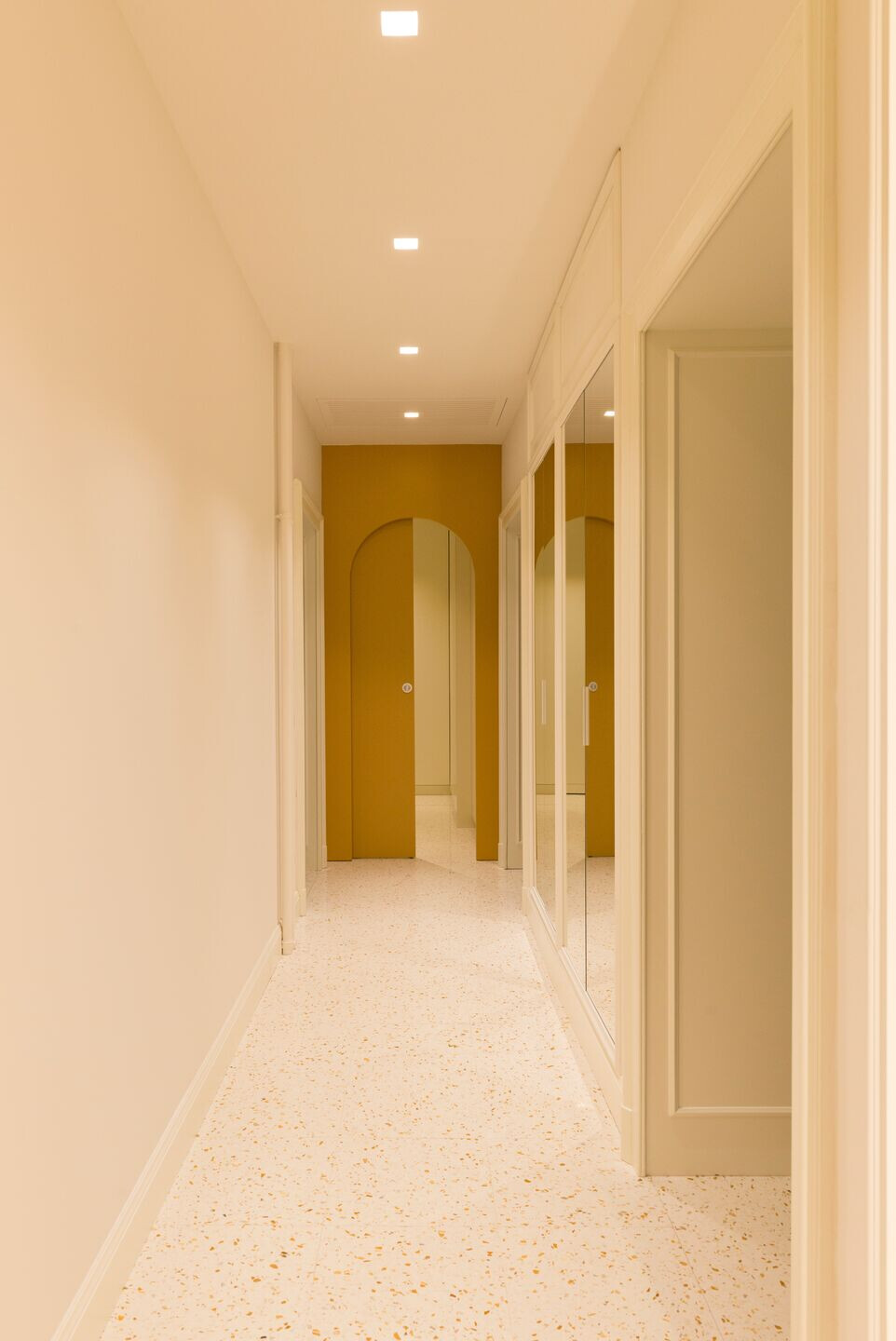 The architectural project was tailored to the client's needs and desires: to combine two overlapping apartments creating one single unit able to host a young family.
The special request was to create a connecting element with a scenographic look without scari- fying too much space from the house. The linear staircase was positioned on the opposite wall from the entrance like the backdrop of a thea- tre. The result is a staircase with a contemporary soul that dialogues with the style and history of the building, a sculptural and floating element.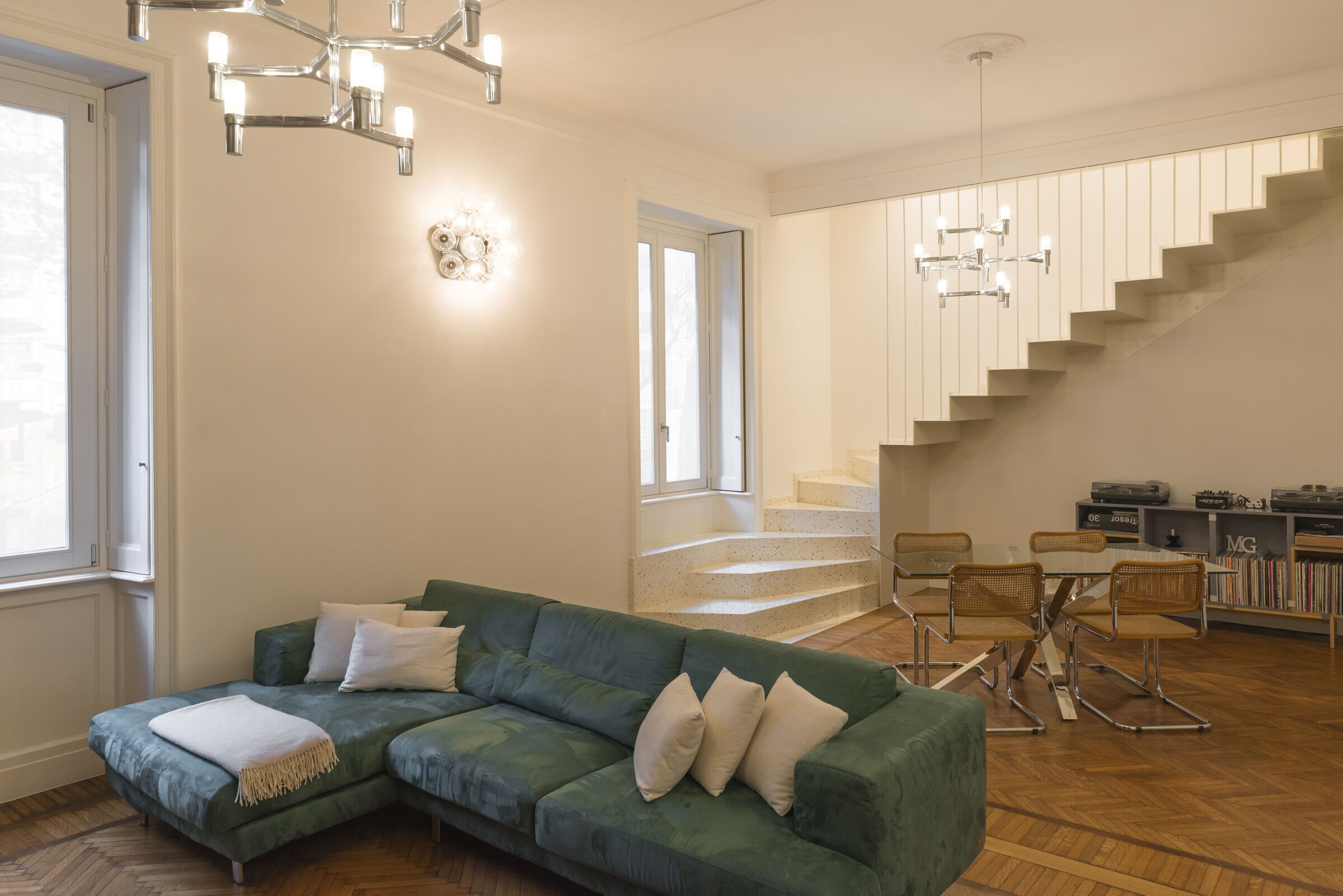 The 170 square meters apartments is divided in two floors. The ground floor reserved for the living area contains a large open space that merges with the living room and the dining room, result of the removal of the old master bedroom. The upper level, completely redesigned, accom- modates a studio and the sleeping area with a master bedroom in suite, a kid's bedroom, a third bathroom and a laundry.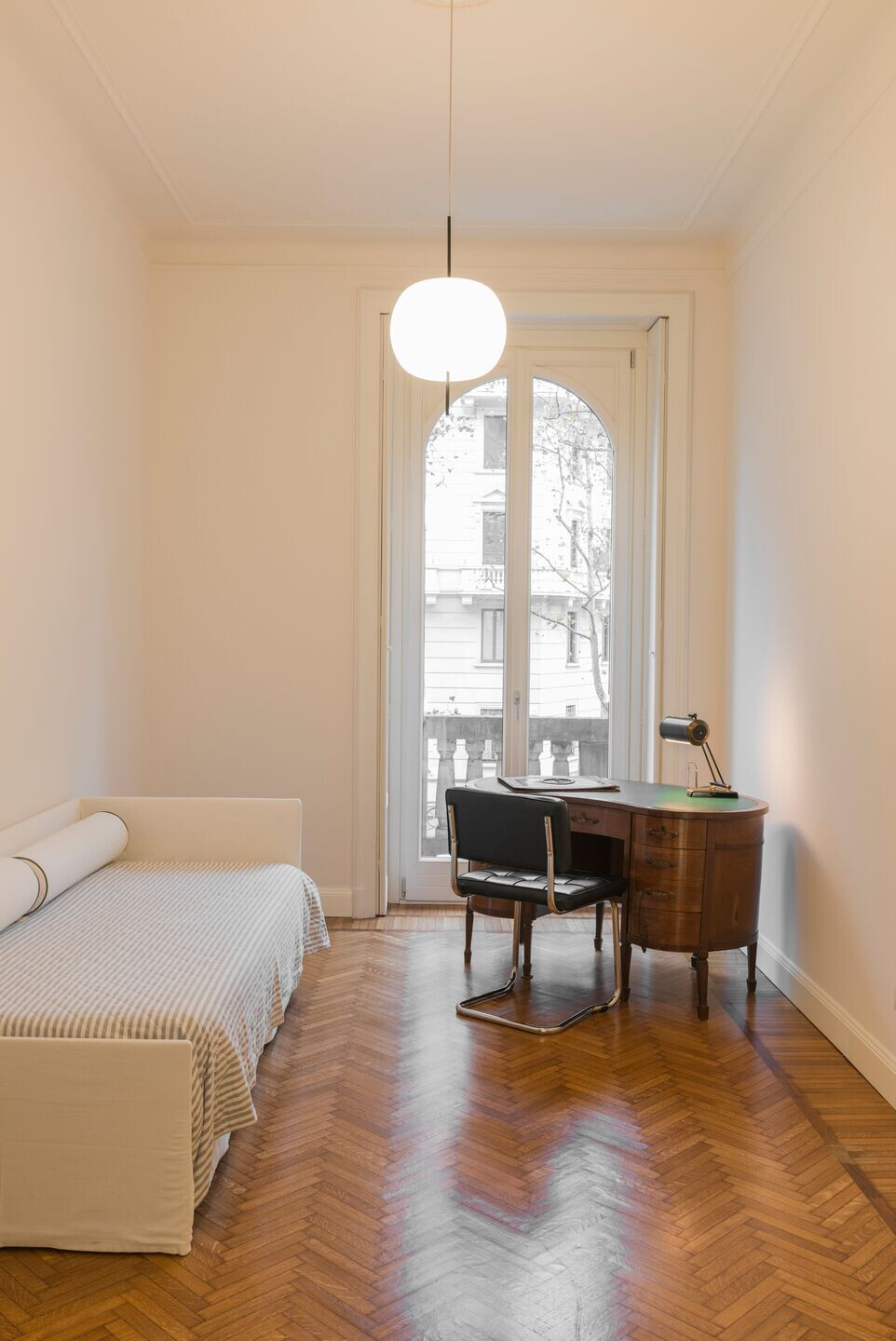 The long corridor is another catching element of the house. These one, seems wider thanks to the optical effect of the mirrored wardrobe. The heating pipes left in sight intentionally strengthen the dialogue between the past and the present. Likewise, the old doors that were renovated to update its design.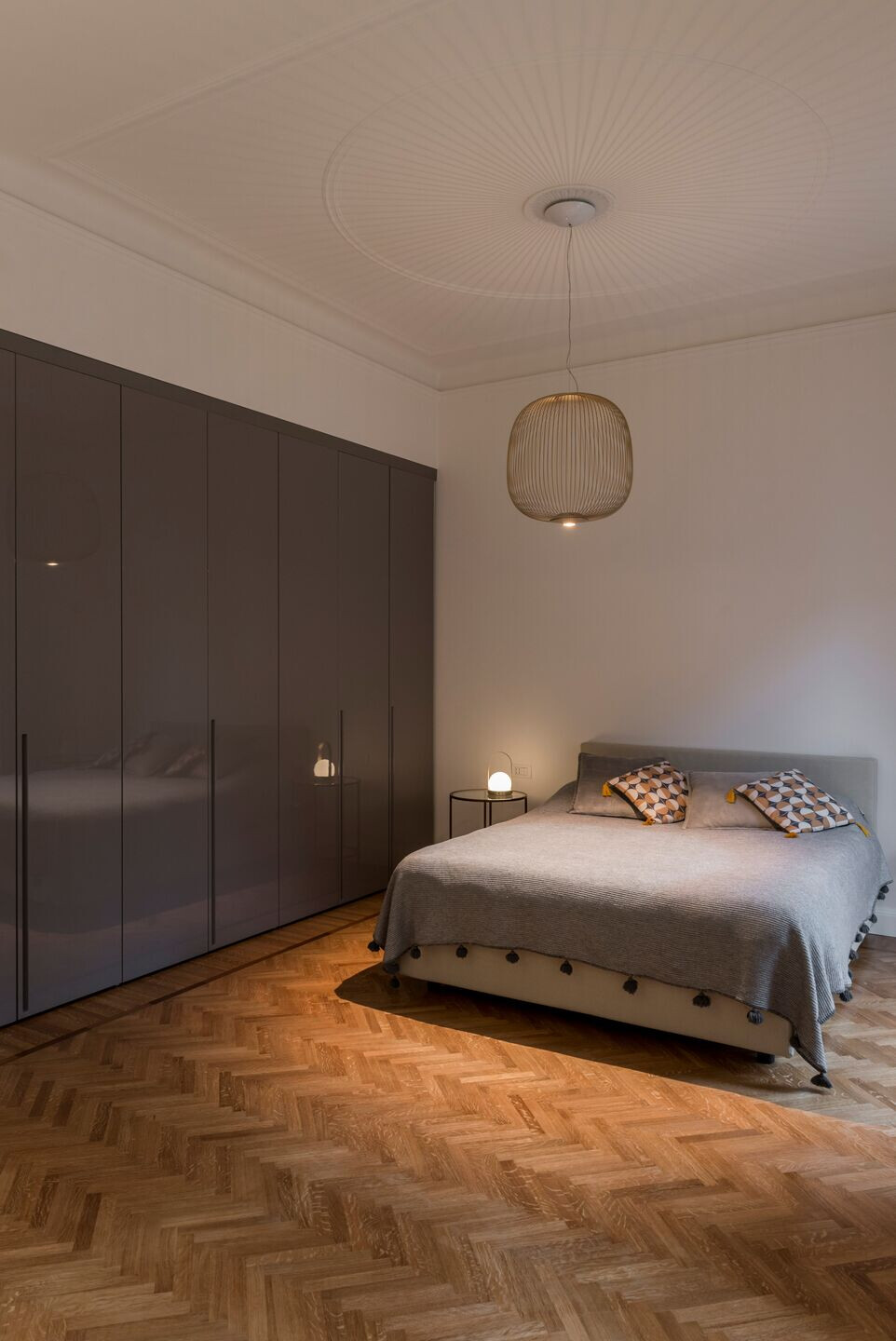 The mood is light colors and white. The Terrazzo floor, like the covering of the staircase, empha- sizes the continuity between the two levels. One pastel tone, a sage green, appears on the walls of the bathroom.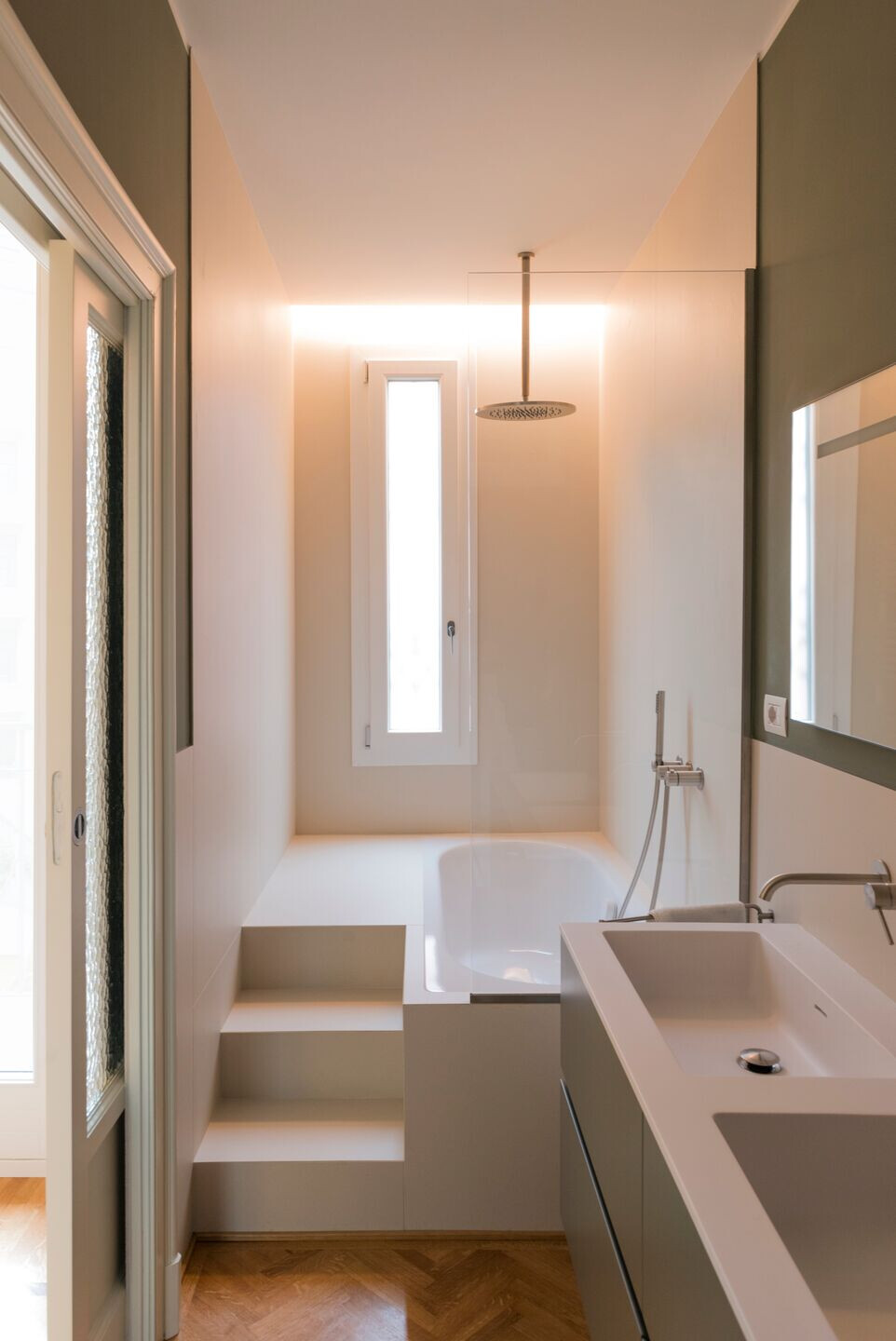 The one breaking element is the Indian yellow sliding door in the back of the corridor filling the dwelling with bright energy.
A classic style with contemporary details charac- terizes the interiors. A mix of vintage and modern furnishings, special attention to lighting, and the choice of light fixtures make the environment welcoming, familiar, and very personal.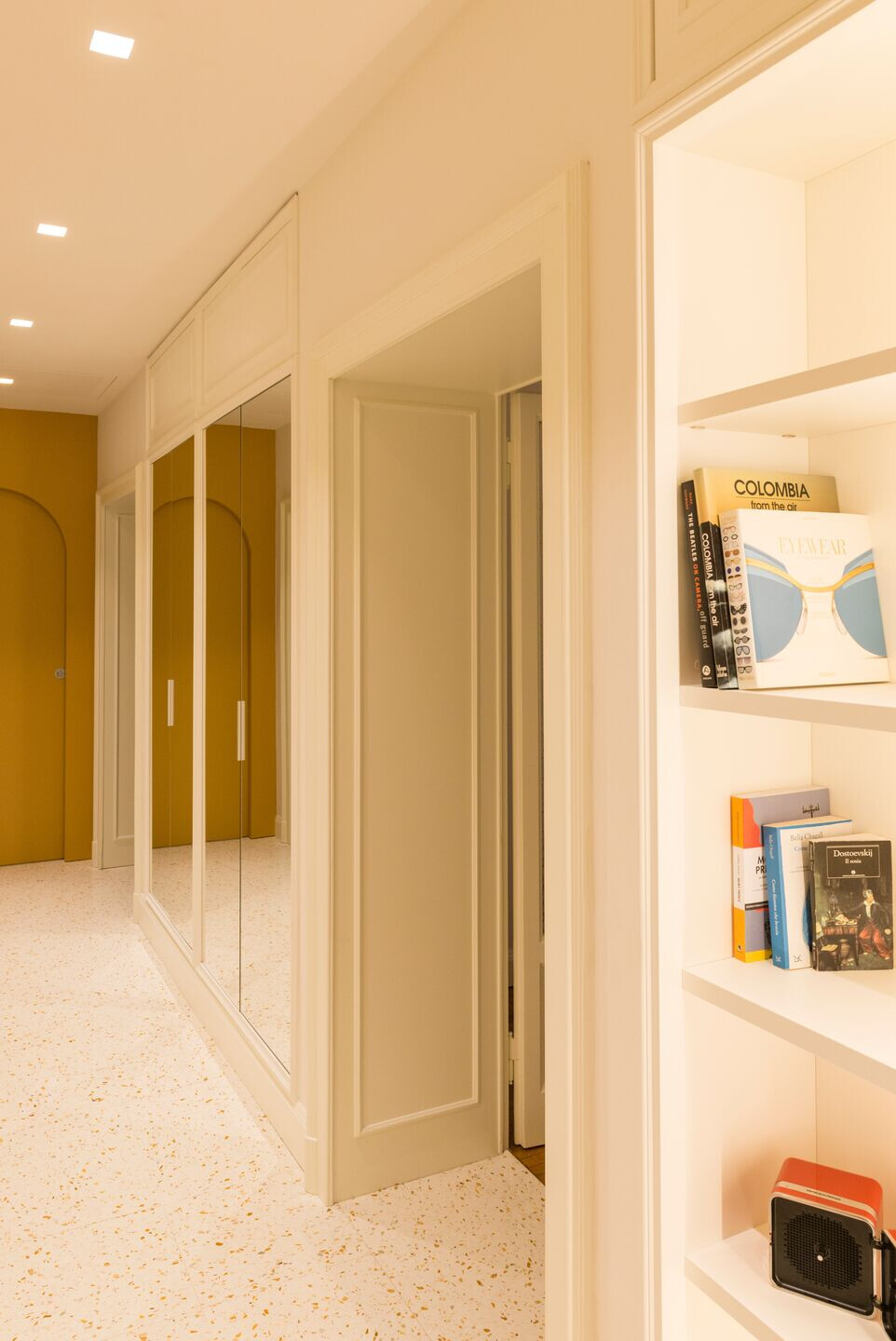 Team:
Architect: Simona Alù
Engineer: Eng. Gabriele Porta
Photographer: Matteo Felici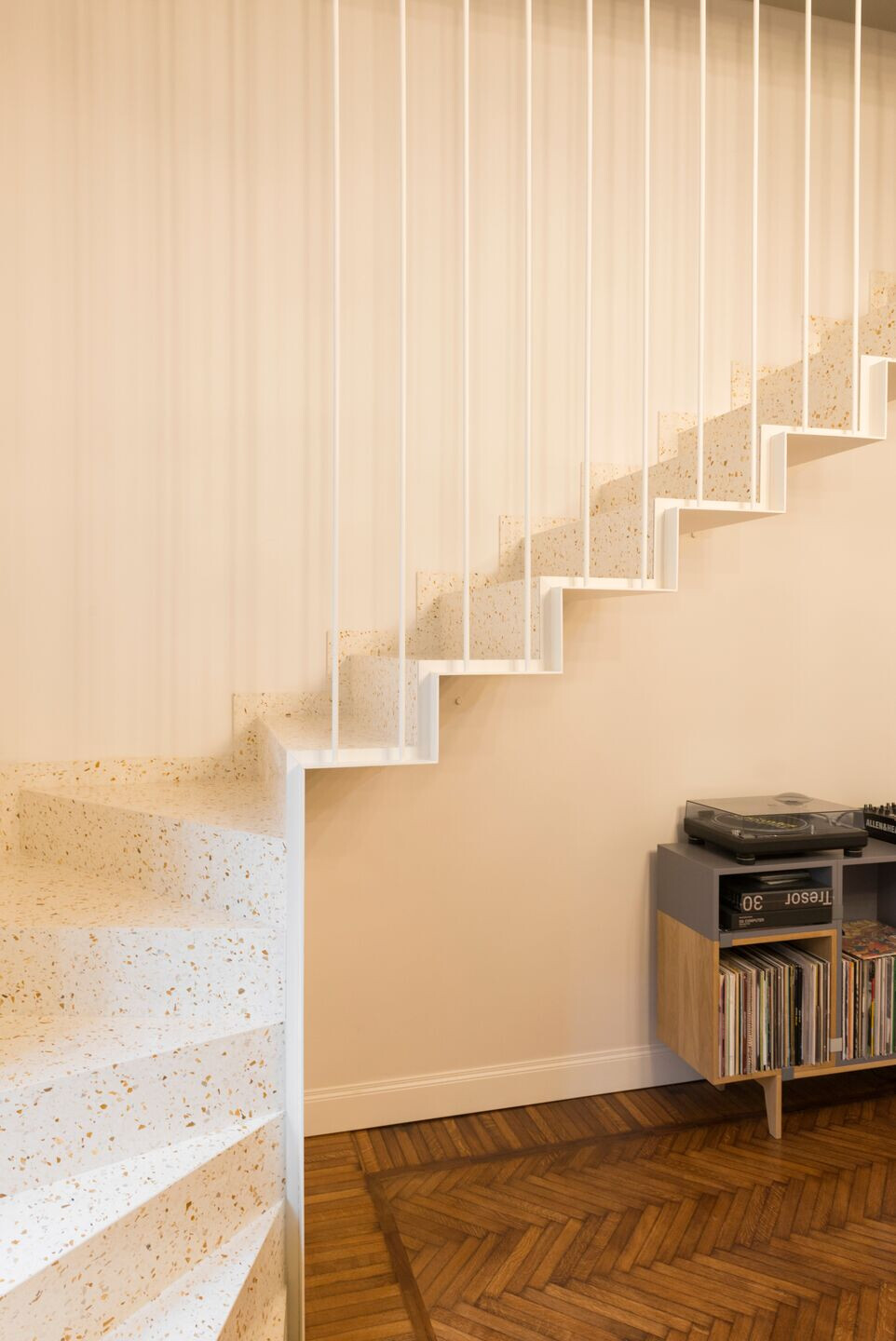 Materials used:
FLOORING (stair +corridor)
Architecural Terrazzo - Agglotech Ca d'oro - SB 140, polished
WALL CLADDING
Bathroom 01: Laminated porcelain stoneware
Cotto d'Este, Kerlite 5 plus - ivory
Bathroom 02: Fap Ceramiche, Color Avio
KIDS ROOM'S WALLPAPER: Boråstapeter, Newbie - Forest Friends
HANDLES (internal doors + windows): Olivari, Lama
BATHTUB: Kaldewey - Classic Duo 105
TOWEL RAILS: Tubes, Bath 20
FITTING: Gessi, 316 steel brushed
SHOWER-BOX: Vismara - Serie 7000 - ZN
MIRRORS: Casabath
LIGHTING
Living
Ceiling lamp: Nemo, Crown Minor
Wall lamp: Flos, Teraxacum 88 wall
Stair
Leceplan, E04 matt brass
Master bedroom
Ceiling lamp: Foscarini, Spokes 2
Wall lamp: Fontana Arte, Lunaire
Bedside lamps: Menu, Carrie Lamp
Kids room
Wall lamp: Ingo Maurer, Lucellino
Floor lamp: Rotaliana, Prince
Studio
Ceiling lamp: Kundalini, Kushi Suspension