Initial situation
A new replacement building on Bahnhofstrasse 16 in Roggwil enables Mr Markus Meyer to reinvent the services of his pharmacy. After 18 years on Bahnhofstrasse 25, it is now time for a departure into a new era.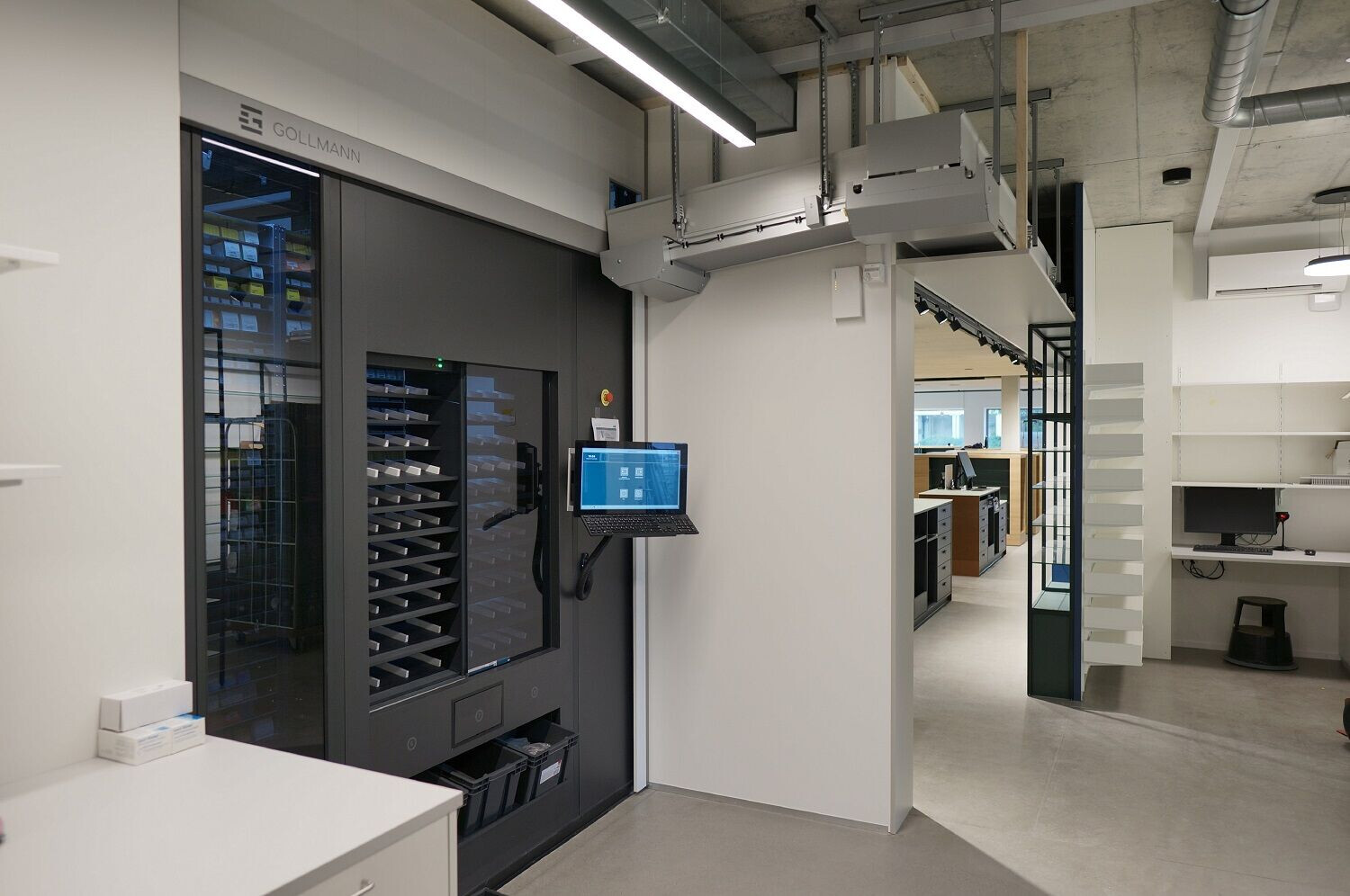 Task
Due to changing customer needs, new services, comfort and discretion, contemporary quality is ensured with the help of a modern infrastructure, natural and authentic furnishings, and new technologies – in keeping with the philosophy of the Meyer Pharmacy:
«We do everything in our power to satisfy our customers.»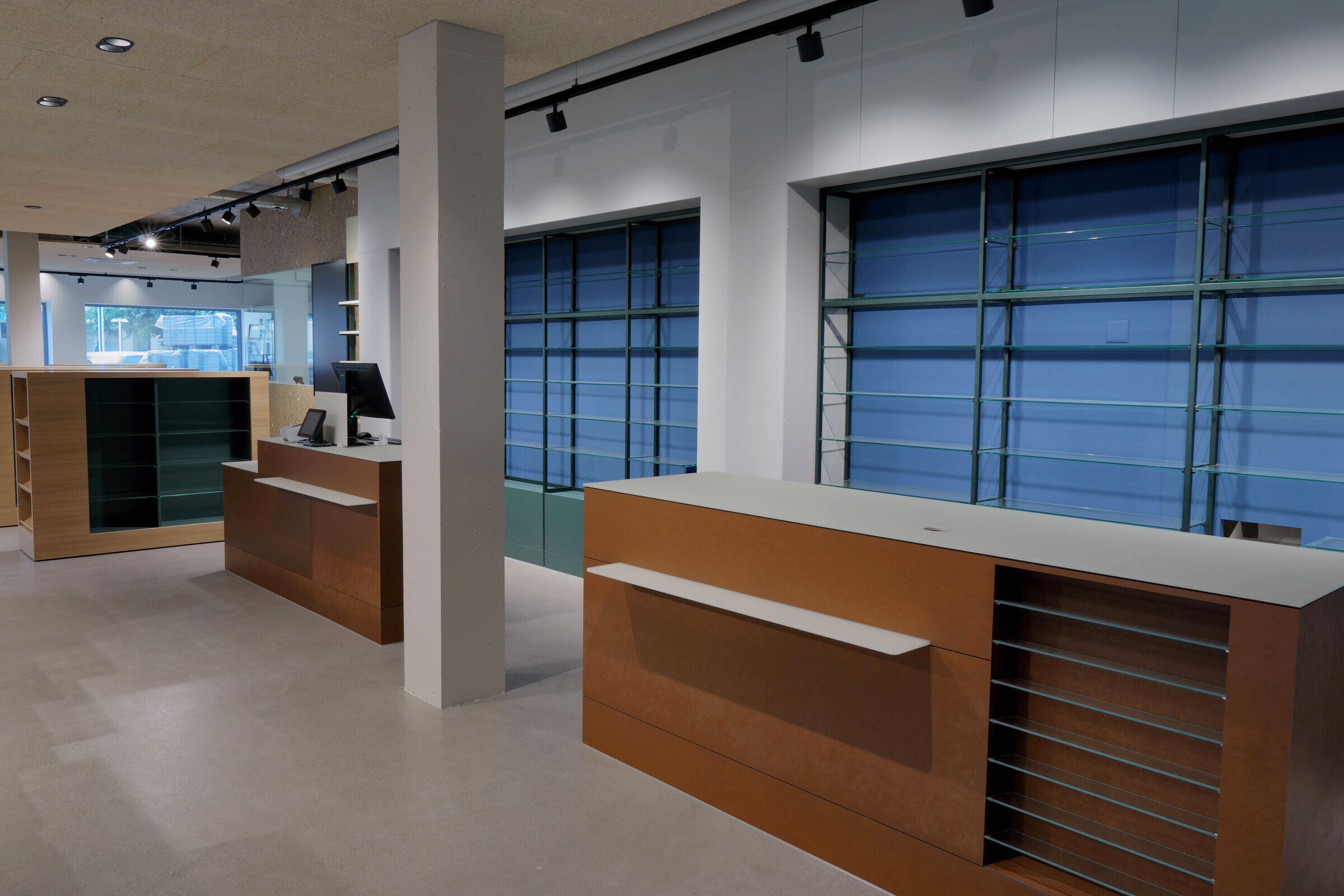 Solution
Customers initially experience the health-promoting products when they enter the pharmacy. Various organic foods are displayed on shelves made of chestnut wood. This is complemented by a bistro. «Meet friends at the Meyer pharmacy» is Mr Markus Meyer's slogan – here you can meet people and enjoy the finest organic coffee, with your choice of organic milk or oat milk. A market stall in the entrance area as well as a floor-to-ceiling forest image from the region promote local and seasonal food.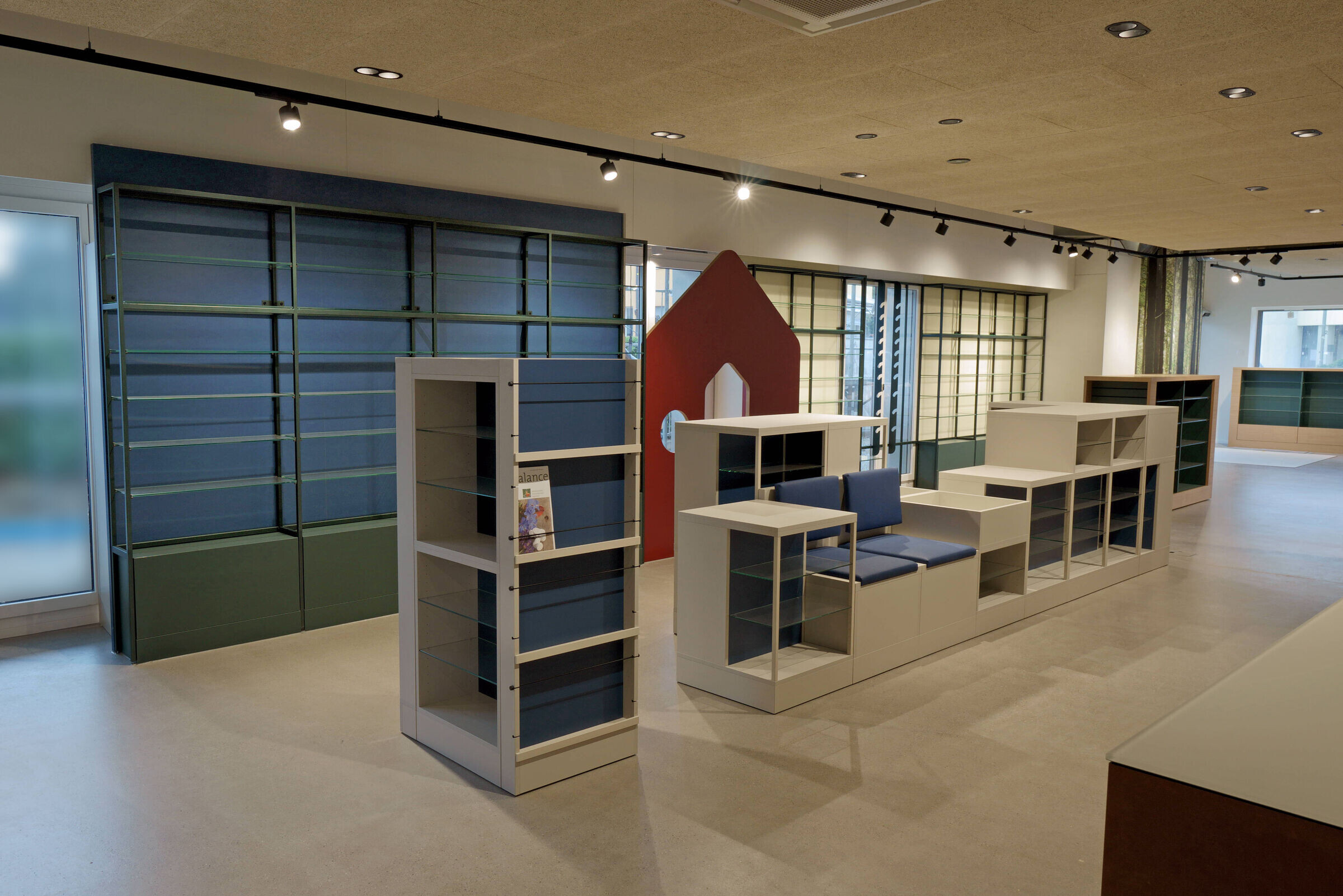 Opposite the spagyric laboratory with an insight into the production process, the laboratory walls are covered with an organic natural surface of straw and daisies. The entire front section of the pharmacy conveys a nature-based experience for health promotion. At the back of the pharmacy, the medicines are displayed with a dark blue background and white surroundings to enhance serious advice at the counters. In addition, in the immediate vicinity, the generously designed consultation rooms are displayed in soft green and yellow pastel colours.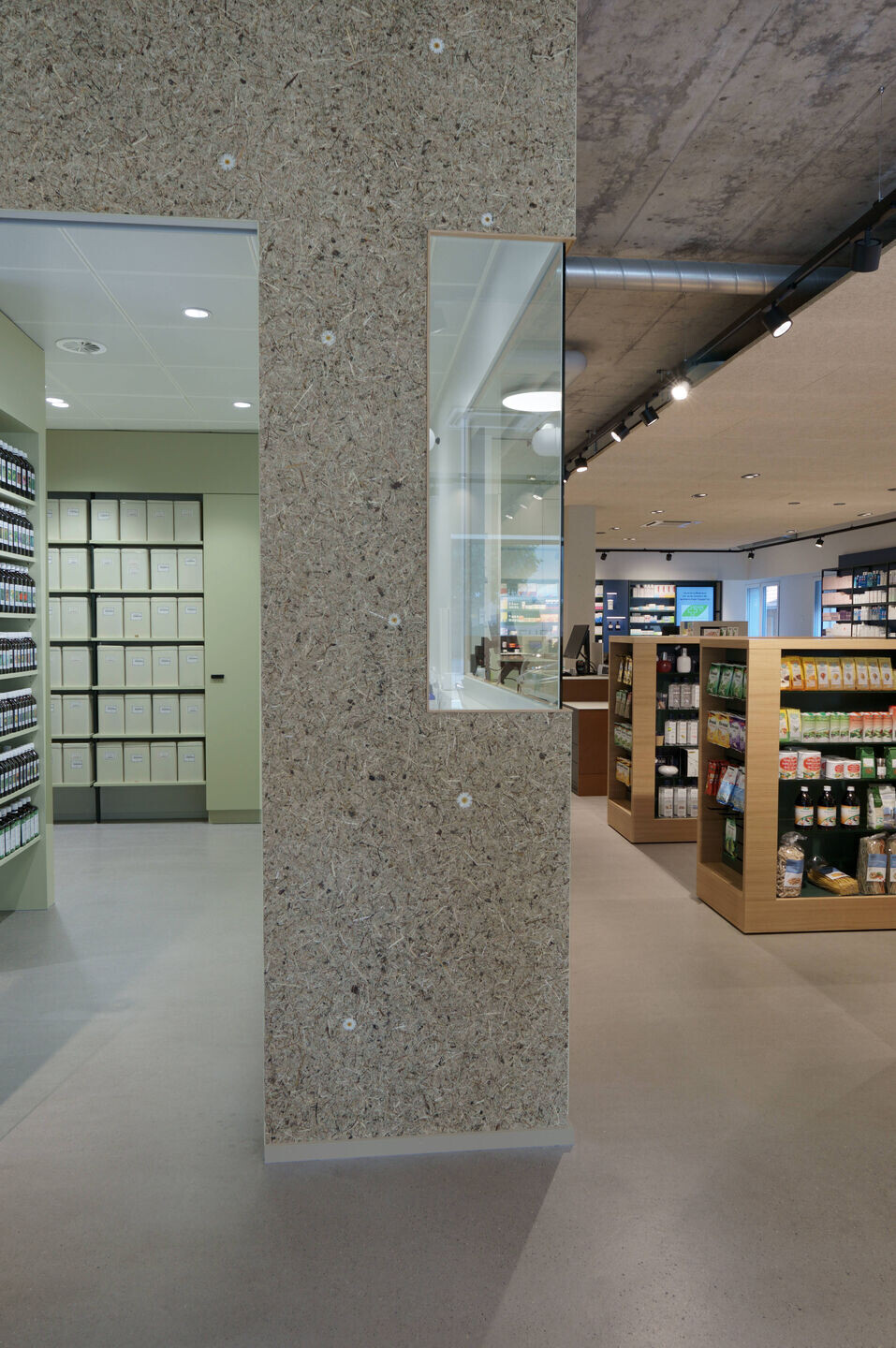 A medication system with conveyor belts and four dispensing points distributed throughout the sales area were also planned. For customers who choose to pick up their items after closing time, a pick-up point with a connection to the vending machine was added to the façade.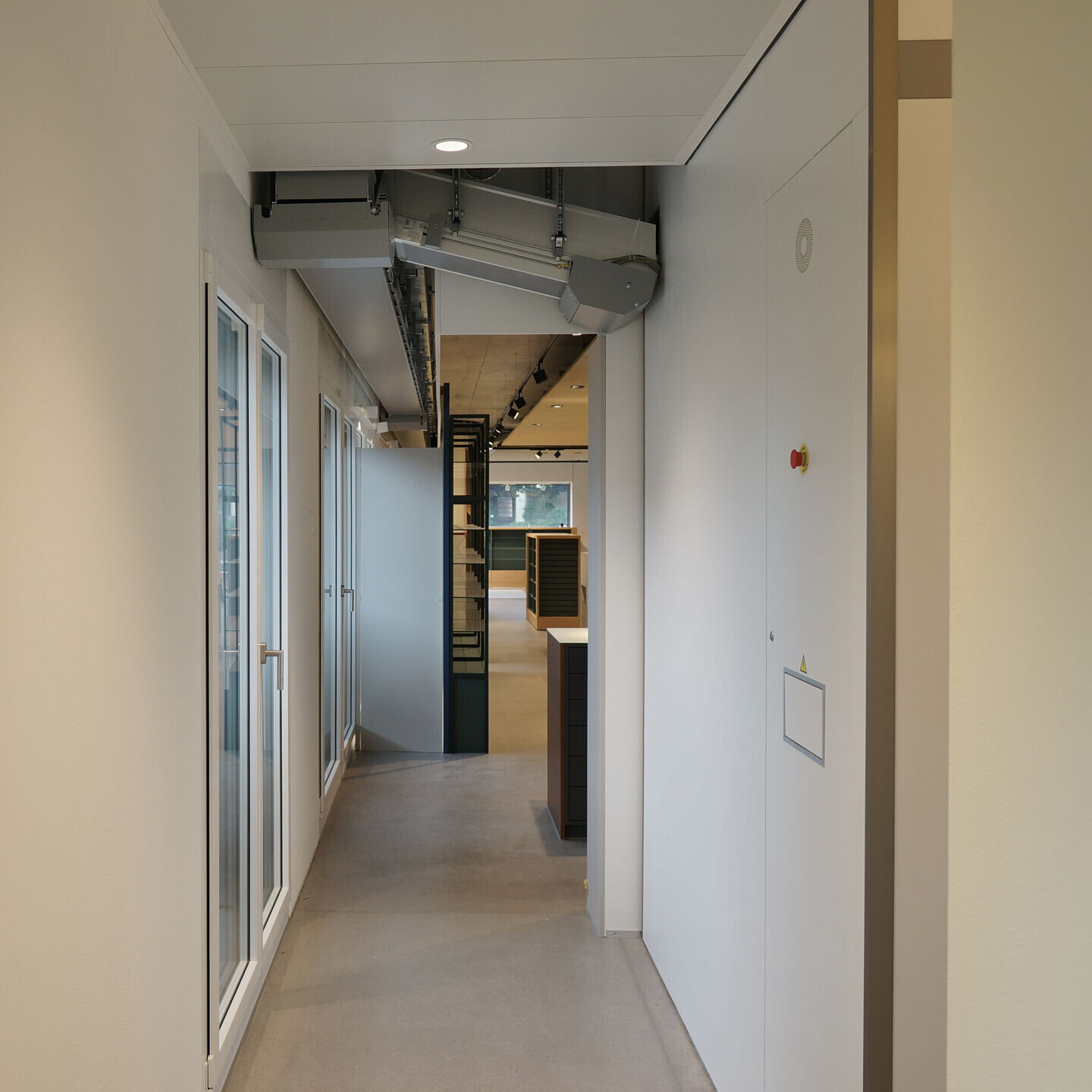 In addition to the back office and the goods receiving area on the ground floor, a laboratory, a room for preparing medicines as well as a storage facility, archives and storage space for flammable substances were implemented in the basement. On the upper floor there is a therapy room as well as an office, meeting room and staff rooms, all decorated in soft and warm yellow hues.