Suspended between two beautiful California hills, this remodel spans a creek and boasts a waterfall in the back yard.
A human-made object in nature may exist in harmony or disparity. Our goal was to deepen this home's connection to the environment, creating a place where our clients can live immersed within an exceptional landscape. Taking care to protect and restore the land, we suspended the renovated house between two wooded hills, where it overlooks a rushing waterfall and spans the creek below.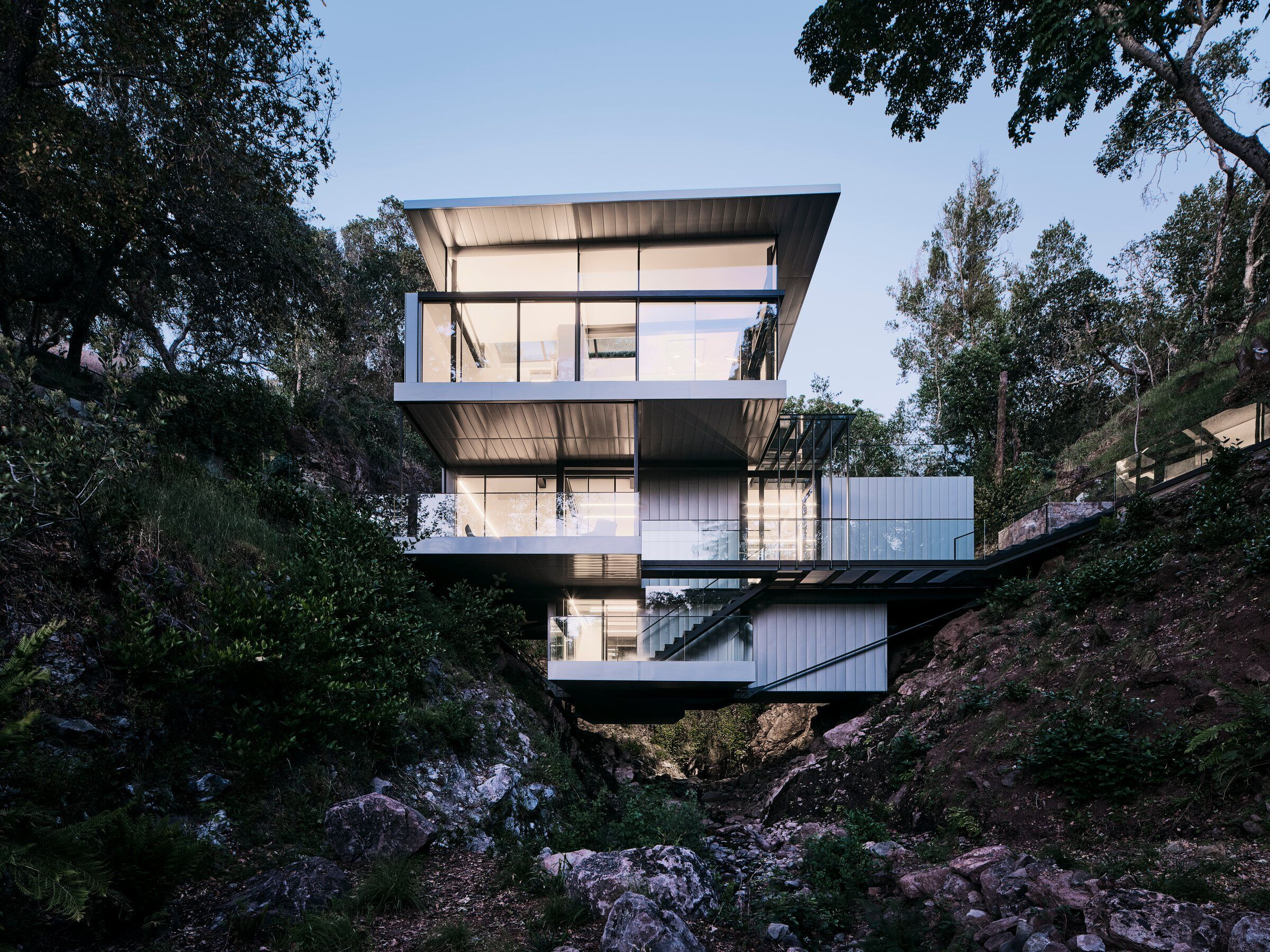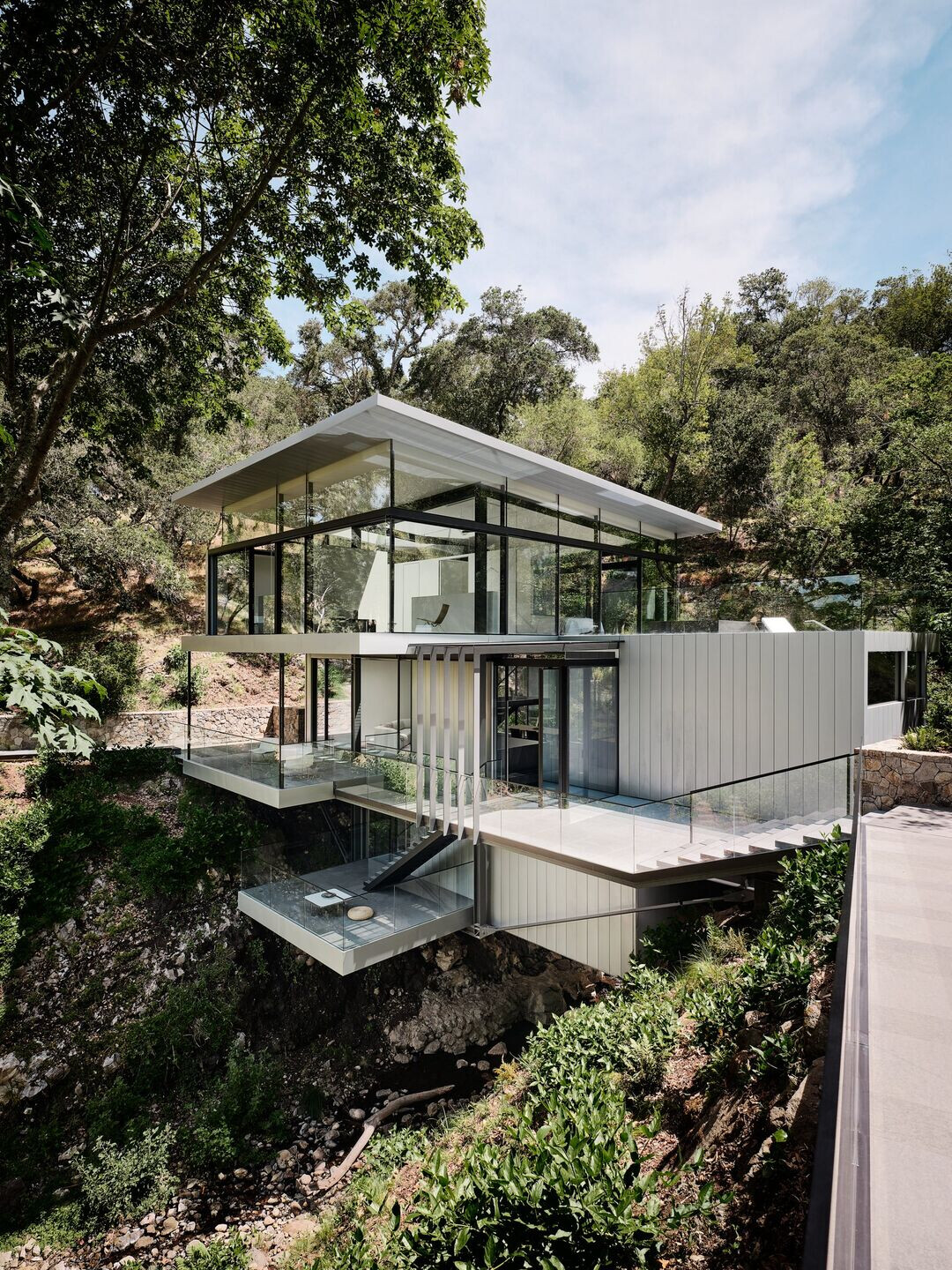 To build such a house anew is no longer allowed in this part of California, but following strict guidelines, we reconceived an existing structure, transforming the relationships between home, water and land. The remodel retains 50% of the existing wood structure, inserting a steel frame beneath the original floors and anchoring the home to the rocky hillsides – thus allowing us to remove supporting columns from within the creek bed.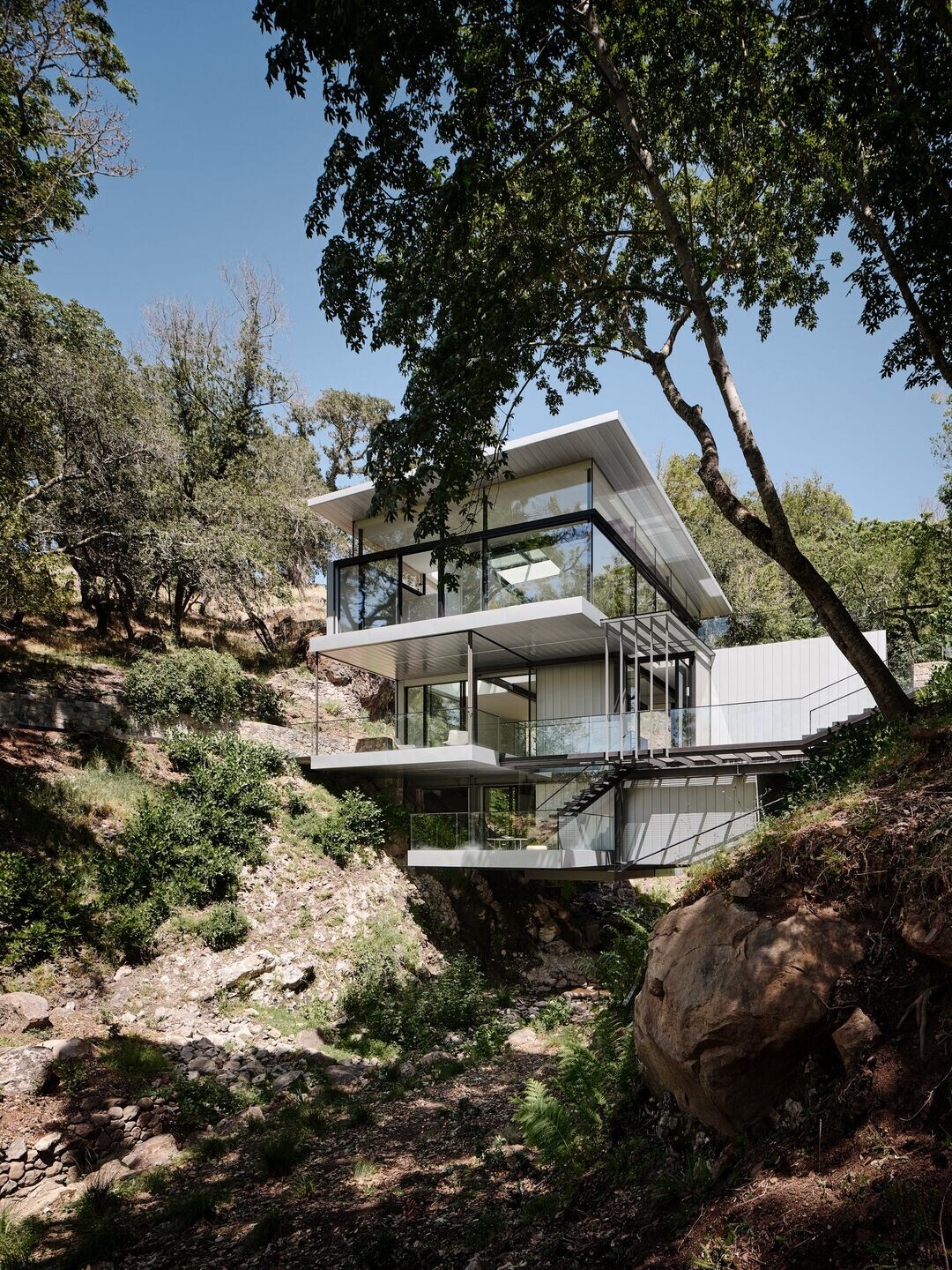 Transparent materials, and carefully considered sight lines merge the home with this dramatic landscape. The two lower floors stay studiously within the confines of the original building; yet the minimal glass volumes, steeped in the surrounding beauty, feel more expansive than ever. A third floor addition strikes a more slender profile facing east, to engage the breadth of the site. The experience is one of being in nature and also humbled by it.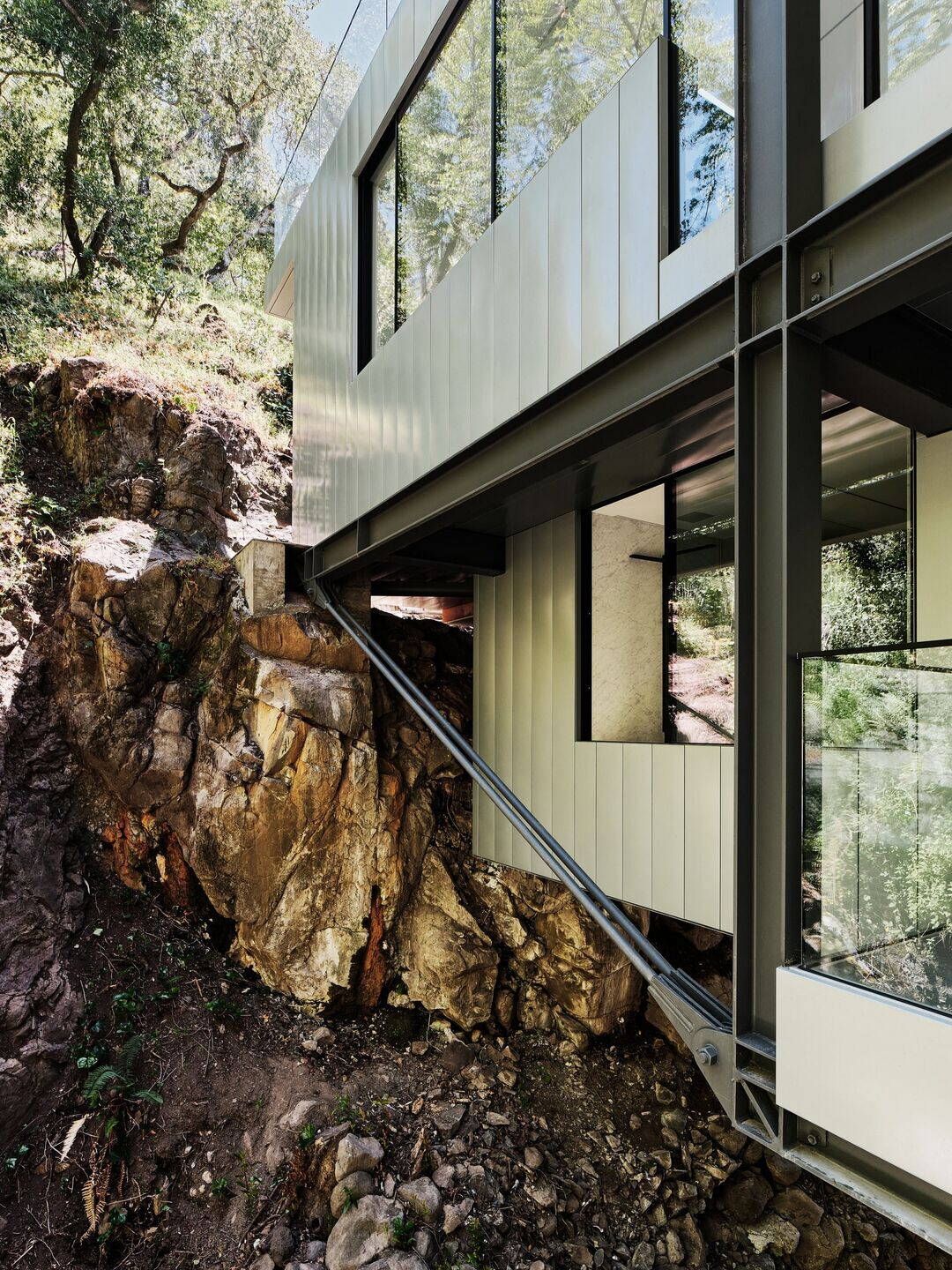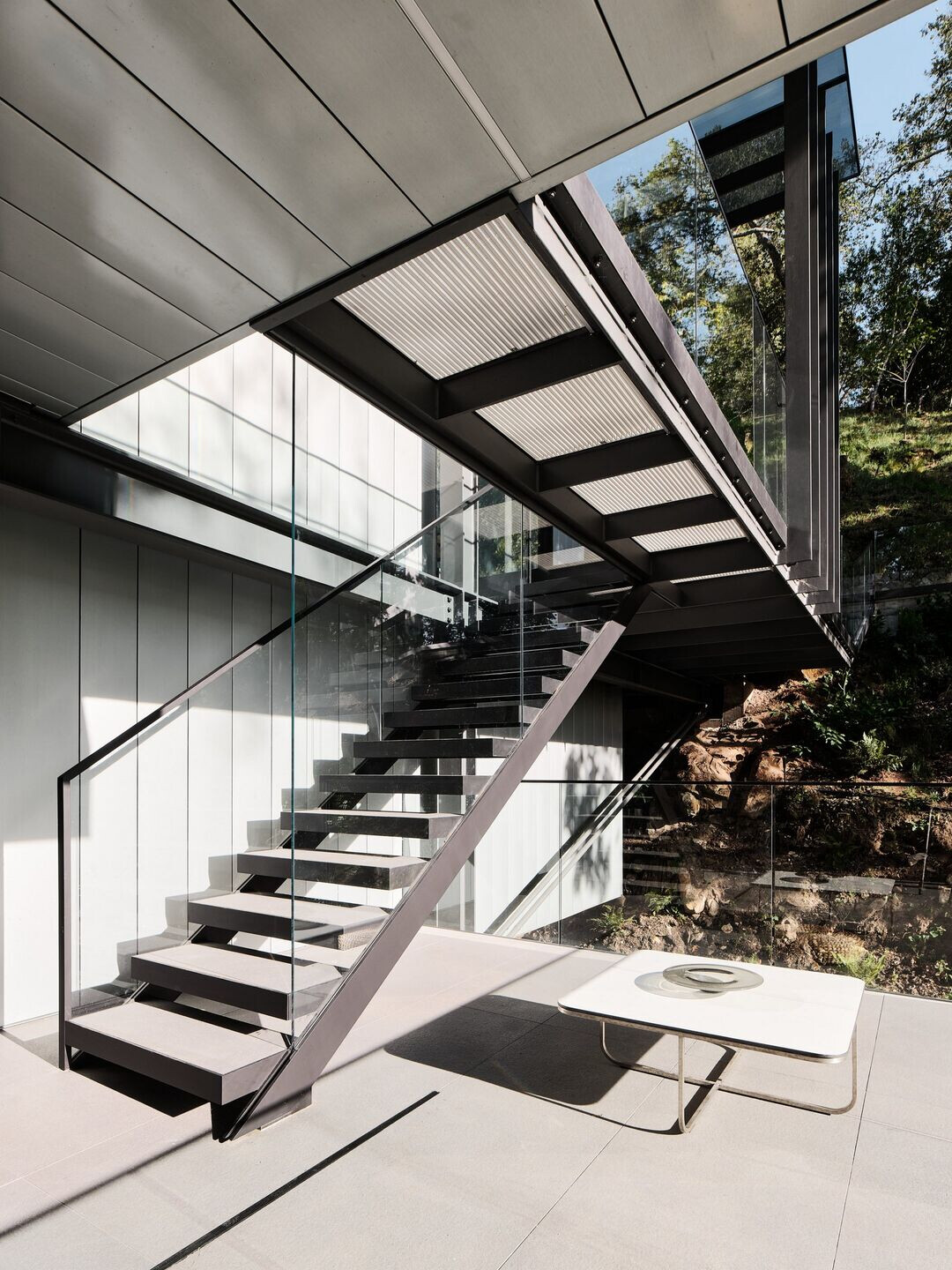 Team:
Architect: Anne Fougeron - Fougeron Architecture
Builder: Dermot Barry, Barry Builders
Landscape Architect: Johnson Bullard, Ground Studio
Structural Engineer: Paul Endres, Endres Studio
Civil Engineer: Steven Brown, Adobe Associates, Inc.
Geotechnical Engineer: Linda Liang, Rockridge Geotechnical
Biologist: WRA Environmental Consultants
Photography Credit: Joe Fletcher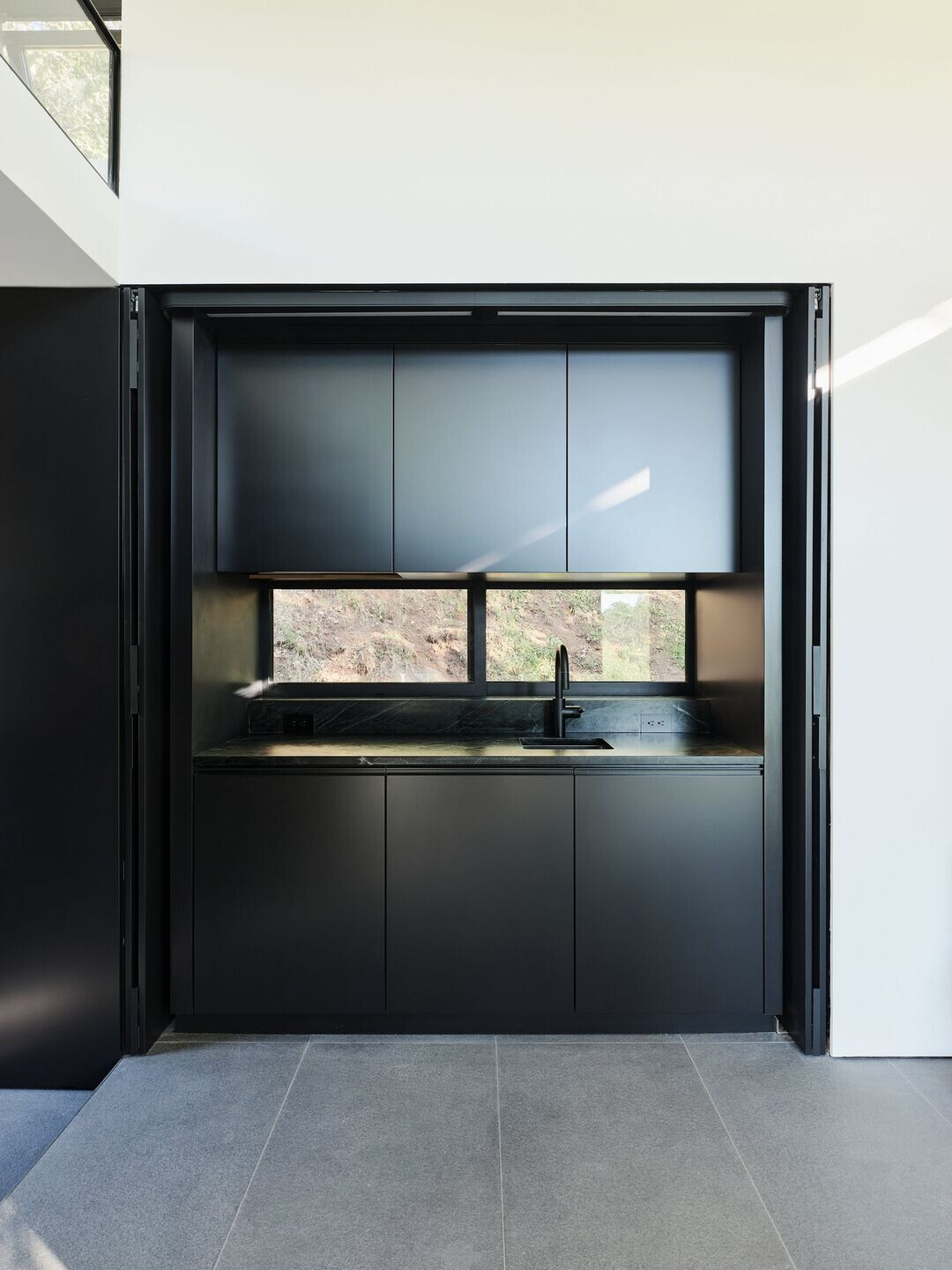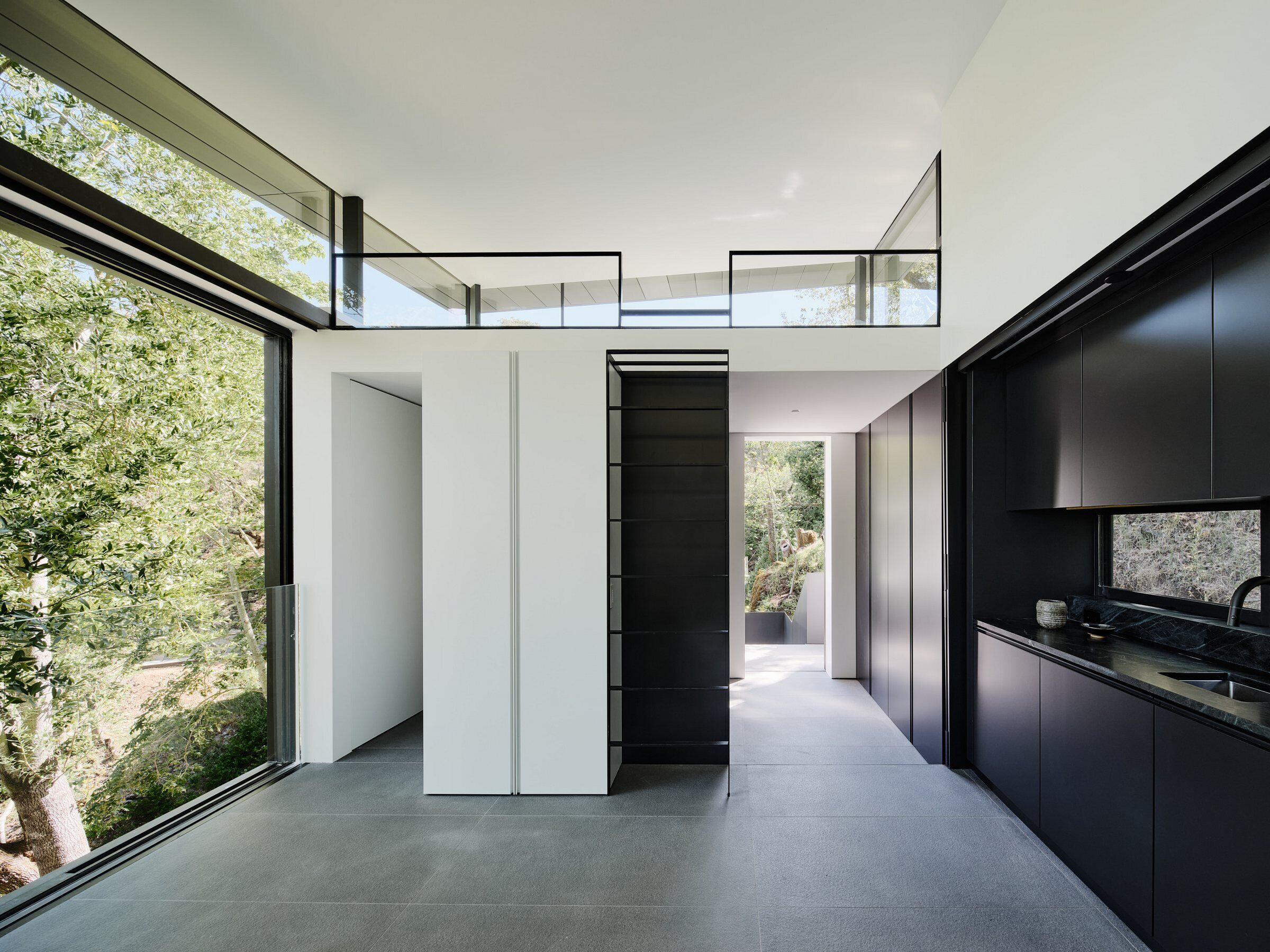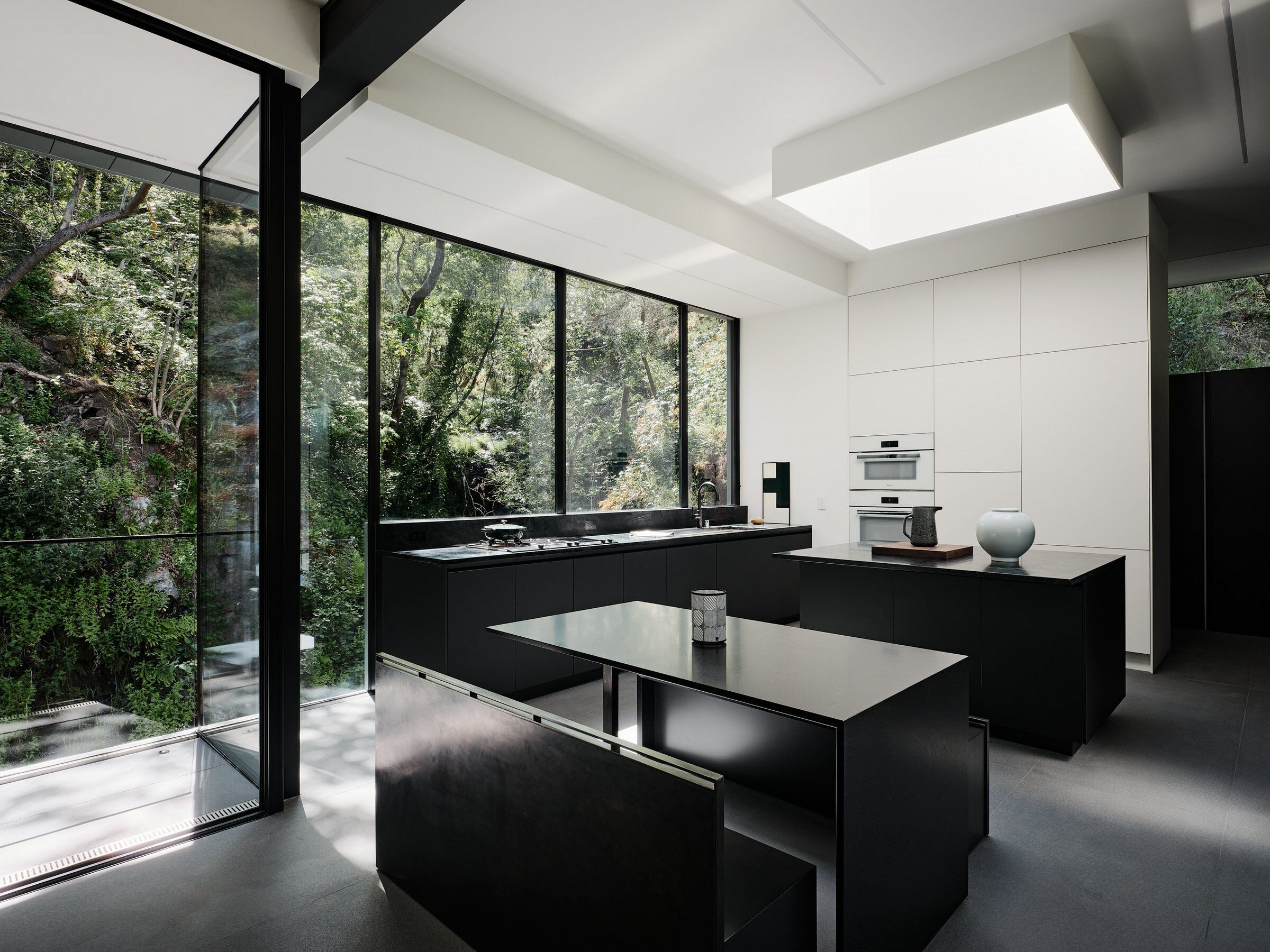 Material Used:
1. Faucets:
Kohler/Kitchen/Powder Room
Waterworks/Master Bath
Elkay/Laundry Room
Exterior:
2. Cladding: Rheinzink/Exterior Cladding
3. Entry Doors, Door Hardware, Locksets: Sky-Frame/Main Entry/Exterior Sliding Doors
4. Roofing:
Rheinzink/Exterior Cladding
Wood/Steel/Construction
7.5% Pitch
5. Roof Windows, Skylights, Tubular Skylights: Glass Flooring System Inc./Walkable Skylight 6. Window Wall Systems, Sliding and/or Folding: Sky-Frame/Exterior Windows
Structural Components, Weatherization, Building Performance:
7. Insulation, Housewrap: Denim Insulation
8. Thermal and Moisture Barriers: Gaco/Waterproofing
9. Underlayment, Sheathing: DensGlass/Sheathing
10. Other Structural/Weatherization/Building Performance:
Steel Beams/Supporting Structure
Aerolon Tnemec Paint/Steel Beam Insulation
Systems:
11. HVAC Systems: Mitsubishi/AC
12. Radiant Heating: Radiant Heating/Floors
Interior:
13. Cabinetry--Kitchen, Bath, Other Built-Ins: Poliform/Designed by Architect/Myers Cabinetry (Contractor)
14. Countertop Materials:
Da Vinci Marble/Soapstone/Kitchen
Corian/Bath Countertop/All Bathrooms
15. Flooring: Folio Stone/Stone Slabs
16. Passage Doors, Door Hardware: Rimadesio/Interior Doors
17. Wallboard: Gyp Board
18. Other Interior (Products): Supreme Glass/Interior Glazing
Appliances--Indoor:
19. Cooktop or Range: Gaggenau
20. Cooking Ventilation/Vent Hood/Dishwasher/Ovens, Built-In/Washer/Dryer: Miele
21. Refrigerator/Freezer: Gaggenau
22. Specialty Appliances (Microwave, Steam Oven, Warming Drawers, etc.): Gaggenau/Mircrowave
Faucets, Fixtures, and Fittings:
23. Faucets, Secondary: Agape/Sen/All Baths
24. Shower Enclosure: Duravit/OpenSpace/Guest Cottage
25. Shower Faucets:
Agape/Sen/Master Bath/Second Bath
Fantini/Milano Slim/Lower Bath
26. Sinks, Master: Agape/EVO/Master Bath
27. Sinks, Secondary:
Agape/EVO/Powder Room
Blubathworks/Lower Bath/Second Bath/Guest Cottage
28. Toilets, Bidets: Toto/Toilets
29. Tubs, Secondary Bathrooms: MTI/Lower Bath
Electrical:
30. Interior Lighting:
AION/LED Strips
Sugo/Fly Lamps/Stairwell
31. Home Control Systems: Lutron
32. Home Theater Components: Sonance/Speakers
33. Window Shading Systems: Hunter Douglas/Exterior Shading/Bug Screens
Coatings:
34. Interior paints, stains, coatings: Benjamin Moore