What was the brief?
The large-scale TEAG Campus project comprises several construction phases.
In mid-2020, the new construction of two interconnected, four-story office buildings - Modules 1 and 2 - was completed by Ortmann architecture and engineering firm.
What were the key challenges?
Kinzo took advantage of the open floor plan structure of the new building and developed a holistic concept with a focus on functionality, communication and employee well-being. The design phase focused on the question:
How can the requirements of a modern office structure be combined with the regional identity of the Thuringian company?
After all, the new TEAG office world was to provide a unique identity for the approximately 280 employees in addition to functional aspects of use.
This requirement led to the creation of a varied spatial world with individual qualities that enables both focused and team-oriented work. The classic floor plan layout - with a central corridor and individual offices adjacent to the sides - is broken up by the communication islands.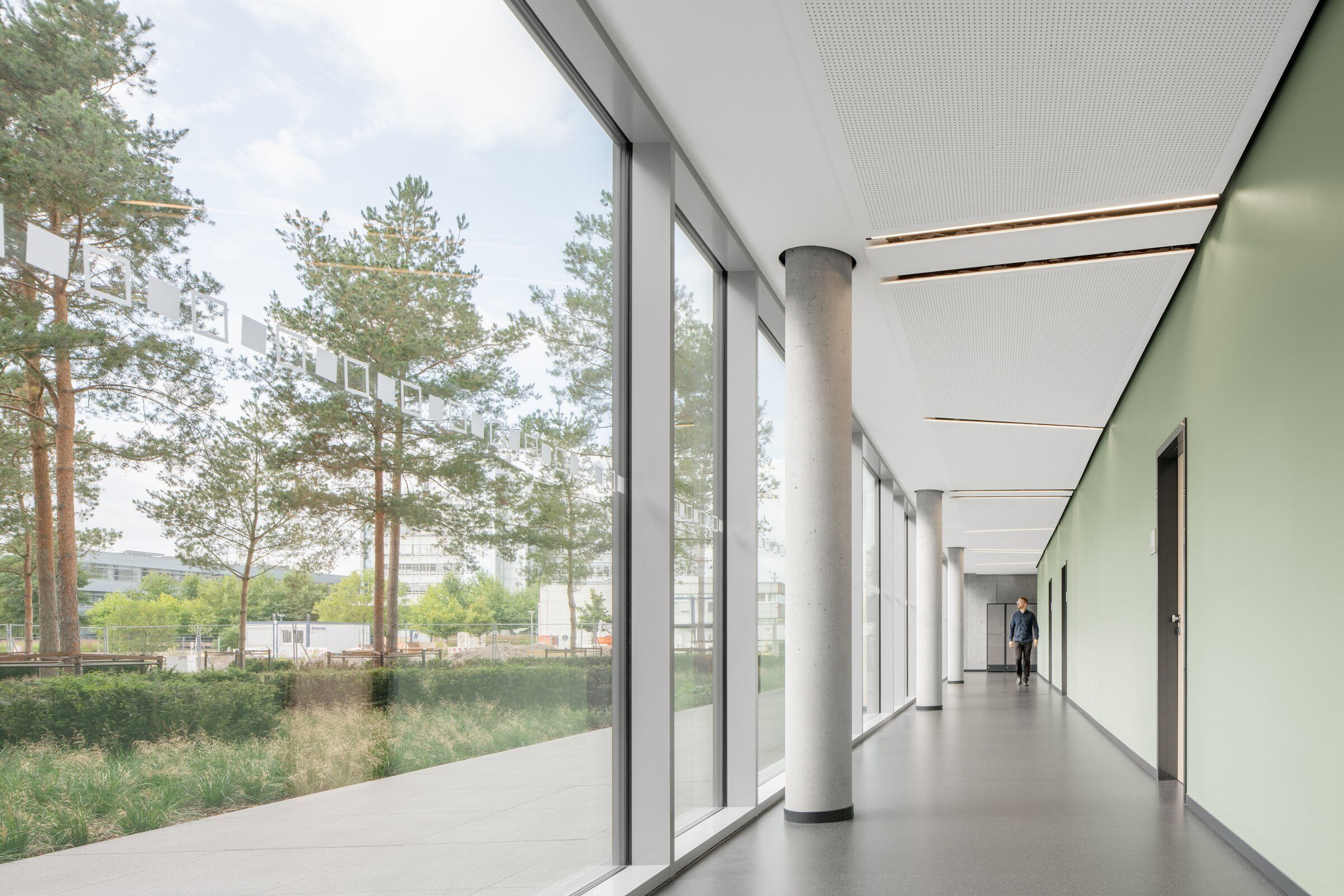 "We were able to build new team zones, for example. They were missing there before. This is a great enrichment for us," emphasizes Tonio Barthel, Division Manager Real Estate / Service & Overall Project Manager TEAG Campus.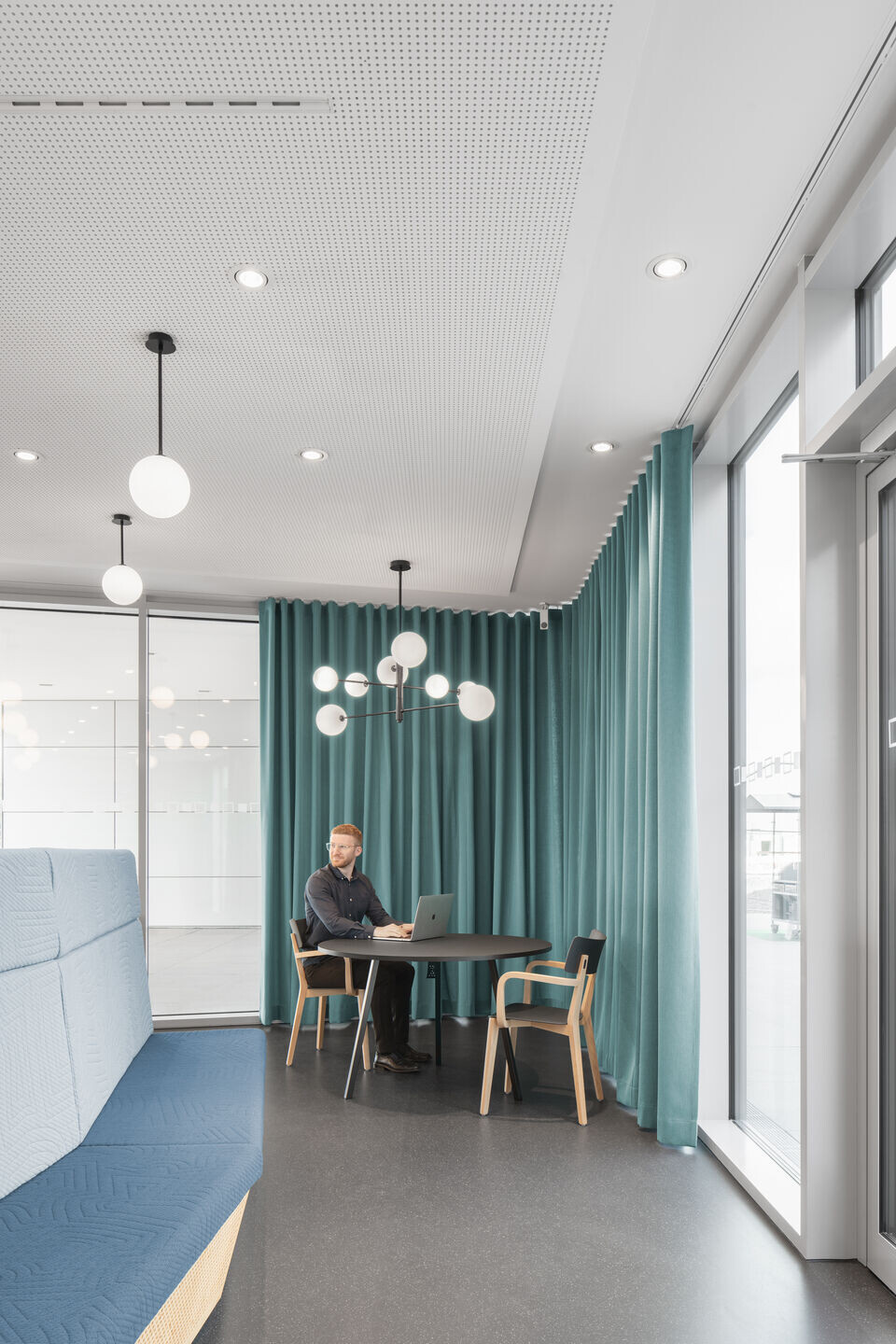 What materials did you choose and why?
In terms of color, Kinzo relies on a calm basic palette accented with the company's CI colors. Soft materials such as natural rubber floor, wood and textile surfaces complement the concept. The homely orientation is contrasted by the access cores in exposed concrete quality and the white, polygonal ceiling sails.
Overall, the interior of the new TEAG building appears serious but not too serious, cozy and yet reduced to the essential and functional.
Client:
TEAG Thüringer Energie AG
Team:
Architektur Büro Ortmann
HKL Ingenieurgesellschaft mbH
Steinigeweg Planungs GmbH & Co. KG
Executing companies supported by Kinzo:
Carpenter fixed installations: Tischlerei Fischer GmbH
Anti-glare screens and curtains: Raumdesign Jentzsch GmbH
Loose furniture: Pro Office Büro- und Objekteinrichtung Vertriebsgesellschaft mbH in cooperation with MichelEinrichtung KG
Interior lighting:
/Aromas, Atom
/ Tunto, LED40 Four + T
/ Flos, String Light Cone
Interior furniture:
/Lapalma KIPU - D01 (small seat cushion)
Polsterhocker aus Polyurethan-Polyesterschaum mit abziehbarem Bezug aus Stoff, Soft- oder Kunstleder. Gleiter aus Polyethylen. (loose furnitures)
/ Brunner due Bistrostuhl (chairs, loose furnitures)
/ FebrikApparel Bolero (seat cushion/carpenter fixed installations)
/ DeVorm; Mute Flat Acoustic panels, Farbe Olive Filz
/ Kaindl Boards. Dekor 3396 AN. Astfichte (Wood-based panel; Visible surfaces)
Flooring:
/Carpet Concept Eco IQU Fliese (Carpets)
/NoraplanUnita 7120 (Natural Rubber Floor)