Initial situation
In 2007, Mr Michael Maunz took over the pharmacy at Bankstrasse 3 in Hochdorf as a sole proprietorship.
In 2010, the pharmacy was transferred to a public limited company, and in 2014, Mrs J. Kohl joined the board of directors.
Later, they moved into the Valiant building (built in 1924) at Bankstrasse 1 where a renovation took place in 2019. New manufacturing premises were subsequently put into operation on the upper floor.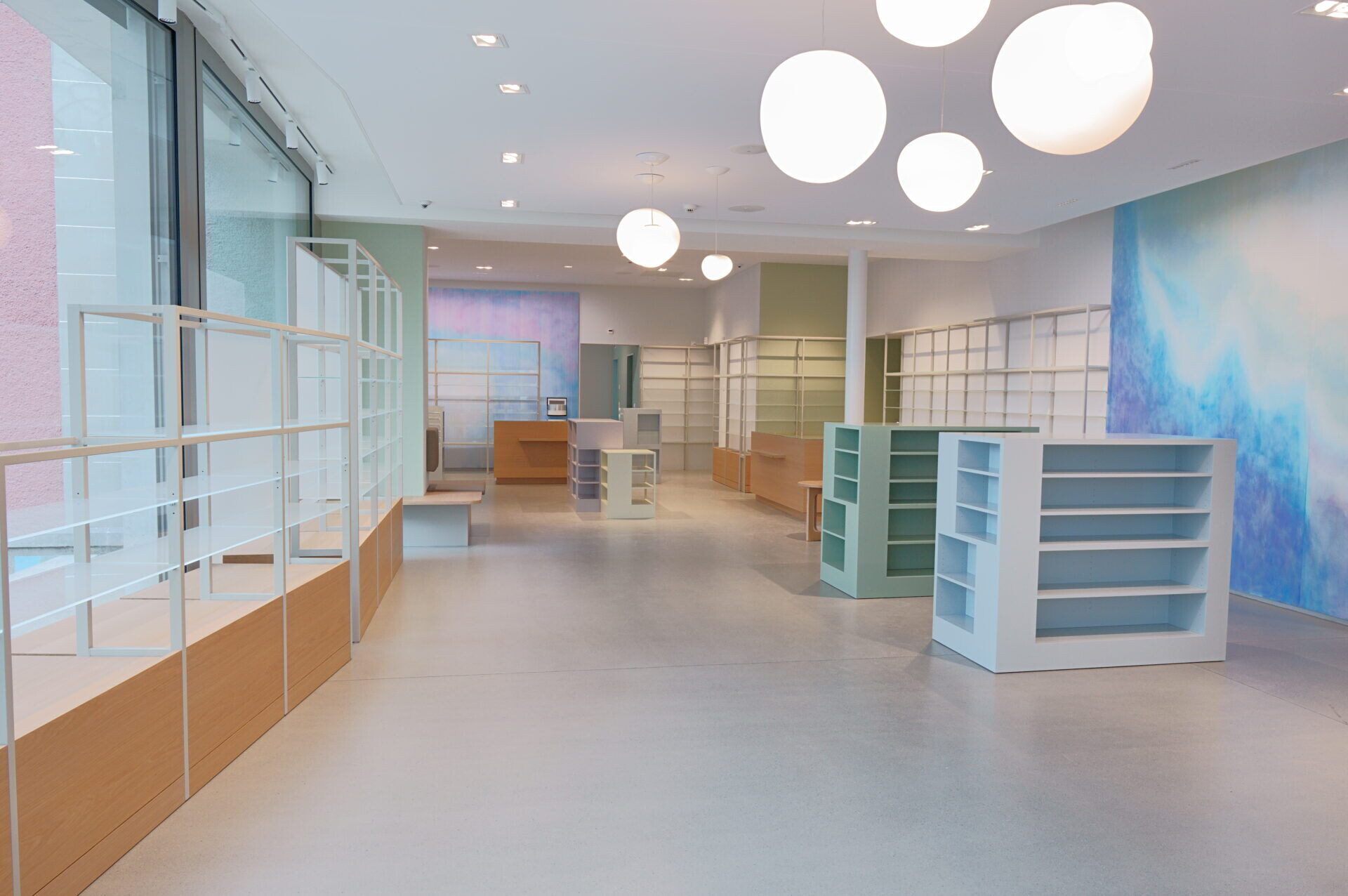 Task
In 2020, the time had come to plan a new pharmacy on the ground floor. An extension of the building with a new annex was designed by architect Bruno Jutz from Hochdorf. Global Shop Design was approached as a specialist for professional pharmacy furnishings to plan and implement a shop concept.
It was Mrs Jeannine Kohl's wish to involve a befriended artist couple in the project, and to realise an artwork-in-a-building project in the pharmacy. During joint workshops, their ideas and positions were set out in greater detail.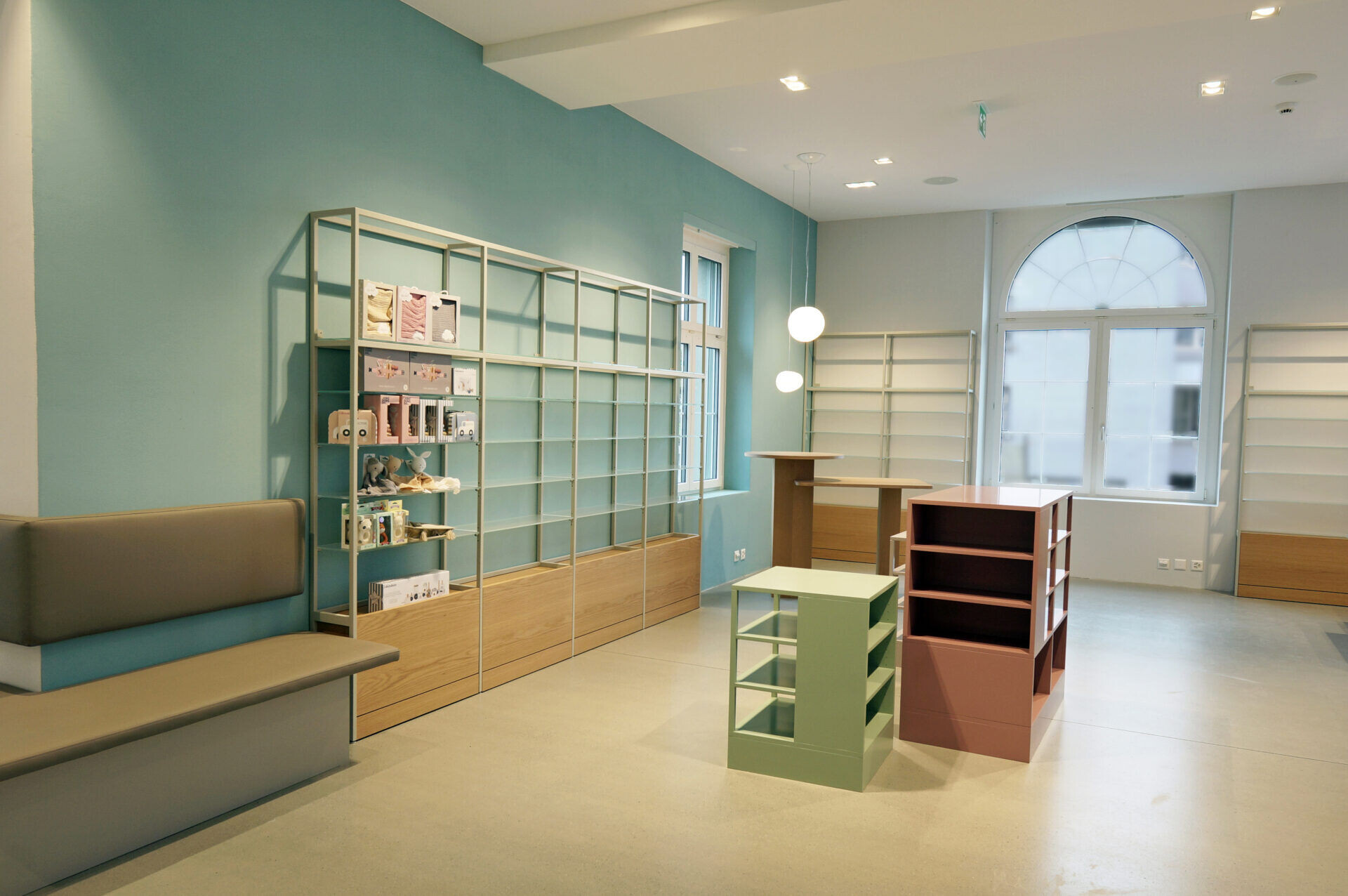 Solution
After initial joint meetings, GSD designed a proposal including room layouts, placement of a medication system, arrangement of product groups and analysis of customer flow and work processes.
Later, the shop fittings – i.e., shelves, gondolas, tables, checkout counters – were designed as well as staff rooms, laboratory, and back office.
GSD recommended material proposals such as an oiled floor underlay as a visible floor, and in addition surfaces with textured lacquer, which were selected by the artists in various colours. A wall was planned for a painting by the artist.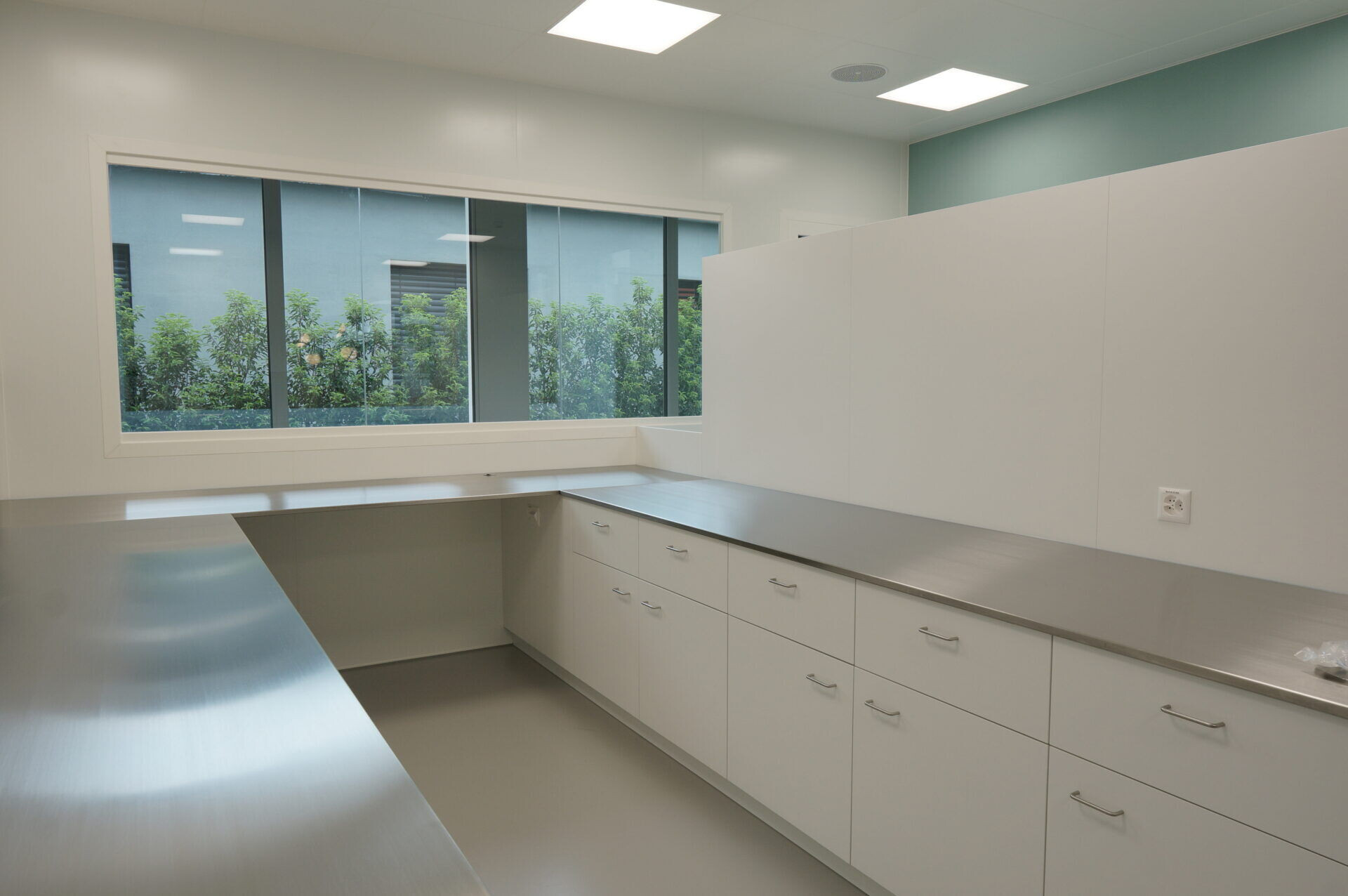 By means of visualisations in real time, GSD was able to present colour proposals to the client and the artist couple to guarantee them a certainty of content in terms of form and colour.
GSD was also faced with the task of planning a lighting concept to set the scene for the artwork. Special wallwashers were used here, which brightly illuminate the mural while keeping the overall concept in balance. Pendant luminaires were used in the entrance area to welcome the visitors and guide them through the shop.
The appearance of the pharmacy is captivating due to the appealing design of the furniture and the matching colours with the mural.
The renovation was inaugurated during a big event featuring celebrities, lectures, and tours of the new pharmacy.