What was the brief?
Zwift is a fitness gaming company that creates an immersive experience for biking and running forall skill levels. Needing to expand its Southern California headquarters, located in a building with commanding views of the Pacific Ocean and Port of Long Beach, the company took occupancy of two additional floors and embarked on a redesign of all three - a joint endeavor of IA's So Cal studios that integrated the expertise of the firm's Strategy, EGD, Lighting, and Design teams. The energetic and bold new scheme aligns with the Zwift motto, "Fun Powers Performance," inspiring activity and playfulness through references to the game.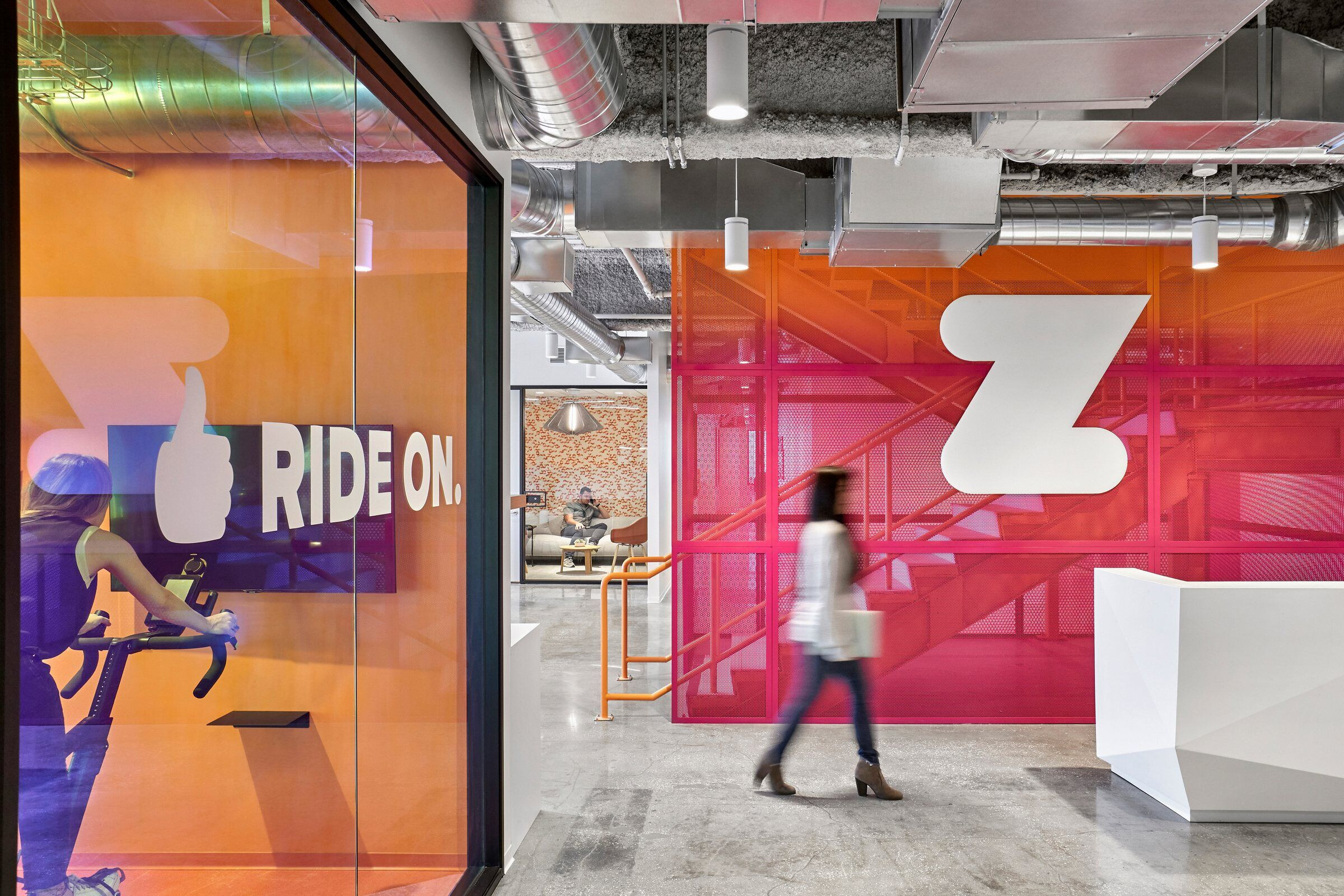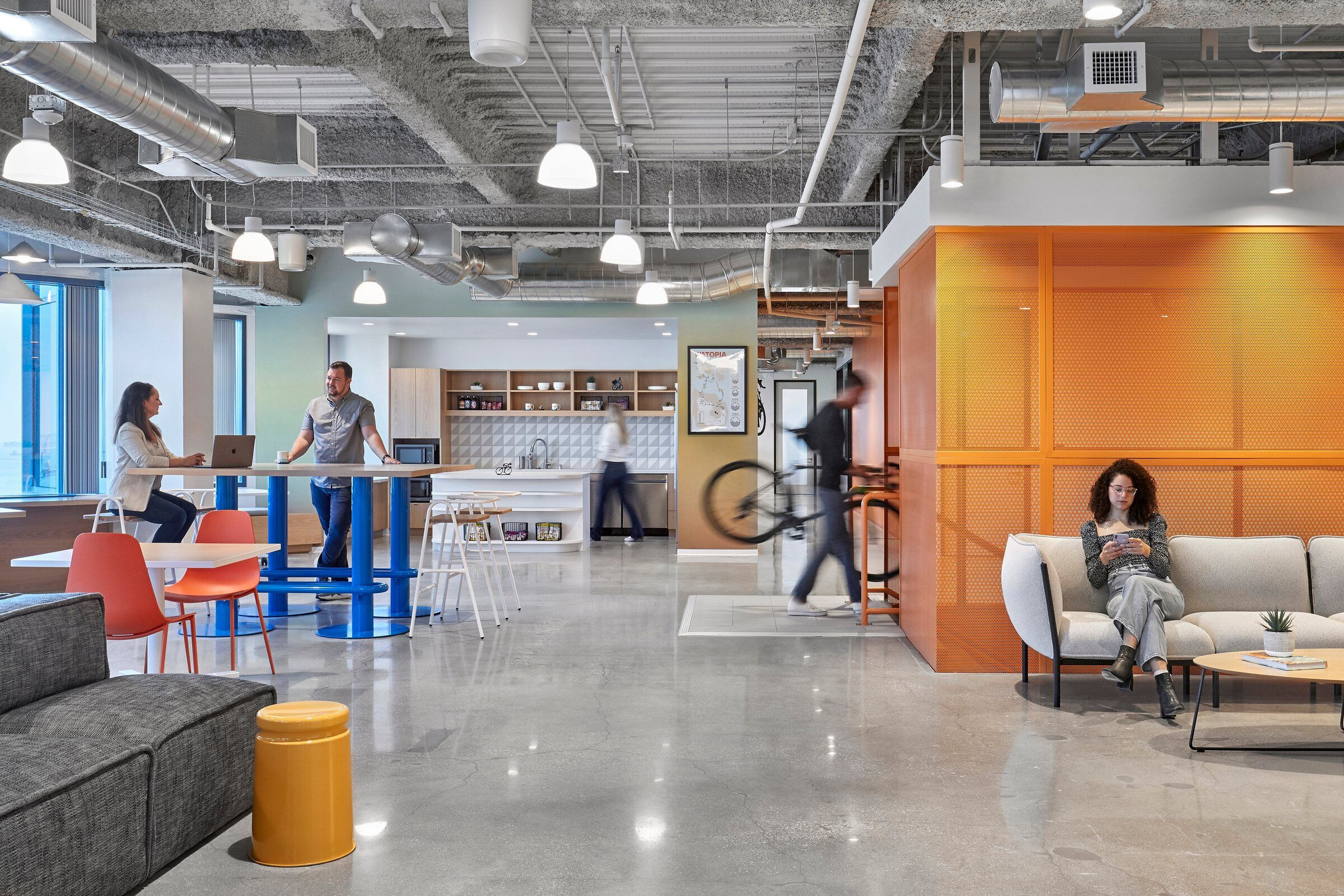 What were the key challenges?
After leadership and departmental engagements to validate programmatic requirements, the team defined a set of goals for the project. The concept was inspired to create a space with "wow factor" for visitors and employees that feels welcoming and warm and a reflection of their brand identity. The space also aimed to strike a balance between a highly collaborative atmosphere and a high level of focus. Fostering activity and playfulness through direct connection to the game, each space embodies Zwift's design vision. It was important that the space also reflected their commitment to best in class technical design and the highest quality software products. It is all about creating a compelling destination and experience.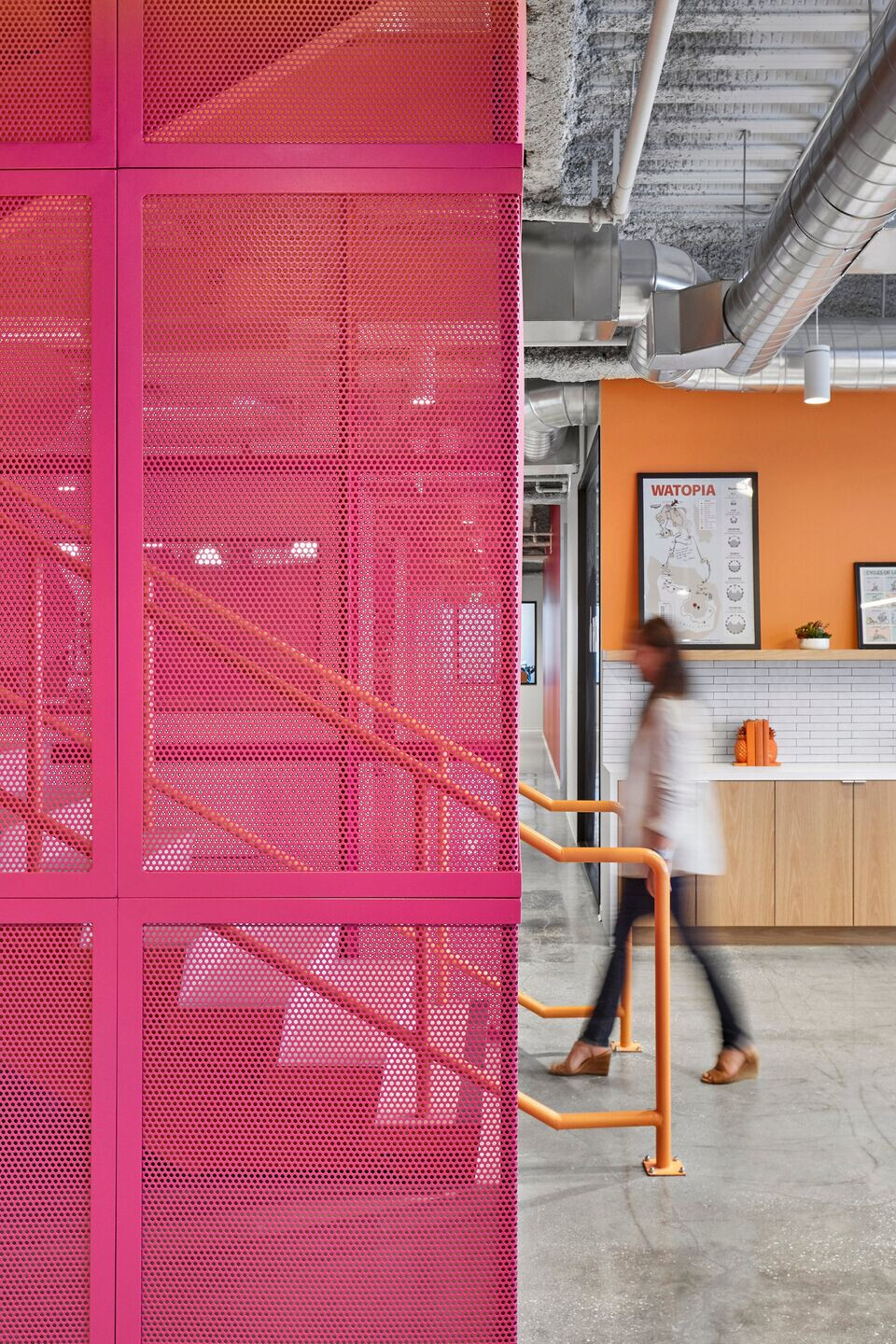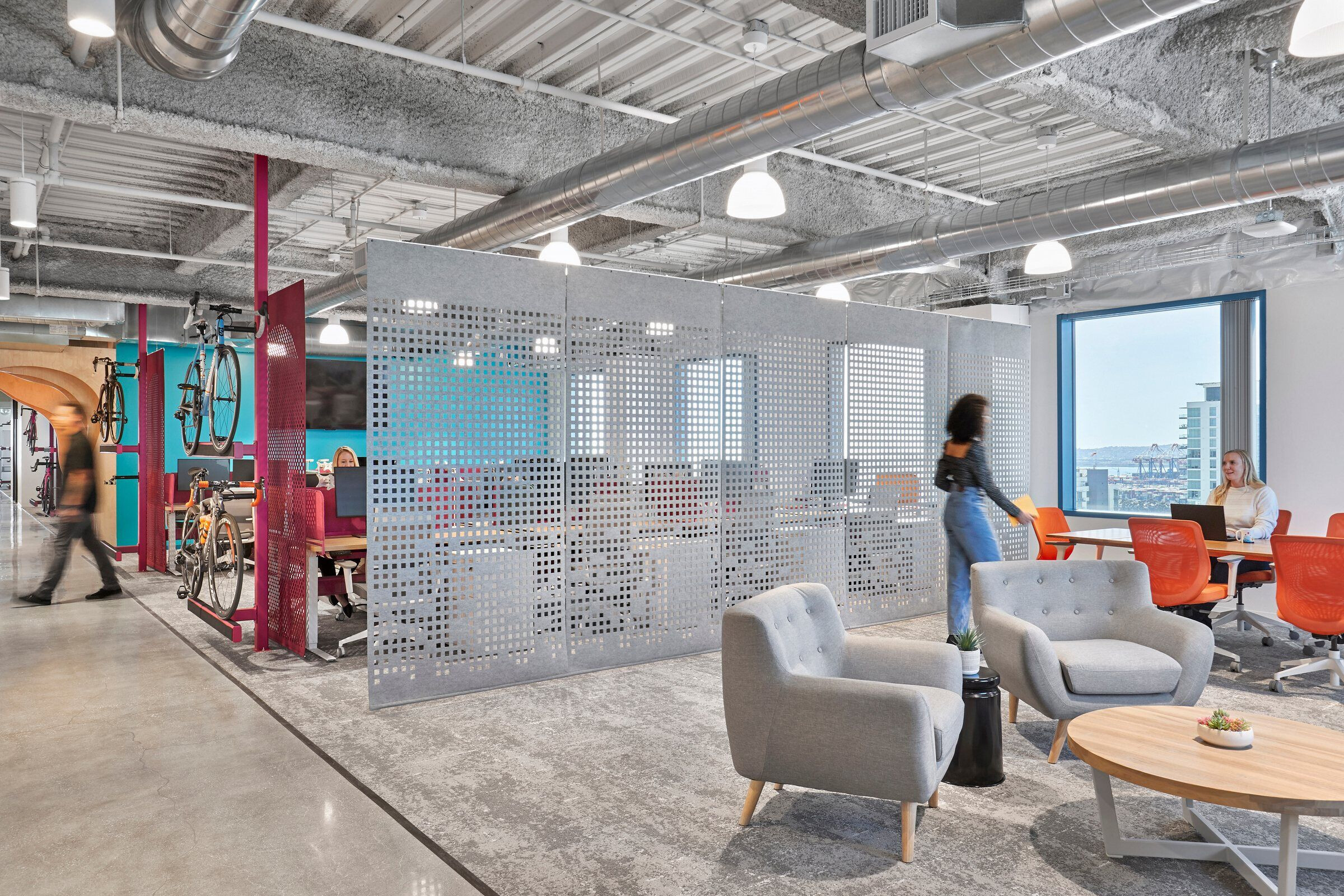 What materials did you choose and why?
As the project moved into Schematic Design, once IA developed plans illustrating adjacencies and confirmed occupancy and egress with our technical team, the design team took direct inspiration from their product - the game's fantastic environments. Colors, patterns and volumetric shapes from the games inspired material selection, fixtures and elevations that make that link on a more subtle level, while the main employee entry onto the floor is a more literal "portal" into the world of the game. That first impression is an immersion into an ocean-side pier, a desert canyon, or the peaks of a mountain.The main reception on the 21st floor features the top of an interconnecting stair wrapped in perforated metal painted in a strikingly saturated gradient of colors. The adjacent break room serves as a multi-purpose space for everyday lunch or for all-hands gatherings.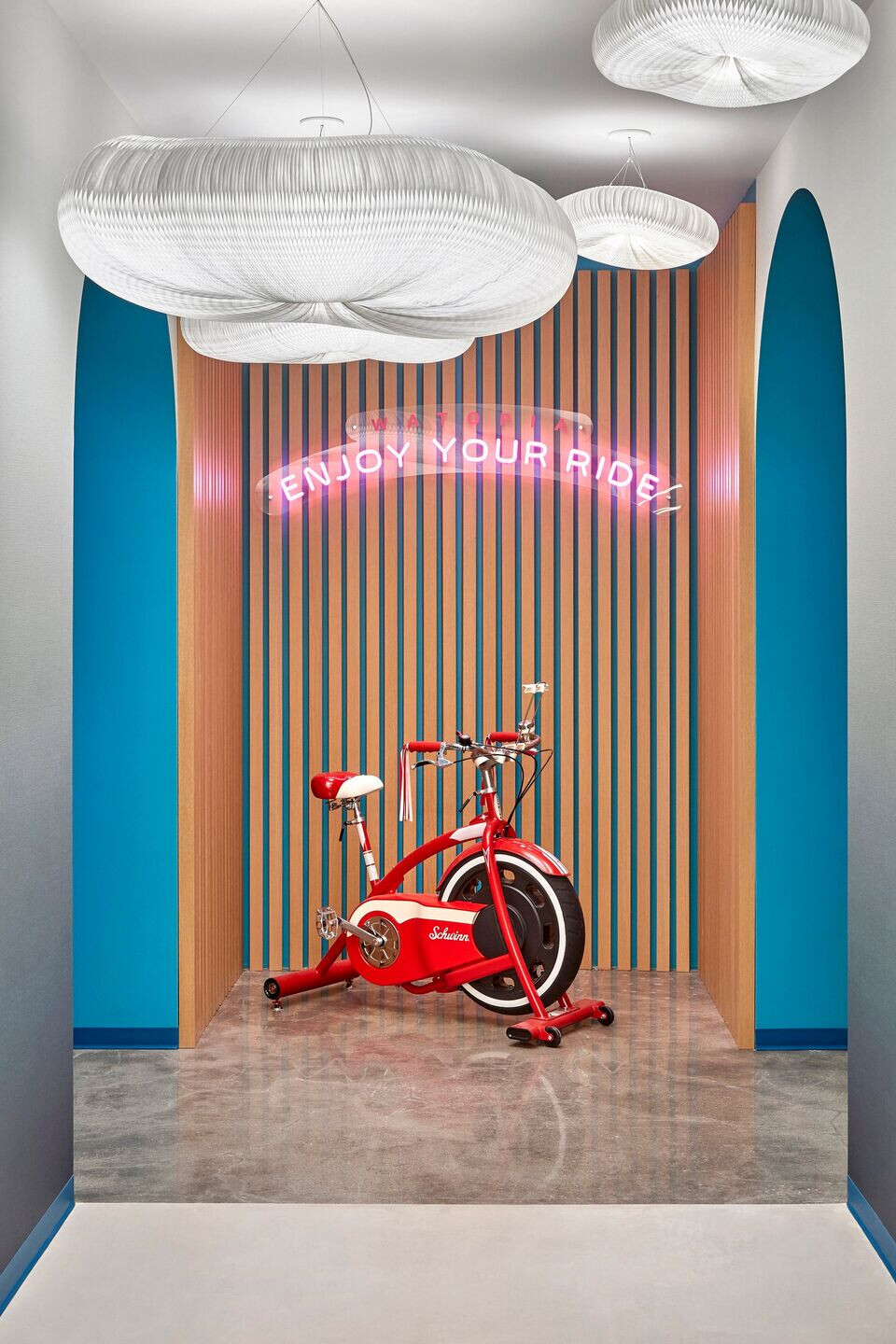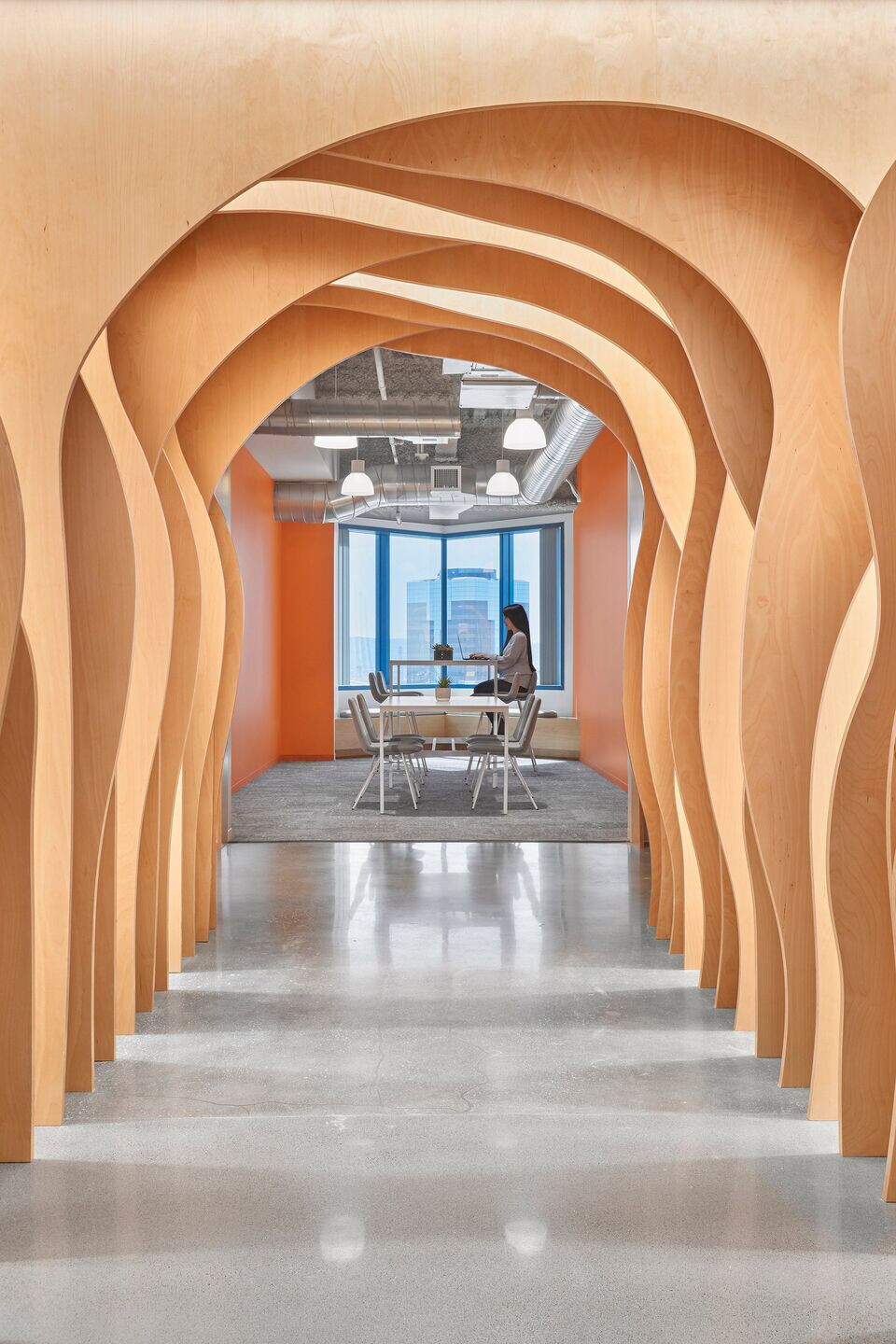 Team:
Architect: IA Interior Architects
Photography: Garrett Rowland
General Contractor: Pinnacle Contracting Corporation
Material Used:
1. Interior lighting:
Architectural: Senso Lighting, Mark Lighting, Coronet Lighting
Decorative: Rich Brilliant Willing, AndLight, OCL, Andrew Neyer
Cloud-like lighting: Molo
2. Interior furniture: Source Creative Office Interiors
3. Carpet: Patcraft
4. Task Seating: Sit On It
5. Workstations: Pair
6. Millwork Fabricator: Taber
7. Plastic Laminate: Wilsonart
8. Countertops: Ceasarstone
9. Wallcoverings: Maharam, Knoll
10. Faceted Wood Panels: Woodskin