Rainscreen facade
rainscreen facade に関するプロジェクト、製品、独占記事の概要
Aluinvent LO & LO2 panels and sub-structure create the facade for this landmark Biomass Power Plant in Virovitica, Croatia. 1600 square metres of panels in a range of green shades respond to the sustainable nature of the green energy produced by the facility. The design incorporates LO2 panels at strategic locations that allow light to penetrate, illuminating parts of the building's interior. The LO2 panels simultaneously allow excess heat to escape through designated venting points whilst maintaining a constant unbroken facade. The use of Aluinvent's recycled facade panels contributed to the facility being built in accordance with the Sustainable Development Policy of The Republic of Croatia and The EU. Caption...
もっと見る
The Budaörs bus terminal, winner of the BigSEE Architecture Award 2020 for Public and Commercial Architecture formed the focal point for an urban regeneration project which reimagined the existing relationship between the old terminal building and vehicular and pedestrian movement corridors. Caption Caption Aluinvent worked with Architects, Intramuros, to ensure precise installation of the LO panels working with the building's complex dimensions. Aluinvent's console railing system was fixed directly to the concrete supporting structure which made installation of the rainscreen cladding quick and easy. The panels, made from recycled aluminium, require little to no maintenance or cleaning after installation and are...
もっと見る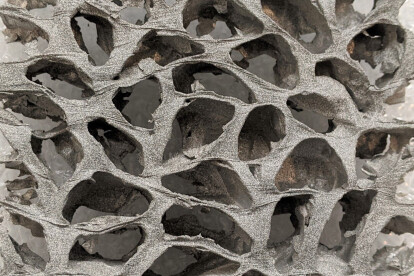 製品情報 • にAluinvent • LO2 - Exterior
The LO2 collection from Aluinvent is a high end rain screen facade panel system manufactured from 90% recycled Aluminium with open cell structure to both sides. The void:solid ratio of our LO2 panels is approx 30%. LO2 panels come in mill finish and coloured options and are suitable for a wide range of exterior applications with A1 & A2 fire ratings. The LO2 collection is particularly suited to applications such as window screening elements and lighting installations. Aluinvent LO2 panels meet all the challenges and requirements to provide a safe, long-lasting facade with a striking modern aesthetic and an element of transparency. Little to no maintenance is required after installation and the panels are easily replaceable. Curved pro...
もっと見る
製品情報 • にArriscraft • ARRIS-tile Thin Stone
Renaissance ARRIS-tile thin stone is a complement product to Arriscraft's Renaissance masonry units offering identical colours and finishes and is also a stand alone thin stone cladding product. ARRIS-tile units are only 3/4" thick (with 1-3/8" available), making it a lightweight solution. This thin adhered veneer stone is simply adhered to a suitable solide substrate, for exterior and interior applications. Arriscraft's calcium silicate thin stone is made using only natural materials - sand and lime (plus colour pigments). The unique manufacturing process replicates how stone is created in the earth - the raw elements bind naturally to create an inherently strong and fine grain stone. Arriscraft products offer the natural aesthetics...
もっと見る
製品情報 • にBendheim • Decorative Glass Rainscreen Systems
Bendheim Wall Systems' rainscreens can dramatically change the appearance of an otherwise structurally sound building and preserve it for years to come. Installing decorative rainscreens over the existing façade is a far less costly process than traditional demolition, repair, and re-glazing of exterior skins. They can be installed without accessing the building interior, disrupting occupants, or interrupting normal building operations. There are multiple functional and aesthetic benefits to choosing Bendheim Wall Systems' decorative glass rainscreens: from the ability to completely transform the appearance of a building through elegant decorative glass to ease of installation and maintenance. With a couple of simple actions, Bendheim...
もっと見る
プロジェクト • にHunter Douglas Architectural • 大学
King Abdullah University of Science and Technology (KAUST) in the newly-developed town of Thuwul, Saudi Arabia, is an international, graduate-level research university dedicated to inspiring a new age of scientific achievement. As the first co-educational university in Saudi Arabia, KAUST is more than just architecturally groundbreaking, granting admission to both men and women from around the world based purely on merit. The 26-building campus was developed by multiple design teams at globally renowned architectural firm, HOK, which took the project from concept to completion in just three years. The teams faced the challenge of creating a sustainable, energy-efficient campus, while battling the heat and humidity of Saudi Arabia. The...
もっと見る
プロジェクト • にHunter Douglas Architectural USA • 病院
The brand new state-of-the-art Shapiro Ambulatory Care Center at the Boston Medical Center is home to 67 of the best doctors Boston has to offer. Sitting in Boston's historic South End, this nine-story outpatient center features environmentally sensitive materials and technology that set a new standard for sustainable design. The use of natural, sustainable materials in health care settings aids in creating an environment conducive to healing. That is why architects at Tsoi/Kobus & Associates chose to work with TERRART-Large architectural terracotta by NBK, a Hunter Douglas company. Terracotta facade panels are made from 100% raw materials yet are extremely durable, making them suitable for sustainable design. Furthermore, TERRART pan...
もっと見る