1. House of Hungarian Music, Budapest, Hungary, Sou Fujimoto Architects
As part of Europe's largest cultural urban development, the Liget Project, comprising five new museums in the heart of the City Park of Budapest, the House of Hungarian Music will be a place for concerts, exhibitions and features a striking roof with many punctuations.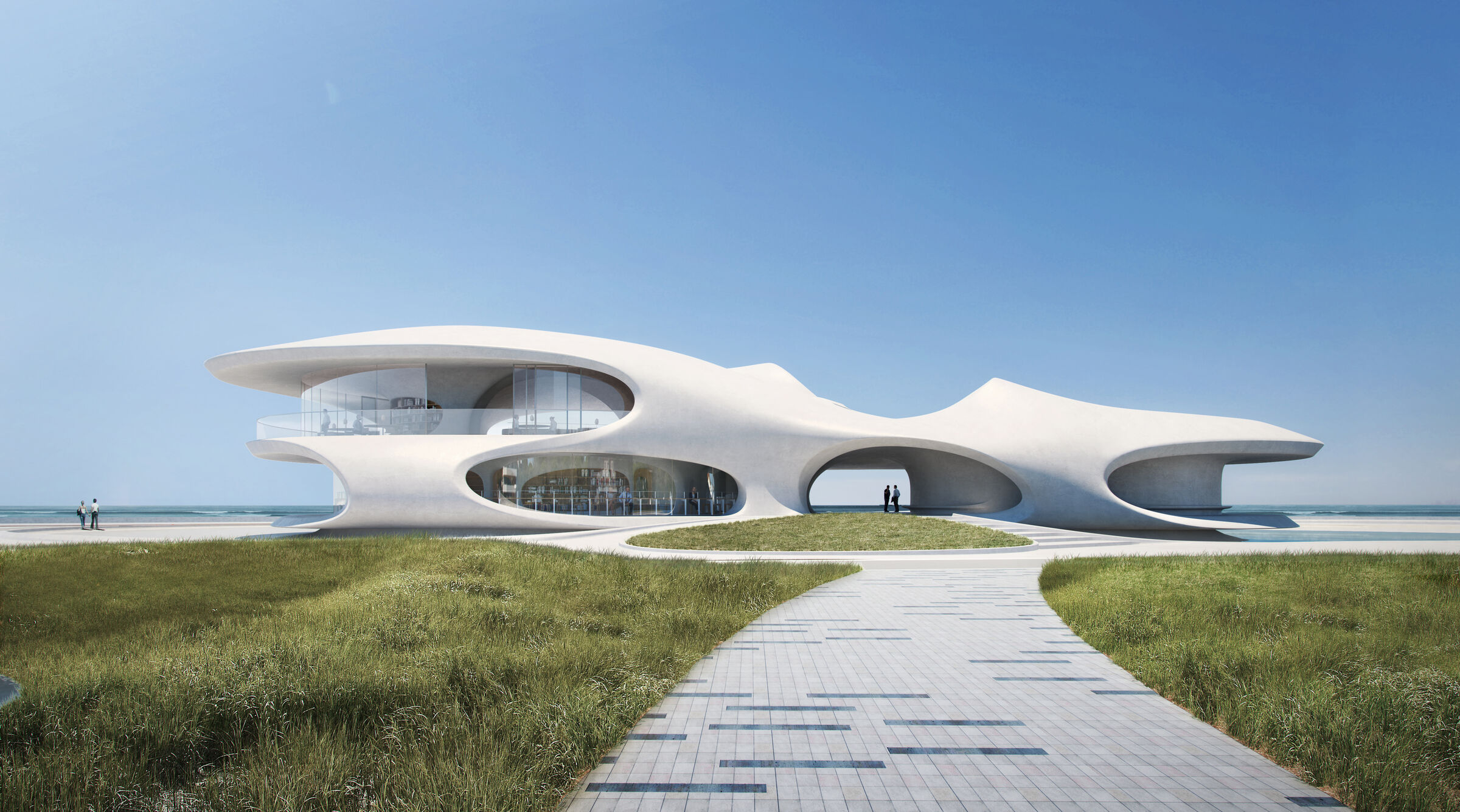 2. Wormhole Library, Haikou, China, MAD Architects
The sensuously curved multi-functional building serves as a place to read, enjoy views of the sea, and attend open-air performances. The organic concrete structure is punctured creating voids of varying sizes that let the light into the interiors.
3. M+ Museum, Hong Kong, China, Herzog & de Meuron
The 60,000 m2 T-shaped museum tower, part of the new West Kowloon Cultural District on reclaimed land, is clad with dark green waving ceramic facade tiles made in Italy.
4. La Samaritaine, Paris, France, SANAA
SANAA renovates the Parisian Art Nouveau department store by adding a 25 high waving glass facade. The project has been stalled many times in 2014 and 2015, caused by French historians who battled to save the treasured monument, but moved ahead and is set to open this year.
5. Taipei Performing Arts Center, Taipei, Taiwan, OMA
Bold volumes of primary shapes form the new Taipei Performing Arts Center that will include a 2,000-seat auditorium, a 1,500-seat theatre, and a black box. The design experiments with the internal workings of the theatre. The three theatres, plugged into a central cube, can function autonomously and allow for unsuspected scenarios and uses.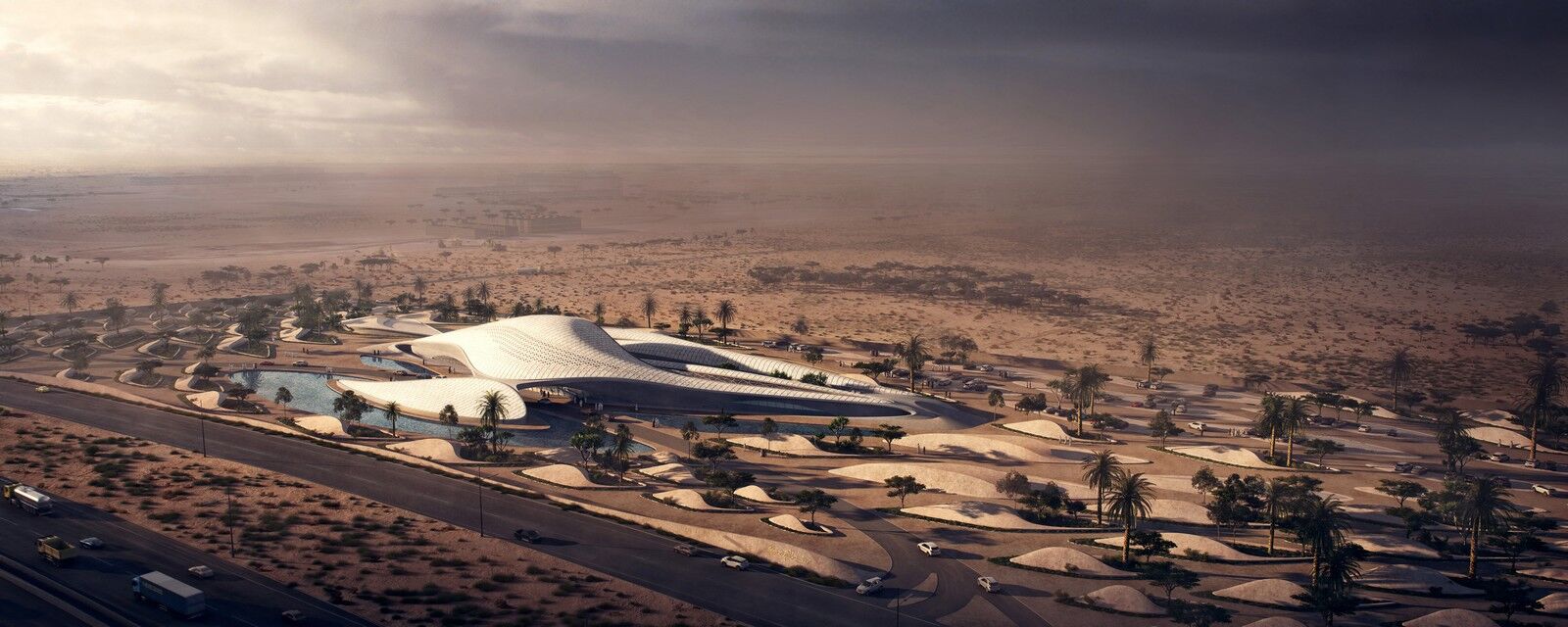 6. Bee'ah headquarters, Sharjah, UAE, Zaha Hadid Architects
The waste management company Bee'ah commissioned Zaha Hadid to design their headquarters after a competition in 2013. The design is inspired by sand dunes and aims for low carbon and water consumption in operation and minimised material consumption in construction.
7. Academy Museum of Motion Pictures, Los Angeles, USA, Renzo Piano Building Workshop
Set to be the new stage for the Oscars, the 300,000-squarefoot Academy Museum of Motion Pictures will become the world's most important movie museum. A striking steel-reinforced concrete sphere will house the new 1,000-seat David Geffen Theater.
8. Hotel Green Solution House (GSH), Rønne, Denmark, 3XN and GXN
Denmark's first climate-positive hotel will be built, clad and insulated using wooden materials. The designers upcycled waste products from the offcut construction to create furniture and surfaces.
9. The Grand Egyptian Museum, Giza, Egypt, Heneghan Peng Architects
Set to become the largest archaeological museum in the world, the Grand Egyptian Museum will house artifacts of ancient Egypt including the complete Tutankhamun collection. Heneghan Peng Architects' design refers to the mathematical precision that define The Pyramids to create a monumental wall made up out of large and small triangles and an undulating metal mesh roof.
10. Floating Music Hub, São Vincente, Cape Verde, NLÉ Works
Another triangular building, made out of a prefabricated, modular, floating A-frame. The floating structure aims to become a cultural and creative platform to promote music, dance, art, fashion and other creative industries in Africa and the African diaspora.
11. Morland Mixité Capitale, Paris, France, David Chipperfield Architects
The project comprises the refurbishment, remodelling and extension of an existing city administration complex from the 60's. The design that includes vaulted arcades opens up the previously introverted complex to the public, transforming it into a lively and open place with the character of a campus.
12. Sunac Guangzhou Grand Theatre, Guangzhou, China, Steven Chilton Architects
Inspired by the physicality of silk cloth, Steven Chilton Architects gently folds the outer envelope of the 2000 seat purpose‐built theatre. Illustrations by artist Zhang Hongfei were digitised and mapped onto the aluminium skin.
13. The LSE Marshall Building, London, UK, Grafton Architects
The form of the building is modulated and adjusted so as to form elegant junctions with neighbouring buildings. Entrance doorways, screened terraces and gardens, solid gables, rhythm of windows and screens all come together to form a unified dynamic form.
14. Depot Boijmans Van Beuningen, Rotterdam, The Netherlands, MVRDV
The world's first fully accessible art depot, shaped like a giant flower pot, will be housed in a reflective round volume clad with 1,664 mirrored panels.
15. Little Island, USA, by Heatherwick Studio
Heatherwick Studio designed a new pier that draws from existing wooden piles to form a public park that emerges from the water on 280 concrete pedestals.
16. Bourse de Commerce, France, by Tadao Ando
Tadao Ando is transforming an 18th century stock exchange in Paris into an art gallery. The exhibition spaces are inserted into a large domed atrium inside a circular concrete structure.
17. 550 Madison Garden, New York, USA, Snøhetta
Snøhetta is redesigning the public space next to a signature postmodern landmark in Midtown Manhattan. A new glass canopy covers a densely vegetated garden organised in a series of circular rooms that refer to Phillip Johnsons' playful use of circular motifs in the adjoining building.
18. Luma Arles Arts Resource Centre, Arles, France, Gehry Partners
Located on a former rail yard, the aluminium clad Arts Resource Centre, designed by Frank Gehry, will house archives, exhibition and presentation spaces, seminar rooms and a café and restaurant.
19. Datong Art Museum, Datong, China, Foster + Partners
The Dating Art Museum is one of four major new buildings within Datong New City's cultural plaza. The striking sharp edged angular roof will be clad in earth-toned corroded steel.
20. Torre Rosewood, São Paulo, Brazil, Ateliers Jean Nouvel
Part of the large Matarazzo Park real estate development, the tower with 122 suits will sit at the park edge. The concrete structure will be clad with redwood grills in a variety of different grids.
21. Orange County Museum of Art, Costa Mesa, USA, Morphosis
Morphosis aimed to design an open and inviting urban presence for the museum with flexible exhibition galleries, dedicated space for educational programming, and areas for public gathering.