German trained, now Bali-based architect Alexis Dornier is greatly influenced by the fluid forms of the aviation industry, and his work typically engages in an iterative design process. Both interests are made manifest in the recently completed Alpha House, a private villa in Bali's cultural and artistic epicentre of Ubud. The two-storey structure is composed of two distinct stacks, each being representative of a particular architectural theme but taken together act in conversation with the landscape.
The ground level, housing the living space, kitchen, entry foyer and garage takes the form of a traditional box volume. This floor also acts as a pedestal for the upper floor, articulated as a sculptural form, with a fluidity and sense of movement that have it twisting away from the traditional toward an emergent expression shaped by its geographic and cultural context.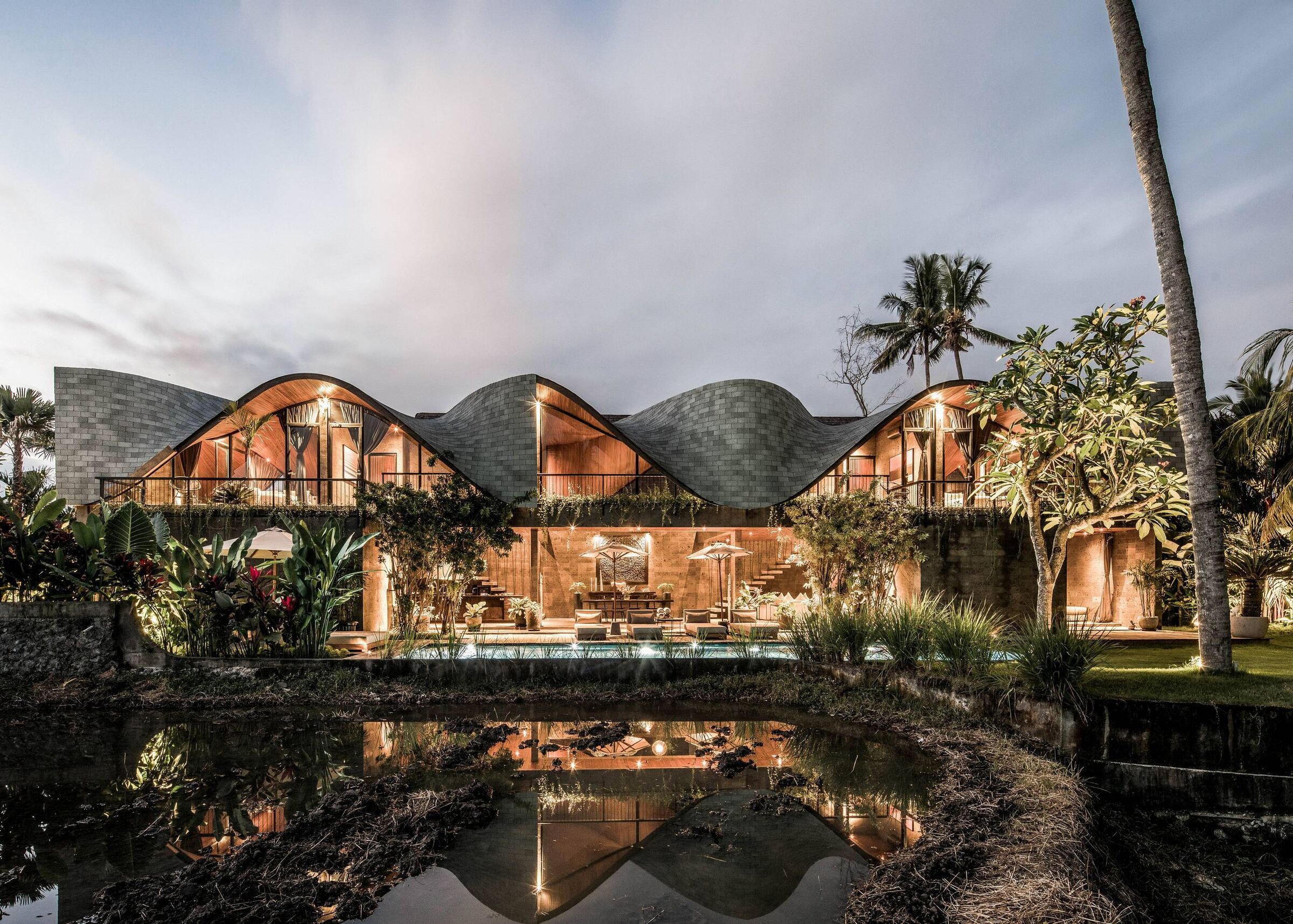 The upper floor houses four bedrooms and is composed of a curvaceous, cavernous space with twisted walls which morph into ceilings and create a wave pattern which evokes a rhythmic, repetitive, dynamic sense of flow. The spatial composition of the typology is a response to and extension of the undulating mountains that form the backdrop of the site and the waters surrounding the island. The 280 sq.mt structure is oriented east-west to maximize shade and provide privacy.
Local materials are utilized to enhance the motif of what Dornier dubs 'tropical modernism'. The main building material used is kerobokan stone – a local hard sandstone traditionally used in Balinese construction, which is used throughout both interiors and exteriors to offer a cool, grounded feeling. Grid shells have been used to create the wall/roof patterns, which not only allow malleability of form but also give a sense of fluidity, of blending with the landscape. An outdoor pool is oriented in alignment with the building, reflecting the waves of design form across the surface of the water, extending the iteration to an illusory feature. Water is an immensely important symbol in Balinese culture and seen as the primary medium for connecting people, land, and Gods, and repeating the wave motif not only in built form but also in patterns that are implied as extending beyond the physical confines of the site but into the broader natural surroundings is evocative of the deep spiritual and eco-grounded sensibilities of the island.