For architects around the world and across the ages, perhaps the greatest threats to their masterworks are the clashes of tectonic plates that trigger earthquakes.
A powerful quake can rip through religious icons, art centers, academies and hospitals, toppling these pillars of culture and threatening a society's foundations and future.
The earth-splitting temblor that struck Nepal like an invisible army in 2015 decimated ancient beacons of Buddhism and contemporary medical clinics, modern primary schools and centuries-old museums across the Himalayan nation.
Close to 800,000 buildings were destroyed or damaged, creating millions of internal refugees.
Incredible seismic forces crashed across the World Heritage Site of Kathmandu Valley, says Christian Manhart, an archaeologist who is Director of UNESCO's outpost in the Nepalese capital. The shock waves pummeled ancient but still active shrines, threatening worshippers and the country's cultural cohesion.
While surveying the chaos, Manhart recalls, he also witnessed spontaneous bands of volunteers pulling human survivors and sculpted deities from the rubble.
When he briefed UNESCO's leaders in Paris on the scale of the devastation, they immediately approved emergency funding to aid Nepal's massive restoration operation, recounts Manhart, an expert on mapping and reviving endangered heritage sites.
He rapidly assembled a team of structural engineers and architects who joined forces with Nepal's government to save timeless treasures of sacred architecture, museums and monuments, and to formulate a new building code to ensure the nation's survival across future earthquakes.
"We started with the emergency consolidation of buildings at risk of complete collapse due to heavy damage," Manhart says. At the Buddhist site of Swayambhu, his team scoured the ruins for carvings and relics to repopulate the restored sanctuary.
Artifacts from the crumbling Tashi Gomang Stupa were placed in a makeshift haven – a priest's house – and returned to the shrine after its reconstruction.
Manhart says he has been resisting popular calls to rebuild these centers out of concrete, with a historical looking façade pasted onto the temple. Instead, he has pushed for using traditional Nepali construction techniques and materials, but updated with state-of-the-art seismic safeguards.
"In the projects implemented by UNESCO we systematically build back better, to strengthen the buildings for future earthquakes," he says.
In the process, architects and engineers are re-sculpting Nepal's future as they restore age-old cultural and spiritual landmarks across Kathmandu Valley.
"The rebuilding of their heritage has a much deeper meaning for Nepali of all generations, including the youth." It is giving new life, he says, to "their cultural identity, pride and optimism."
Jorn Kruhl, a professor at the Technical University of Munich who co-authored the book "Living Under the Threat of Earthquakes" in the Himalayas, says reviving these multi-tiered temples is vital to protecting "the religious life of people in Nepal."
While UNESCO and an array of foreign government leaders are sending funds and scholars to help rescue Nepal's classical architecture, Kruhl says, NGO groups are spearheading the resuscitation of schools and hospitals bombarded by the quake.
In the highlands of western Nepal, one of these philanthropic medical centers rises like a luminous new pinnacle on the horizon. Viewed from the air, the Bayalpata Hospital emerges like an island sculpted of geometric forms floating on an ocean of cumulus clouds.
The orange-red polyhedrons crowning the high-elevation outpost seem to have crystallized out of the underlying mountain, and in fact they have.
Using millennia-old building techniques, the walls of the hospital were constructed of rammed earth, but reinforced with a matrix of steel bars to allow the structure to bend and rebound during extreme tremors.
The low-tech construction process, enhanced with the latest advances in seismic design, has given rise to an elegant medical complex that also promotes the UN's goals on sustainable development and climate change for the 2020s, says Tyler Survant, architect and project director at the New York-based Sharon Davis Design, an atelier that strives to create "extraordinary buildings that transform communities."
The design outfit specializes in developing architecture projects for NGOs that, according to its mission statement, "expand access to the fundamental human right of social justice, economic empowerment and a healthy sustainable environment."
The Himalayan hospital campus, a new "pilgrimage site" for Nepalese patients throughout the region, is also a showcase for cutting-edge solar power: its arrays of photovoltaic panels provide electricity for a constellation of surrounding villages.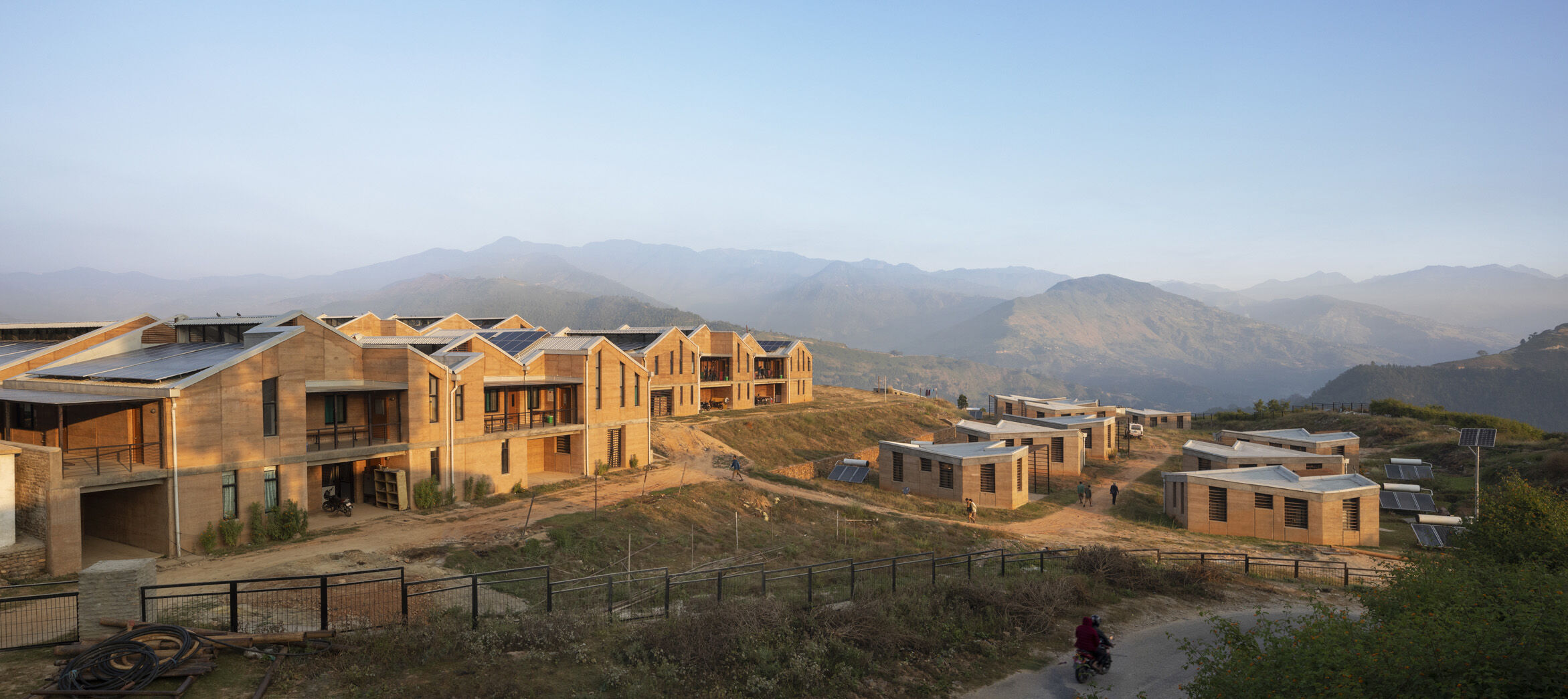 Arun Rimal, a former professor at Columbia University who founded the Office of Structural Design, collaborated on the creation of the Bayalpata Hospital, and is now extending its breakthroughs in quake-resistant rammed earth designs to build a ring of schools around Kathmandu.
Across societies the world over, he says, schools and hospitals are the structures that absolutely must remain standing through catastrophic natural disasters. Rimal says he continuously tweaks his designs, materials and structural engineering to embed the latest seismic advances made across the globe.
After he carved off the tip of a hilltop in Kavre, sculpting the excavated clay into a stunning octagon-shaped school fortified to withstand even high-magnitude quakes, mayors and teachers across Nepal began petitioning Rimal to clone the design in their hometown.
Thousands of government-built schools crumbled like sandcastles during the last seismic storm, which struck, serendipitously, on a weekend, when the crashing walls crushed only inanimate desks.
Now, he is part of a coalition of engineers and architects who have joined Kids of Kathmandu, a pro bono outfit that aims to create new quake-proof citadels for students across Nepal.
Co-headed by designers at the Manhattan-based SHoP Architects, the Kathmandu collective has begun posting all of its technical drawings and digital models on an open source web platform, available to anyone across the continents to freely replicate these super-strong schools.
Inside Nepal, these architects say, the Ministry of Education has already tested and green-lighted their designs, paving the way for other humanitarian builders to receive near-instantaneous approval for identical twins of these structures.
Meanwhile, the active faults surrounding the Himalayas and Tibet mean it is only a matter of time before another devastating earthquake rips through the region, says Simon Klemperer, a professor of geophysics at Stanford University.
Recurring quakes around the "Roof of the World" are all connected with the ongoing collision of India with Asia, he explains.
This clash of continents, which started when the then-island of India first started smashing into Asia some 57 million years ago, gave rise to the Himalayas and the Tibetan Plateau.
As the Indian tectonic plate continues this slow-motion crash, it is pushing the entire plateau northward, triggering the eruption of temblors along its periphery.
Tremendous Himalayan quakes of the future, Professor Klemperer warns, collectively threaten millions of people across Nepal, Bhutan, Tibet and India. At greatest risk are those who live or study in structures built of unreinforced brick masonry.
Brian Tucker, founder of GeoHazards International, agrees, and has proposed an array of measures to drastically reduce these risks.
Tucker and other scholars at GeoHazards seek to collaborate with colleagues worldwide to formulate life-saving seismic building codes and to reinforce schools and homes that are dangerously close to active faults.
Over the past five years, the group has retrofitted hundreds of Nepalese schools to strengthen their survivability, but much more needs to be done, Tucker warns.
Earthquake engineers and architects worldwide, he says, should "create an international earthquake safety advocacy federation" that freely transfers breakthrough quake-proofing technologies and building methods to counterparts across the globe.
This planet-spanning web of guardians, he says, could be quickly founded, connected and expanded through cyberspace.