On a rural site located 52 kilometers north of the city of Surin, Thailand, the architecture of the new Elephant World expresses the uniquely close relationship between Thai elephants and Thai locals, who consider elephants as part of the human family structure. As such, Elephant World isn't viewed as a collection of enclosures for undomesticated animals, but rather a large (5400 square meter) residence for extended family members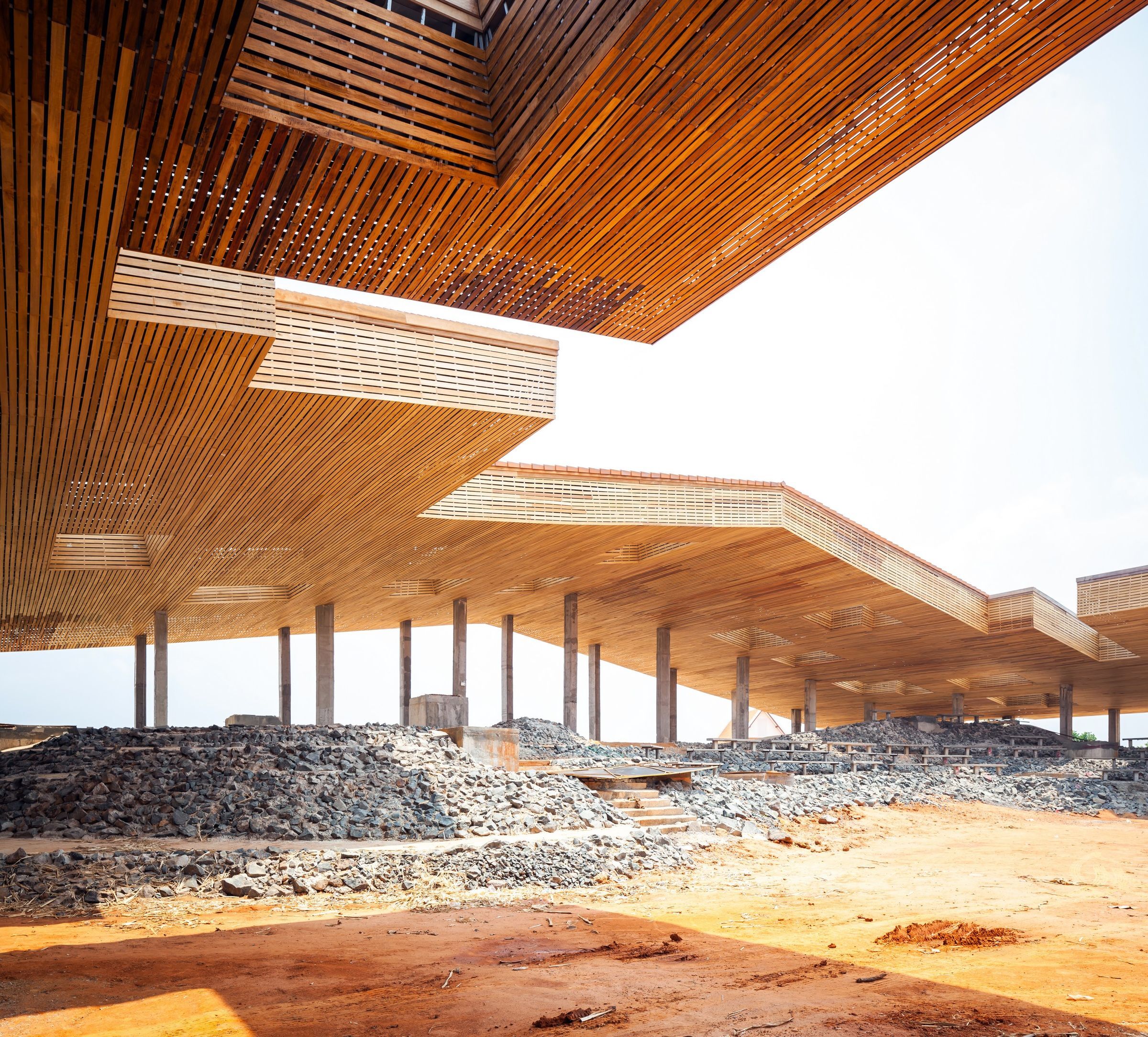 Elephant World is a government project with the aim of bringing local Kui people and elephants back to their homeland and ensuring a suitable and sustainable living conditions for elephants. The project, designed by Bankok Project Studio, includes the Kui village, an elephant hospital, the pre-existing temple and graveyard for both humans and elephants, along with a museum telling communities stories and history.
Bangkok Project Studio architects describe the project as a home for both elephants and humans that treads lightly on the land. The design is anchored around a large central canopy called 'The Cultural Courtyard.' Measuring 70 x 100, the large sloping roof accommodates cultural events and religious ceremonies ranging from the birth to the death of both humans and elephants. 1.5m in thickness, the deep canopy roof is clad with wooden slats and punctured throughout to bring in light and ventilate the space. While expansive and generous feeling, the canopy's humble, low-lying form sits in harmony with the surrounding village.
The location of Elephant World is an arid plateau located 4 kilometers from the river which poses a challenge as the 200 elephants living here require more than 8,000 cubic meters of water per month. As such, a rainwater collection pond was dug on site. The resulting 8,500 cubic meters of soil was transformed into six mounts that create an amphitheater-like courtyard. Sloping from 4 to 1.2 meters, the mounds evoke the rolling soil⁠ in which elephants romp around to cool their body temperature and find relief from insects.
Strengthening the mounds are basalt rocks sourced 40 minutes from the site. When basalt is mined to the groundwater level, the water wells up, forming a water reservoir. This construction, consequently, created another water reservoir in the neighboring district.
Certainly not going unnoticed in the design is an observation tower made of 480,000 handmake bricks. Designed to weather and age beautifully, it gives sweeping views over the large terrain that surrounds.