The Felix Meritis, an historic building in central Amsterdam, was built in 1788 for a society of scientists, artists, entrepreneurs, and thinkers and was a known hotspot for creativity during 'The Enlightenment.' Award-winning studio i29, in a collaboration with a large team of specialists including MATH architects for the structural renovation, has undertaken a renovation of the interior that is inspired by the rich history of the building.
New installations and acoustic facilities have been carefully inserted within the building fabric in a way that is respectful of the building's architectural legacy yet clearly of the present. interventions are clearly recognizable, bringing the building into the present again.
The entrance area features a restaurant and reception area which are modern interpretations of rooms from the 18th century. i29 applied original colours and wall coverings to the spaces, but with a twist in that contemporary techniques were used. Textiles play a key role in both rooms. In the restaurant, an image of a typical Dutch sky has been translated into a tactile wall covering. While in the reception area, an old etching from the original Teekenzaal shows the original textile walls. i29 collaborated with Buro Belen for custom design textiles in order to match material and colours within the design.
A light installation further connects the two rooms to create a grand entrance with a modern 'chandelier' suspended from the ceiling. LED signage is included behind a large mirror wall for information about the building's program. The same mirror information screens with interactive LED signing have been placed throughout the building.
The Concert Hall is finished in its original colour scheme and retains a classical appearance. Large steel chandeliers and acoustic wall cabinets are a modern touch, along with a flexible wall unit that can be opened or closed for sound absorption or reflection. Suitable for both acoustic and electronic music, the space can host both a classical concert or a house party, bringing in the most vibrant culture of today.
On the upper level, the Koepelzaal – and attic – have been restored to their original state with original wooden beam construction. New additions have been kept as simple as possible to emphasize the existing quality of the space. The general corridors and connection spaces are finished in neutral white and gray tones.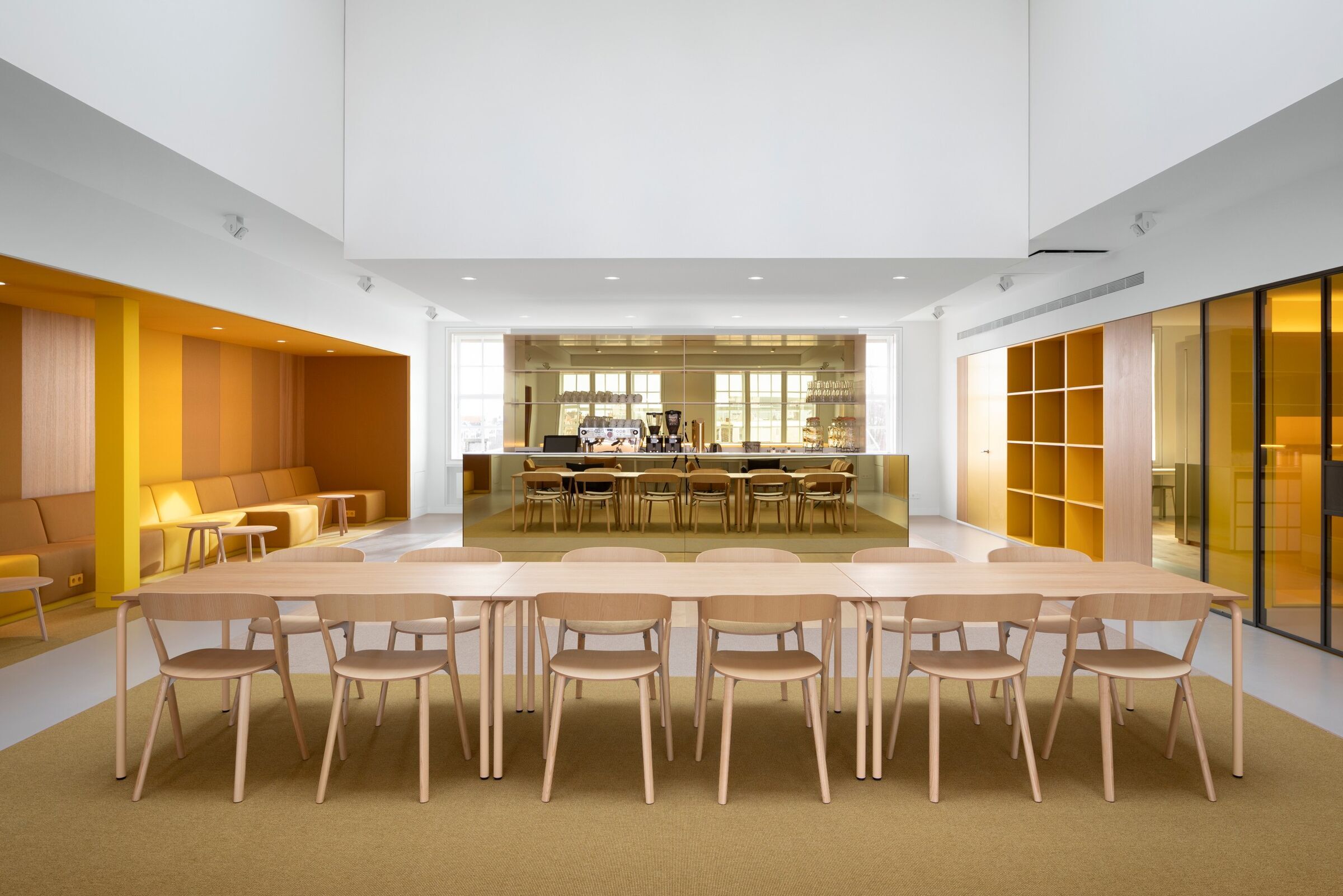 The diversity of building programming requires a layout in which all rooms can be converted flexibly and quickly. As such, finding a suitable stackable chair was important. i29 ultimately designed a chair especially for the building that meets the requirement of stackability, comfort, lightness, and appearance. The new chair, called 'Felix' was developed in collaboration with Lensvelt.
In line with the original philosophy of the Felix Meritis society, the new interior is progressive but respectful of its history. It is a new chapter for this cultural house and the curious mind.